The wedding season is fast approaching and all the brides out there must be spending days and nights deliberating about dresses, accessories, makeup, and everything else that goes into the bridal look. A wedding is a grand event that gives the bride full liberty to dress up like a regal princess and shine brighter than anybody else. If you have already purchased your wedding dress and decided what jewelry you will wear with it, then the next thing on your shopping list is a pair of exquisite, glittery, and colorful wedding shoes.
When it comes to buying shoes for the wedding you must not only consider the glamorous look of the shoes. Instead, your wedding shoes should also put you at ease as well as helping you feel your most beautiful and fashionable. To achieve this purpose, you should make sure that your wedding shoes are both gorgeous and comfortable. Here are some tips that will help you select the best shoes to go with your overall wedding look as well as making you feel comfortable on your big day.
---
Suggested read: 10 must-know makeup tips for beginners
---
Without further ado, lets 'kick' start this post!
1. Don't loom over your future husband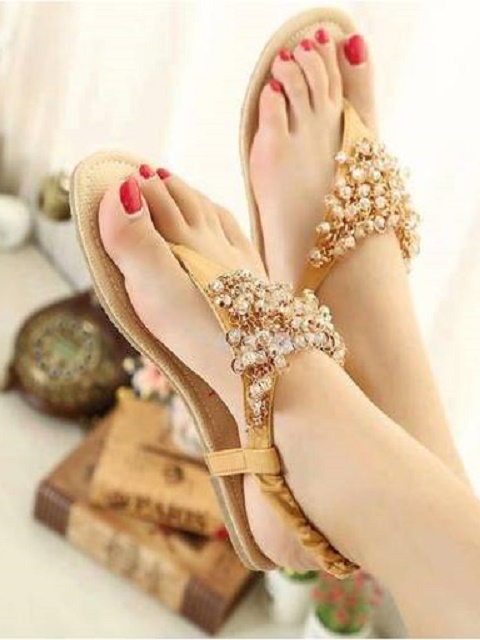 Image source: Pinterest
As irresistible as those pointed high heels may look, you should keep one vital thing in mind: if you are equal height or a little bit taller than your spouse-to-be, then you might not want to wear those sexy heels. You should make a compromise when it comes to inches and try to imagine wedding photographs where you look taller than your husband. But this shouldn't be a reason for you to mope – modern designers have come up with fantastic ranges of wedding shoes that may not have heels, but look undeniably gorgeous all the same. Flat bridal footwear like this looks so appealing.  The stonework on the front is bound to look extremely pretty on you.
2. Comfort is as important as beauty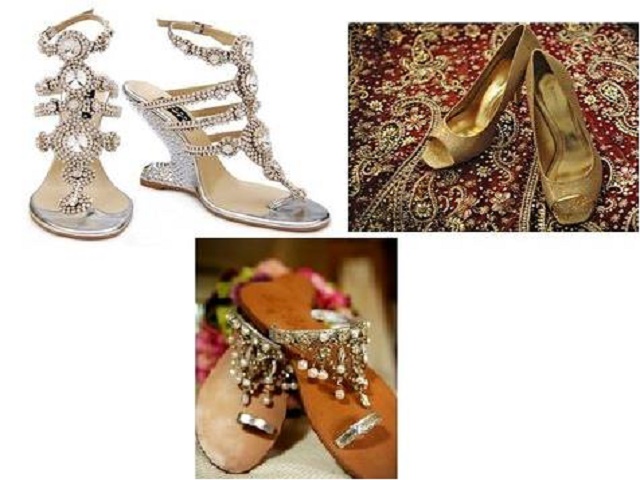 Image source: Pinterest
Almost all weddings require the bride to stand for endless hours on the day of the reception. You will either be standing in order to thank your guests or to pose for photographs. You know that all eyes will be on you, and you will want to show off your beautiful smile. Can you imagine doing this if you aren't feeling comfortable, especially in your shoes? As far as wedding shoes are concerned, there are some awesome pairs available on the market today that will ensure your comfort. These shoes have a special padding of plush cushion that will give your feet cashmere-like comfort throughout your entire wedding event.
3. Buy smart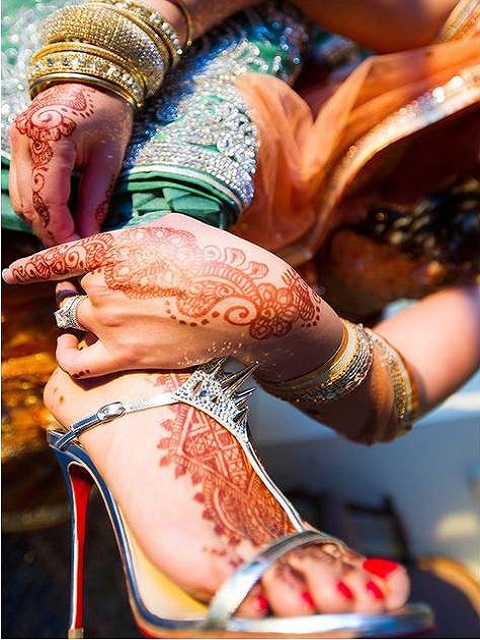 Image source: Pinterest
You probably have already spent quite a fortune on your wedding dress, your ornaments, and every other vital essential. So when you are buying your bridal shoes to go with your Indian wedding wear, you should buy a pair that you will be able to wear in the future as well. Your bridal shoes do not necessarily have to be of the exact same shade as your lehenga or your wedding dress, you can go for fancy gold or silver colored wedding shoes that will be ideal to wear for future occasions as well.
4. The simple look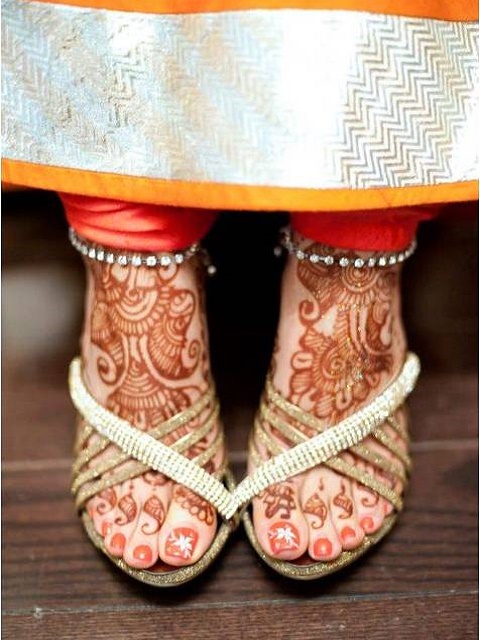 Image source: Pinterest
Many of today's brides are opting for a simpler look with little frills, shine, and glitter. It's what they call the Mira- inspired look from Shahid Kapoor and Mira's wedding. These shoes will be perfect for brides wanting to achieve this look. They have a simple pearl embellished strap over three leather straps, and these will go perfectly with white or cream colored wedding dress.
5. Summer wedding shoes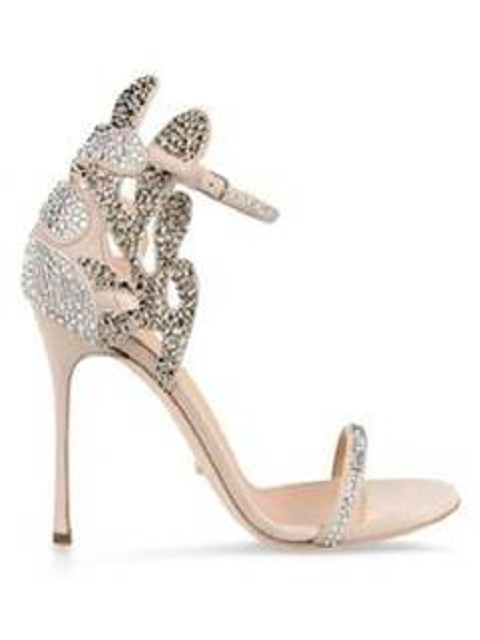 Image source: Pinterest
If your wedding will be held during the summer, then you will probably need light-colored bridal shoes that will have room for your feet to breathe during the sunny day. Shoes with a simple glittery strap on the front and an elaborate design on the heel are ideal for a summer wedding!
6. The second pair
Image source: Pinterest
During a wedding, the bride often needs to change into a second pair of shoes to feel comfortable and at ease. For this purpose, you can try on this amazing pair of shoes that have flat heels and are a beautiful shade of silver.
7. Indian bridal shoes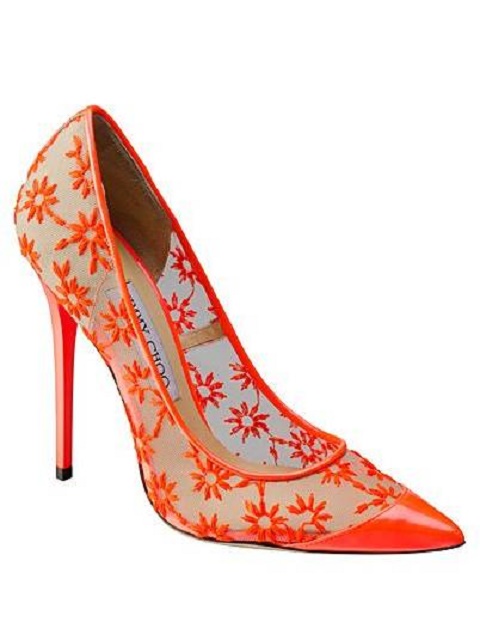 Image source: Pinterest
For the Indian bride, these are the kind of shoes that will make you look traditionally glamorous. These are bridal pump shoes and have pointed toes. These will especially work well if your wedding dress is orange colored. As they are from the Jimmy Choo 2014 spring-summer line, they will look particularly amazing if your wedding is being held in the summer.
8. All about comfort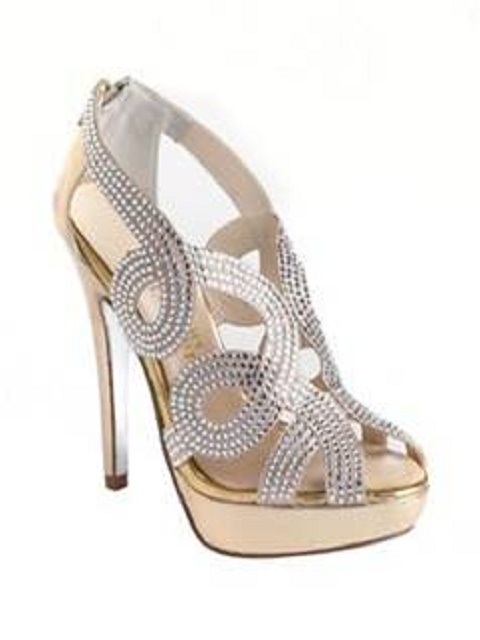 Image source: Pinterest
Here's another design to consider if you are really concerned about comfort but also want a bit of luxury on your feet. This has been a pretty popular design with many brides. They are golden colored and have moderate heels. They are bound to help your feet stay comfortable on your wedding day.
9. Platform heels for the bride
Image source: Pinterest
Who said you have to stick to just golden and sparkly shoes on your wedding day? These peep toe platform heels are a great choice for your wedding day. They have beautiful platform heels that will give you height and have intricate silver detail work on the top that will match with bridal attire of any color.
---
Suggested read: 24 beauty essentials you MUST carry while traveling
---
10. Sleek and pretty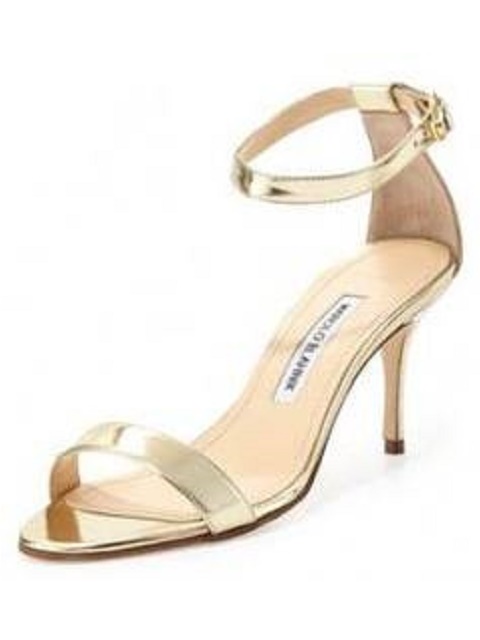 Image source: Pinterest
Here's another glamorous pair of bridal shoes for all those brides who are looking for elegance and comfort along with shoes that will go with bridal dress of any color. These shoes are golden colored with sleek straps and pointed heels that will make your feet look extremely elegant.
These are expert suggestions regarding footwear for brides who are soon to tie the knot. With comfortable and stylish footwear, you will be fully in the mood to be swept off your (superbly comfy) feet by your beloved prince charming!
Featured image source: Pinterest
Summary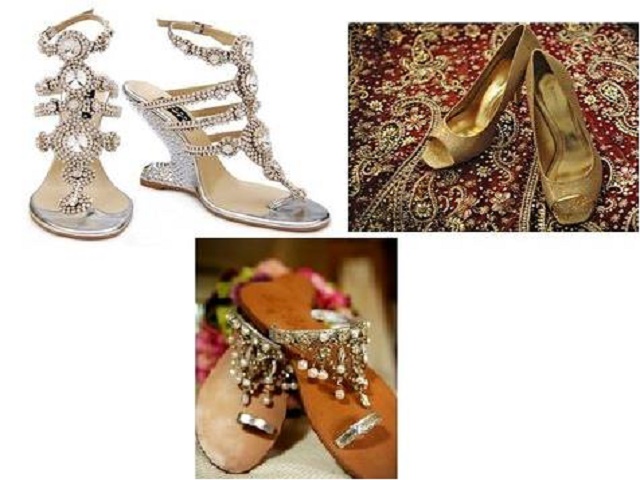 Article Name
The Perfect Wedding Shoes That Complement Your Ethnic Wear
Author
Description
Finding that perfect pair of wedding shoes that complement your wedding finery made easy, just for you.