Wedding planning does not simply entail buying the dress and the cake and fixing the venue. It also includes a large amount of stationery, whether it is for the wedding invites, the save-the-dates, or for the table setting. However, one of the things that are usually ignored when investing in proper wedding stationery are the wedding thank you notes. They are more often than not, bought in a hurry, and not much thought is spared towards the design and the content.
What people fail to realize is that a wedding is such a happy affair because of the people who attend it and witness one of the most special moments of your life, which is why it is of prime importance that you thank your guests, individually. In order to thank them, you need to invest in carefully thought of and designed wedding thank you cards, which will be a testament to your gratitude towards your guests.
---
Suggested read: 15 fresh ways to complete the 'something blue' tradition at your wedding
---
Here are 22 unique wedding thank you notes, that you can use to show your love to all those who attended.
1. Simple thank you note attached to a personalized gift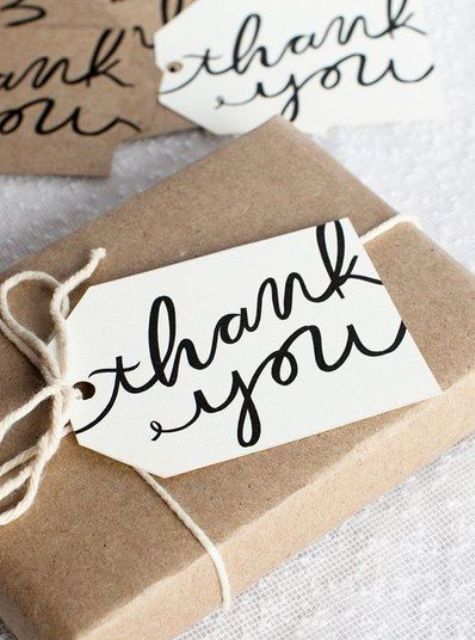 Image source: Pinterest
If you want to make your thank you present truly memorable and beautiful, attach it to a personalized present, instead of generic wedding favors. This way, your guest will feel truly special.
2. Vintage postcard style thank you note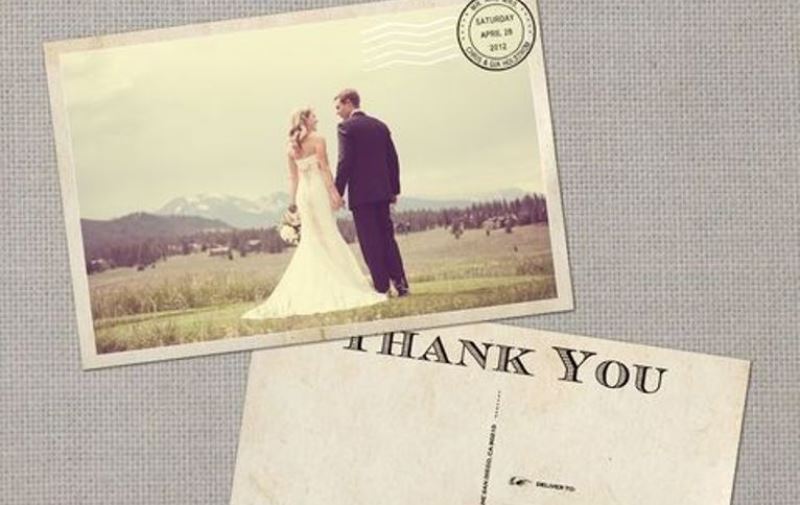 Image source: Pinterest
Another creative idea for wedding thank you notes that you can make use of is this elegant vintage style postcard, with a picture of you and your spouse on the other side, of course. This will also allow you enough space to write out a beautiful personal message for the recipient.
3. Unique thank you stamp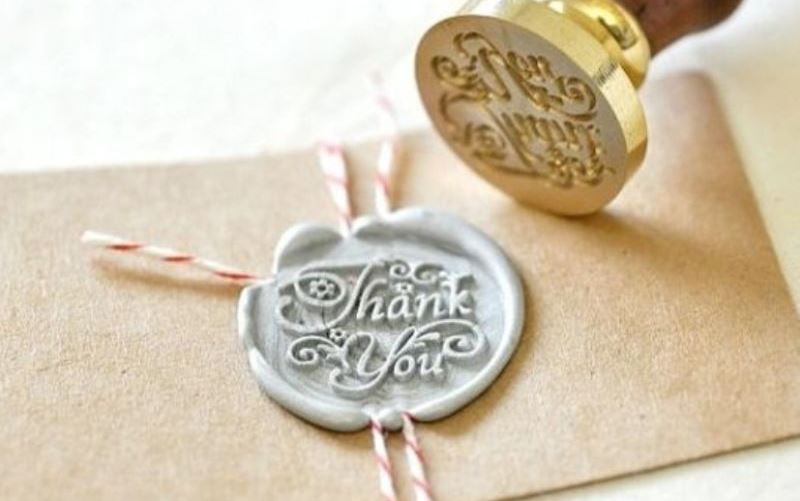 Image source: Pinterest
The problem with sending discreet envelopes is that the person might throw it away without even opening it. In order to give them a heads up about the contents of your note, you can make use of innovative thank you seals in fun colored wax!
4. Cute fingerprint heart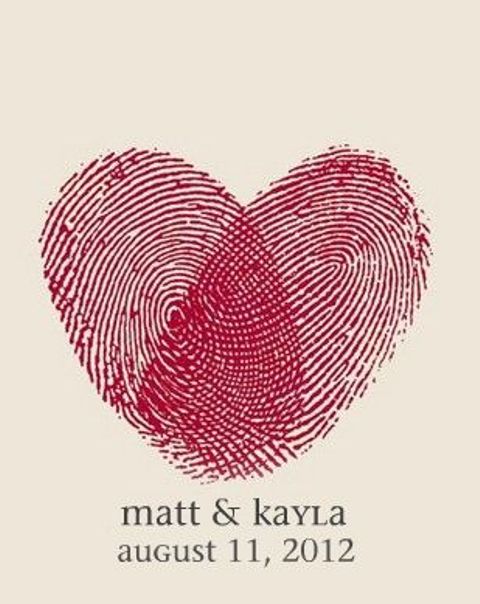 Image source: Pinterest
Remind your guests why they loved witnessing two people in love getting married, with this utterly simple, yet unique thank you card idea, where you make a heart with your fingerprints and write a personalized note at the back.
5. Send your guests food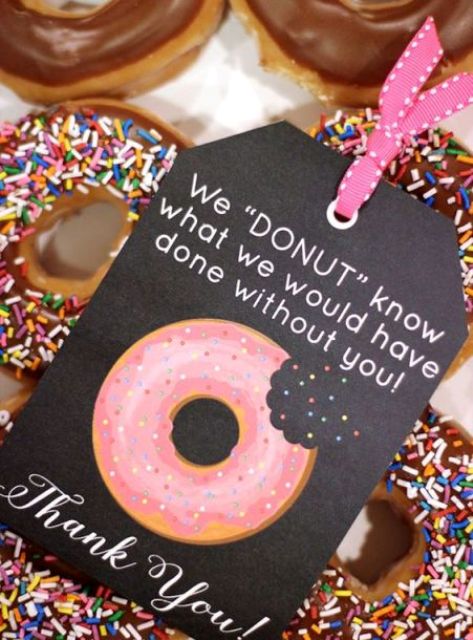 Image source: Pinterest
Food never fails, so why not send your guests a box of donuts with this amazingly punny thank you message, which is going to distinguish your note from the pile of other thank you notes, and also give them extra cause to celebrate?
6. Cutout stencil cards for your guests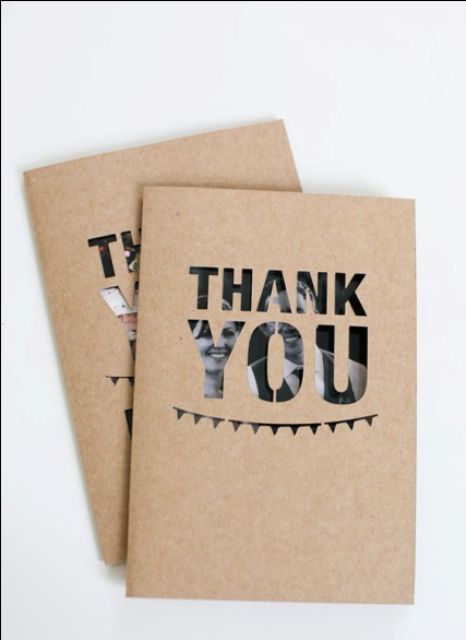 Image source: Pinterest
Another innovative way of showing your gratitude is with cutout cards, where THANK YOU is spelled with a romantic stenciled cutout font, and it reveals a picture of you and your spouse inside.
7. Sparkler pictures for your thank you cards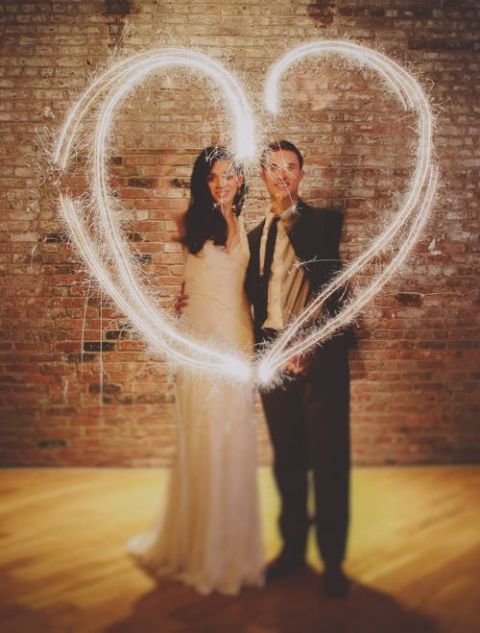 Image source: Pinterest
Sparklers are some of the most fun and romantic elements you can use during your wedding photo shoot which can also be used to add a touch of creativity to your personalized thank you cards.
8. Creative photo shoot with fun props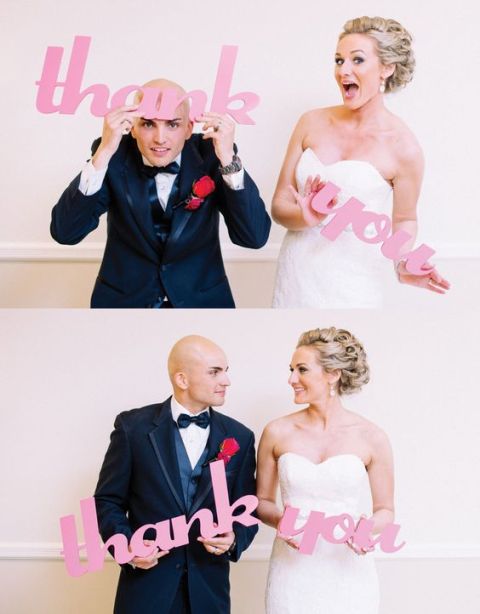 Image source: Pinterest
Instead of writing out your thank yous to your various guests, you can even get hold of fun props like this one which spells out the words "Thank you," and engage in a photo shoot with your spouse!
9. Photograph on the inside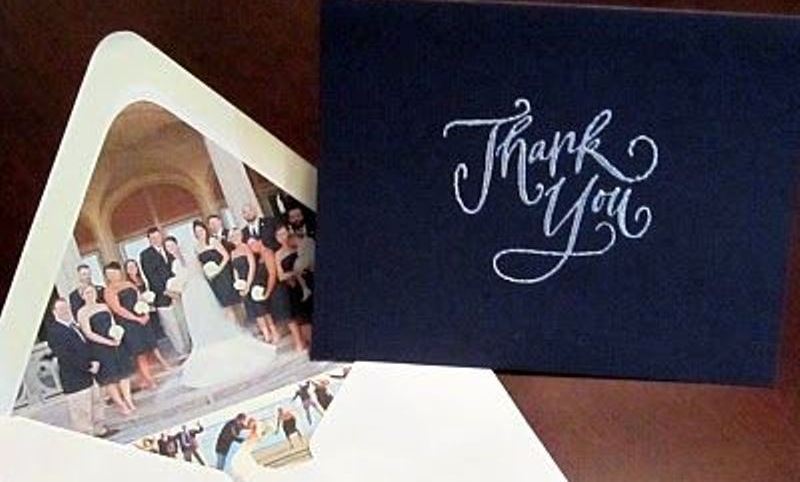 Image source: Pinterest
If you don't want your photographs ostentatiously displayed on the outside of your thank you note, you can even make use of a creative solution, in the form of photographs from your wedding day on the inside of the envelope, along with a handwritten thank you note.
10. Thank you cookies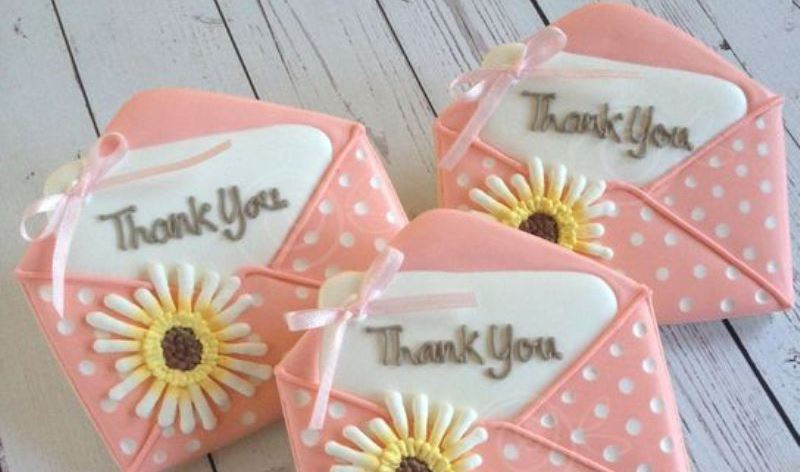 Image source: Pinterest
Who doesn't like cookies? If you are into baking and things like that, why not surprise your guests with a set of thank you cookies, which look great, taste delicious, and also saves you a lot of money that you otherwise would have had to spend on stationery and printing?
11. Give your guests their birthstone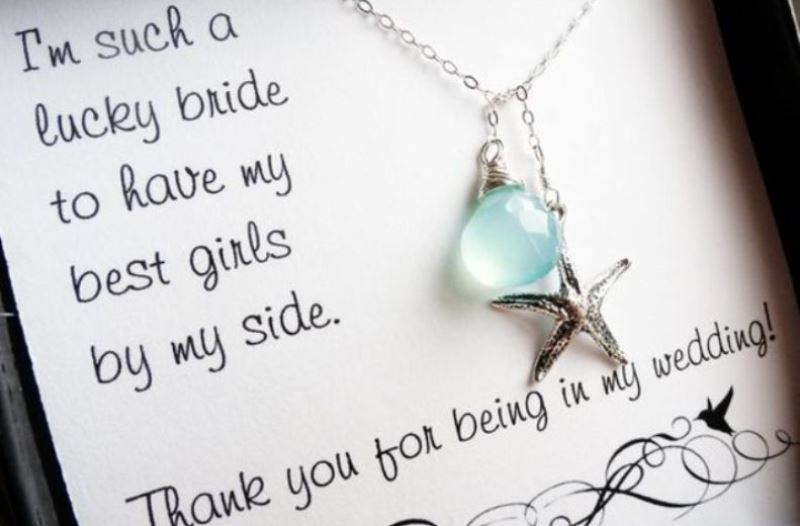 Image source: Pinterest
Another cool way of showing your love to your guests, is by writing them a personal message with an attached jewel or a bracelet or the like. You can make it all the more special if you find out what their birthstone is, and attach a corresponding accessory to the note.
---
Suggested read: 8 essential tips for choosing your dream destination wedding
---
12. Thank them with a hangover cure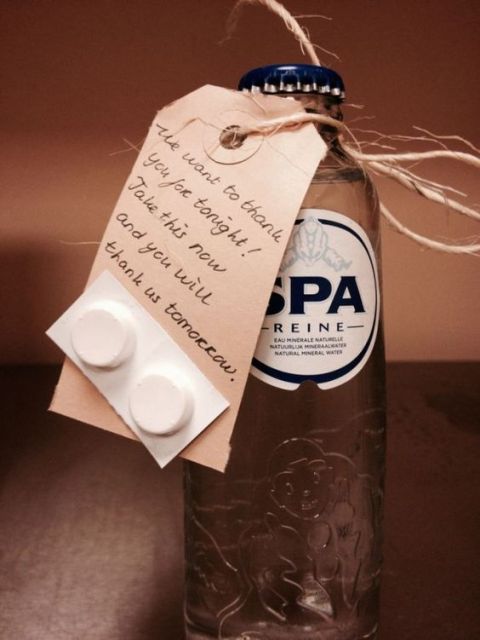 Image source: Pinterest
What could possibly be better than to thank your guests with a hilarious cure for hangovers, because they are sure to drink with abandon on your wedding? This thank you note is not only hilarious, but also thoughtful, and highly underrated.
13. Message in a bottle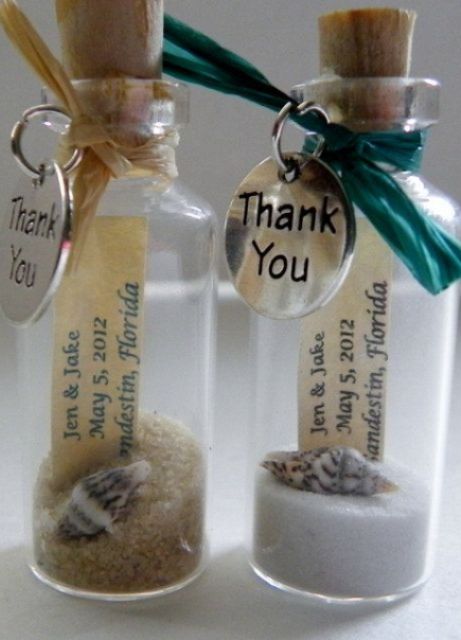 Image source: Pinterest
In an age of digital communication and things printed in bulk, getting something as vintage and exciting as a message in a bottle is going to be a genuinely delightful event. Send your thank you notes, handwritten, inside a bottle sealed with a cork. This cheap and DIY method is a fun and unique idea.
14. Easy DIY thank you notes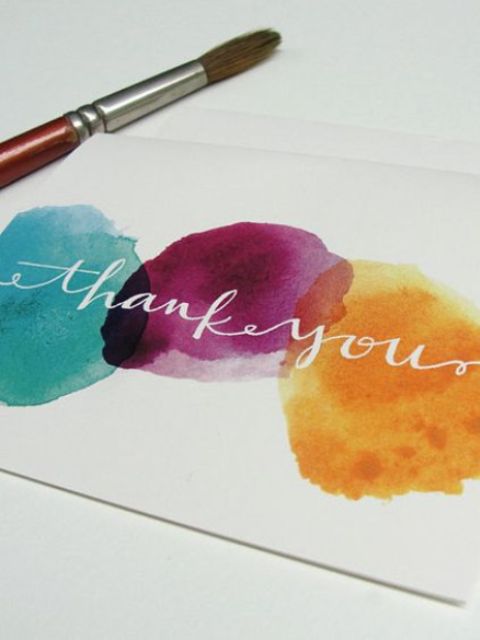 Image source: Pinterest
After you have spent a lot of money on your wedding, you want to thank your guests without spending another bulk of money, which will inevitably happen if you invest in printed cards. You can take out your watercolor paints and some stenciled fonts and make your own personalized thank you notes.
15. Minimalist monogram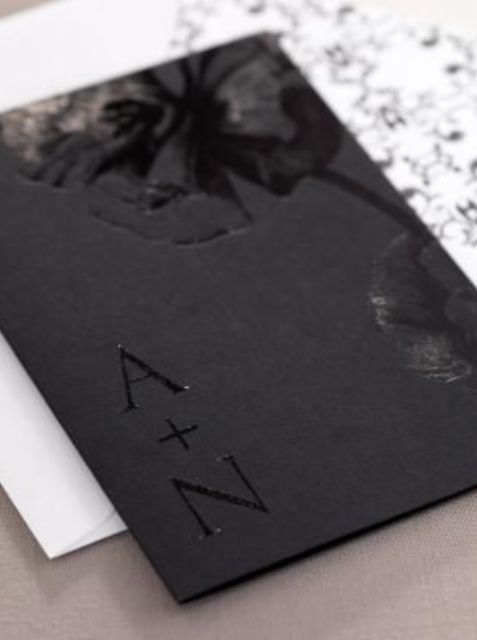 Image source: Pinterest
Some people like to keep it classy and minimalistic. You can even incorporate styles like that when you are trying to come up with innovative thank you card ideas for your wedding. Take a simple card in any color that you and your spouse agree on and emboss it with your initials, and of course, include the handwritten message inside, making it a short and sweet gesture.
16. Hand drawn personalized wedding thank you notes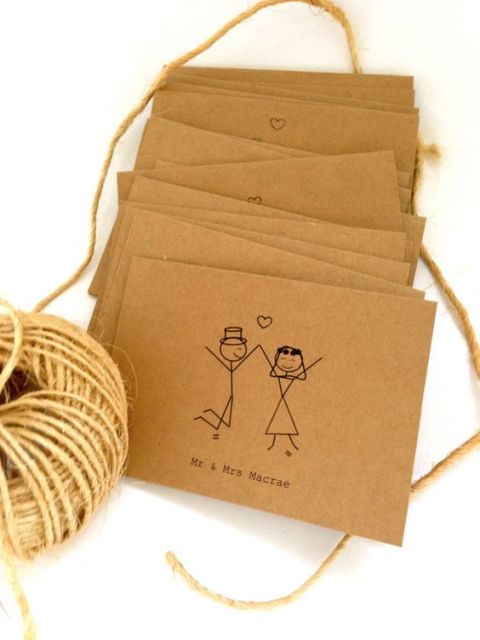 Image source: Pinterest
A hand drawn note might sound very cumbersome and complicated, but drawings like these will literally take you less than a couple of minutes to accomplish and the results are brilliant and they don't even cost you much money.
17. DIY rainbow heart themed card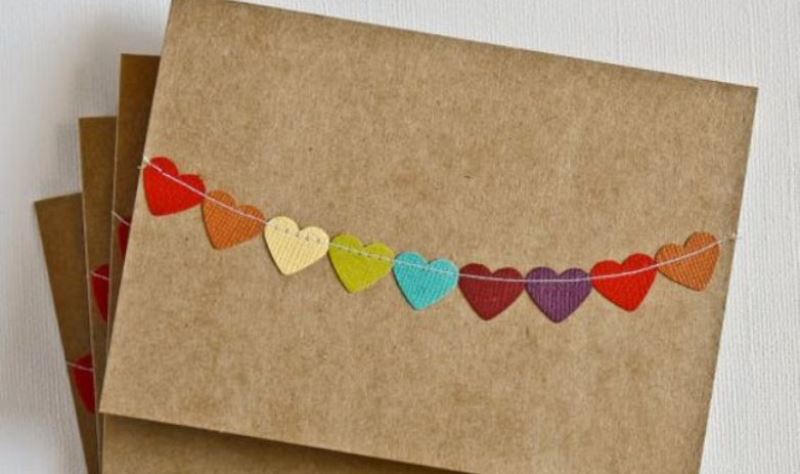 Image source: Pinterest
This thank you card looks both festive and personal, and again, you don't have to worry about investing extra for your thank you notes. All you need is a few sheets of colorful paper from which you can cut out hundreds of these tiny hearts, and a plain cotton string and some glue, and you have a professional grade thank you card ready to send out to your guests.
18. The classic THANK YOU wedding picture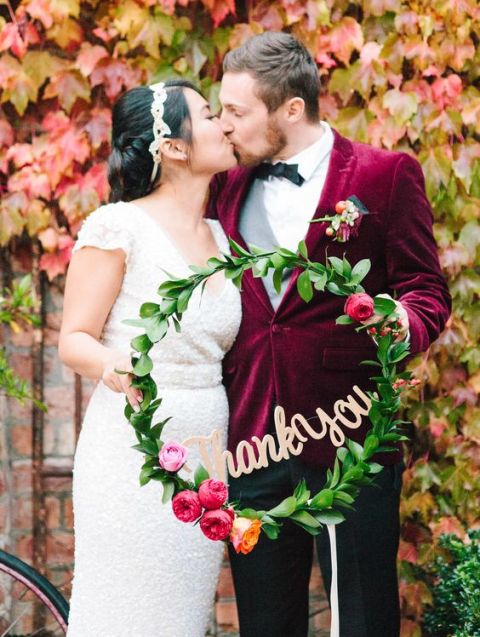 Image source: Pinterest
Your guests will always appreciate a picture of you and your partner on your wedding day, and you can make use of the occasion to take a picture of the two of you, specifically for the purpose of sending them your thank you notes.
19. Stamped key chains with personalized messages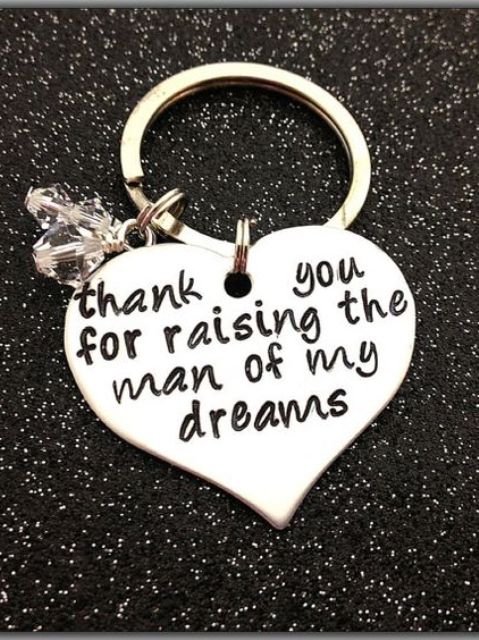 Image source: Pinterest
If you don't want to get into the paper business at all, you can give your guests and your loved ones key chains. However, key chains can become very generic, if not thought of carefully. Get yours engraved with a personal message, along with another charm or two attached to the ring, so that it becomes an intimate show of gratitude.
20. Cutout dress cards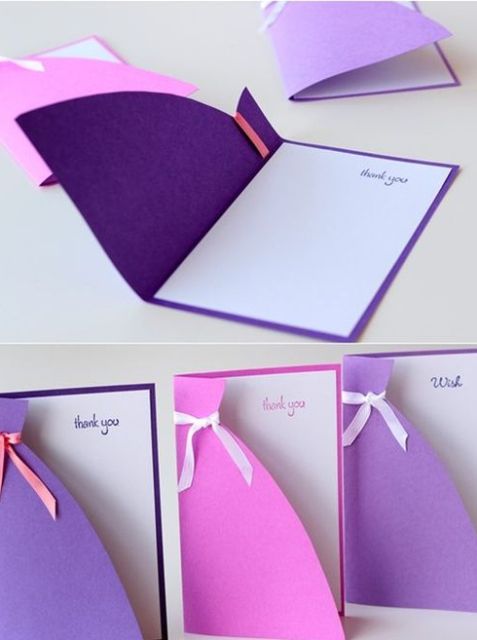 Image source: Pinterest
Another creative way in which you can thank your guests is by giving them a card with an innovative design – that of a dress, which opens up to reveal your thank you message. If you are sending it to a male guest, you can always replace it with a suit. They are cute, cheap, and super easy to make.
21. Send them some glitter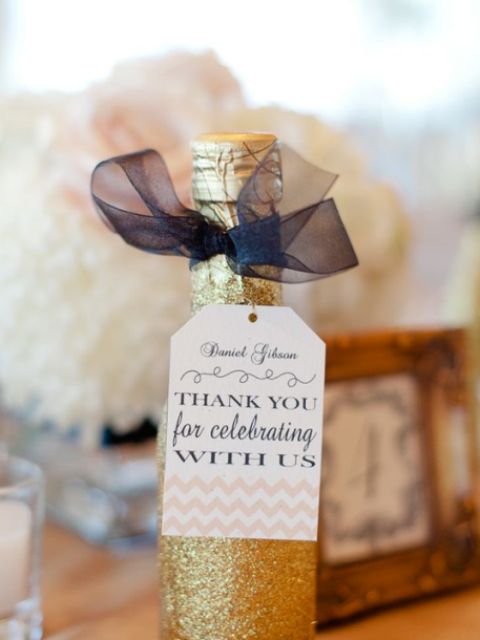 Image source: Pinterest
Glitter is one of the most versatile things when it comes to presents, because they are fun, cheap, and look pretty. You can even get edible glitter, which people of all ages will certainly be delighted to get. Attach a small vial of glitter in the color scheme of your wedding day along with your thank you, for a delicate, unique, and fun thank you note to your guests.
---
Suggested read: 20 gorgeous yet modes wedding dresses perfect for a Church wedding
---
22. Thank you daisy cards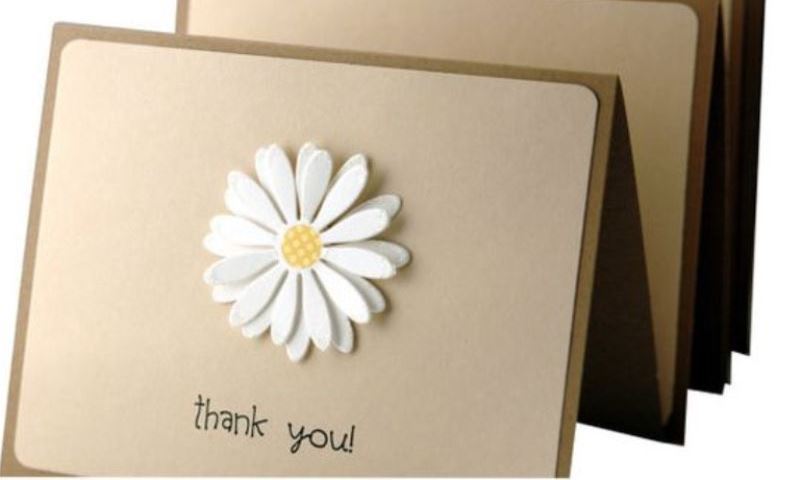 Image source: Pinterest
If you are more of a floral person, you can always choose to go that way, even for your thank you notes to your guests. Decorate the card with a paper flower or even a real one, if they live close by, and write your thank you message inside the card. Another cool idea would be to use the flower that you had used on your wedding bouquet, or the ones you had used to decorate the venue, so that they bring back fond memories for the recipient.
These are some of the unique and interesting ideas that you can check out, when you are sending out your wedding thank you notes to the people who had attended your wedding!
Summary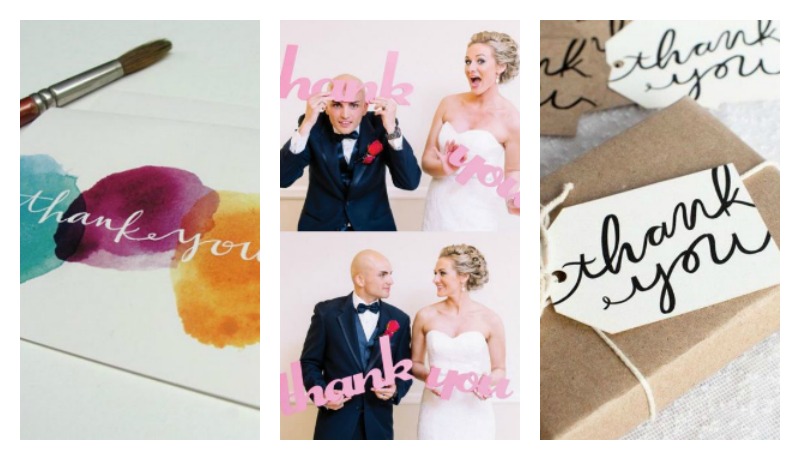 Article Name
22 Wedding Thank You Notes Your Guests Will Cherish
Author
Description
Wedding thank you notes are an essential element while planning a wedding, and you can take a leaf out of these unique ideas for your own thank you note.