We've all witnessed that one wedding where something went wrong and caused a lot of embarrassment and disappointment to the family! Wedding bloopers aren't new, because I don't think that there has been a wedding that someone could really call "perfect." That word needs to get out of the dictionary, if you ask me.
There will always be something that will go wrong. If you're in luck, it will be something minuscule and will have a fix. If not, you'll have a bad memory. And sometimes it so happens that these wedding disasters hit the bride (and the groom too) from the left field, and she's all but reduced to tears. She most definitely hadn't seen some of them coming – at least not at her own wedding! She won't know whether to laugh or cry, bang her head against the wall or hit someone else upside the head, or say I don't, instead of I do. 😛
---
Suggested read: 20 touching wedding readings from literature to make your day extra special
---
Here are some common wedding disasters that were awful:
1. Fight at the wedding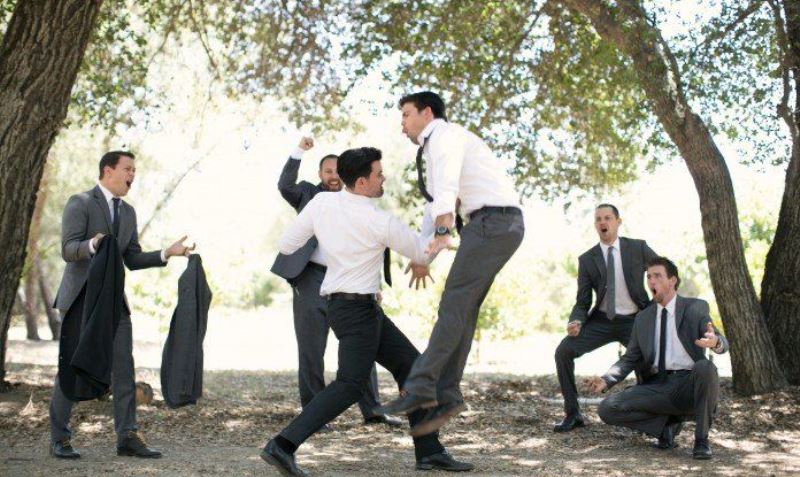 Image source: Pinterest
Don't be surprised that this happened at a wedding in a rather "civilized" community. The ceremony went on well and the party had just begun. A few drinks in, and people were on the dance floor. A fight broke out. The groom's family vs the bride's family! No one knows why and who started it. But that put everyone in such a spot, finally they had to shut the reception down! Embarrassing much? 😛
2. Wardrobe malfunction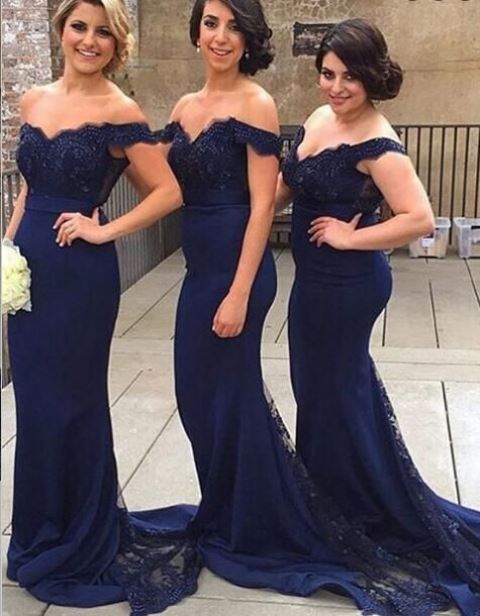 Image source: Pinterest
This happened to me, I was a bridesmaid at a friend's wedding, which was in another city. I had flown down for dress trials as the bride wanted similar dresses for all five of her bridesmaids. The dress was indeed beautiful, and on her wedding day, a few hours before the wedding, we had a situation. The zipper on my dress just snapped, and I wasn't the only one. So two of us bridesmaids' dresses had to be hand-stitched (thanks to the lovely aunts who had their needle and thread handy!) a few hours before the bride said "I do." So much for couturiers! *rolling eyes*
3. Forgetting rings
If you have a forgetful best man, you are bound to forget those rings at home or even misplace them. This is one of the most common wedding disasters that many a bride dreads. Imagine standing at the altar and saying "I do" without them precious rings! Such a shame.
4. No show
Frankly, I haven't been witness to a wedding where either the bride or the groom was left at the altar. But, these things do happen. It would probably take a while for the "betrayed" party to get over the whole ordeal and the shame that follows. Poor jilted person!
5. Stained clothes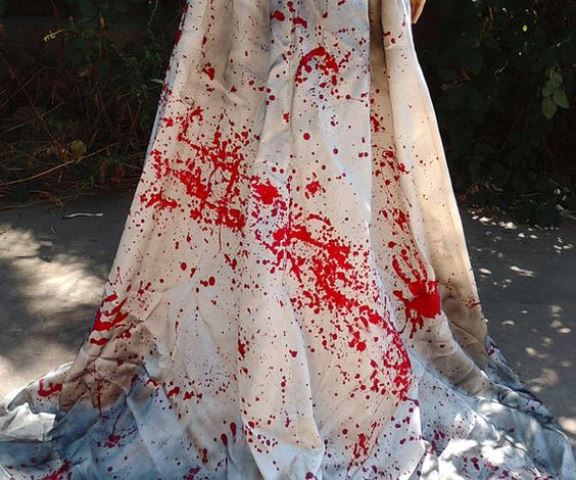 Image source: Pinterest
A pearly white dress and all you can think of is not getting it stained. Lipstick marks, grease or maybe just that last sip of orange juice, and BAM! There it is – a stained white gown. It could really upset the bride. But, on the other hand, during the party when the bride is on the dance floor, a lot of people end up stepping on her flowy long dress. Ask me. Been there, done that!
6. Injuries
As a kid, I remember attending a wedding where the groom had fractured his hand a day before the wedding. It was so badly swollen that they couldn't really exchange rings! So, not only did he have a cast, but they simply put the ring on the finger of his right hand instead of the left. I've also attended a wedding where people have had injuries and had to walk down the aisle with crutches. So sad!
What must be going through the bride's head who had planned her wedding day down to the last detail, but left out thinking about a groom with a fractured hand! 😛
---
Suggested read: The ultimate guide for going stag to a wedding
---
7. Skin problems
This was funny when I first saw the pictures, but I could only imagine the man's plight. The bride's father wanted to look his best, so he decided to go for a men's facial a day before his daughter's wedding. Sadly, the products did more harm than good to his skin and he ended up with a severe rash on his face and neck the next day! Imagine all the photographs! *shudder*
8. Makeup gone wrong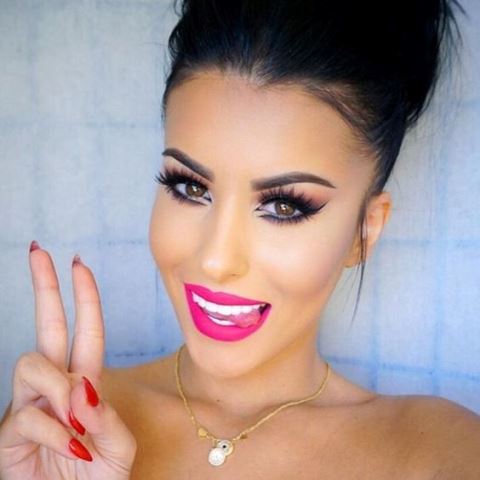 Image source: Pinterest
Some women don't know when to stop. I'm sure you have come across at least one such instance where either the bride or any other lady of the family has had her face painted so miserably that people failed to recognize her! I've seen brides go all crazy with makeup and end up looking like a painted China doll!
9. Missing photographer
At the time of my wedding, we had hired about 4 photographers, and none of them showed up at my place before we left the house for the shoot with my family. Luckily, one guy managed to turn up a little late and we got some shots, although they were hastily taken and looked more like mug shots!
10. Saying the wrong name
It happened on FRIENDS when Ross said Rachel's name at the altar when he was marrying Emily! Yeah, well, unfortunately this has happened in real life too. Some people have blurted out the wrong names while saying their vows. Wow!
11. Forgetting the speech
Getting nervous on your wedding day is completely normal and especially when you have to respond to the toast. Imagine forgetting your "well prepared" lines or your thank you speech? That may not be disastrous, but sure is a blooper!
12. Tripping and slipping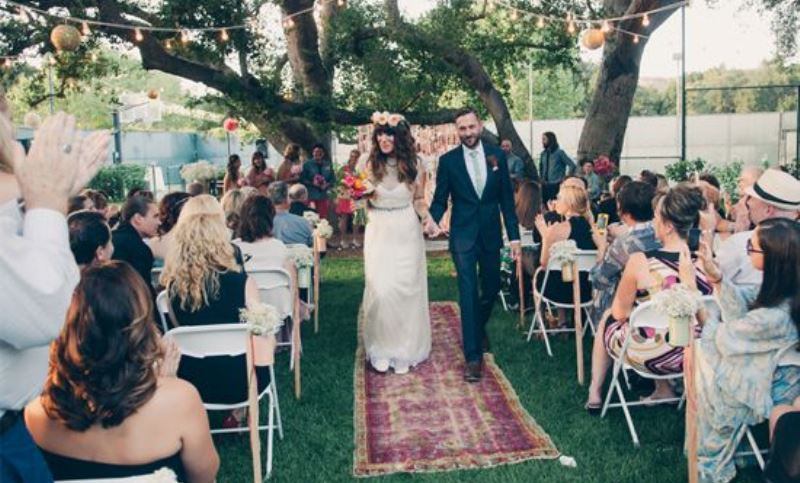 Image source: Pinterest
Oh no! Not this again. This is one thing that really scares me, and I was just hoping that it didn't happen to me. I think I might have prayed a little for it too. As a child, I would trip and fall while I was still standing, and on my wedding day, I had to …uh… well, let's say hold up my heavily embroidered wedding gown, hold a big bunch of flowers, and walk in 6 inch heels on an uneven floor. What was my biggest fear, you think? Yeah, I didn't want hit the floor face first. Luckily for me, that night, I also managed to dance perfectly well, without hurting myself or anyone, and with my high heels on! My prayers were answered.
13. Getting drunk
This happened to my friend. The traditional wedding and a mini reception took place a few days before, and the couple threw a little party with a lot of alcohol. Guess what? The bride got drunk, and drunk real bad. Some of us were holding her head while she was throwing up, and then she had to be escorted in a semi-unconscious state out of her own reception party! Well, that's not something a bride may want to remember. But, she did have fun while she was at it. Or let's say, before she got pissed drunk.
14. Cake fails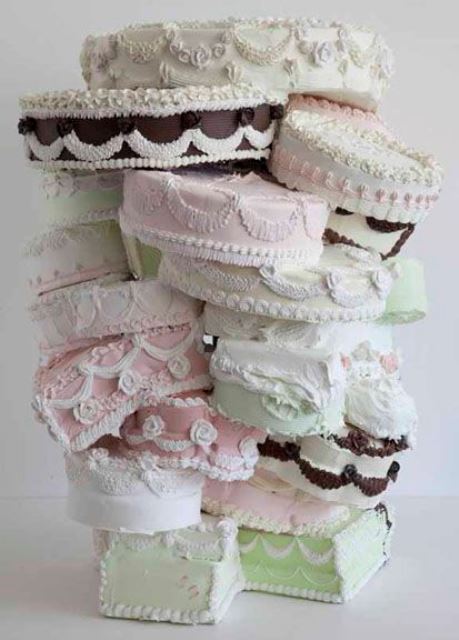 Image source: Pinterest
I've seen plenty of videos online where a fancy four tier cake is just being brought inside the wedding hall and a kid crashes into it, thereby crashing the whole cake!! I'd cry if it ever happened to me. This is one disaster that has the potential to bring even the hardiest bride to tears!
15. That one drunk uncle
There's no escaping from that one drunk uncle, who probably set out that day to embarrass you completely. He gets drunk in less than five minutes with just gin and tonic, and the next thing you know, he is hitting on your friends. Pulling them onto the dance floor, chatting them up (in an inebriated state!) and what not. At my cousin's wedding, one of her uncles got so drunk that he pulled out some funky moves while on the dance floor, but sadly he passed out right there in no time!
---
Suggested read: 12 questions you MUST ask at a potential wedding venue
---
16. Getting hurt
This probably constitutes as a wedding disaster. In one of the customs at a wedding, the bride is lifted and carried by her maternal uncles and brought to the place. However, halfway to the altar, the uncles were either disinterested or lost balance, and they dropped her! She hurt her tailbone and had to be given first aid. Post the ceremony, she confessed that she was utterly embarrassed and was wondering if she was all that heavy. Poor woman!
When you plan a wedding, expect things to go wrong. There will always be something that will not go as per plan and you must try to not feel miserable about it. I said try. But, that said, there are always going to be unavoidable instances and we all need to mentally prepare for it and embrace it. Some will leave good memories, the others maybe a regret. So, don't let it affect you too much. Have fun at your own wedding, it's very important. Don't worry too much about the things that could go wrong and are out of your control.
Featured image source: Pinterest
Summary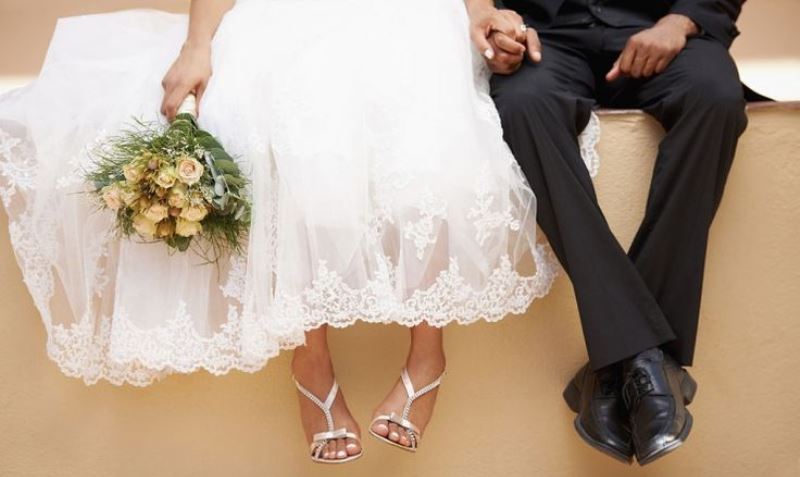 Article Name
16 Wedding Disasters That Will Make You Want To Say 'I Don't'
Author
Description
No bride can avoid some wedding disasters, however much she might wish to. Sometimes, it seems, the Fates conspire against having a 'perfect' wedding!