Going stag to a wedding is considered almost a social taboo, but is it really that big of a deal? I think not. There are absolutely no rules stating that you cannot have the time of your life at a wedding, when you attend it without that dreaded plus one on your invite. Even if you are used to attending weddings with a date attached to your arm, there will come a day, or several days in your life, when you will have to fly solo to the wedding of your loved one, and it is natural that you might feel insecure, lonely, unsure and other such feels, which are completely unwarranted. Why? Because going stag to a wedding is not really as bad as you think it is.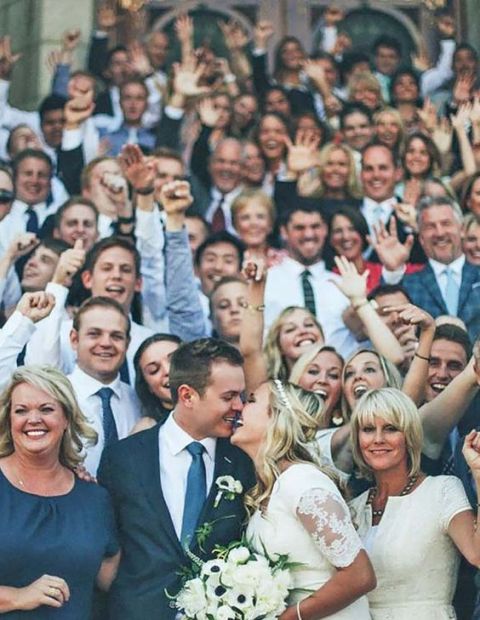 Image source: Pinterest
---
Suggested read: 20 entertaining wedding reception games bound to bring your party to life
---
Here are 11 dos and don'ts that you can keep in mind, to make sure that you have the time of your life at a wedding, despite going stag.
1. Do not think about not going
A lot of people think that just because they haven't managed to procure their plus one, they would rather stay at home than face the humiliation of turning up alone. Well, for those of you who think that way, I have news for you – the bride and the groom invited you and not your date. If you have been invited, it means you matter. If you plan on not going because you do not have anyone to go with, then you are likely to miss out on a really great party.
2. Put your best fashion foot forward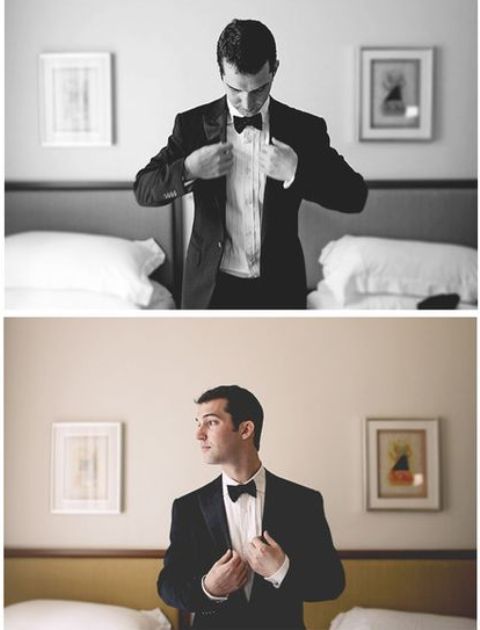 Image source: Pinterest
Just because you do not have a guest you can take along with you, doesn't mean you will turn up looking sloppy and dishevelled. Make sure that you dress perfectly for the occasion. If you are going to hire a tux, make sure that you hire the best tux that you can afford. Treat yourself well before you attend the wedding and you won't even be missing someone else on your arm.
3. Don't deny yourself the culinary pleasures the wedding has to offer
A lot of people think that going stag means standing meekly in the corner doing nothing, while you watch other people have the time of their lives and eat their fill. You do not have to be like those people, because when you are at the wedding, you might as well enjoy yourself to the fullest. NO one is going to stare at you if you confidently walk up to the foods table or the drinks bar and order something for one.
4. Remember that you are not the only single person there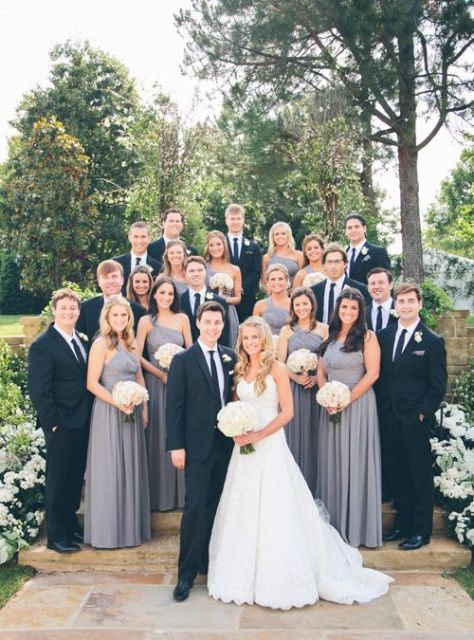 Image source: Pinterest
So what if you are going alone to a wedding? So are a lot of other people who are going to be there without dates and partners. There are a million real life stories about people meeting the love of their lives at someone else's wedding. Even things aren't that extreme, the fact is that there are other people like you who have come to enjoy the wedding and not show off their dates. Make yourself at home among people like these, or even people who have brought dates, and you might even make some new friends in the process!
5. However, do not creep people out either
Just because there are other singles out there does not mean that you will try to hit on every one of them with abandon. In fact, this is not the only way you might creep people out when you are going stag to a wedding. Other methods also include talking about your sob story nonstop, trying to hit on multiple people simultaneously, standing in the corner and staring at people, etc.,
---
Suggested read: 20 gorgeous yet modest wedding dresses for a Church wedding
---
6. Don't be a party pooper
I agree that if you go alone to a wedding, you might get bored or have nothing to do or no one to talk to during some parts of your evening. However, that does not give you the right to let go of yourself completely and do whatever you want and ruin the day for everyone else, especially the bride and groom. People who go stag tend to spend their time either talking about how single they are, how sad they are, and they also tend to get sloshed out of their minds. Don't be that person. Try to be the fun guy.
7. Rock the dance floor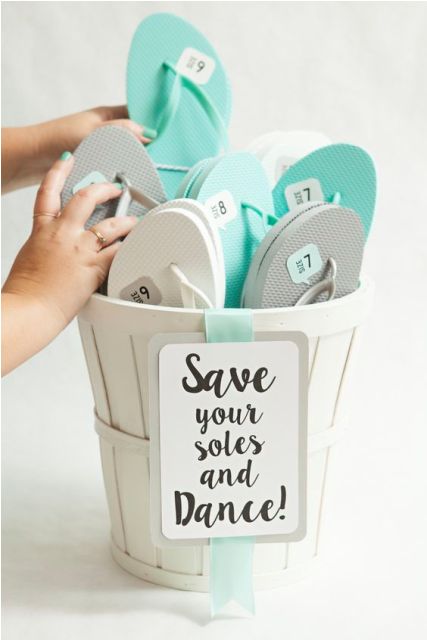 Image source: Pinterest
I'll let you in on one of the most well kept secrets of a wedding party – everyone looks ridiculous when they are dancing at a wedding, whether they are dancing alone or with a partner. The key to having the time of your life when you have decided to go to stag to a wedding because of lack of a date, is to shake a leg on the dance floor, instead of standing in the corner like a sourpuss. Do not be afraid of attracting the shutterbugs with your killer moves, and soon, you will realize that having a partner is just a burden when it comes to burning up the dance floor.
8.  Don't over think the fact that you are attending as a single person
Attending a wedding as a single person can be difficult, I admit. After all, you are going to a place where two people are getting married and everyone has brought someone to hold on to and cry during their emotional union, and you have no one. However, you need to also understand that not everyone who has turned up with a partner is in love paradise.
The only reason the wedding has been organized is to celebrate the bride and the groom and their love, not anyone else's, so you don't need to spend your wedding evening over thinking about your single status.
9. Roll with the group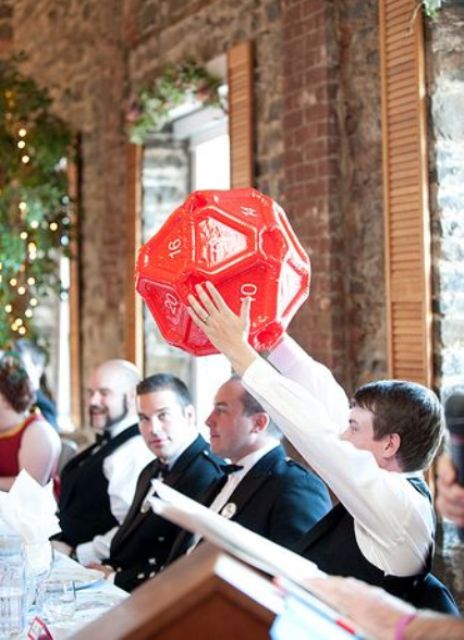 Image source: Pinterest
It's true that when you don't attend a wedding with someone, you run the risk of getting bored because of lack of anyone to talk to. Do not let that become a damper on your evening, because you are not the only person in attendance. Even if you want to vibe with couples, you can go ahead and do that. Do not get left out of the group you have chosen to hang out with, although you also have to know when you are imposing on their company. Make sure that you jump into group pictures and stay with your group, even in hotels, so that it becomes a group party/vacation instead of a lonely night of brooding.
10. Find other more independent ways of dissipating boredom
Chilling with a group of like-minded people is not the only way in which you can make your boredom disappear. Try to make yourself useful by asking the bride or the groom, or anyone else on their side whether there is any way you can be of help. Help them with the guests, help them carry flowers, click a couple of extra pictures of the bride and the groom, guide people to the right place, and you will find yourself fitting right into the party!
11. Don't forget to use this opportunity to treat yourself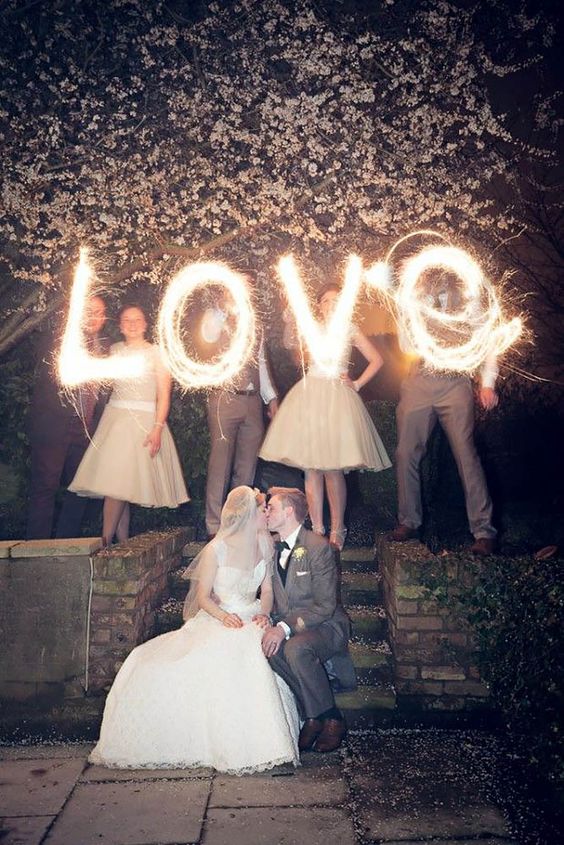 Image source: Pinterest
If you come to think of it, a wedding is like a mini vacation, a mini break from work, a perfectly legit excuse to have the time of your life, even if it is for a couple of days. When you attend a wedding with a date, you are tied down to them, you have to make sure they are comfortable, and you have to alter your schedule according to theirs, to whatever extent is necessary.
If you are attending a wedding on your own, make sure you drink in the sites, take some time out for yourself, and come and go as you please after the party has relatively died down.
---
Suggested read: 22 unique wedding thank you notes your guests will cherish
---
12. Remember that you are not going to be the highlight of the wedding
No one is going to whisper behind their hands to their partners, telling them how you look sad and lonely and ridiculous without a date. No one is going to treat you like you are invisible. They are going to accept you and talk to you, because contrary to what you may think, most of the people there are meeting each other for the first time, and you are one of them.
Therefore, you have to keep in mind that the bride and the groom are the only people who need to turn up necessarily with partners, and the event has been organized for that very purpose, and you aren't going to be the centre of attention at all. The best thing you could possibly do is make the most of your friend's or relative's wedding, and make memories and make friends and make it one hell of a joyride!
PS – screw the date!
Featured image source: Pinterest
Summary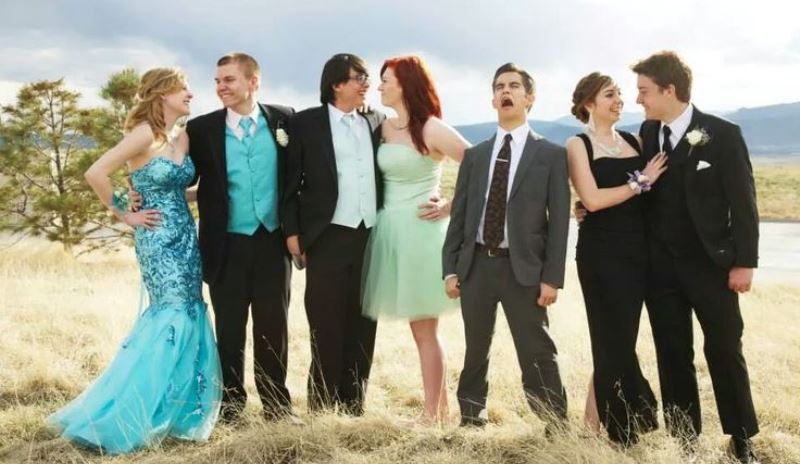 Article Name
How To Survive Going Stag To A Wedding
Author
Description
Don't dread going stag to a wedding. Here's how to have the best time at your friend's wedding, despite lacking a plus one.