I am sure you guys agree that no amount of erotica can ever come as close to the real action as that between the sheets. And this is exactly what we are trying to prove here. So taking this gen as our cue, we present you some tales as appetizers that are certain to leave you yearning with ravenous thirst for the actual deal! 😉
Orhan Pamuk, the Turkish writer, was once asked at the Jaipur Literary fest, which love, in his opinion, is deeper: physical or philosophical. He wittily quipped that it completely depends on the 'penetration'! 😉 I hope these teeny weeny tales of passion, have a 'long' and 'hard' impression on your mind!
The following "lust"icle of 2-line sex stories speak of a thousand urges and aches in only a few words! 
1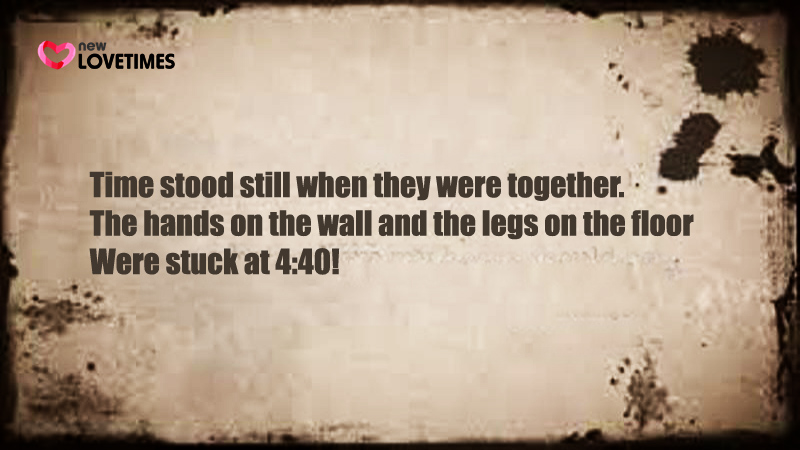 Time stood still when they were together.
The hands on the wall and the legs on the floor
Were stuck at 4:40!
2.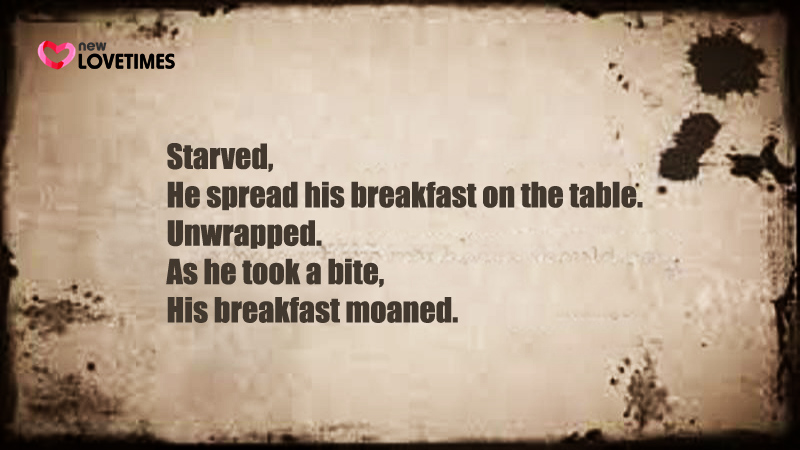 Starved,
He spread his breakfast on the table.
Unwrapped.
As he took a bite,
His breakfast moaned.
3.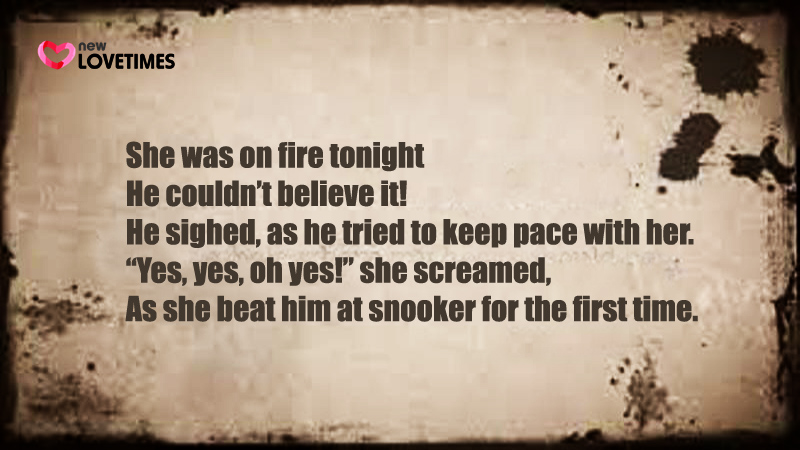 She was on fire tonight
He couldn't believe it!
He sighed, as he tried to keep pace with her.
"Yes, yes, oh yes!" she screamed,
As she beat him at snooker for the first time.
4.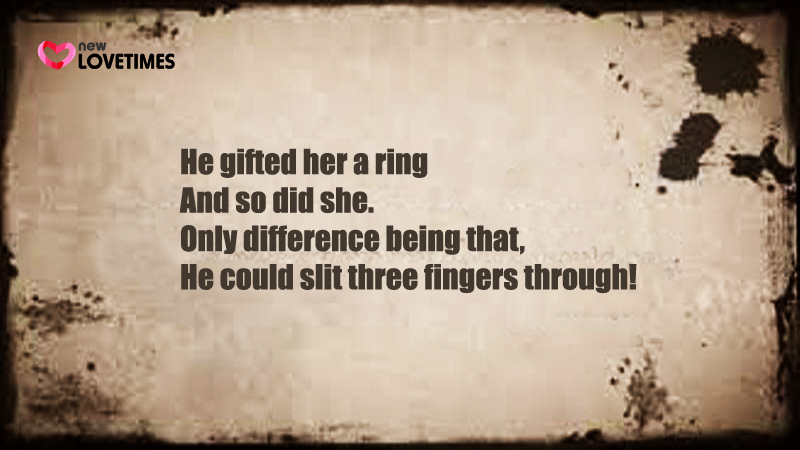 He gifted her a ring
And so did she.
Only difference being that,
He could slit three fingers through!
5.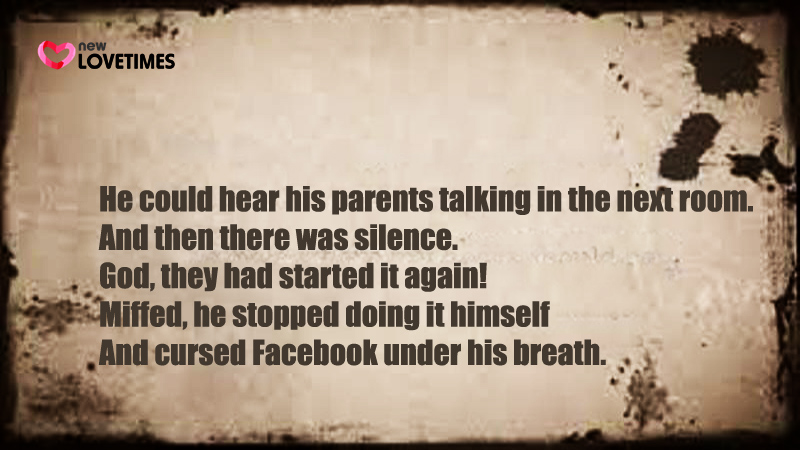 He could hear his parents talking in the next room.
And then there was silence.
God, they had started it again!
Miffed, he stopped doing it himself
And cursed Facebook under his breath.
6.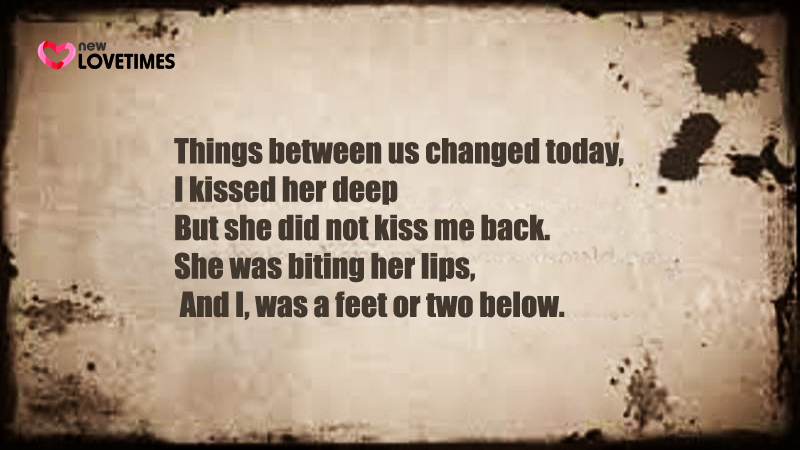 Things between us changed today,
I kissed her deep
But she did not kiss me back.
She was biting her lips,
And I, was a feet or two below.
7.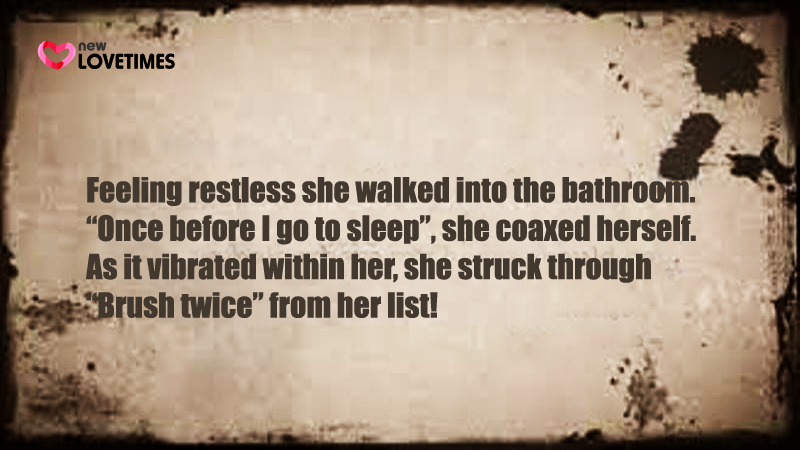 Feeling restless she walked into the bathroom.
"Once before I go to sleep," she coaxed herself.
As it vibrated within her, she struck through
"Brush twice" from her list!
---
Suggested read: 14 2-line love stories that will make you happy and sad at the same time
---
8.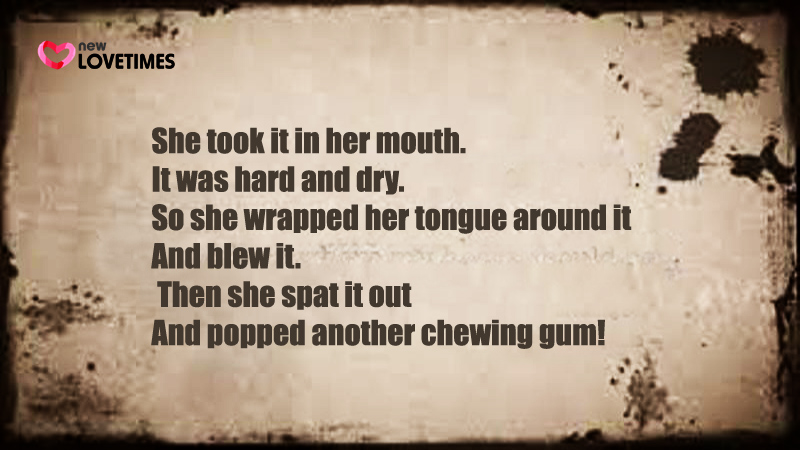 She took it in her mouth.
It was hard and dry.
So she wrapped her tongue around it
And blew it.
Then she spat it out
And popped another chewing gum!
9.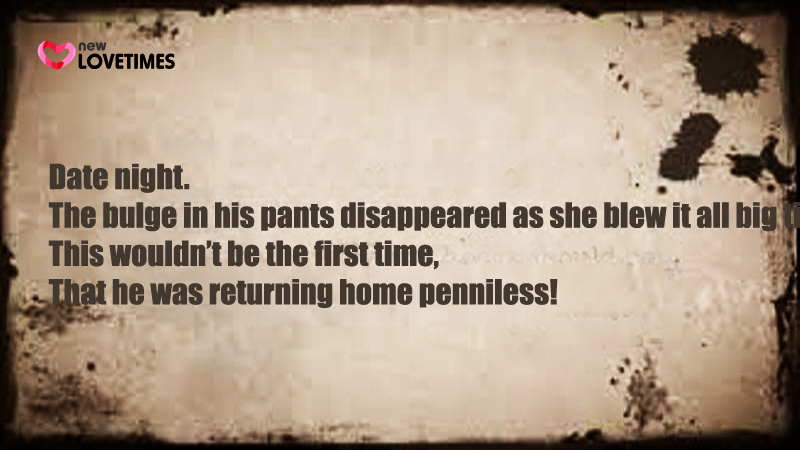 Date night.
The bulge in his pants disappeared as she blew it all big time.
This wouldn't be the first time,
That he was returning home penniless!
10.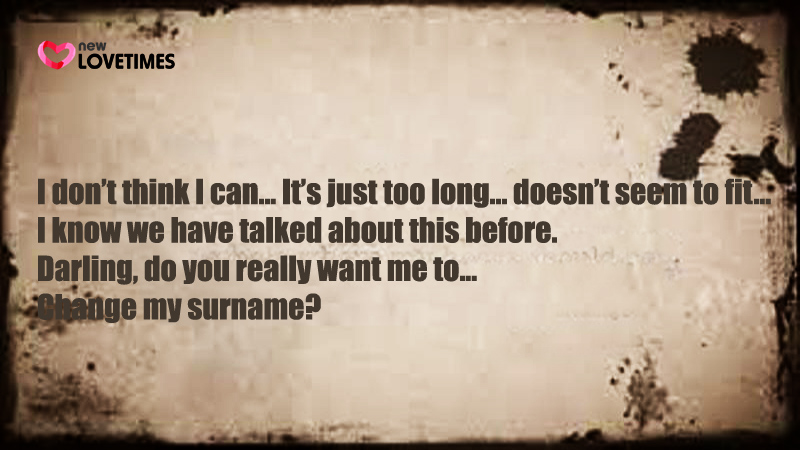 I don't think I can… It's just too long… doesn't seem to fit…
I know we have talked about this before.
Darling, do you really want me to…
Change my surname?
11.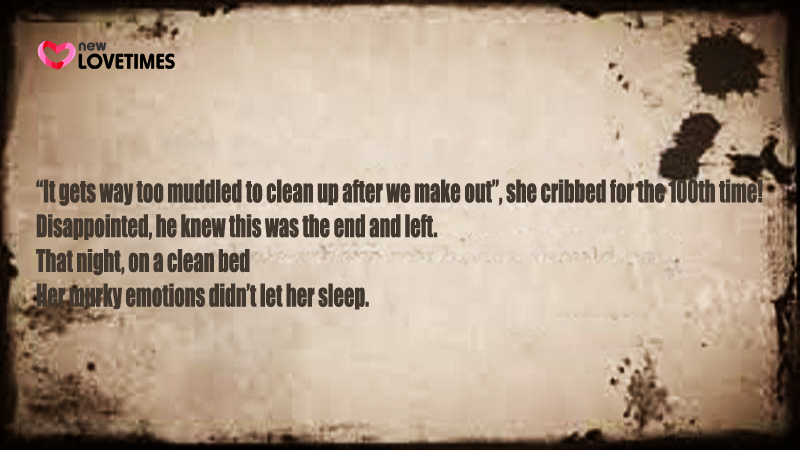 "It gets way too muddled to clean up after we make out," she cribbed for the 100th time!
Disappointed, he knew this was the end and left.
That night, on a clean bed
Her murky emotions didn't let her sleep.
12.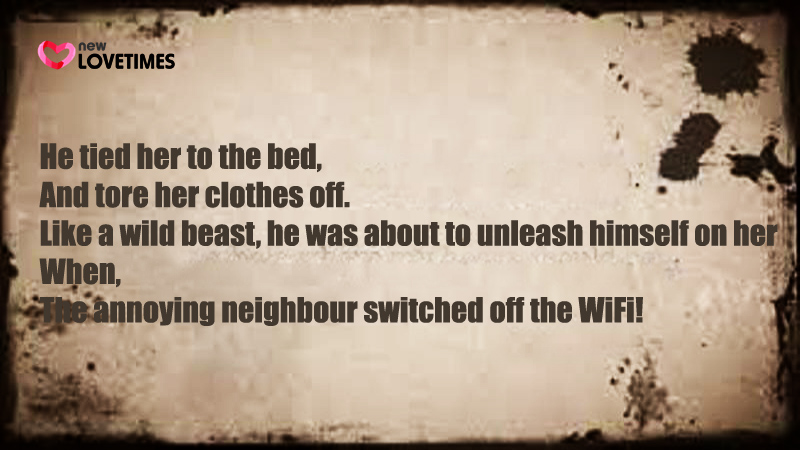 He tied her to the bed,
And tore her clothes off.
Like a wild beast, he was about to unleash himself on her
When,
The annoying neighbor switched off the WiFi!
13.
Birthdays may come and go,
Age was just a number;
She knew what would make him happy;
69 all the way!
14.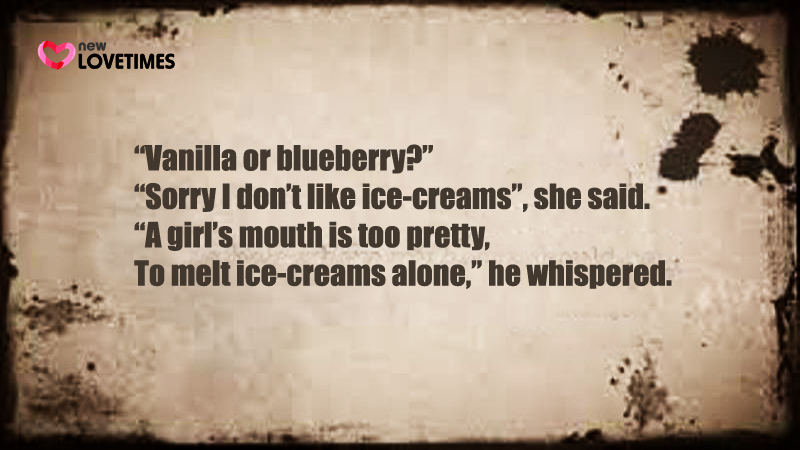 "Vanilla or blueberry?"
"Sorry I don't like ice-creams," she said.
"A girl's mouth is too pretty,
To melt ice-creams alone," he whispered.
Everything need not be long to satiate your senses, eh?! 😉
So did you enjoy these stories? Let us know in the comment section below. Also, for your daily dose of news on love, life, style and sex, subscribe to your newsletter today! Trust me, you don't want to miss out on these! See you until next time! ☺
Summary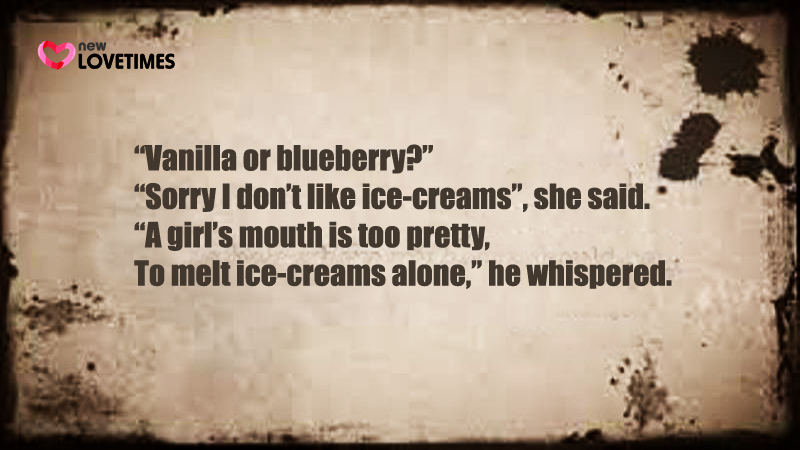 Article Name
17 2-Line Sex Stories That Will Burn Your Insides With Insatiable Longing
Author
Description
The best sex stories are those that pull you in, without giving it away...all puns intended. ;)