"Something old, something new, something borrowed, something blue, a sixpence in your shoe."
This age old poem is possibly the universal subtitle for all the weddings that are held even today. It lists the things that are traditional additions to the ceremony and the attire of the bride. One of the most exciting aspects of the rhyme is trying to figure out what your something blue will be. In fact, something blue was introduced to the tradition of wedding ceremonies even before it became customary for the bride to wear white on her wedding day.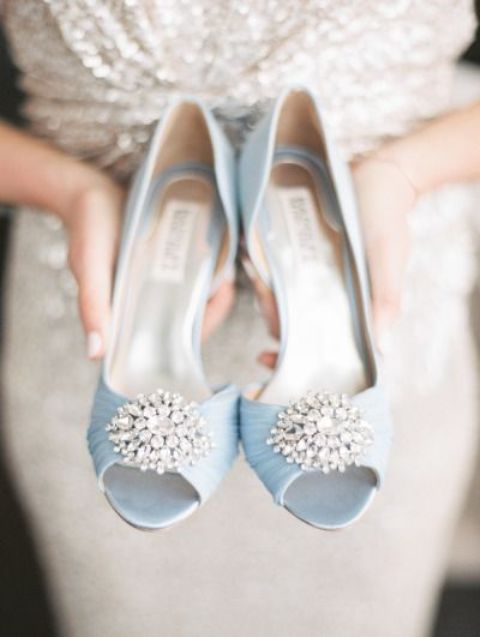 Image source: Pinterest
Even a decade ago, when it came to something blue, brides chose to stick with either a blue garter, or a blue hairpin or something of the like, because the color symbolized fidelity, purity, and love. However, wedding trends are getting revolutionized, and brides are looking for fresher, more unique ideas, including one-of-a-kind something blue ideas, which will add a pop of color to their outfit, at the same time, honor and uphold one of the oldest wedding traditions.
---
Suggested read: 15 stunning pink wedding dresses for the unconventional bride
---
Here are some unique suggestions, bound to make your 'something blue' a perfect accessory to your radiant bridal look.
1. Blue shoe engravings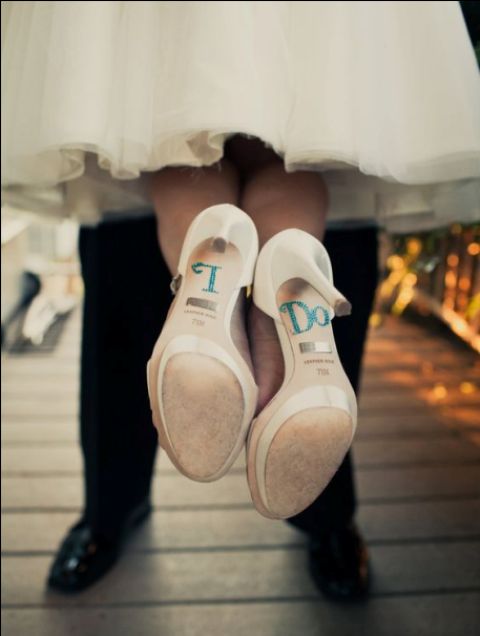 Image source: Pinterest
One of the most neglected things to be considered when you are choosing your 'something blue' is your shoes. If you think going with all blue shoes is a bit much, check out these sequined blue engravings, which spell out the most important moment of your wedding. Also, it makes for great pictures! <3
2. Blue teardrop earrings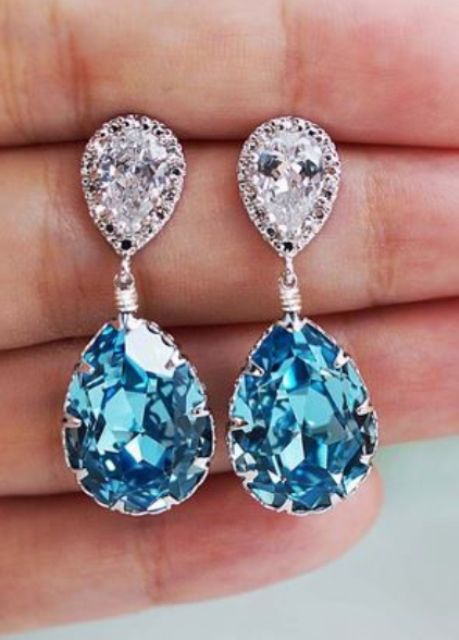 Image source: Pinterest
If you want your something blue to be visible more ostensibly throughout the ceremony, you can go for the most gorgeous pair of teardrop earrings, and especially because they go with practically any style of dress that you may choose to wear. Also, when you pair colors such as powder blue or aquamarine with Swarovski crystals, you have jewelry pieces that make you weep because of their sheer beauty.
3. Blue mason jars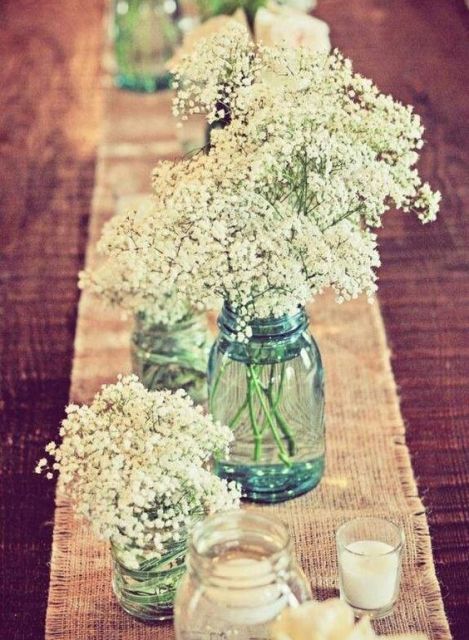 Image source: Pinterest
If you want to be more subtle about your something blue ideas, you can include a DIY enthusiast's best friend, mason jars, which are cheap and easy to find, and yes, they do come in blue. Fill them up with gorgeous flowers like baby's breath, or your theme flowers or seasonal ones, and you have your something blue permeating your entire ceremony.
4. Blue wedding bouquets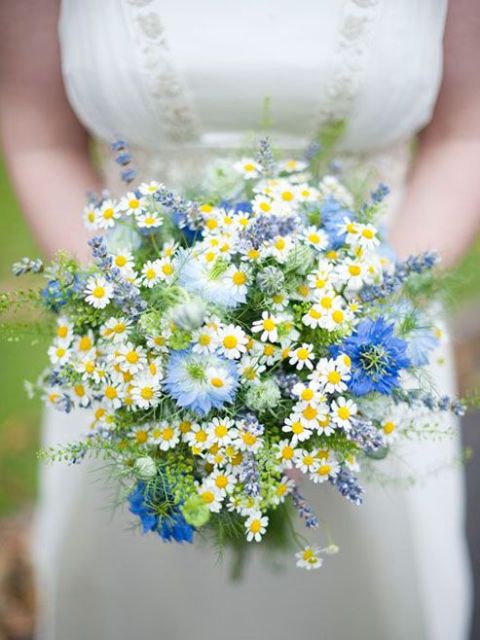 Image source: Pinterest
While we are still on the topic of flowers, you can even incorporate your blue element in your wedding bouquet, along with other flowers which go with the general theme and color scheme of your wedding. Whether you want orchids or blue roses or pansies or any other flowers, you can make your dress pop with the color in your wedding bouquet.
5. Blue signature cocktails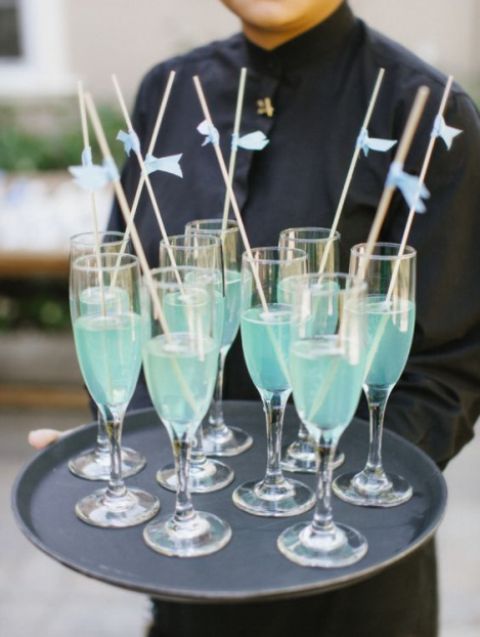 Image source: Pinterest
How cool would it look though? Imagine a bunch of people going around with dark blue or powder blue drinks, which would be nothing much, only the most perfect something blue for the bride, shared with all the people she and her new husband love and cherish in their lives. Also, blue cocktails can be pretty damn yum.
6. Blue rustic tiara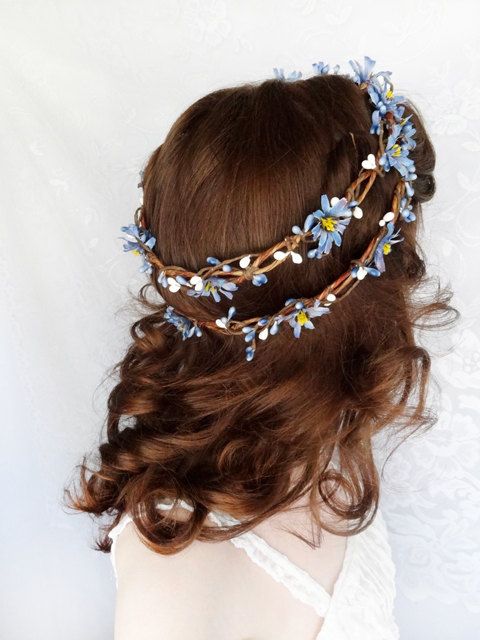 Image source: Pinterest
You can ditch the common blue pin that every second bride wears and use one of the cutest something blue ideas out there. A blue floral tiara or even a blue bejeweled tiara or even a rustic headband is all the blue you need to make your outfit look that much more special.
7. Blue wedding cake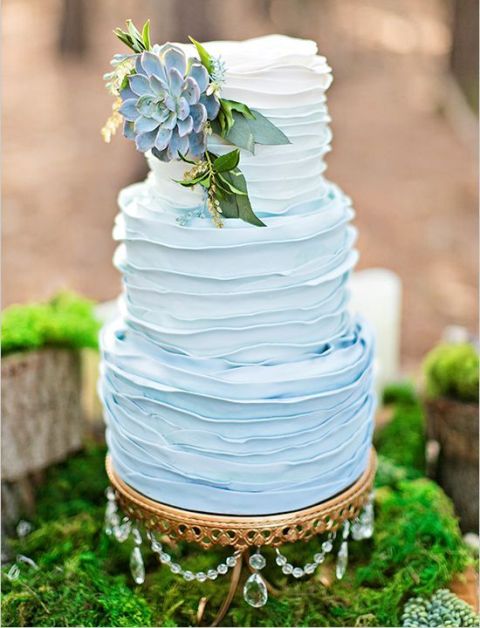 Image source: Pinterest
A classy blue wedding cake is a whole lot of win when you want something blue to commemorate your wedding day. You might think it weird to have a wedding cake that is blue, but one look at this pretty baby is surely going to change your mind because come on, this looks absolutely perfect.
8. Blue satin sashes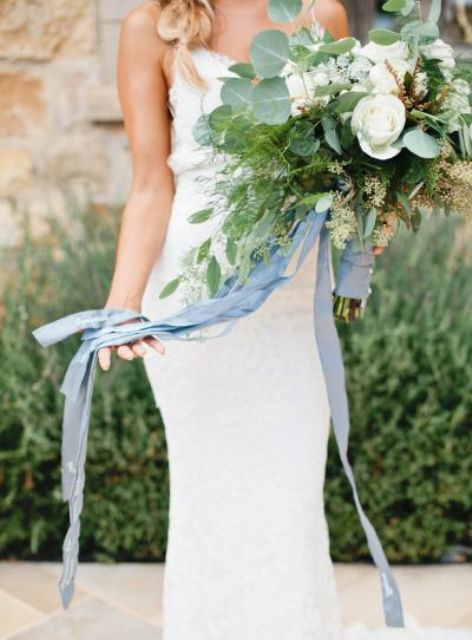 Image source: Pinterest
There is a reason why blue satin sashes are included in Julie Andrews' list of favorite things – because they are drop dead gorgeous, duh! Whether you want your blue sash to adorn your wedding dress and act like the prettiest understated belt ever, or you want it dreamily wrapped around your bouquet, this is the perfect something blue!
---
Suggested read: 15 stunning colored wedding dresses to make you rethink a white wedding
---
9. Secret blue wedding inscription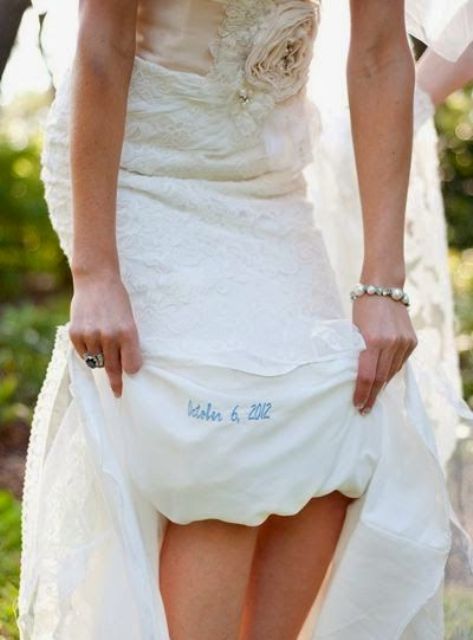 Image source: Pinterest
If you are not very comfortable with writing anything on the soles of your shoes, no worries, because you can always add something blue under your dress, with a special message, or an inscription, or initials or dates or pretty much anything, in quaint blue letters in the lining of your dress. It is unique, romantic, and also insanely fun.
10. Blue bridal intimates
Image source: Pinterest
While we are on the topic of something blue which is hidden, you can also check out a stunning set of bridal lingerie in light or dark or any other shade of blue, so that you and your groom can knowingly smirk at each other throughout the ceremony. 😉
11. Vows in blue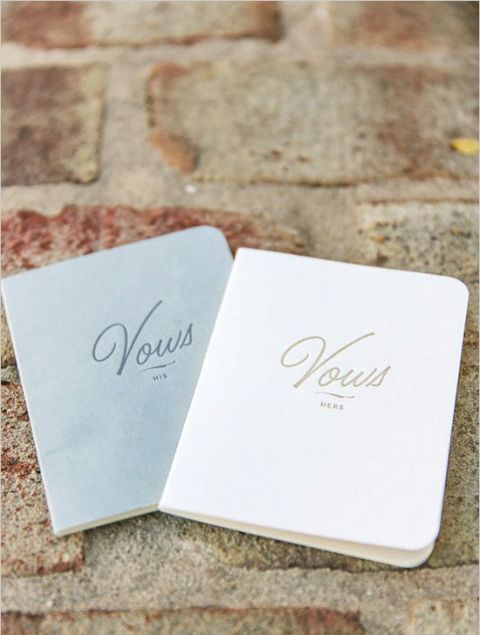 Image source: Pinterest
The most emotional moment in a wedding, for the bride and the groom and everyone else in attendance is probably the time when the two exchange their wedding vows. How can you possibly make this moment all the more special? By either getting a vow card that is blue, or writing the vows in blue ink, making it one special something blue, to be cherished forever.
12. 'Something Blue' by Oscar de la Renta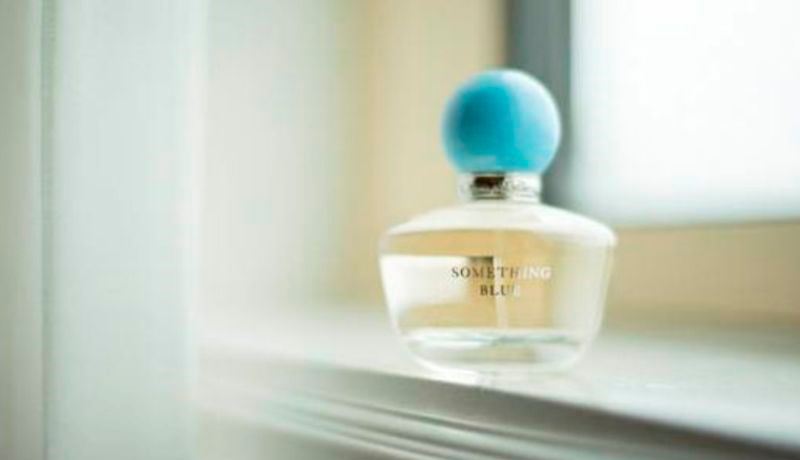 Image source: Pinterest
This one probably wins the most unique award. Oscar de la Renta has given all unconventional brides a one way ticket to being the coolest bride ever, when it comes to picking 'Something Blue' for their wedding, because with this cheekily named product, you will actually be wearing 'Something Blue.' It also smells amazing, FYI.
13. Your blue bridesmaids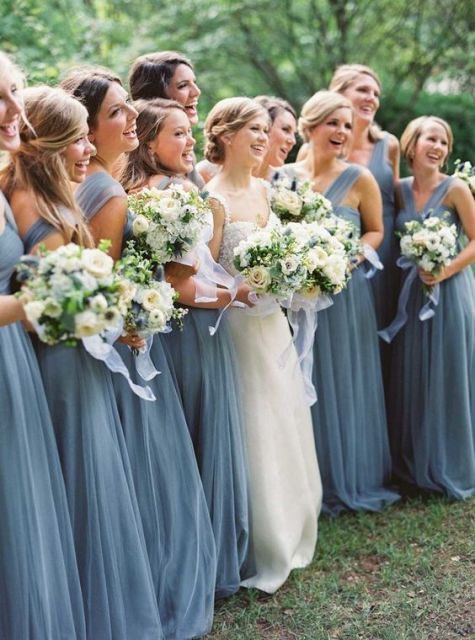 Image source: Pinterest
This might sound a little dubious at first, but think about it – you love your bridesmaids (otherwise they wouldn't be your bridesmaids), they will be accompanying you through most part of the ceremony, and if they wore blue, they would offset your white in the most beautiful manner possible. Could it be more perfect?
14. Blue hair combs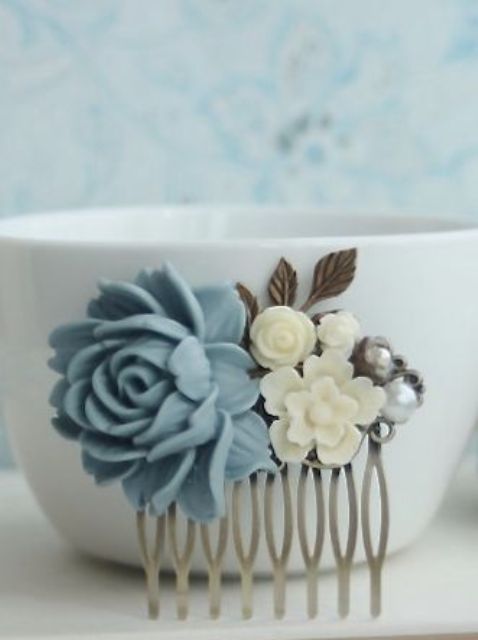 Image source: Pinterest
Hair combs are some of the most beautiful hair accessories. When you make judicious use of them and wear them as your something blue, you are bound to do justice to the tradition, without being too ostentatious, or too covert about it.
15. Blue nail paint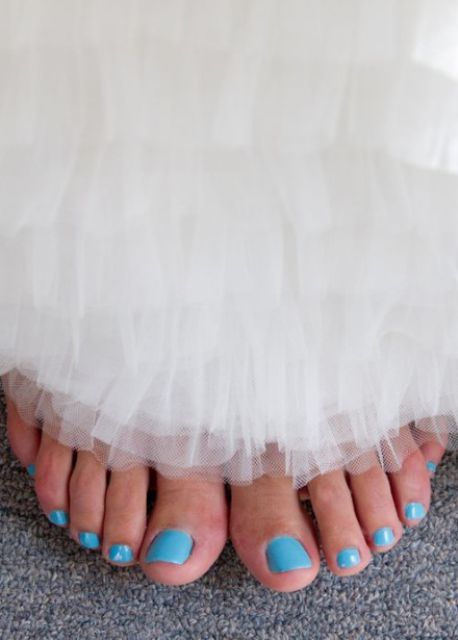 Image source: Pinterest
Wearing blue on your nails is a dainty, adorable and, convenient way of adding something blue to your attire. Another advantage that you have is that you don't have to hunt constantly for something which goes perfectly with your dress, and doesn't outshine it. All you need is a super relaxing manicure and pedicure, and you are good to go!
16. Unique blue veil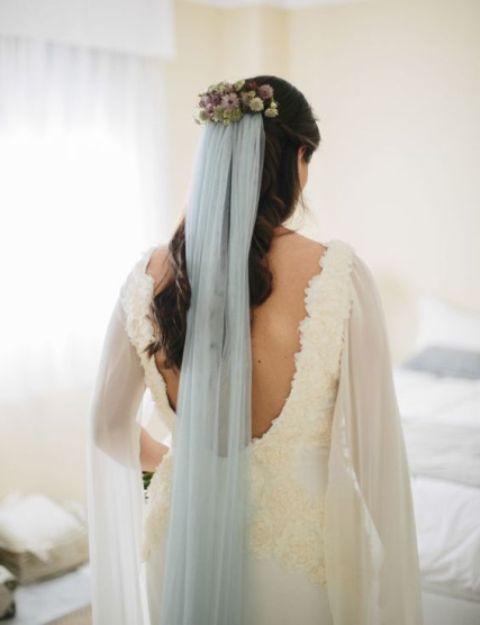 Image source: Pinterest
This is one those truly unique something blue ideas, that is bound to get you more than one admiring look on the day of your wedding. If you absolutely cannot figure out what you want as your something blue on the day that you get married, why not go for the unconventional choice of a non-white, or rather, blue wedding veil, which is made of soft, dreamy tulle, and will be able to accommodate the blue nicely with your bridal whites!
17. Blue engagement ring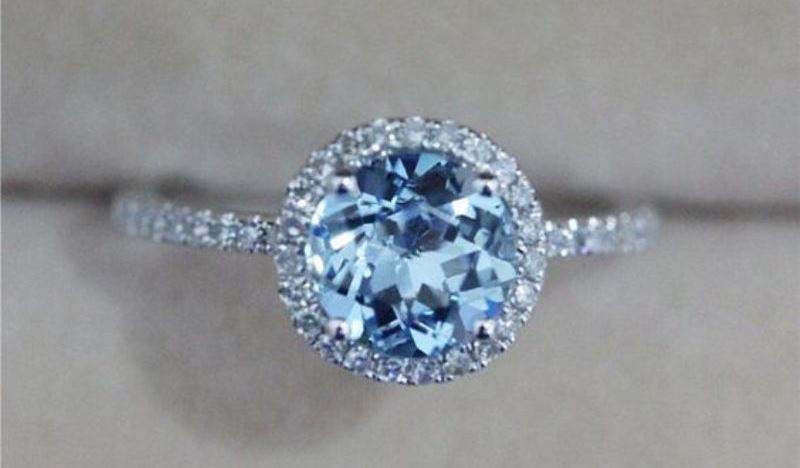 Image source: Pinterest
This might be pushing your luck a little, because in most cases, you might not have a choice when it comes to your wedding ring, but if you do, nothing is more ideal than a blue wedding ring, or rather, a blue stone set in a ring. Whether it is aquamarine or a darker blue stone in gold, diamonds, platinum, silver, white gold or anything under the sun, this is something which is guaranteed to become a family heirloom.
---
Suggested read: 8 essential tips for choosing your dream destination wedding
---
18. Blue wedding dress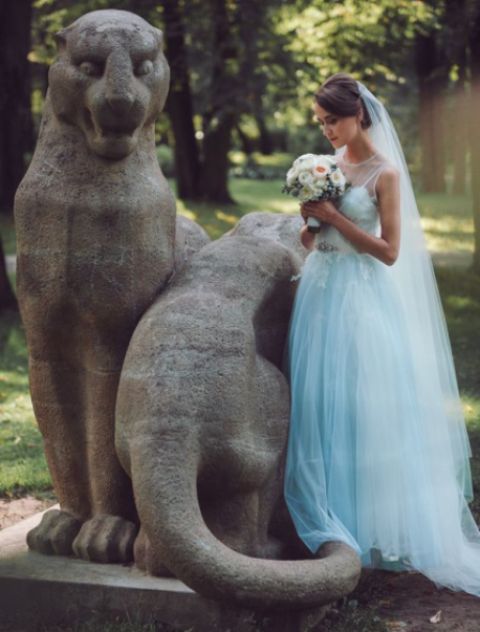 Image source: Pinterest
For some brides, wearing something blue, and wearing the right something blue, is of the utmost importance. You might not want to ruin your dress by embroidering it or putting appliqués, you might not like the idea of your something blue being something that cannot be worn on your person, or you may want something completely different. The answer to your question is simple – if you don't know what to do for your something blue, be something blue, in the form of a unique and stunning wedding dress. And as is evident, the results are breathtaking.
There is no escaping from the fact that you have to adhere to tradition and wear or include something blue in your wedding, whether you like the color or not (and it is mildly baffling if you don't). However, the list makes it evident that even if you are reluctant or confused, you can play around with a tradition that dates back almost a hundred years and make it your own unique bridal style!
Summary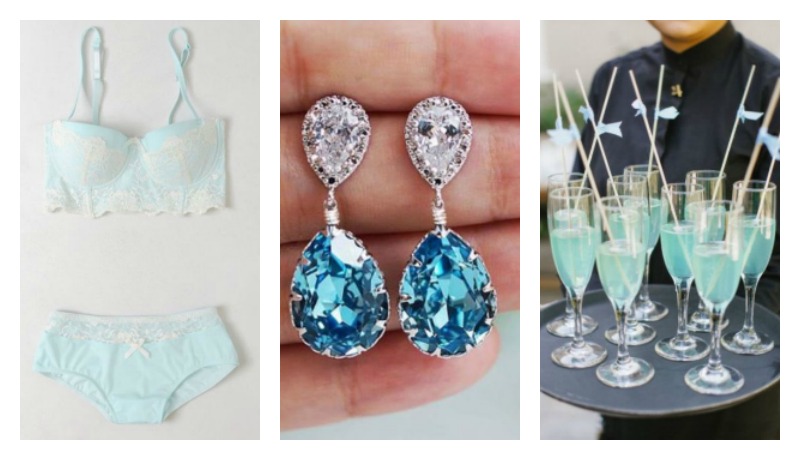 Article Name
18 Fresh Something Blue Ideas To Use At Your Wedding
Author
Description
You don't have to stick to the boring old blue hairpin for your something blue at your wedding. Take a look at these fresh and awesome something blue ideas.