"I'd imagine my wedding as a fairytale…huge, beautiful, and white." – Paris Hilton
Well, Paris Hilton certainly had her heart set on a white wedding, but by no means is that the only wedding color out there! One look at any bridal magazine or website and you'll see a plethora of beautiful weddings – all color coordinated. From the bridesmaids' dresses, to the flowers, to the color of the cake – no stylish wedding is complete without a good color workout! And your wedding colors aren't just for decorative purposes, they also say a good deal about the bride's personality!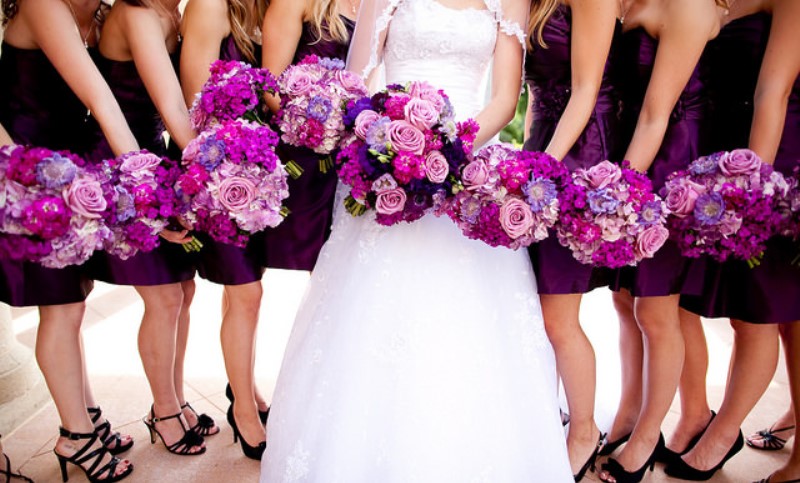 Image source: Flickr
---
Suggested read: 20 elegant ways to use red roses in your wedding
---
Choosing your wedding colors
Choosing your wedding colors is among the first steps in planning a wedding, probably just after you set the date and decide the venue! You'll want your wedding invites to be in your chosen colors as well, and this requires advance planning. (Unless you're a total last minute type of girl)
Like Paris Hilton, you've probably always had a dream wedding planned out in your head with your favorite color at the core. But picking a color combo for your wedding isn't as simple as tapping into your childhood dreams. Wedding colors also depend upon certain larger factors like your venue and the season. If your venue has already got huge curtains and carpets in solid colors, you can't ignore them when choosing your wedding colors!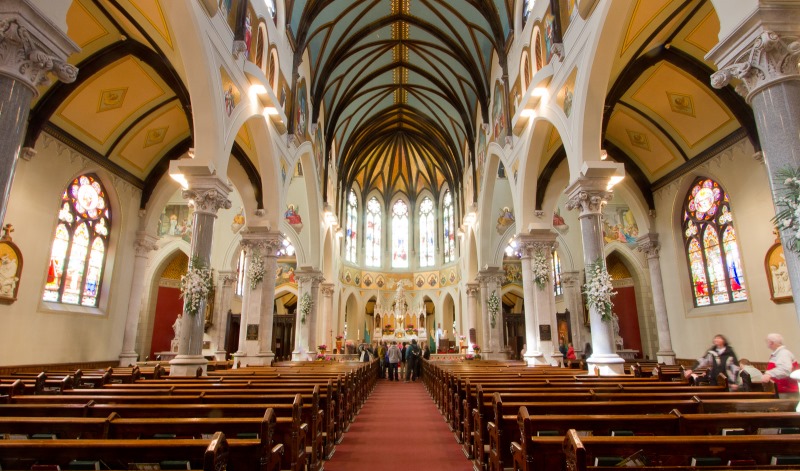 Image source: Google, copyright-free image under Creative Commons License
You'll also have to remember that your wedding colors will reflect in nearly every aspect of the wedding, such as:
Invites (we already told you that)
Bridal shoes & jewelry
Flowers
Decor
Bridesmaids' dresses
Groom's and groomsmen's accessories
Wedding cake
Table setting
Wedding favors
And so on and so forth. You get the idea, don't you?
Seasonal wedding colors
Besides the venue, another equally big (and unchangeable) factor is the time of the year you're getting married and the season at such a time. When it comes to weddings, each season has its own set of signature colors, not unlike in fashion.
Spring is generally about softer colors and pastels, a favorite being pink. Some popular color combos for spring include pink & purple, mint & coral, lavender & green, and white with all shades of pink, purple, blue, and green.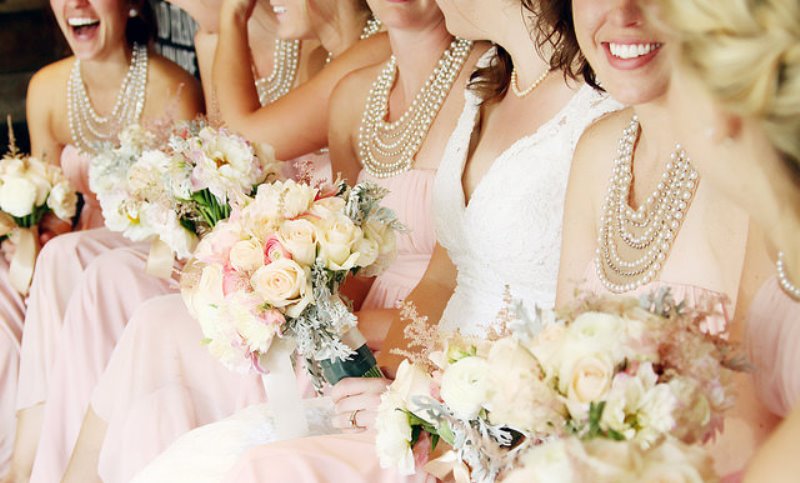 Image source: Flickr
Summer is the season for brighter colors, and juicy hues like citrus, papaya, lime and mint. Beach themes and pool themes are popular, making various shades of blue create a cool atmosphere in the heat. Red is also very popular, as are shades of orange, like coral.
Image source: Flickr
Fall sees lots of earthy hues, like olive and brown. Green features a lot, with red & green and orange & green being popular combos. Jewel tones or brighter tones are mixed with earthy shades for a more contemporary look.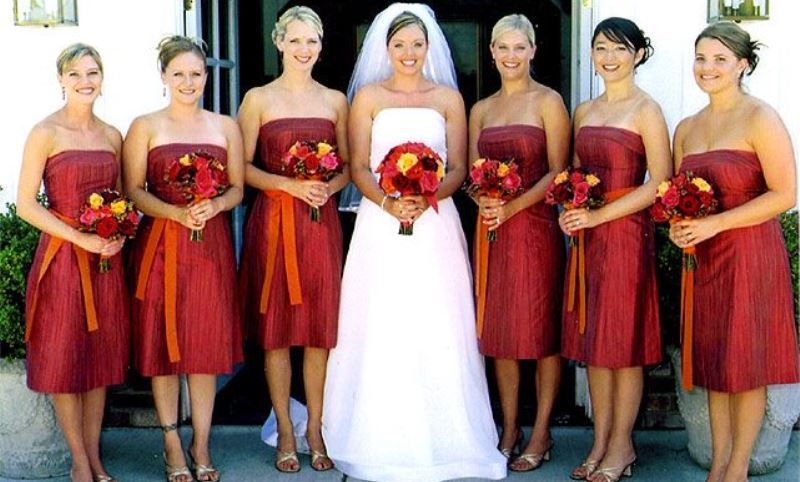 Image source: Pinterest
Winter weddings generally tend to reflect the snow, and white is quite prominent, with other colors in jewel tones. Navy, red, deep purple, and bottle green are perfect for the season, and look great in contrast with white.
Image source: Flickr
If you look closely, these colors complement nature during any given season, but are meant to be used as a guide and are by no means restrictive.
---
Suggested read: 15 vital things you MUST avoid the week before your wedding
---
Choosing wedding color schemes
Earlier, most weddings were white, with just a few touches of the bride's favorite color reflected in the flowers or shoes. But these days, color has practically taken over the entire wedding, with many weddings featuring a combo of colors, some with two, and some going up to five!
However, thinking about wedding color ideas is not just about choosing random colors based on the venue and the season, it's about finding colors that look good together and that reflect your personality. This probably sounds difficult, so here are some general guidelines for wedding color combinations:
1. We did mention that some brides choose up to 5 colors in a single scheme, but experts advice sticking to three, and certainly not more than four.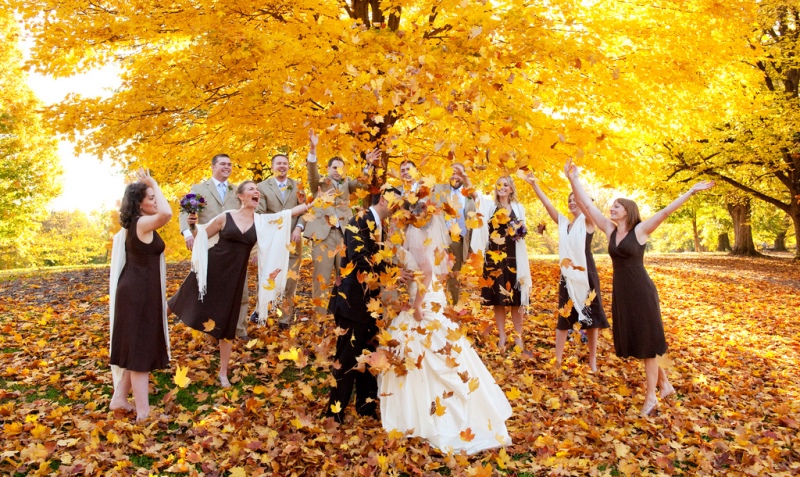 Image source: Google, copyright-free image under Creative Commons License
2. Keep one of the colors a light neutral, like white, beige, ivory or cream. This helps to hold the other colors together and many brides base the color of their gowns on this.
3. Let one of the colors be a simple, easy to find color. It is not going to be easy to find a centerpiece, napkins, and shoes in a color like metallic pink, so having an 'easier' color will help in such situations.
4. Having every single thing in the wedding match each other 100% will look too synthetic. Having the same color in a few minor shade variations adds interest and depth to the overall color scheme.
What the wedding colors say about the bride
Your wedding colors set the mood for the wedding, so they're very important in deciding how the guests feel and how the general vibe is. But did you know that besides that, your specific choice of colors says a lot about you as a bride? Interesting, right? Like we mentioned above, apart from the neutrals, you've probably got one stand out color that was probably your first choice and upon which you based the scheme. As can be expected, that color reflects your personality the most. Here are the most popular wedding color choices and what they say about the bride.
1. White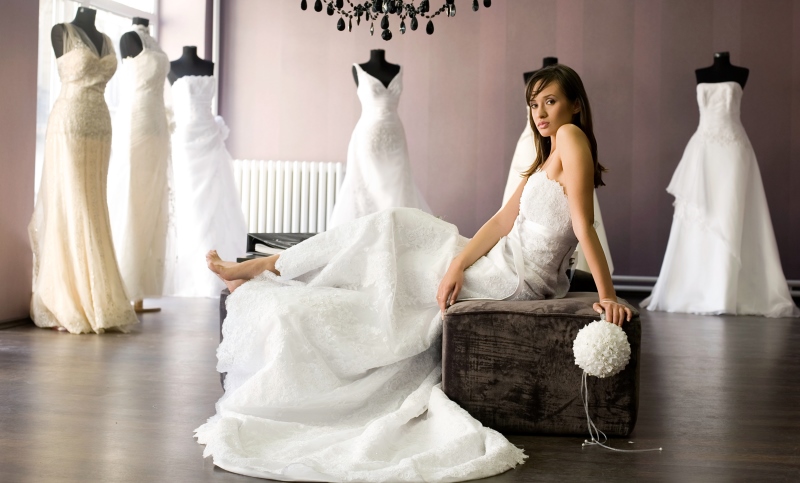 Image source: Shutterstock
White is the most traditional choice for most brides around the world, and for good reason. The bride who picks white is someone who has a generally simple and straightforward nature. Her thoughts of people are pure and unpolluted and she prefers keeping the peace over confrontations.
This bride loves all things classic. She prefers clean simple lines and elegant cuts over fussy contraptions. This bride has an unbiased approach to things and usually listens to everyone with an open mind. She prefers a marriage that is just as straightforward as she is, and built on simplicity and trust.
2. Gold
Image source: Flickr
Gold signifies success, affluence, and luxury. This is a bride who likes the good life and is not afraid to work for it. She has an attractive personality and can't be ignored. She appreciates quality and considers herself worthy of it.
A gold bride will rarely have financial troubles in her marriage, as she constantly seeks to keep the family coffers full. She has an optimistic approach and handles obstacles with ease.
3. Pink
Image source: Flickr
Pink is a positive, feminine color, and is associated with a certain youthfulness. The bride who loves pink is a gentle soul and has a nurturing personality. She is lively, but not loud. Like white, shades of pink like light rose and fuchsia are also among popular wedding colors, and go well with grey, purple, and teal.
The pink bride loves romantic books and movies, and expects to keep the romance alive in her life as well. Her style is usually a little vintage, though she likes to turn it up a bit when things get boring.
---
Suggested read: 15 chick vintage wedding dresses for the modern bride
---
4. Red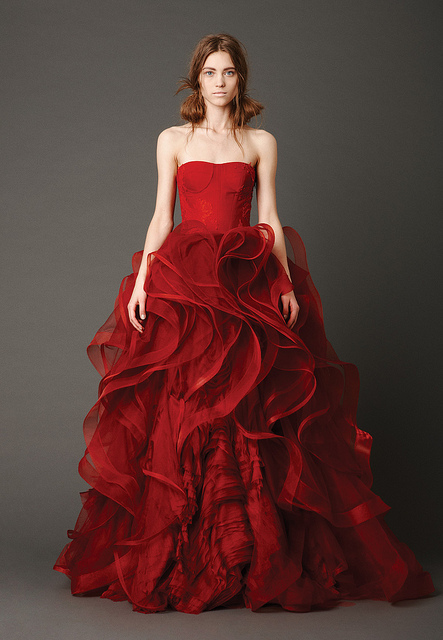 Image source: Flickr
Red is a warm, bright color, and choosing red or burgundy for a wedding immediately livens up the proceedings. It is the perfect color to add some zing to a dull climate, just like the bride who chose it. She is confident and knows how to catch life by its horns.
The red-loving bride is passionate and will never let her marriage get boring. She will ensure a constant surge of energy and an overall optimistic approach.
5. Orange
Image source: Pinterest
The bride who loves orange, loves life! This bride's energy and enthusiasm is infectious and will reflect in the atmosphere of the wedding as well. All shades of orange, like coral and peach are warm colors. The bride is likely to be the life of the party and the fun one among her friends.
Orange is also a color related to appetite, and the bride's new home is likely to be very hospitable and welcoming. Her marriage will always be alive, with frequent opportunities for having fun. Orange works well for all seasons, especially with white, green, and shades of blue like teal.
6. Brown
Image source: Pinterest
Brown is the color of the earth, and the bride who chooses this color will have a down to earth, no nonsense personality. She has a stable, grounded character that makes her a pleasure to speak to and a good person to turn to for help.
Brown brides have traditional values. They take their responsibilities and obligations very seriously and will work very hard to make their marriages successful. They will have an open, welcoming home with good food always available.
7. Yellow
Image source: Pinterest
The yellow bride personifies cheer and has a sunshiny personality to match. She radiates happiness and everyone at the wedding is affected by it in a lovely way. Yellow is also a fiery color, and this bride can be quite spontaneous in her marriage.
This bride has a circle of good friends who count on her, partly because of her personality, and partly because of her good communication skills. These skills also help in maintaining a great relationship with her spouse with few chances of misunderstandings.
8. Green
Image source: Flickr
Green is the color of nature, and just like nature, the green bride brings balance and harmony to her world. She is level-headed and never temperamental, and always strives to treat everyone justly.
The green bride will always have her heart close to the earth, and she'll frequently be found to be good with gardening. She has a loving nature, and will be a great companion to her partner during stressful times.
9. Blue
Image source: Flickr
Blue, the color of the ocean, is associated with calm and tranquility. Blue brides are also known for their calm demeanor, even in the face of trouble. They are the voice of reason and anchor of peace in any crisis situation.
Blue brides generally have lots of people who consider her their friend. They usually consider the situation before speaking or acting, and are wise with their words.
---
Suggested read: How to find the perfect wedding dress to suit your body type
---
10. Purple
Image source: Flickr
Purple is the color of intuition and the color of royalty. Brides who choose purple often have very deeply ingrained ideals and core values, which they adhere to under any circumstances. Light purples indicate calm and darker purples indicate a spiritual connection.
Whichever shade of purple they choose, brides of this color are sensitive beings and take care of others' feelings as well. They are capable of great sacrifice for a cause they believe in, and opt to do the right thing even if it's difficult.
Whatever wedding colors you finally decide on, make sure they are colors that you love, and not what the stylist or your friends suggest! After all, it's your special day, and you deserve to have it your way!
Featured image source: Flickr
Summary
Article Name
What Do Your Wedding Colors Say About You As A Bride?
Author
Description
Choosing wedding colors isn't just about being decorative or looking nice, it also says a lot about a bride's personality. Take a look.