Because of several years of tradition that had been initiated by a renegade queen, brides have been thinking that white is the only color acceptable for their wedding dresses. However, fashion has been breaking barriers of tradition and custom and taking bold and beautiful steps, and wedding dresses are not exempt from that ritual. The latest kids on the block on this front are the colored wedding dresses, which are quirky, trendy, unique, and no less beautiful.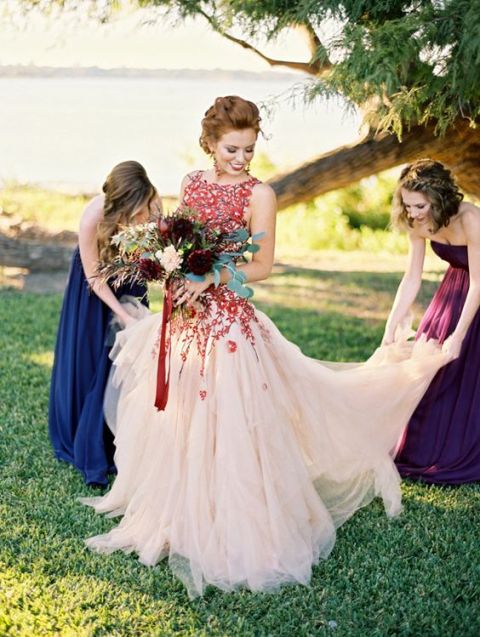 Image source: Pinterest
Top designers all over the world have been designing colored bridal gowns which have left brides speechless and stunned because of their sheer beauty.
---
Suggested read: 20 stunningly sexy sheer wedding dresses that will make you swoon
---
Here are 15 examples of the same which are bound to make you rethink your desire for a traditional white wedding dress.
1. Bright pink and red patterns underneath ivory
Image source: Pinterest
This stunning red and white and pink number is as unique as it gets. Wouldn't it be absolutely amazing if you could stun your wedding party not just with your bridal elegance, but with the surprise (literally) hidden under your dress? With every little movement, this ivory tulle and silk wedding dress would reveal the printed red and pink interior which is all fun and freshness, among a sea of boring white-donned brides.
2. Coral mermaid wedding dress
Image source: Pinterest
Trust Vera Wang to create an absolutely ethereal, yet simple mermaid style wedding dress out of the most gorgeous coral material. The strung silk fabric falls in neat pleats till the calf, when it bursts out in a floral motif and then the flare skirt adds added dimension to the dress. You would literally light up the aisle when you walk down in this masterpiece.
3. Black ballet style royal dress
Image source: Pinterest
Whoever told you that you can't wear black on your wedding day is lying to you because come on, who could say no to something like this, which is well, perfect? And also, I might have a thing for multi-colored underskirt material, but can I really help it? This manifestation of perfection comes from Chado Ralph Rucci's 2013 Spring/Summer Collection, and is bound to make you the most memorable bride that your bridal party has had the privilege of beholding. Also, this is the most badass way to break out of tradition and stereotype.
4. Water blue wound empire wedding dress
Image source: Pinterest
Is it a nymph? Is it some amazing creature that has descended from heaven? Nope. It's just the most beautiful bride we have ever laid eyes on. This will probably be the reaction of your wedding guests when you step out in this crazy Monique Lhuiller creation which is basically too good to be true. Why would anyone choose a white wedding dress when you have infinitely better options like this one?
5.  Layered and stained corset dress
Image source: Pinterest
This drop-dead gorgeous number makes you look like a winter rose, and this is me without being dramatic. The beauty of this Rani Zakhem dress lies in the fact that each layer of tulle is stained with different colors, which magically come together to create something this stunning and this beautiful. The dress is made unique by the addition of the corset bust, which adds lines and sharpness to the otherwise mystical dress.
6. Rose-tinted metallic gold wedding number  
Image source: Pinterest
So you start off with a simple wedding dress in ivory silk, without any of the tulle and organza flourish, a decent sweetheart neckline, and you travel down the smooth bodice, when voila! You see the most abrupt, the most beautiful, and the most appropriate splash of tinted rose-gold metallic shimmer, which leaves stars in your eyes. This ingenious wedding dress from David's Bridal will convince you that white wedding dresses are as boring as they get, and you can spice up your bridal attire in the classiest way possible.
7. Asymmetrical hemline on layered powdered blue and beige dress
Image source: Pinterest
Dresses like these make you thankful for the existence of Christian Dior. I mean, can you imagine yourself as a bride in a dress like this? Do you even remember that wedding dresses are traditionally supposed to be white? I don't. The gentle powder blue of tulle in the dress, embellished with sequins, gives way to slight beige tints near the asymmetrical hemline, and the embroidery work on the skirt and full sleeves and the layered neckline make you look better than a duchess, frankly.
---
Suggested read: 15 blush wedding dresses bound to make you blush with pleasure
---
8. Red stained fire dress
Image source: Pinterest
Talk about a badass bride. I would think that if Katniss Everdeen was to get married, she would wear something like this stunner from Jean Louis Sabaji, which makes you look like you are literally on fire. This fit-and-flare makes you want to lie down on the floor and cry for eternity because of its sheer beauty, because come on, just look at it. The red stains gradually emerge from the textured layers of silk, which otherwise form a beautiful bodycon bodice with a simple round neckline and cap sleeves. Perfect. Just perfect.
9. Pale gold sequined stunner
Image source: Pinterest
Colored wedding dresses in themselves are, as has been proven by 8 aforementioned examples, absolutely stunning. However, when you combine colored bridal gowns with sequins, you look like a sky full of stars, and who doesn't want to look celestial on their wedding day, literally? This dress has been made by Romono Keveza, and we couldn't be more thankful for it. The veil, the ample tulle princess skirt, the illusion neckline, and everything else on the dress is bathed in a shower of silver sequins which is going to make you look blindingly beautiful on the most special day of your life. I am already jealous.
10. Soft pink floral couture wedding dress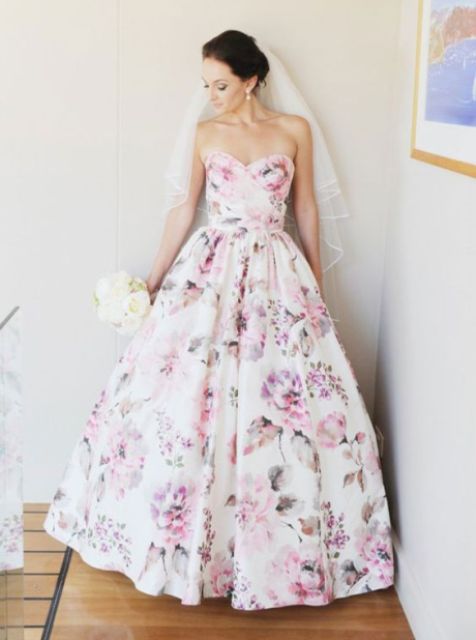 Image source: Pinterest
So you want to look gorgeous and unique on your wedding day without having to completely compromise on the traditional white in your dress? No problem, because Wendy Makin has made one of the most adorable and classy kind of wedding dress, with soft spring floral motifs distributed throughout the ivory silk body. It is feminine, it looks and feels comfortable, and it is infinitely better than the traditional bridal attire. Tough luck, plain white wedding dresses.
11. Such perfection cannot be described
Image source: Pinterest
I feel that something this beautiful should not exist, because it is unfair to all other wedding dresses out there. A wedding dress like this proves yet again that Elie Saab is the unconquered boss of everything. Everything about this dress is outrageous – the colors, the silhouettes, the fabric. The pink stains give way to a metallic grey-blue mirror work in the structured skirt, with the most sophisticated ombré effected ever recreated on a piece of cloth. Seriously though, do you even remember what white wedding dresses look like?
12. Magnificence manifested in magenta  
Image source: Pinterest
Some brides, who might not be as brave as the others, may choose to go for softer pastel shades, baby pinks and blues, tints and blush colors, if and when they want to break out of the tradition of wearing white wedding dresses (gently). That is not a problem at all. However, if you are not one of them and you want to be remembered as the bride who blew everyone away with her colored wedding dress, then Marchesa has made this dress keeping you in mind. The stunning uneven neckline and the smooth, uninterrupted magenta skirt is literally a recipe for drawing everyone's eye with the slightest movement. Personally, I feel colors like this celebrate the spirit of a wedding perfectly.
13. Forest green short lace number
Image source: Pinterest
This wedding dress is short, lacy, green, and out of this world. Created by Georges Hobeika, this tulle and lace number also has a touch of vintage with the collar, and it incorporates beautifully the modern elements such as the plunging neckline, and of course, the short and sexy length. The dress is separated by a discreet black belt but it just oozes class and enigma. Are your wedding guests likely to forget that you were the coolest bride wearing a short, green, classy lace dress to your wedding? Not anytime soon.
14. Ridiculously good-looking red Marchesa dress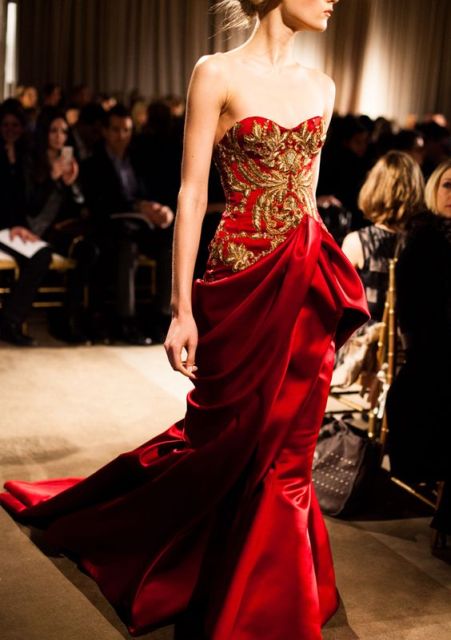 Image source: Pinterest
We might just have to admit that Marchesa makes some of the most stunning colored wedding dresses. Everyone has a dream wedding dress, and from this point onwards, if this isn't your dream wedding dress, then there is something seriously wrong with you. The unassuming and deceptively simple sweetheart neckline is highlighted with the thick golden embroidery and you don't even get to see waistlines like that on standard white dresses. The sudden flare of the deep, almost intimidating red skirt makes you go weak in the knees. Imagine your groom's face when you step out on the aisle in a stunner like this. Priceless.
---
Suggested read: 20 elegant wedding dresses for pregnant brides
---
15. Then there is Krikor Jabotian
Image source: Pinterest
Red appliqués, asymmetrical hemlines, lace shoulder details, gold on ivory embroidery, and a halo. This is the kind of dress which will convince you that white wedding dresses are nothing in comparison to colored wedding dresses, which are ethereal. Any doubt you might have had should be dissolved as soon as you lay eyes on this masterpiece. Does this dress want to make you weep? Then, I feel you.
As this list has proven, colored wedding dresses are infinitely better than white wedding dresses, not only because they add excitement to your attire, but they help you achieve something which every bride wants her wedding to be – memorable. They can look as traditional and classy as the white ones, and sometimes even more, giving you ample reason to not jump on the bandwagon when you are picking out your wedding dress.
Summary
Article Name
15 Colored Wedding Dresses That Will Make You Rethink A White Wedding
Author
Description
These gorgeous colored wedding dresses will definitely make you pause and rethink the whole traditional white wedding dresses. We bet on it! ;)