Once the ring is on and the announcement is made, you've suddenly been elevated to a special status. You're a bride-to-be and there's a special glow that surrounds you wherever you go!! All the special treatment is definitely welcome, but being a bride-to-be also has its fair share of challenges – there's so much to decide!! The wedding dress, flowers, bridesmaids, bridesmaids' dresses, cake, and of course, what to do with your medium length hair! Yes, among the chief bridal decisions to be made is the one of choosing the right one among the various wedding hairstyles for medium length hair!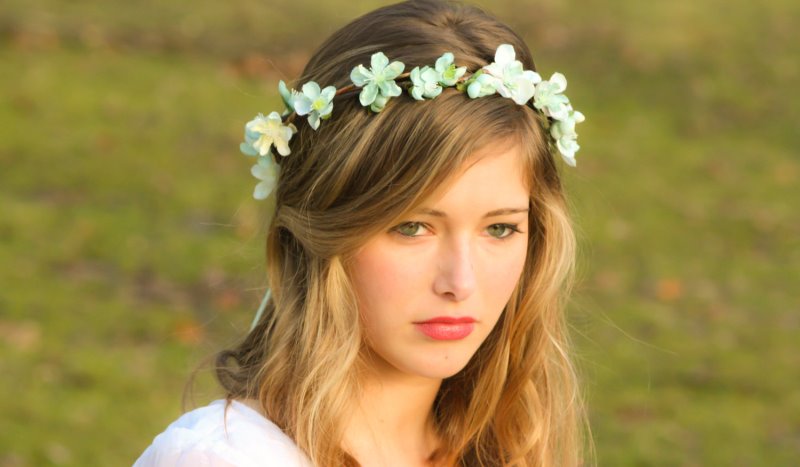 Image source: Google, copyright-free image under Creative Commons License
Choosing the right wedding hairstyle isn't as simple as just picking one that you like from a magazine or website. There are quite a few things to consider, such as:
1. The theme – Your hairstyle should match your dress to create an overall harmonious look. A formal looking gown would do better with a sleeker 'do, while a beach or country-style setting would look lovely with a more casual, teased look.
2. Your face – This goes without saying, but while many brides will otherwise consider their facial structure when choosing a hairstyle, they often throw out those rules when it comes to a wedding! Get a hairstyle that'll beautifully bring out your best features.
3. The weather – Does your hair turn into a huge Afro at the slightest hint of humidity? Then you need to consider that if you're getting married when the weather is on the muggier side, so that you're not spending your special day smoothing out flyaways.
4. The length – Of course, you can't give your Rapunzel locks a pixie look without chopping it off! While the vast array of tools and products available today makes nearly every hairstyle possible, some hairstyles just sit better with certain lengths of hair.
---
Suggested read: Best wedding updos that suit your hair type and texture
---
Speaking of length, most hairstyles are classified as suitable for short, medium or long hair lengths. Short hair is much easier to maintain, and not much effort is required to keep your look going strong for the whole day. Long tresses have the potential to be twisted and curled into myriad ways to create works of art. But when you're a medium length girl, you actually get the best of both worlds. Hairstyles for medium length hair don't have the maintenance issues of long hair, and your hair is more flexible than short locks. This makes choosing wedding hairstyles for shoulder length hair much easier; so that's one bridal decision taken care of!
That said, you do need a little help to narrow down the perfect one, but that's why we're here! Presenting 20 lovely and elegant wedding hairstyles for medium length hair, along with tips on how best to wear them!
20 elegant wedding hairstyles for medium length hair
1. Mini bouffant with accessory
Image source: Flickr
A bouffant is something of an evergreen style; you can rarely go wrong with it! Not as dramatic as a full blown beehive, this mini bouffant gives that perfect dash of elegance to a more formal setup. It also gives the veil a perfect 'landing point,' so to speak. In front, sweep to the side for a sleeker look or leave out a few strands for a more relaxed appearance. Don't forget an heirloom accessory for some bling!
2. Curly chignon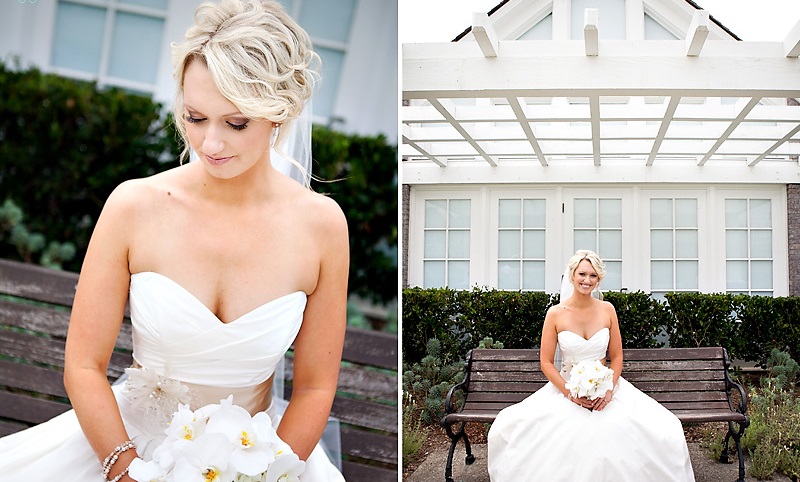 Image source: Flickr
Girls with curls; don't be scared to flaunt 'em! There's a misconception that only straight hair can look elegant, but you couldn't be more wrong. Curls give a beautiful textured look to regular wedding updos for medium length hair, and work for both formal and casual settings. The bonus: little flowers sit perfectly on curly hair like it was made for them!
3. Twist and pin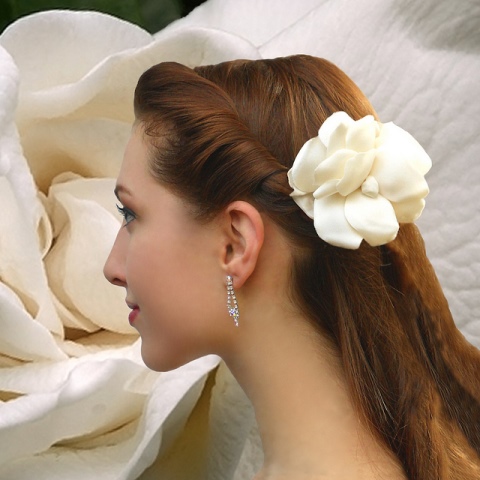 Image source: Flickr
This is a more modern and simple take on the vintage victory roll, and gives a soft, elegant style without looking dated. The hair on the sides are twisted and held in place with bobby pins, which are then hidden under a floral accessory. At the back, do a little backcombing to add some texture to the overall look. This style is the perfect way to show off those lovely diamond danglers!
4. Ballerina bun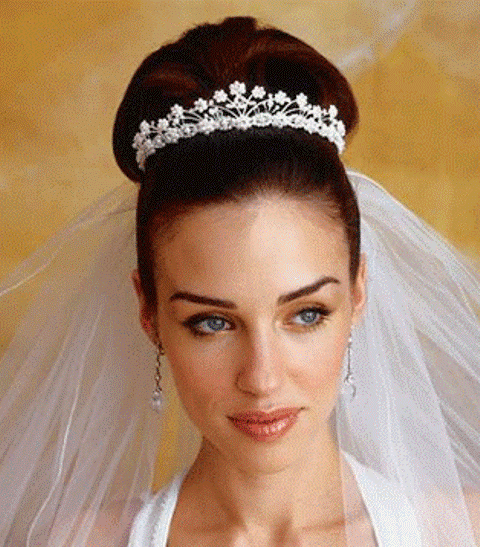 Image source: Flickr
A ballerina bun is among the simplest updos for medium length hair. While long hair is subject to gravity because of its weight, medium length hair lends itself much better to this style. For a flawless look, ensure that flyaways are completely controlled. You may also need a good amount of hairspray to keep the look upright. With a beautiful tiara, the ballerina bun works well with a formal, elegant theme.
5. Braided loose curls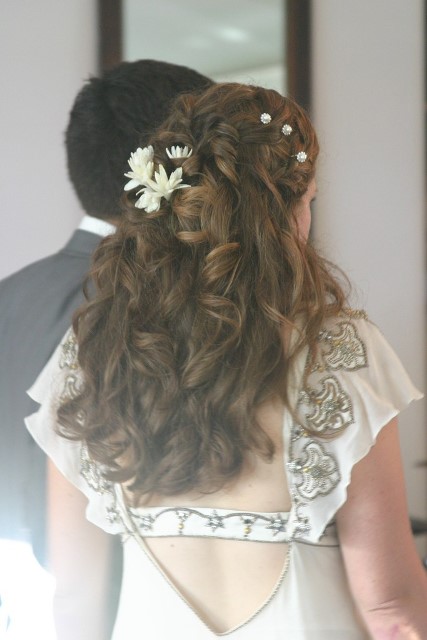 Image source: Flickr
This is a look that works equally well with medium and long hair. While the look is perfect for those with curly hair, lasses with straight locks can also achieve the look with proper use of a curling iron. This is a hairstyle brimming with texture, with the braids on the top of the head and the lovely cascade of curls on the back. With so much happening, keep the accessories low key with this one and limit yourself to a few crystal pins or tiny flowers.
6. Bump half up – half down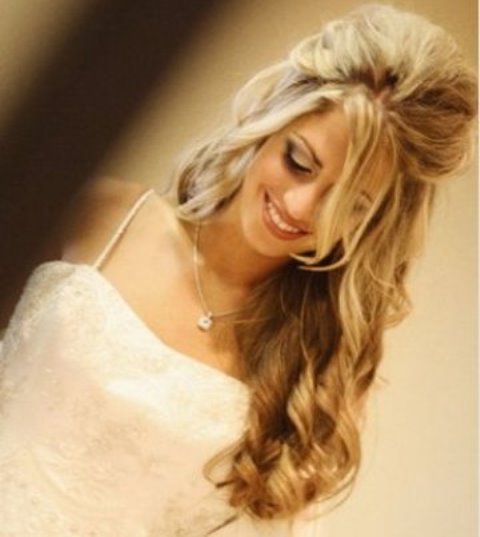 Image source: Flickr
This do is the perfect relaxed hairstyle! While it may appear like you woke up with those gorgeous waves, you'll actually need to put some effort to ensure they stay in place. A little backcombing on the crown gives the bump some volume, and takes care of the 'half up.' The 'half down' is tonged at the ends for that lovely, tousled look. This style is great if you have streaks in your hair; remember to keep the accessories low key.
---
Suggested read: 15 vintage wedding hairstyles for that classic look
---
7. Knotted around half up – half down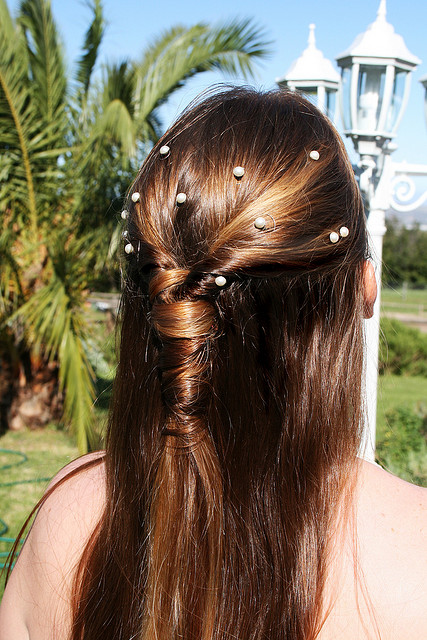 Image source: Flickr
If you think we're being partial to girls with curly hair, here's one for you straight haired lovelies! The problem with straight hair is the lack of texture, which can make it look flat or boring. But this half up knotted hairstyle is anything but! A twist, a braid, and a knot all in one, you can't complain of lack of texture anymore! Another great look to show off those streaks and highlights.
8. Side braid low bun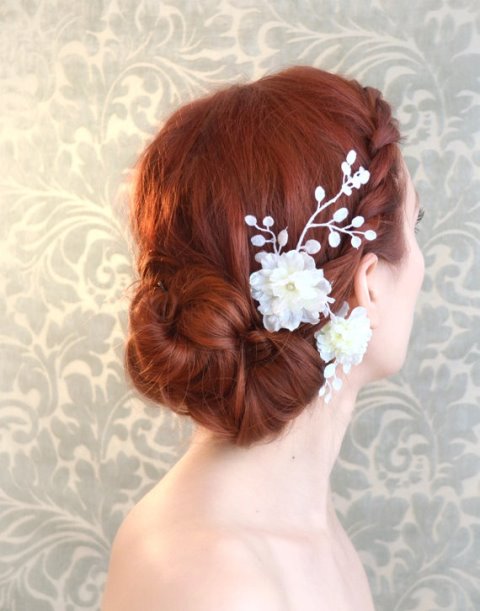 Image source: Flickr
This is a sweet, romantic hairstyle that is actually easier than it looks. A side braid ends in a low twisted bun for a soft, delicate effect. If you have short hair of different lengths, be sure to tame them with a generous amount of anti frizz serum to stop them from coming out at weird places. Accessorize with one large accessory to create a statement look.
9. Low roll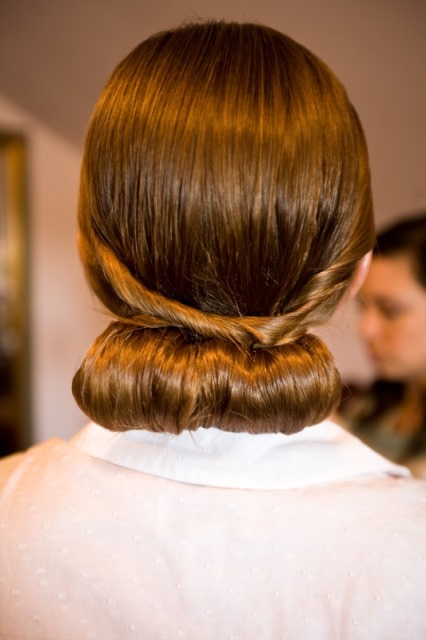 Image source: Flickr
Rolls on hair always give out an old world charm that resonates with elegance. This look is better suited for straight hair since curly hair can result in a look that's messy (and not in a good way). This is one of those wedding hairstyles for medium hair that is perfect for a very formal setup. One warning though; prevent the look from becoming too matronly by ensuring that your dress has a more youthful, stylish vibe.
10. Twisted hairband
Image source: Flickr
This one's for the countryside wedding! Just one look at this hairstyle, and you're reminded of quaint French cottages, with rows of flowers and the smell of fresh bread and cheese all around. This hairstyle echoes that same sense of relaxation and is great for all kinds of hair textures. Twist portions of hair on either side and use bobby pins to hold them in place at the base of your head. Camouflage with a floral hairband, tease the strands in front, and you're done!
11. Faux bob with accessory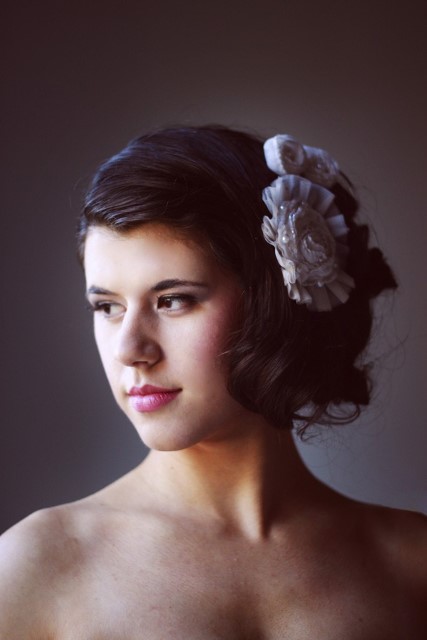 Image source: Flickr
Remember when we said that medium length hair had the best of both worlds? Here's proof! Getting long hair into a faux bob is a challenge, but it's easier with medium hair – and you get it without chopping off your tresses! Since the style itself is low key, go bold with the accessories.
12. Braid hairband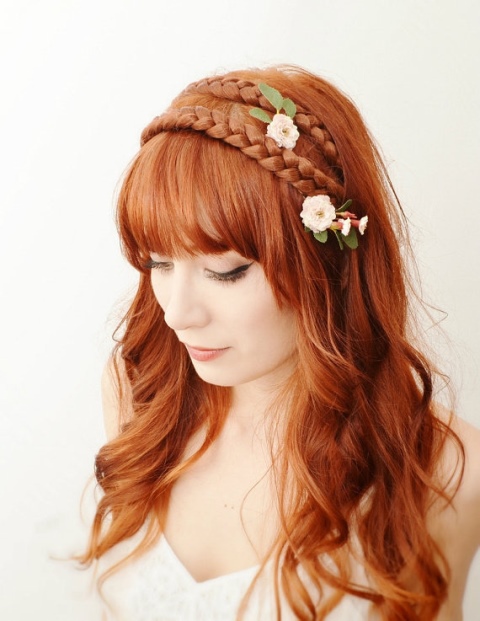 Image source: Flickr
All the Anne of Green Gables fans out there, you'll love this one! Bring back the romance of the gables in this hairstyle that accessorizes itself! Braid two sections of hair from either end and sweep it over the crown over to the other side. Lots of bobby pins are needed to hold this in place, but once done, it'll be worth it! If you have hair that's low on volume, it's better to stay away from this style.
13. Side chignon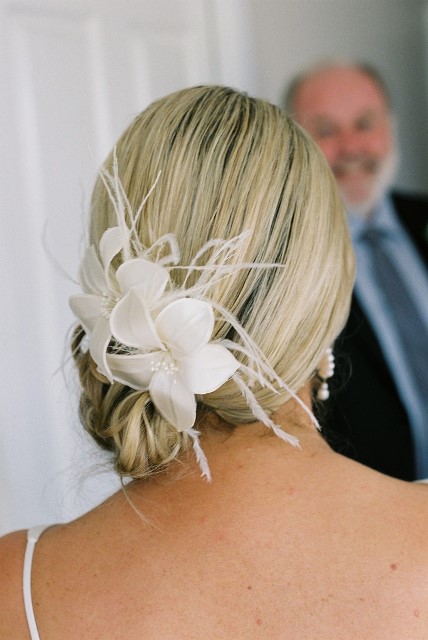 Image source: Flickr
It doesn't get chic-er than a chignon, and when it's to one side, ooh la la! This is for those high end weddings where you really want to knock their socks off! A side part lets hair sweep to one side, ending in a low chignon. Accessorize with a stylish flower or a blingy accessory. This is likely to look messy with curly hair, so you'll need a flat iron first.
---
Suggested read: 15 fun wedding hairstyles for brides with short hair
---
14. Bobby pin twist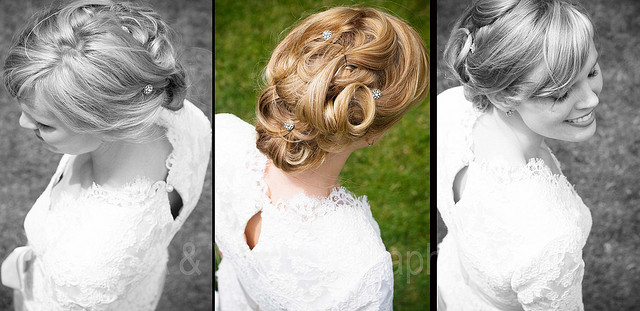 Image source: Flickr
Now nearly every style needs bobby pins, but this one takes the cake! A hairstyle that looks really fancy is just hair strands twisted and held in place with about a thousand bobby pins (okay, maybe not that much!). But the effect is just mesmerizing and looks like it required all kinds of tools and products. This style does not do well with frizz and flyaways so get out the frizz serum.
15. Sleek chignon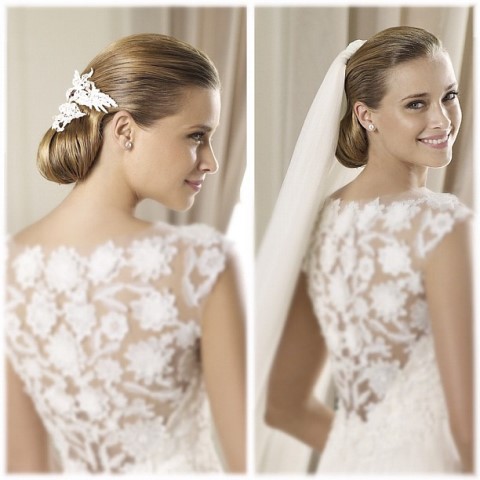 Image source: Flickr
Sometimes, it's good to go back to the basics. When in doubt, go with a simple chignon, low at the base of your neck. Since you have medium hair, you don't have to worry about bulk, and you'll get a nice and neat chignon. Make it sleek and shiny with lots of shine serum and/or wax to tame flyaways and increase hold. A simple veil and shiny accessory really spell elegance with this hairstyle.
16. Tight bun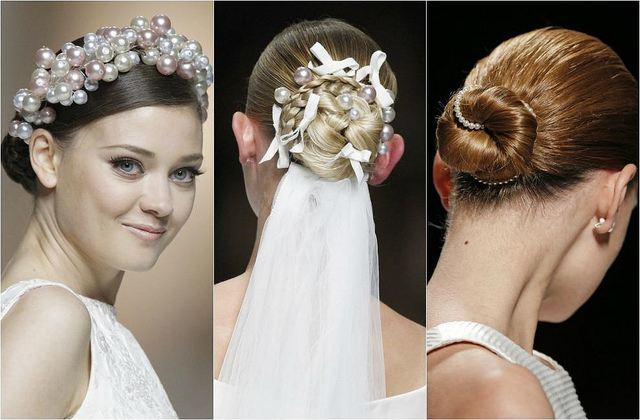 Image source: Flickr
Channel J.Lo in this look with a tight bun midway between your neck and your crown. The bun is often underestimated, when in reality there are so many ways to play about with it! You can weave ribbons or strings of pearls through your bun, giving it a beautiful, unique look. They also work well with simple veils in a classy, formal setup. Remember to keep it completely sleek and smooth.
17. Romantic braid updo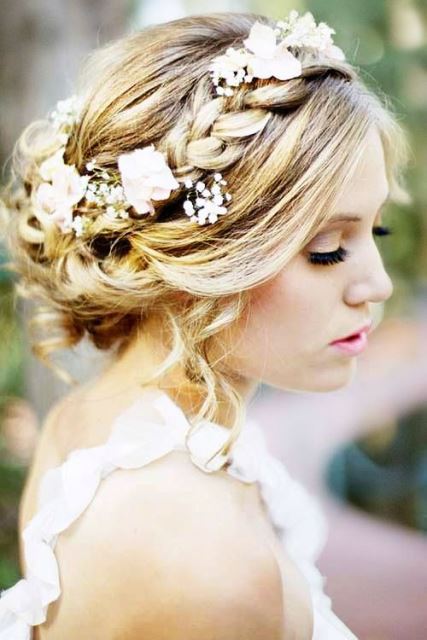 Image source: Flickr
Nothing spells spring bride like romantic braids on your crown! A hairstyle for all textures of hair, this is perfect for medium hair since the braids are much more manageable and you get those lovely face-framing strands to pull out. This hairstyle screams flowers, and the braids make perfect placeholders!
18. Asymmetrical twist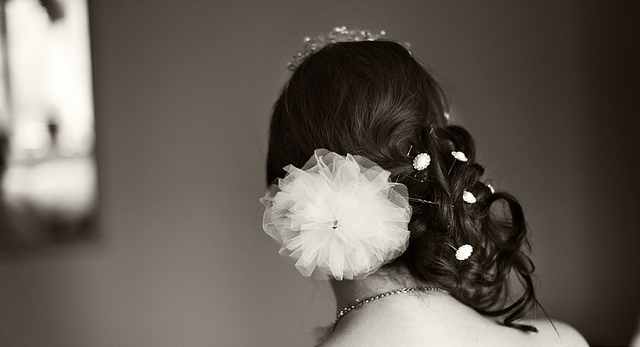 Image source: Flickr
This hairstyle is a slightly more relaxed take on the side chignon and looks great with a backless dress. Highlighted hair will look lovely in this hairstyle, and you can play about more with accessories. Go for crystal pins or pearl beads for a more formal look, and with flowers for a more casual wedding.
19. Floral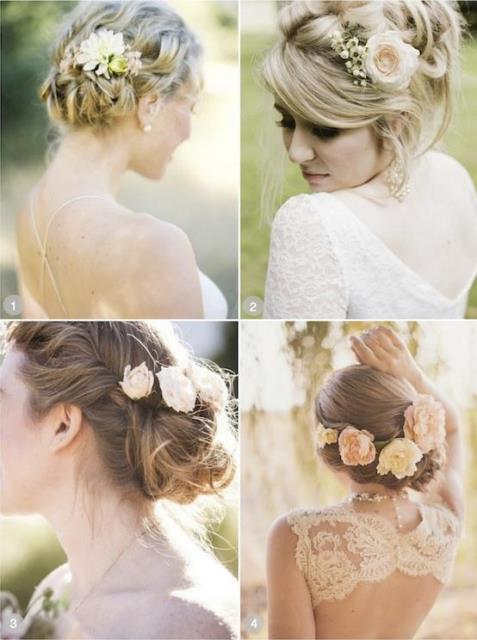 Image source: Flickr
We've already mentioned several styles where you can use small flowers, but here we're talking about the bigger ones. Flowers lend a special elegance to wedding hairstyles and there are umpteen ways to use them. Choose flowers with good lasting power, and which complement your dress. Medium hair is great to show off flowers without weighing them down.
20. Simple half up – half down do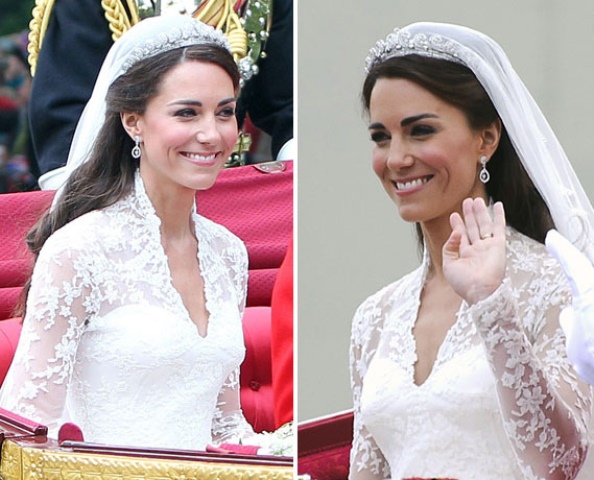 Image source: Flickr
Last but not least, we feature a very simple hairstyle made trendy by none other than everyone's favourite princess – Kate Middleton, or should we say, Duchess of Cambridge. Everyone was surprised when Kate skipped sophisticated updos and chose a simple hairstyle on her wedding day, but then, that's what elegance is – understated and beautiful. This hairstyle is perfect to show off that beautiful diamond tiara and all the lace embroidery on the dress. Now that's how you choose a wedding hairstyle for medium length hair!!
---
Suggested read: 25 graceful wedding hairstyles for long hair
---
Now, medium hair again covers a gamut of lengths, so you need to consider which of these will work for your exact length. For instance, the faux bob will work with shorter lengths, but the bouffants may need a little more. Your wedding day is your special day, so you're likely to be subject to everyone's admiration, sometimes in the form of bear hugs and pats on the head! So be prepared and ensure that whatever style you choose, it'll stay put throughout. Get your arsenal ready – frizz serum, wax, and a truckload of bobby pins!! That way, all you need to do is smile and wave, like a princess!
Featured image source: Pinterest
Summary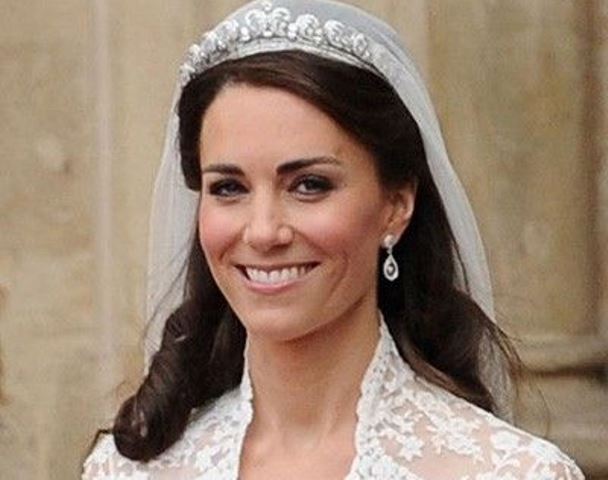 Article Name
20 Elegant Wedding Hairstyles for Medium Length Hair
Author
Description
Medium hair has the styling advantages of both short and long hair. Now all you need to do is pick from these 20 wedding hairstyles for medium length hair!