Even though we want to look pretty and stylish, who has multiple hours per week to spare at the salon? Don't let a busy schedule get you down because here we have 25 easy nail art designs that take hardly any time at all. So, don't fret too much as these super easy-to-do nail art designs will help you feel even prettier in no time. So grab your nail polish and get ready to paint your day bright with a happy smile.
---
Suggested read: 20 nail art ideas for fabulous-looking nails
---
1. Glittering black nails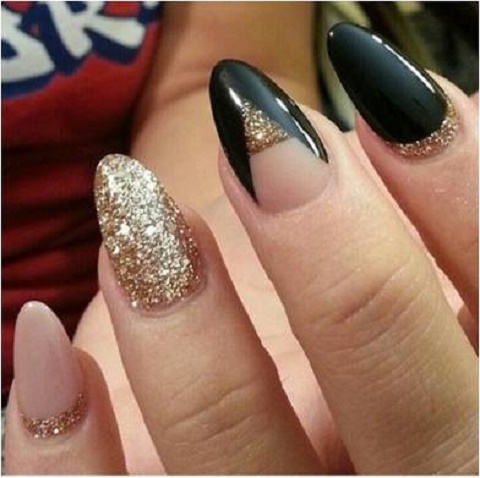 Image source: Pinterest
Grab a bottle of sheer black nail polish, glittery gold nail polish, and transparent nail polish as well as a little piece of clear tape and you're good to go. Start with painting the nails fully. Once they're dry, you can use the pieces of tape to overlap the next color over the first without any mess, and before you know it your hot glittery nails are done already.
2. 'Meow' nails with a fun cat pattern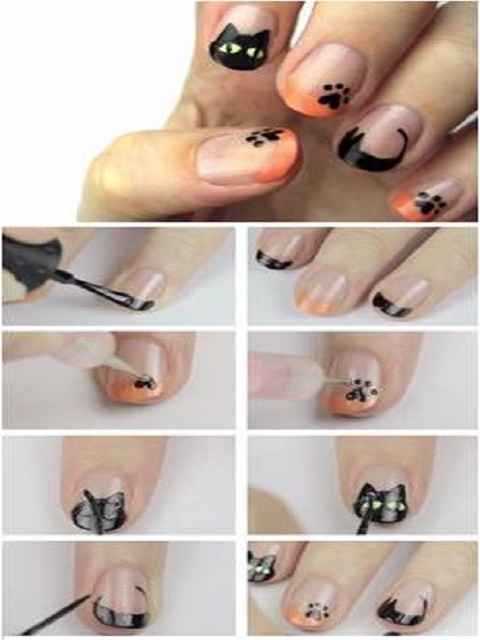 Image source: Pinterest
Let your inner cat out with this nail art. Paint each of your nails  with cat patterns. You can pair black and bright-colored nail polish for an extra cool effect. Use a small pointed object like a toothpick for the detailing. Once you're done painting, secure your nail art with a coat of clear polish and don't forget to have fun with it!
3. Black blends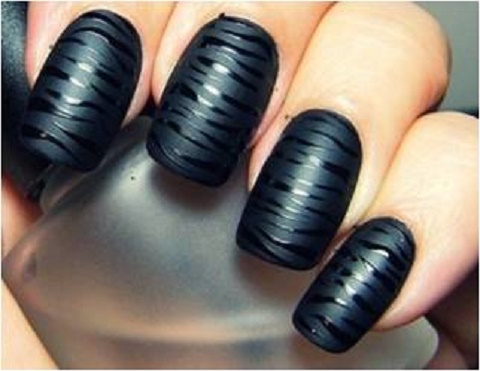 Image source: Pinterest
This nail art blends both glossy and matte effects with the irresistible sexiness of black. Grab a bottle of glossy and matte black nail polish and start by coating your nails with the black matte polish. Let it dry and then let the gloss do its magic as you paint a 'drizzled' pattern over the matte coating. Use a pointer or stencil for the design to style your nails to perfection.
4. Pair color with glitter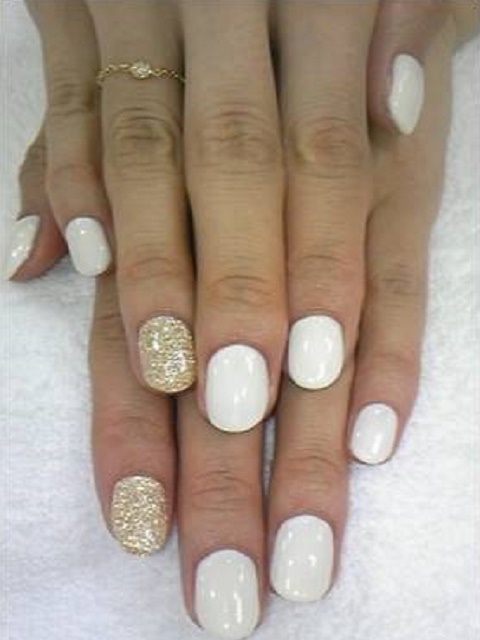 Image source: Pinterest
This is an amazingly attractive yet extremely easy way to do nail art for beginners. You just need to grab a bottle of your favorite nail polish and a bottle of gold, sparkly polish. Paint your nails fully with your favorite color, but leave one nail on each hand free to paint with the gold polish. You'll get a beautiful contrasting set of nails as you finish.
5. Polka dots along the edge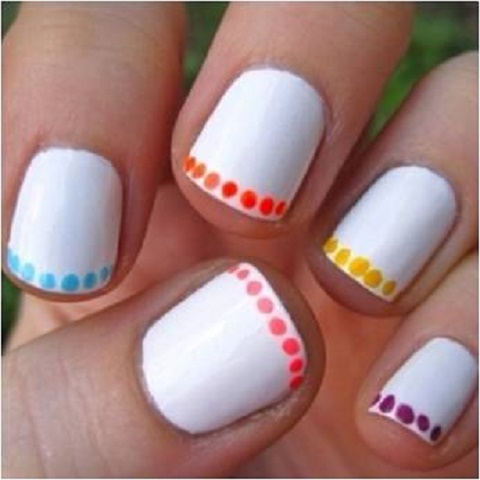 Image source: Pinterest
This is probably one of the best easy nail art ideas for us lazy girls. Just dive into your stack of bright nail polishes to get started. Paint your nails with white polish for a base coat and allow it to dry. Now take a round pointy pin, dip it in some paint, and create polka dots on the tips of your nails. This sequence of dots will brighten up your day anytime.
6. White lined with black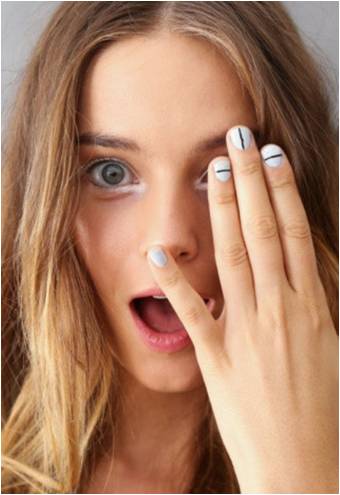 Image source: Pinterest
If you want to express your crazy cool side, this is the nail art design to go for. Just paint your nails in a base coat, preferably white, and stroke a line over it. This design is slightly edgy and adds to your style.
7. Dotted nails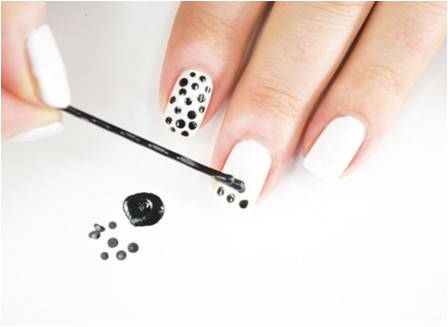 Image source: Pinterest
Dots are one thing that never gets old. Still in fashion, this easy polka dot nail art hack lets you show your fun side. When you have your nails ready with a base coat, just bring out a bobby pin, dip it in a complementing nail color, and start decorating your nails with these dots.
8. The paws nail art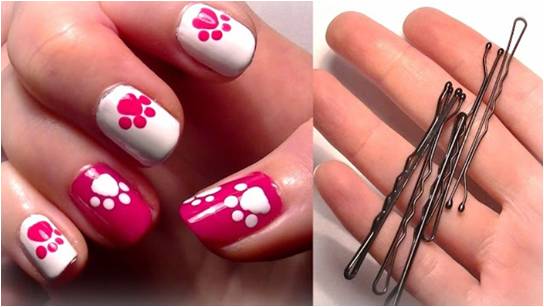 Image source: Pinterest
This is a creative nail art design with paw patterns that are very easy to do. Take two complementing nail polish colors and paint your nails in alternating colors . When the base dries, use the hairpins to paint the paws on every nail with the contrasting color.
9. Crazy splashes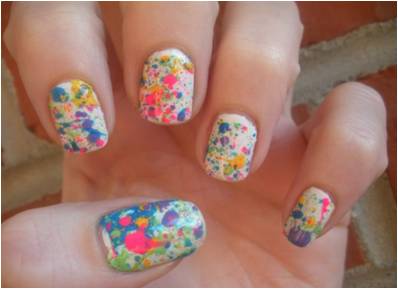 Image source: Pinterest
Revive your childhood memories of various art projects  with this nail art design. Take out some bright nail colors and then dip a brush in the colors one by one and splash it all over your nails. Just be sure to cover your cuticles before you start.
10. Classy contrast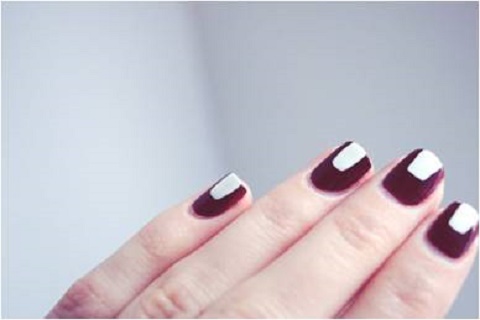 Image source: Pinterest
This design is both very classy and effortless to create. Paint your nails with one of your favorite colors and wait until it dries. Then take a balancing color like white and paint two straight strokes from the middle to the tip, and it's done.
11. Written nails
Image source: Pinterest
This is an easy nail art design that is perfect for any avid reader or writer. You can pick the words that appeal to you most or can tear any random section from your newspaper or dear book. Just secure it in place with a coating of clear lacquer on your nails and then you have your own style statement written on your nails.
12. Mad with dots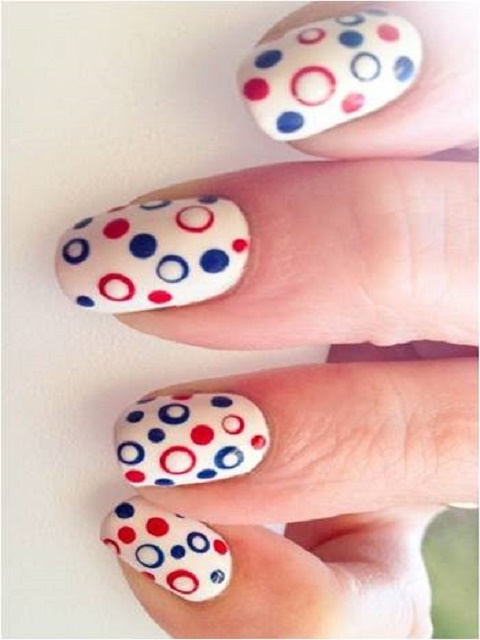 Image source: Pinterest
This nail art is all about having fun with dots. It just takes a few bottles of nail polish and a pin with a round pointy tip. Apply the base coat on your nails and fill it in with dots of your favorite color. To make things more exciting, you can even paint a smaller base-colored dot over the dot of any other color.
---
Suggested read: Wedding nail art: 10 ways to have fun with your nails
---
13. Black and white turn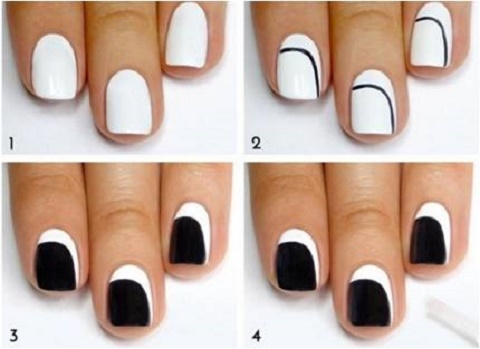 Image source: Pinterest
This cool nail art design brings out your artistic side. Just paint your nails with a white base coat and then paint a free crossing stroke with black polish using the brush. You can then fill in the curve completely in black.
14. Classic nails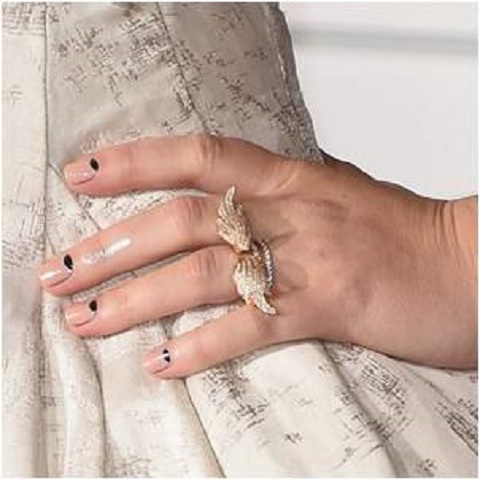 Image source: Pinterest
This easy and sweet nail art design expresses the appeal of simplicity. You can start by painting your nails in a neutral tint and then mark a black curve using a cut out to keep it clean. Just make sure you keep the whole look extremely neat.
15. Tri-color speaks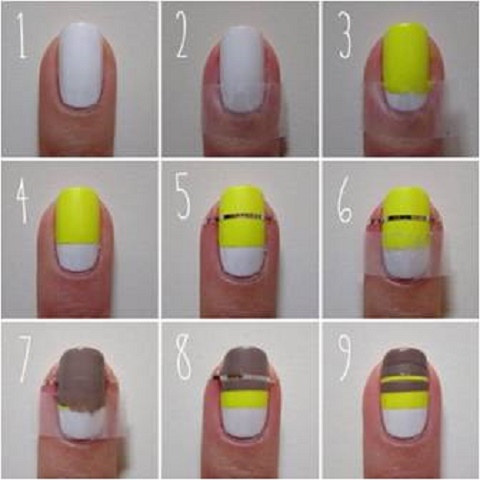 Image source: Pinterest
This is one of the easiest nail art ideas and it is so fun to do. To get the striped look, you have to start with a base coat. After it dries, cover part of your nails with a strip of tape as you go on painting the rest with another color. This will leave you with a beautiful set of nails.
16. Black division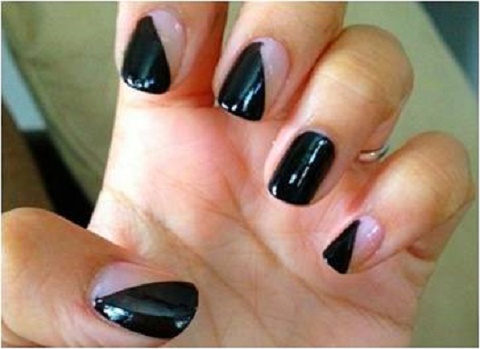 Image source: Pinterest
This amazing looking nail art idea is perfect for the lazier style freaks like us. You need not take any trouble in creating it. Use a cut out tape, place it diagonally on the nail, and paint the remaining area in strong strokes of black. Viola! Now you have some beautiful nails.
17. Balancing dots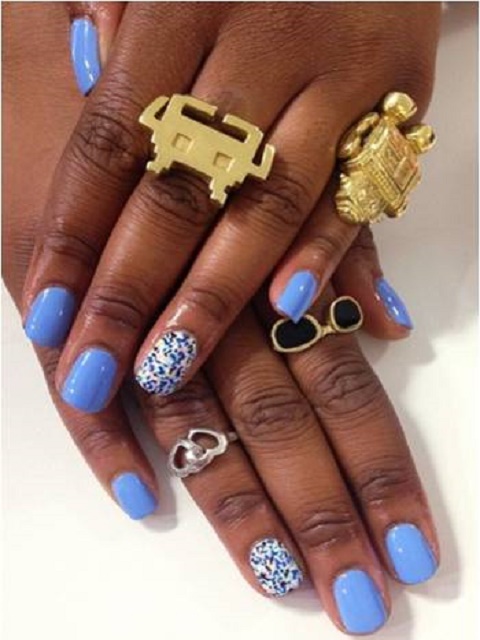 Image source: Pinterest
This pretty looking nail art is one very easy idea. Just collect some bright nail colors you like and start off by painting your nails in your favorite shade. Paint all of your nails except for one on each hand. Cover the remaining two nails first in white and then decorate them with tiny pointy dots to finish it up.
18. Dark and gold glamor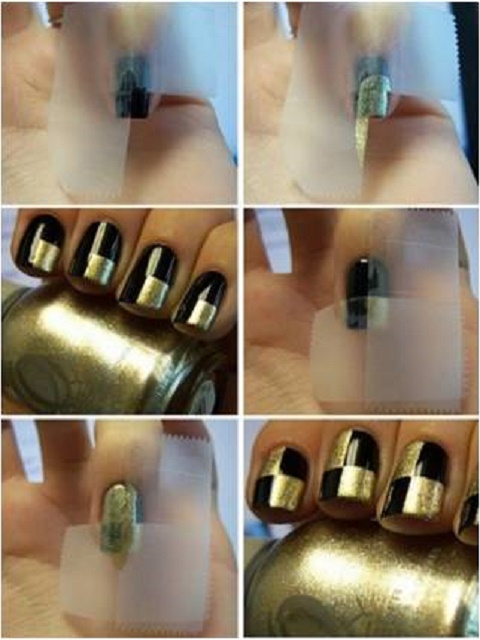 Image source: Pinterest
If you're planning to wear  a glamorous outfit for a big night out, this design is sure to complete your look. All you need is one bottle of black nail polish and one bottle of gold nail polish. Cover your nails in pure gold and place a cut out strip of masking tape on it. Fill the remaining area with black and your nails are ready to 'nail' it.
19. Colors and stripes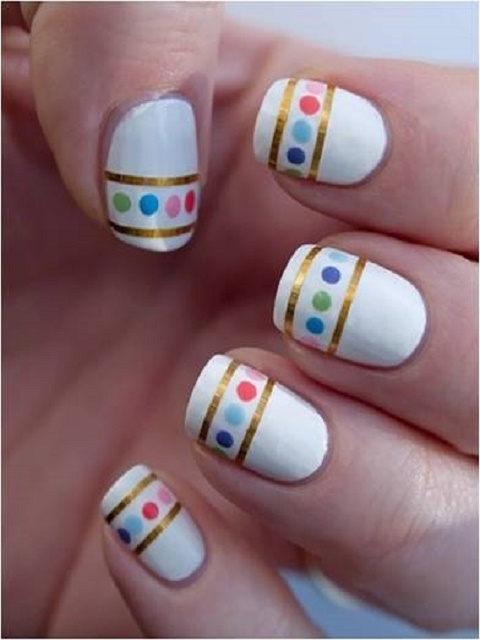 Image source: Pinterest
This is a simple yet effective nail art design that'll give you instant smile with little efforts. Paint your nails all white and then make rainbow colored dots. Mark your golden lining as well to complete the look.
20. Sweet rainbow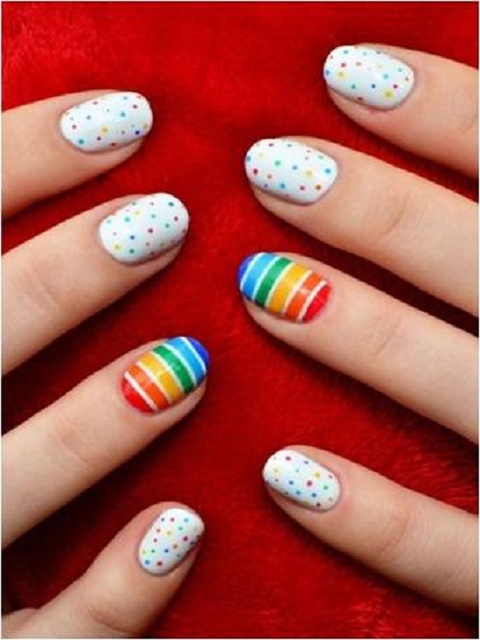 Image source: Pinterest
This nail art design can brighten your day with all the colors of the rainbow. Start the look by painting your nails white and then add bright tints one by one. Cover all eight nails in tiny dots and use the strip technique on one nail per hand for extra effect.
21. The zebra finish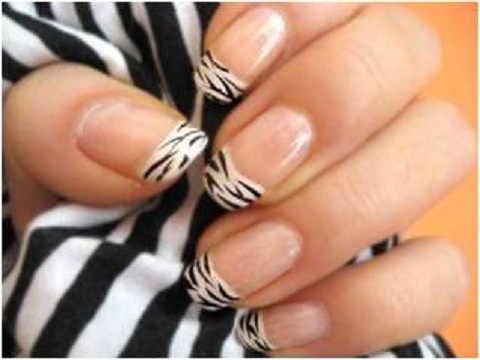 Image source: Pinterest
Go all animal print with this cool design. All you need is a base coat of clear lacquer and then add a strip of white nail polish at the top. Take a pin and a bottle of black polish and paint the zebra stripes to enrich the beauty of your nails.
22. Check mate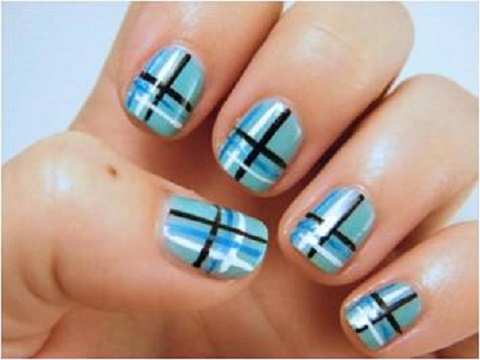 Image source: Pinterest
Relive the retro, checkered trend with this colorful and easy nail art design. You can follow the strip technique to achieve clean lines; otherwise a free-hand stroke would also work wonders in creating an awesome checkered pattern for your nails.
23. Fluorescent tips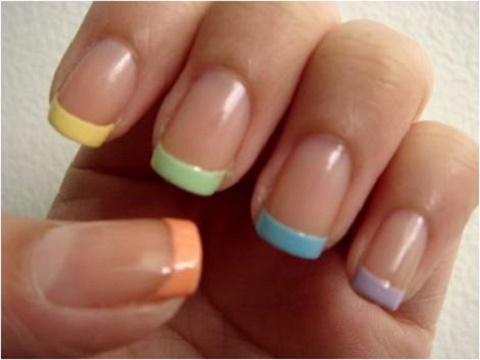 Image source: Pinterest
Fluorescents are the color of this season, so don't hold back from adapting this trend. Coat your nails in a clear varnish and bring out your bright bottles of polish. Finish the nails with strokes at the tip and you'll definitely feel fabulous in no time.
24. Merging bright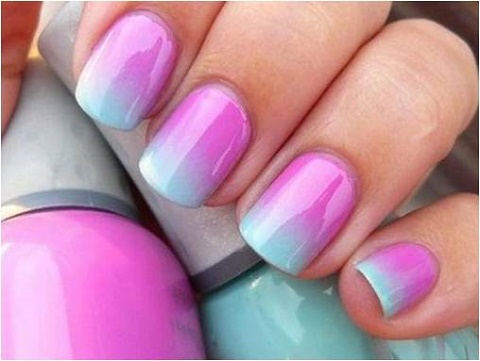 Image source: Pinterest
This super cool effect is very east to create on your nails. You'll just need to take two complementing bright nail colors and merge them together on a surface. Take a sponge, dip it in the merged polish and dab it lightly on the nails. Just let it dry and see the magic.
---
Suggested read: How cocoa butter gives you glowing skin
---
25. Marble rainbow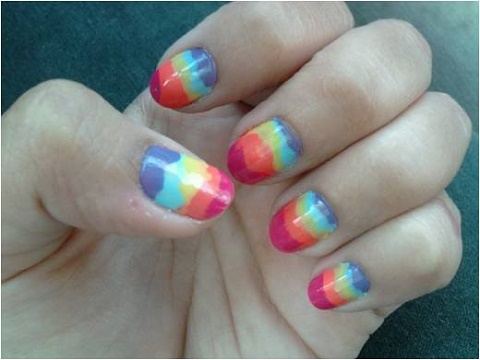 Image source: Pinterest
If you're in a fun mood but don't have much time, this design is a great option. Take all your rainbow-colored nail polishes and a toothpick. Place the drops of different colors on your nails in the sequence of your choice, play a little with the toothpick, and it's done.
Dig up your bottles of nail polish to bring some fashion back into  your life. With these fabulously easy nail art designs, even your laziness or busy schedule will not be able to stop you from being a style sensation.
Featured image source: Pinterest
Summary
Article Name
25 Easy Nail Art Designs Even Lazy Girls Can Try
Author
Description
Do you think nail art is just for the super patient girls? Nah, even lazy girls like you and I can sport fashionable nails with these easy nail art designs.