The romper is the jumpsuit's adorable cousin. Over the last few years, these one piece outfits have become somewhat of a fashion sensation. No more worrying about which trousers to pair with what top. Rompers are the new best friend of every lazy fashionista ever and they're here to stay!
---
Suggested read: 15 stunning tips and tricks to wear boyfriend jeans with panache
---
Here are 20 ways on how to wear a romper, the fashionista way!
1. Bright colors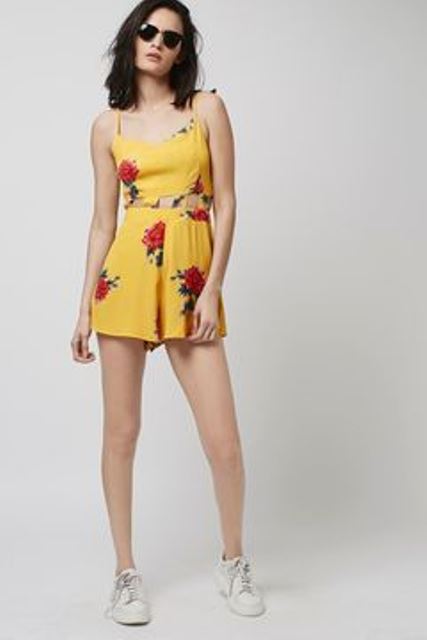 Image source: Pinterest
This adorable romper from Topshop is an absolute must-have for anyone looking to stock their wardrobe with the latest trends. We LOVE the warm yellow color and the large floral print! The midriff cut-out is a very trendy detail and adds an element of boldness to this cutesy outfit. Pair it with an oversized denim jacket and white sneakers for a laid-back look. Alternatively, throw on a nice woolen shrug and strappy flats for a comfy evening look.
2. Crochet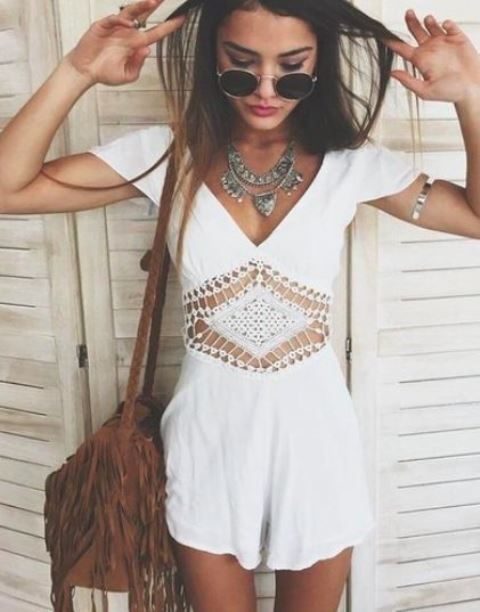 Image source: Pinterest
Show off your toned tummy in this crocheted romper. We love the boho-chic vibe it has to it. Pair it with some quirky junk jewelry and quirky shades for a fun summer look. Wear it with a distressed leather jacket and tassled loafers for a bold look.
3. DIY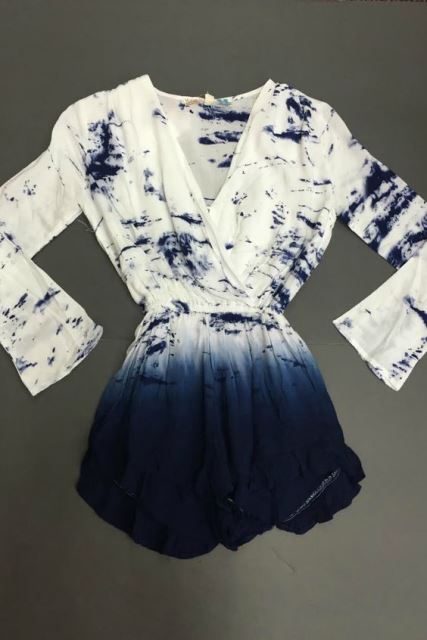 Image source: Pinterest
We are obsessed with this tie dye romper. The Prussian blue is an amazing color for the summer, especially the dip-dyed bit at the bottom. Wear this unique piece and you barely have to accessorize because nobody will care about ANYTHING other than where you got this babe of a romper! Just make sure you don't wear black shoes with this and you're good to go!
4. Cutout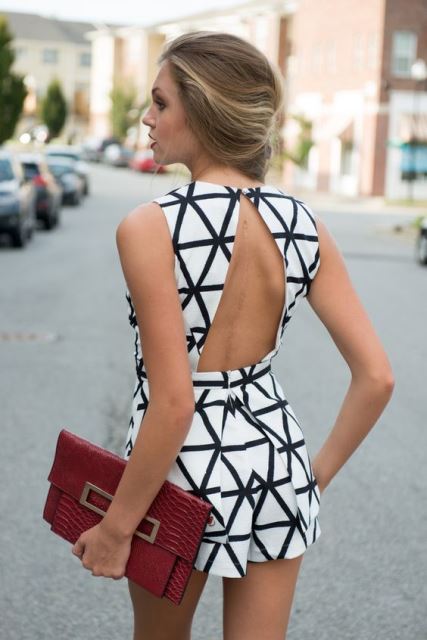 Image source: Pinterest
Show off your back in a classy cut-out romper like this one. We also love the geometric print, which is a refreshing change from the usual floral and tribal-inspired prints on most rompers. This is a very clean and chic look that you can even wear to the office.
5. Off-shoulder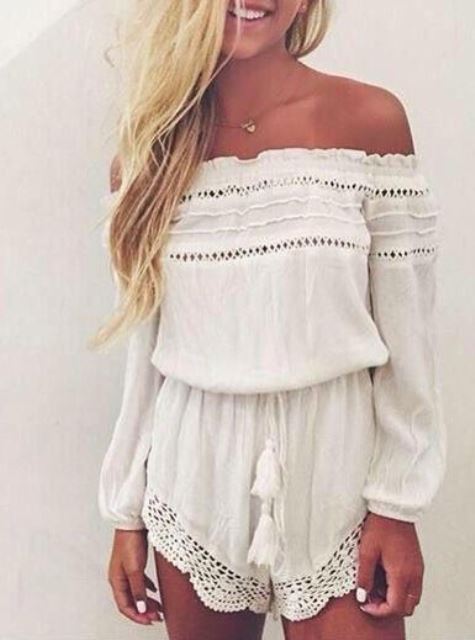 Image source: Pinterest
We love the beachy vibes on this off-shoulder crocheted romper. The drawstrings and the peasant top-type bodice are a cute and girly addition to the outfit. You can add a few brown leather elements to the look (fringed bag, leather choker, strappy heels, etc) for a hipster look. Alternatively, you could go for a pretty flower crown and a few temporary metallic tattoos for a more boho-chic look. Also, it looks sooooo comfy!
6. A little less girly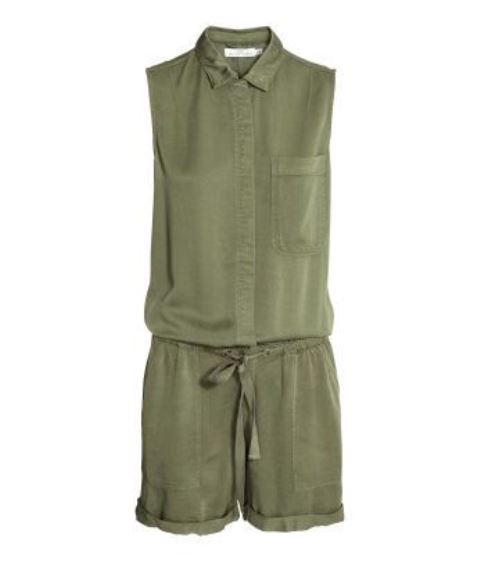 Image source: Pinterest
If you don't like floral prints or crocheted hems, why not go for this simple romper from H&M? We love the khaki color and the front pocket. Pair it with a pair of gladiator sandals and a leather jacket for flawless street style!
7. Plaid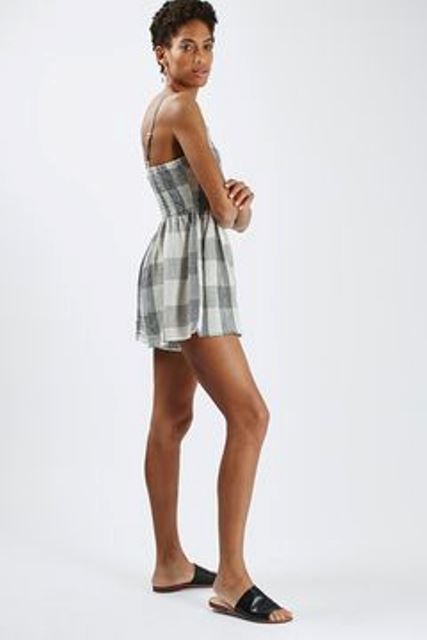 Image source: Pinterest
This romper from Topshop is so trendy and so cute! The plaid is very trendy right now, so brownie points for that. Plus the honeycomb top is comfortable and accommodating AND super super chic! Wear it with a pair of white strappy sandals and a pastel-colored leather jacket for an off-duty chic look.
8. Denim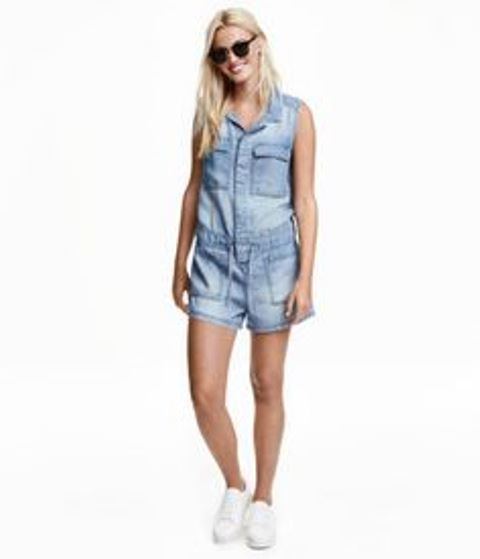 Image source: Pinterest
We love rompers. We love light wash denim. Needless to say, we're obsessed with this denim romper from H&M. It's sporty and very cool. You can throw on a pair of colored high-tops for a casual look or add a girly pair of ballet flats for a more feminine look.
9. Sweater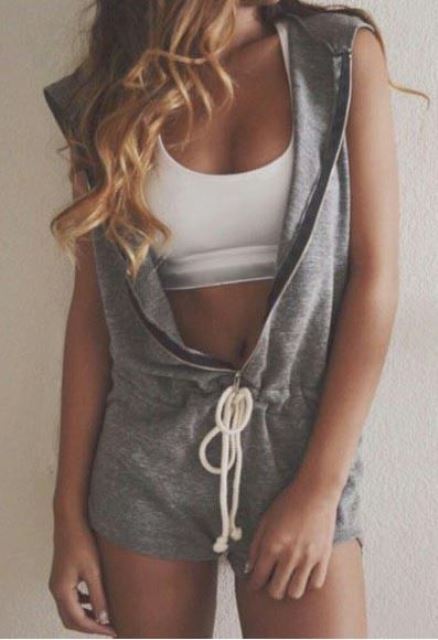 Image source: Pinterest
Dear sweatpant lover, we have a stylish summer alternative for you. Meet the sweater romper. Now, you can be just as comfortable as before, only you'll look a billion times cuter. Instead of the sports bra, opt for a funky bralette to make the look a little more stylish and a little less "gym outfit".
---
Suggested read: 24 amazing suede ankle boots we are dying to wear
---
10. Shimmery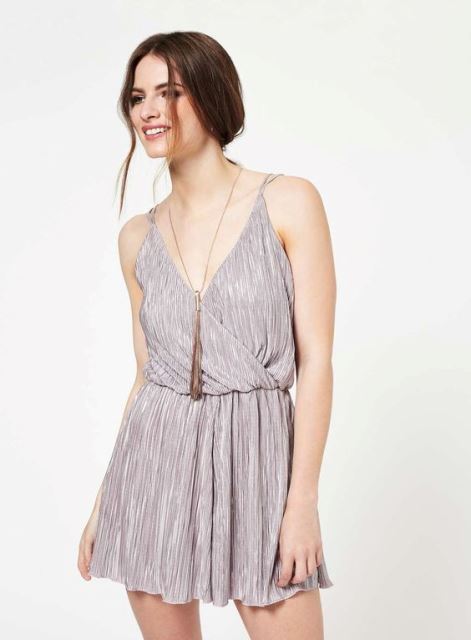 Image source: Pinterest
This shimmery number from Miss Selfridge is perfect for a night out with friends. It's flowy, sexy, and the wrap-around style gives an illusion of a fuller figure for those of you who are on the more petite side. We love the metallic shimmer, especially since that means you need minimal accessories. Just put on a pair of sexy nude platforms, and you'll be the belle of the ball.
11. Lilac ruffles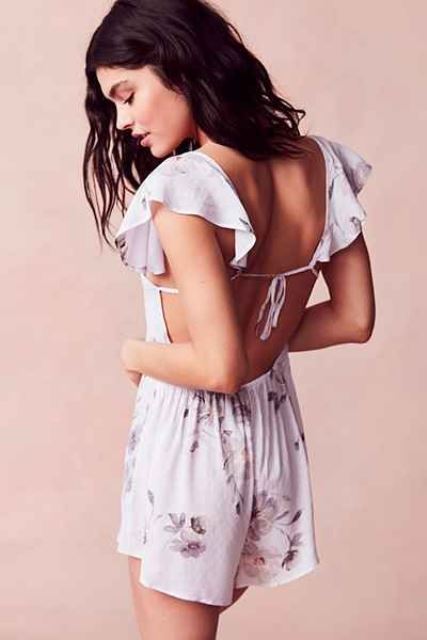 Image source: Pinterest
This lilac romper from Urban Outfitters is just too beautiful for words. This is probably what fairy princesses wear to brunch. The ruffle sleeves and the back-tie just oozes femininity and sensuality. This romper is what you want to wear to your ex's wedding. It's what you want to wear to a party that your crush is attending. This is the romper you want to wear when you want to reaffirm your status as Aphrodite's demigod daughter. The only accessories you'd need with this romper are a few minimalistic rings on your fingers, and a single thin chain around your neck. You can even opt for a few stick-on metallic tattoos on your thigh or down your back, to take it up a notch.
12. Androgynous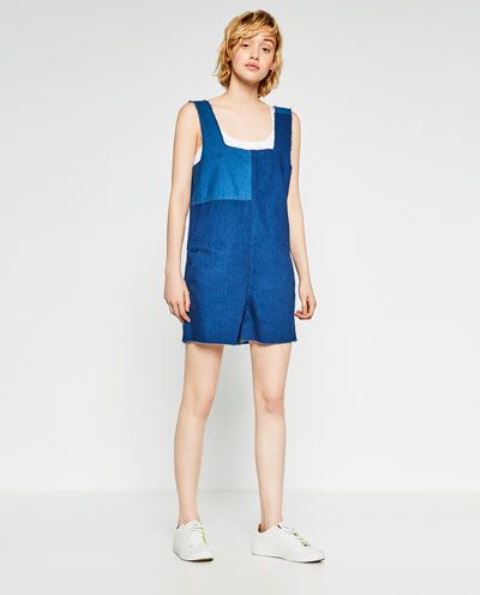 Image source: Pinterest
From the overtly feminine to the androgynous. This frayed denim romper from Zara is for the non-conforming fashionista who doesn't want to restrict herself to stereotypical girly trends. Stick it to patriarchy in this trendy romper. You can wear any neutral-colored tank top or long-sleeved top underneath it, depending on what color and style you like the most.
13. Overlay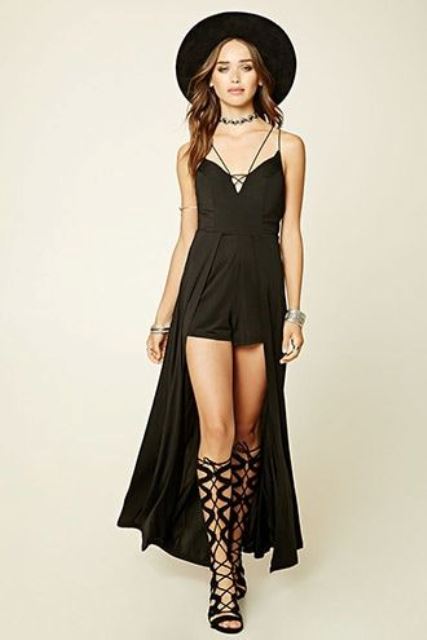 Image source: Pinterest
It's a romper. But it's a dress. But it's a romper. But it's a dress. Actually, it's both! This overlay romper from Forever 21 is just the thing you need in your closet if you're a ninja warrior of the night who also likes to look super pretty while she kicks major b*tt. Although, maybe swap the awkward gladiator sandals for a pair that goes up to your thighs. Even a pair of brown leather thigh high boots would make this outfit look a lot more high fashion. Since the romper is all-black, you can go a bit heavy on the accessorizing with layered necklaces and chunky enamel bangles.
14. Form fitted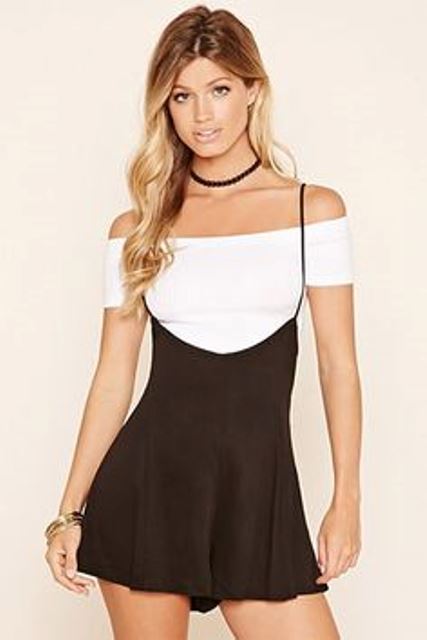 Image source: Pinterest
Not all rompers are loose-fitting and shabby. Show off your figure with this body-hugging romper with suspenders from Forever 21. We like the skater-dress shape of the dress. While an off-shoulder top is a very cute touch, you could make it a little more high fashion by wearing a printed or bright colored turtleneck, cold shoulder top.
15. Something a bit formal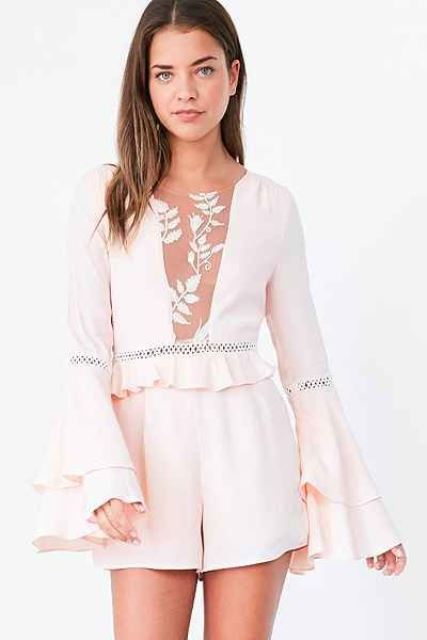 Image source: Pinterest
Rompers aren't meant for just brunches and Coachella. This blush pink romper is an excellent alternative for a dress at any formal occasion. We love the mesh and the embroidery. The trumpet sleeves give the look a vintage feel, and the color is soft and feminine and chic.
16. Frills
Image source: Pinterest
This denim frilled romper from Miss Selfridge is adorable. It's fun and flirty. The strapless neckline is very trendy and the frills add to the charm. Swap the golden chain for a lace or velvet choker to amp up the look a bit and elevate it from "teenage girl fashion" to "fashion-forward". Instead of the arm band, go for a chunky watch and throw on a pair of strappy block-heel sandals to complete the look.
17. Romantic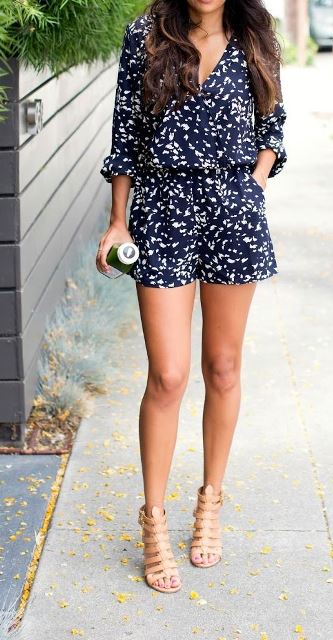 Image source: Pinterest
This is a more conservative romper, with a shirt-like top and an elastic waist. The color and the abstract print make the outfit look pretty grown up and casual chic. You can ditch the strappy heels for a pair of printed sneakers or high tops for a more laid-back look.
18. Cape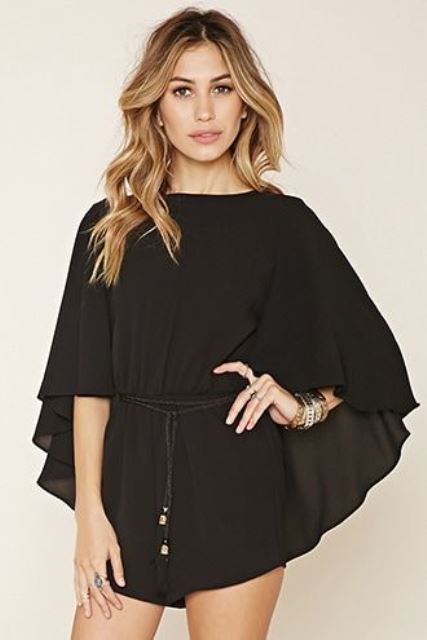 Image source: Pinterest
It's a romper with a cape. Need we say more? This badass number from Forever 21 is an absolute must-buy if you are actually Batgirl but with a much much cuter sense in fashion. Layer up with necklaces and rings to look truly goddess-like in this outfit. Wear it with cute little booties or with a pair of sexy stilettos, depending on what you're more comfortable in.
19. Chiffon overlay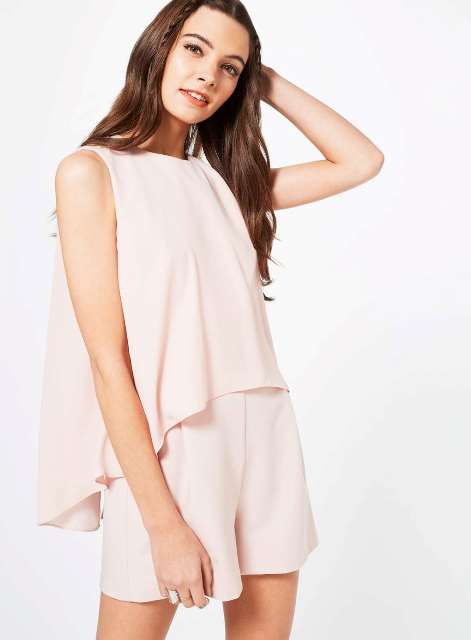 Image source: MissSelfridge
We love this flowy and feminine chiffon romper, also from Miss Selfridge. The delicate overlay and the simple cut and finish simply ooze class and sophistication. Keep it simple with the accessories by sporting a pair of solitaire earrings and perhaps a statement ring. You can wear a pastel linen jacket over this to make this ensemble look posh and very stylish.
---
Suggested read: 15 stunningly stylish ways to wear thigh high leather boots
---
20. Satin mesh romper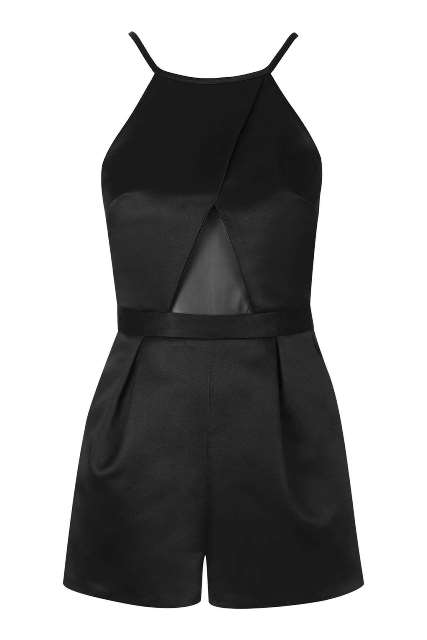 Image source: Topshop
This satin romper from Topshop is meant for formal occasions where you want to look like you're the most important person in the room. We love the folded detail on the top and how crisp and well-structured this romper is. The mesh triangle in the midriff region adds a touch of youth and playfulness to the outfit, and is what makes this romper truly high fashion. You can wear this with a pair of nude pumps or, if you're feeling particularly brave, a pair of bright yellow/electric blue/turquoise pointy heels, for a trendy and show stopping look.
Rompers aren't just for the boho-chic girls getting ready for Coachella. There are rompers that are soft and feminine. There are classy rompers, meant for formal events. There are rompers for the flower child in you, and there are rompers for the high fashion diva in you. The best tip on how to wear a romper is to know what you like, and finding a romper to suit your tastes and preferences. Always know that there is a gorgeous romper just waiting for you to slay in it!
Summary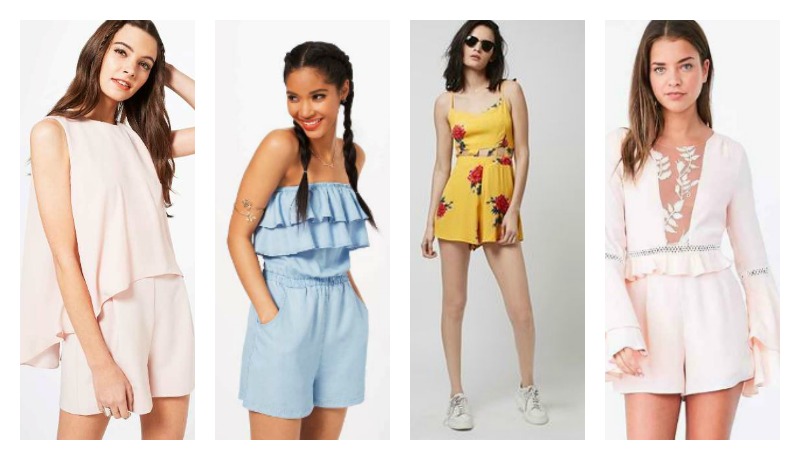 Article Name
20 Style Tips On How To Wear A Romper
Author
Description
A romper can be chic, classy, casual, or elegant. If you're wondering how to wear a romper to reflect these different styles, here's the answer!