It's 2017 ya'll, and stepping out on Halloween with a little fake blood and white foundation with a makeshift cloak which is actually your tablecloth is OUT OF FASHION. Halloween is the time to bring out your spooky best, and even if you don't want to guide yourself as a ghoul, you have to be on-point with your makeup and costume. Sometimes, however, when trying to decide what to look like on Halloween, inspiration can run pretty low, since everyone has their creative best on display on this day. Here are some realistic Halloween makeup from celebs that we have been blessed with over the years.
Here are some ridiculously on-point Halloween costume for inspiration.
Heidi Klum and Gigi Hadid
Beyonce
Neil Patrick Harris and fam
---
Suggested read: #AstroSpeak What To Be For Halloween According To Your Zodiac Sign
---
Believe it or not, it is quite easy to get your realistic Halloween makeup on point, when you are trying to win every costume contest in existence. All these aren't necessarily spooky, but they are enough to give you the inspiration you need to slay your Halloween game this season.
1. Classic corpse
The classic bullet hole makeup is the perfect amount of spooky and gory and isn't even that difficult to achieve. You have complete control over your face and limbs, but you still get to be a walking corpse.
2. Ventriloquist doll
You could also interpret this as an adult version of Chucky, but you have to admit that this makeup looks hella accurate. Amazing what the right colors, lines and patterns on your face could do. No way is anyone beating you if you manage to ace this look on Halloween!
3. Infected Poison Ivy
Dressing up like Poison Ivy is always a Halloween favorite, so much so that even Kim K and Heidi Klum have tried their hand at it. However, how cool would it be if you got to dress up as infected Poison Ivy. A couple of blood smears here, a popping vein or two there, and you have one of the best costumes of the year for sure.
4. Pop Art Wonder Woman
Um. Ok guys. This is an actual, living breathing person, and not a badass panel from a Wonder Woman comic. Wonder Woman is going to be one of the hottest costumes this month, and there is no shame in wanting to dress up as her, because she is truly iconic. However, why not take everyone's breath away by looking like you stepped out of the comic book world yourself?
5. Pennywise from It
Another amazing costume that everyone is expected to turn up in is Pennywise from the awfully unnecessarily scary movie It which has managed to scar me for life. Sure, you can get your hands on a vintage clown costume, but how cool would it be if you stepped out looking like this with your ridiculously accurate makeup?
6. Tim Burton's Corpse Bride
Let us take a moment to appreciate what ridiculously amazing skills this person has, and how we would be privileged if we could replicate 10% of what this person does. If you have been planning on going as the Corpse Bride, or any creepy bride for that matter, here is your makeup inspo.
7. Pop art Harley Quinn
Sure, Harley Quinn was big last season, and you weren't thinking of going as the hot AF criminal again this time. But this is the kind of realistic makeup which is going to make you change your mind, because it is insanely accurate, and your costume will be pretty hard to beat.
8. Rudolph/Bambi
Here is a relatively simple Halloween look which isn't as difficult to recreate, if you are planning on going as Bambi or Rudolph. It looks cute, accurate and very appealing. You can also put all y our contour and highlighting skills to use, when trying to achieve this look.
Summary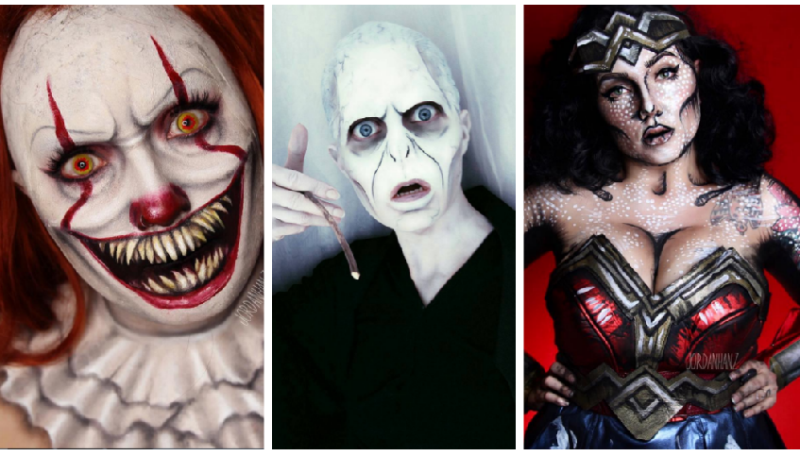 Article Name
20 Super Realistic Halloween Makeup Ideas You Can Actually Try At Home
Author
Description
Need some major makeup inspiration for Halloween? Check out these super realistic Halloween makeup ideas, so that you can blow everyone's mind this year.
Read the rest of the article:
Next