October is one of my favorite months! The reason is quite simple – it is the month of jack-o'-lanterns, spooky pranks, apple bobbing, potato pancakes, and most importantly, Halloween costumes. If you also like to gear up for your favorite festival in advance, then you must be looking for Halloween costumes 2018 ideas as well.
Okay – I will be honest. This Halloween is quite special to me as my partner and I are planning to get couple costumes. Yes, it might sound cheesy, but I have always synchronized Halloween costumes with my friends and I wanted this year to be different. So I decided to dig up a little and look for unique ideas.
---
Suggested read: 20 Realistic Halloween Makeup Ideas To Blow Everyone's Minds
---
If you are also looking for some inspiration and ideas for Halloween costumes, then look no further! As I was searching for the same on Instagram, I curated some of my favorites in this post. Have a look and you might end up picking some of these Halloween costume ideas for yourself as well.
Popeye and Olive
Okay! I'm going to start off by sharing my favorite couple Halloween costume of all time. Truth to be told, we all have grown up watching Popeye the sailor man and the charming Olive. While you might have to put some effort on this costume, it will be a surefire hit! Just don't forget to add a dash of spinach.
Barbie and Ken
There is nothing quite like the dynamic duo of Barbie and Ken who have been giving us couple goals since our childhood. The best thing about the costume is that you don't have to put a lot of effort. If you are a guy, you can simply put on a dapper suit. Girls can wear their favorite dress, a fur coat, a pair of stilettos, and those signature cat-eye glasses. You can also take some notes from Beyoncé and Jay-Z who recreated this epic look.
Black Cat and Spiderman
If you are a Marvel fan, then you must already be familiar with the epic romance shared by none other than Black Cat and Spiderman. Go ahead and make everyone jealous with these superhero costumes of the two powerful characters from the Marvel universe. Needless to say, the costume looks quite stunning as well.
Mike and Eleven (from Stranger Things)
Who doesn't watch Stranger Things, right? While it has numerous iconic characters, Eleven and Mike are undoubtedly the soul of the show. I would recommend recreating the look of the first season with Eleven's pink dress, denim jacket, and that tacky blonde wig. Mike's big specs and his baseball cap will certainly give your look a classic appeal.
Calvin & Hobbes
Revisit your childhood by creating the look of this iconic comic series. Even if you are heading out with your best friend this Halloween, it will certainly be a unique look. The best thing about this costume is that not only is it timeless, it would be quite comfy as well.
Team Rocket (from Pokémon)
One of the most adorable Halloween costumes 2018, it will be an instant hit in the town. The Pokémon fever has been resurfaced in the last few years, which makes the idea quite current yet classy. Just like Jessie and James, you can also wear these legendary matching costumes. To level up your game, you can get some matching wigs too. If you have a kid, then you can dress them as Meowth and complete the team.
Carl and Russell from Up
Up is undoubtedly one of the best animated movies of our time. While working on this Cosplay might take some time, it will certainly be worth it. I would say focus on the details like the tennis ball supported walking stick or the scout badges. Here's something to inspire you!
Van Gogh and "Starry Night"
Yes, you have read it right. There won't be anything like this couple Halloween costume for sure. All the creative souls and artists around you would adore you two for coming up with such an out of the box idea. While one of you can dress like Van Gogh, the other one has to act as his signature painting (Starry Night). This can be done with the help of some face paint.
The dancing emojis
The dancing emoji icon has certainly evolved a lot in the last few years. I don't know what they really mean, but I do know that they look fabulous. Halloween could be the perfect time to embody the dancing emoji duo icon. Just don't forget to add those bunny ears to your costume.
A pair of crocs
If you want to do something really weird and memorable this Halloween, then give this hilarious costume a try. The two of you would be inseparable all night long as you would literally need your partner to be whole.
Dr Who and Sarah Jane Smith
If you and your partner are fans of this timeless show, then this would be an ideal Halloween costume. Just focus on the details like the scarf and the hat to complete the look. The only issue is that people who haven't watched Dr Who might not get it. But on a second thought, is there anyone who hasn't watched the show at least once?
---
Suggested read: #AstroSpeak What To Be For Halloween, According To Your Zodiac Sign
---
Tink and Link
This fairytale Cosplay has certainly got a ring to it! If you want to channel your inner fairy this Halloween, then this is the costume for you. Tinkerbell can be accompanied by Link/Peter Pan to bring these Legend of Zelda characters to life. Though, you might have to work a bit to get those perfect Tinkerbell wings.
Bugs and Lola Bunny
The basketball match in Space Jam has to be one of the most fun memories of our childhood. If you also loved Bugs and Lola Bunny, then why not recreate their look this Halloween. All you would need is a matching pair of basketball uniforms for him and her. Top that with a pair of bunny ears and you are good to go!
Kim Possible and Ron Stoppable
All the 90's kids out there know how amazing this duo was. Kim Possible and Ron Stoppable used to dress in their gothic outfits and would fight bad guys. All you got to do is search your wardrobe a bit and look for these matching outfits. This is something you can work on the last minute as well.
Frankensteins monster and Bride!
Yes, I know what you are thinking. This one is a classic and might be a "done and dusted" idea for some. Nevertheless, if you are able to pull up a look as perfect as this one, then the costume is bound to be a showstopper. Some costumes are purely timeless and deserve this kind of perfection.
Han Solo and Princess Leia
Did you really think that I would come up with a list of the best couple Halloween costumes without any Star Wars reference? I know a lot of people try to recreate the look of this legendary couple, so why not come up with a twist. Have a look at this gender swapped costume and you are bound to be inspired.
Jack and Sally
Jack and Sally (The Night before Christmas) are considered as one of the most adorable yet fearful couples. One of the best things about the look is that it goes perfectly with the spooky night of Halloween. Give it a try and I bet you would end up scaring at least a bunch of kids.
Chick Magnet
No – I'm not talking about the urban "chick magnet". I would suggest having a literal implementation of what a chick magnet means into a costume. Have a look at this witty concept and take some lessons. While one of you could be a magnet, the other one could wear a … chick suit? This is one of those costumes that you can try with your friends as well.
Pacman and Pinky
Who doesn't want to be the most well-known video game rockstar of all time? Yes, I'm talking about none other than Pacman. One of you can be the dot-eating Pacman while the second person could become the ghost (pinky) thing that tries to catch Pacman.
Bacon and Eggs
Is there a better duo than bacon and eggs? I think not! This Halloween, why not embody your favorite breakfast meal and make all the other couples jealous. You have to agree, it is quite a clever take on a couples Halloween costume.
---
Suggested read: 24 Of The Most Adorable Yet Sexy Halloween Cat Costumes EVER
---
After having a look at these selected Halloween costumes 2018, you can easily pick the best one for you and your partner. Even if you are planning to dress up with your best friend this year, you can easily work around these costumes as well. Go ahead and pick your favorite. If you have any other idea for a memorable couple Halloween costume, feel free to drop a comment below.
Featured image source: Instagram 
Summary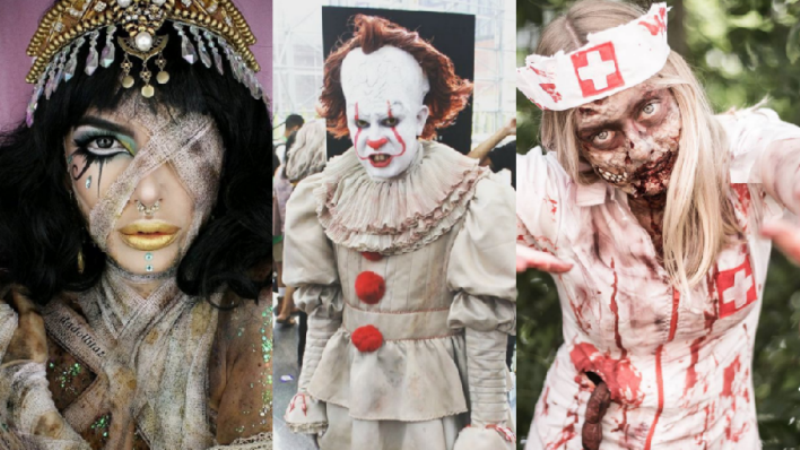 Article Name
Top 20 Halloween Costumes 2018
Author
Description
If you also like to gear up for your favorite festival in advance, then you must be looking for Halloween costumes 2018 ideas as well.