9. Betty Boop
Let's be honest, not all of us have access to the kind of prosthetics that Heidu Klum has to actually look like iconic pin-up girl Betty Boop. However, we don't need all that jazz, because of the wonderful gift that is makeup. This is the simplest and most accurate look, to make you look like Betty Boop come to life herself.
---
Suggested read: 30 Halloween Costume Ideas For Couples That Give Us The *Feels*
---
10. Pikachu
Going as a Pokemon never grows old, and when you are going old-school. Might as well go with the classics by dressing up as Pikachu, aka, the best Pokemon EVER (please fight this war with me in the comments section, I dare you). But for real though, imagine looking like this for Halloween instead of a large yellow cushion pretending to be Pikachu.
11. Donald Trump
If you wanted to be something scary, spooky and unreal this Halloween, why not go as Donald Trump, especially when you have such an on-point example to enumerate for your makeup inspiration. After all, going as Voldemort would require a much more complicated makeup routine.
12. Voldemort
However, if you are like me, and like being extra in all things, you might as well go as Voldemort. No, you don't have to surgically remove your nose or shave off your head for the look. The power of makeup knows no bounds, and there is no better time than Halloween to test the limit!
13. The lights from Stanger Things
Season 2 just came out, and in honor of possibly one of the best TV shows of all time, why not go as one of the most iconic scenes from this iconic show? The makeup is super easy to do, and you are going to be the center of attention every, I promise.
14. Grayscale Person from the Past
Who said that you have to look dead and awful just because it is Halloween and you need a costume that can blow people's minds. You can knock the ball out of the part which this ridiculously simple grayscale makeup, which makes you look like a time travelling person from the past. Honestly, it doesn't get easier than this.
15. David Bowie
Okay fine, I was wrong. This is the easiest that it gets. You can look like a total legend with minimal effort and even littler makeup and rock everyone world with a little color and hair gel. If you are looking for last minute Halloween costume ideas, here you go. You are welcome.
16. Marilyn Monroe by Andy Warhol
Sure, a lot of us like going all out with our makeup on Halloween. Everyone likes being Marilyn Monroe because she looked like an actual Goddess, but why be regular when you can be extra fantastic and OTT with your makeup? Go Andy Warhol on your gorgeous face with paint, and lo behold- you are now a multi-million dollar painting of one of the most famous people ever. #goals
17. Psychedelic Unicorn
There are some years when you just feel like sticking to the classics. A unicorn is a classic. But then, you can always play around with the classics can you not? With the power of makeup, you could look like you just stepped out of a fairytale with your milky eyes and ethereal unicorn makeup, and win Halloween this year.
18. Princess Ahmanet
Dressing up as regal Cleopatra from Egypt is the thing of the past. If you want to spook things up a little, why not go with Princess Ahmanet, who was legit the star of the show in the recent Mummy movie. The makeup too isn't too complicated, and is pretty doable, and looks hella realistic if done right, making you yet again, the undisputed queen of Halloween.
19. Zombie
If you are really truly feeling Halloween this year, then I suggest that you go all out and go nuts with your makeup. There are about a gazillion tutorials out there which can show you how to achieve this completely awesome, ridiculously horrifying look, which is the epitome of Halloween and the best way to stay true to its spirit.
---
Suggested read: 30 Sexy Celebrity Halloween Costumes That Were Too Hot To Handle
---
20. Dead Disney Princess
Here is a one-way ticket to being crowned the most extra person ever on Halloween. So you have friends who are all dressing up as some kind of queen and princess or whatever, and you totally don't want to be left behind. What better way to join in, than by being a Disney princess, but your own version of it. Go through the whole cosplay shebang and make yourself look as realistic as possible in terms of being a princess, but add that one nasty touch which takes your makeup and costume to a whole other level!
If you are still confused about what to be for Halloween, check out these amazing realistic Halloween makeup ideas which are going to ensure that this is the best Halloween for you. After all, a great makeup for Halloween is half the work done!
Featured image source: Instagram
Summary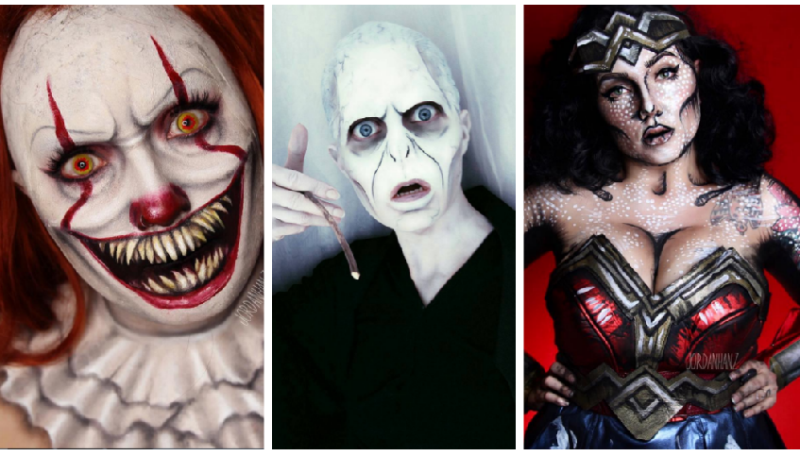 Article Name
20 Super Realistic Halloween Makeup Ideas You Can Actually Try At Home
Author
Description
Need some major makeup inspiration for Halloween? Check out these super realistic Halloween makeup ideas, so that you can blow everyone's mind this year.