For a lot of people, weddings have become synonymous with booze and getting drunk. However, if you are not one to jump on the bandwagon quickly, you can check out wedding bar ideas which do not include alcohol in them at all! If you're wondering how that will work out for you, then you should know that there are tons of people who, like you, would rather have a bar consisting of something else rather than alcohol, to ensure that their guests have fun while at the same time, remain sober for the ceremony.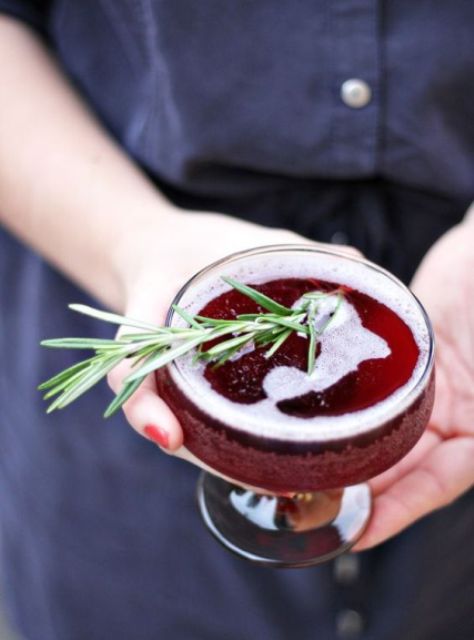 Image source: Pinterest
Wedding bar etiquette 101 includes keeping things which are easy to eat for your guests, because you have to keep in mind that they also have the lunch or the dinner that you have arranged for. The whole point of having a bar full of alcohol is to make sure that your guests have something to sip and chill with while they are strolling all around your wedding venue. If you manage to correctly substitute the alcohol for something as interesting, as yummy, and as easy to consume, there is no reason why anyone should have any reason to complain.
---
Suggested read: 22 unique wedding thank you notes your guests will adore
---
Here are 22 freaking amazing wedding reception ideas for a bar that is going to save your guests a major hangover the next day.
1. Lemonade bar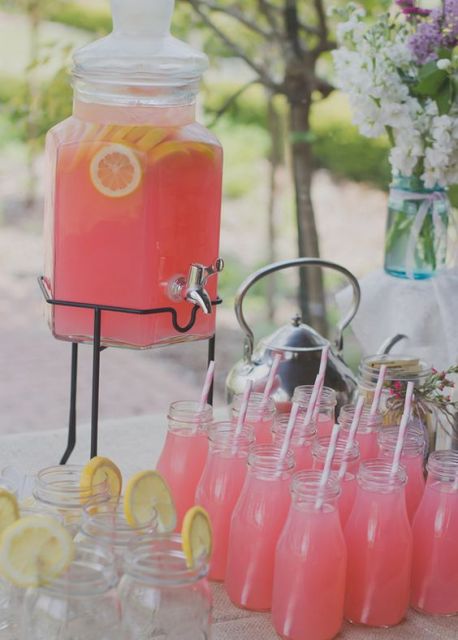 Image source: Pinterest
If you think denying your guests alcohol is too harsh, give them an alternative drink to sip on while you are getting married – lemonade! This is especially convenient if you are having a summer wedding. You can have variations in the form of pink lemonade, orange lemonade, iced tea, or even mint water for your guests to cool off on, in a bar that looks super pretty.
2. S'mores bar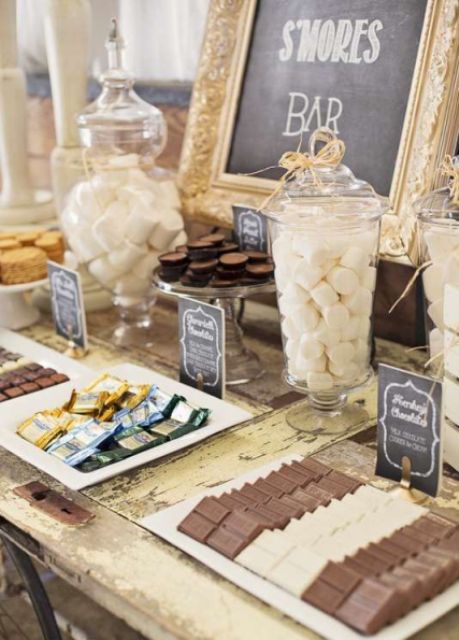 Image source: Pinterest
A lot of people might not like alcohol, but there are very few people who would have a problem with s'mores, one of the simplest, and most decadent desserts ever. All you need is a bucket of marshmallows, biscuits, chocolate, and if you are feeling fancy, then some child safe burners for your guests to have the time of their life, without the intervention of alcohol.
3. Popcorn bar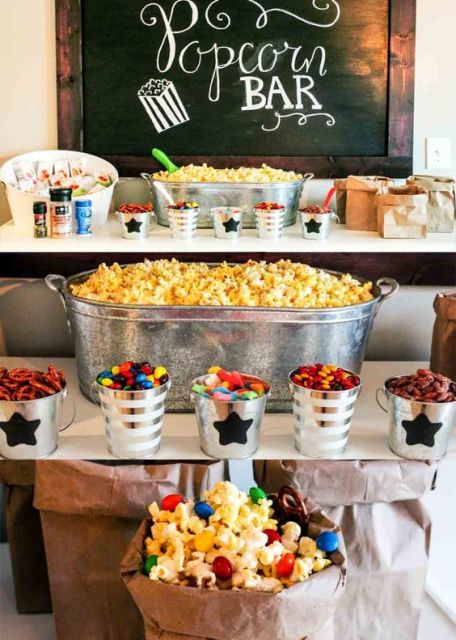 Image source: Pinterest
Another fun snack that you can experiment with at your wedding is popcorn. You can literally incorporate any flavor and topping on popcorn, making it one of the coolest, most versatile stations your wedding guests will have the privilege of accessing.
4. Donut bar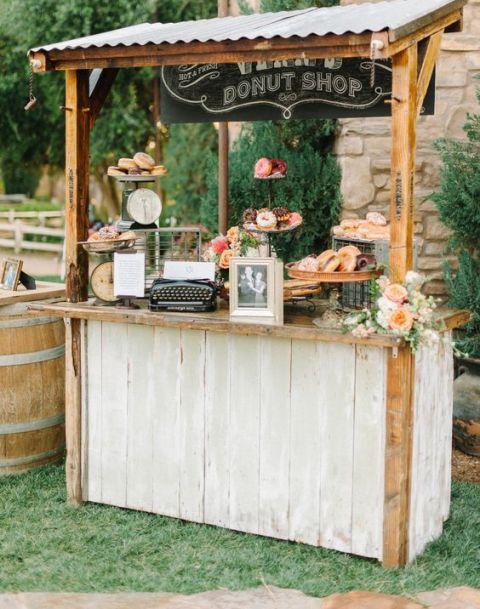 Image source: Pinterest
One of the most underrated additions to a wedding menu is donuts. The thing about donuts is that they come in a million different flavors with myriad of topping options which can be put on the donut, and you can even let your guests decide, allowing you to have the most awesome bar at your wedding.
5. Sandwich bar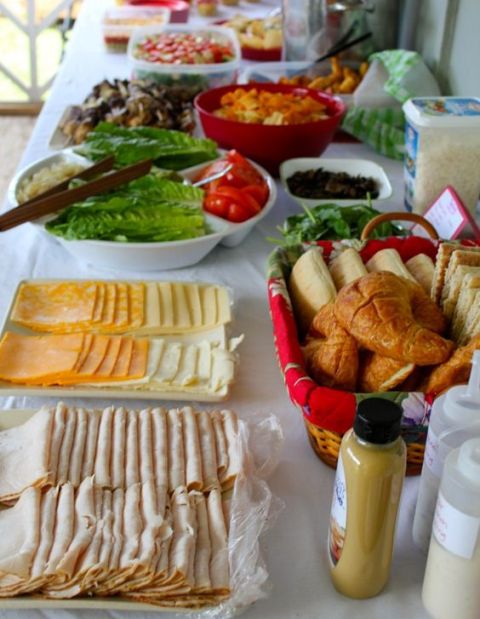 Image source: Pinterest
Is there anyone who doesn't like a sandwich? LOL, no. Whether you like meat in your sandwich or veggies or jams, you can have a bar dedicated solely to sandwich lovers, a.k.a. everyone.
6. Taco and nacho bar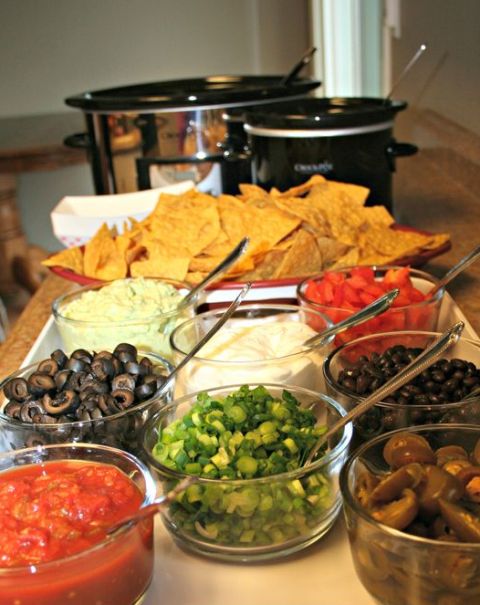 Image source: Pinterest
If you want to put a Spanish twist to your wedding bar, there is nothing more versatile than a taco or a nacho bar, which can be had with a hundred different toppings, salsas, dressings, etc.
7. Coffee bar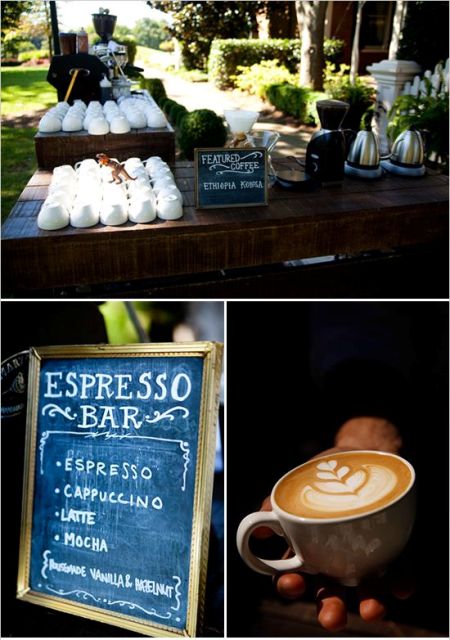 Image source: Pinterest
If you want your guests something to sip while they are enjoying your wedding, there are very few things better than coffee. Guests can choose from options ranging from lattes, espressos, cappuccinos, cold coffees, and so much more.
8. Macaroni and cheese bar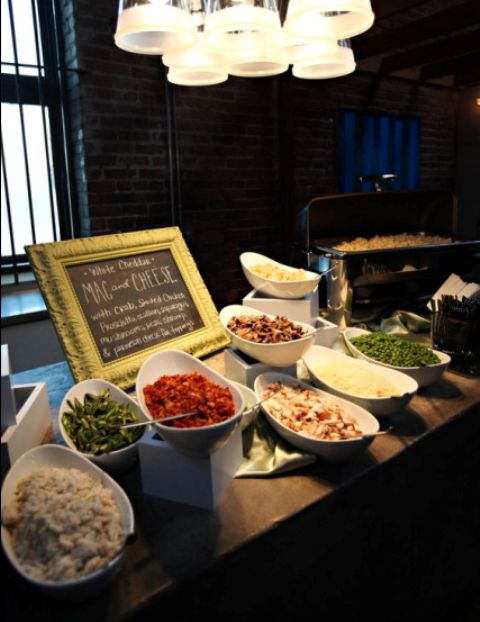 Image source: Pinterest
There are very few people in the world who hate mac and cheese, and you can take the risk by keeping a mac and cheese station at your wedding, which is likely to be included among some of the coolest wedding bar ideas sans alcohol. Choice of add-ons might include veggies, meat, and condiments.
9. Seafood station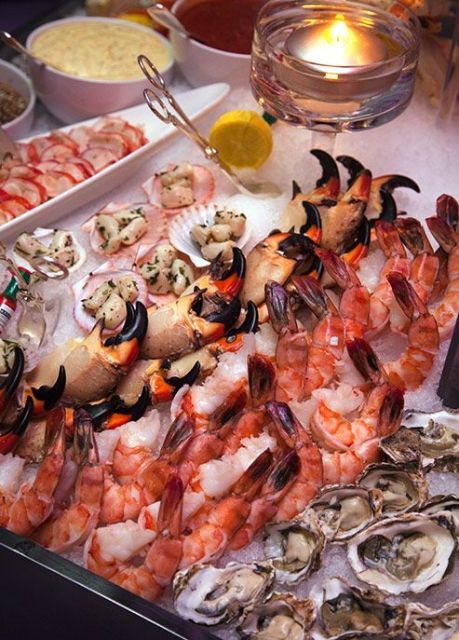 Image source: Pinterest
Some people want something as sophisticated as alcohol, when alcohol is not an option. The ideal replacement is an assortment of seafood including shrimps, lobsters, oysters, crabs and everything else that you can fit on to a table, along with a number of spices and dipping sauces.
---
Suggested read: 20 gorgeous yet modest wedding dresses for a Church wedding
---
10. Fruit and cheese bar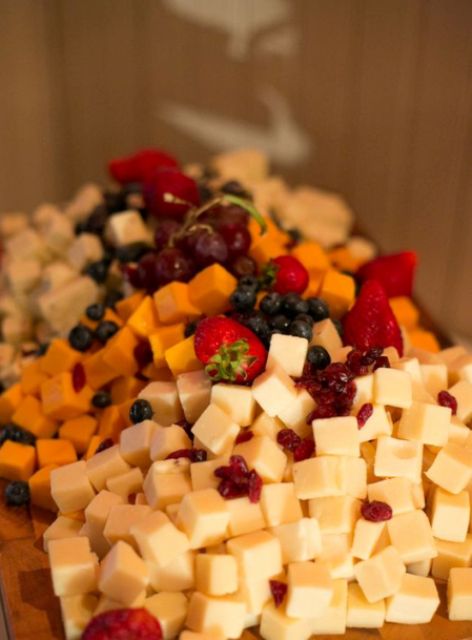 Image source: Pinterest
This is another way you can be extremely sophisticated without getting your guests sloshed. Fruit and cheese taste yummy together, and it is also a cheap alternative for a full and good looking bar.
11. Candy floss bar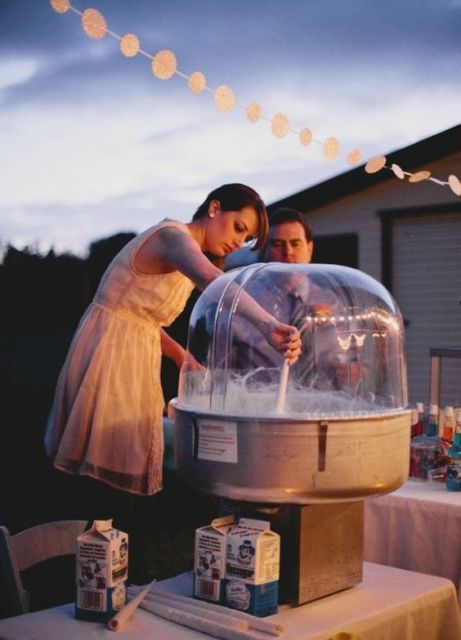 Image source: Pinterest
A candy floss bar is your one way ticket to awesomeness. The best part about this is that your guests can make the candy floss themselves, and rest assured, people will be flocking to your bar.
12. Hot chocolate bar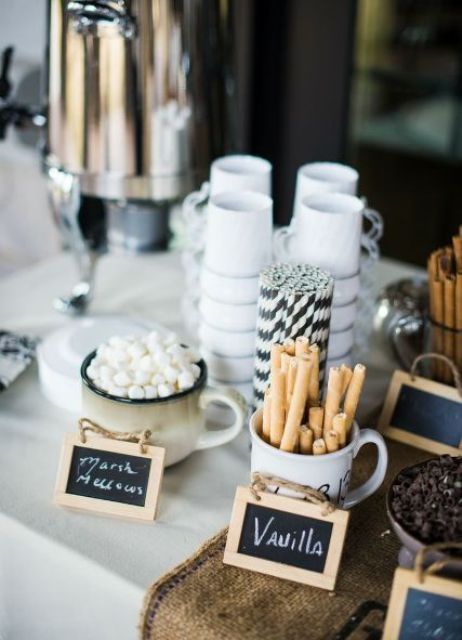 Image source: Pinterest
Hot chocolate is also another thing which can be consumed with a lot of options, and ideal for a fun bar which both kids and adults are likely to enjoy, with a host of toppings to keep them satiated.
13. Frozen yogurt bar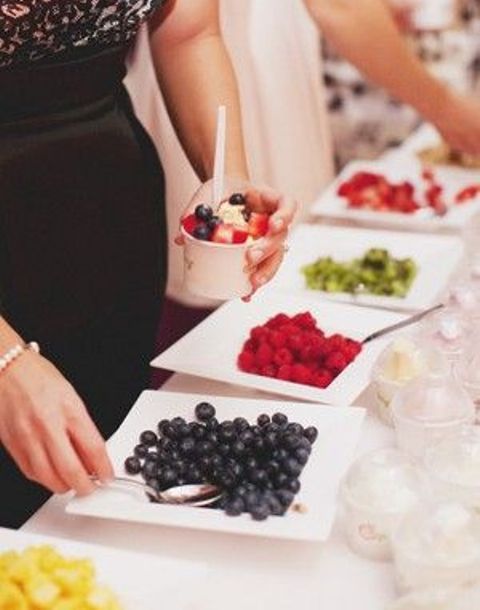 Image source: Pinterest
An interesting and healthy alternative to ice cream for your wedding guests would be frozen yogurt, which is possibly yummier because of the number of toppings you can have on offer.
14. Sushi bar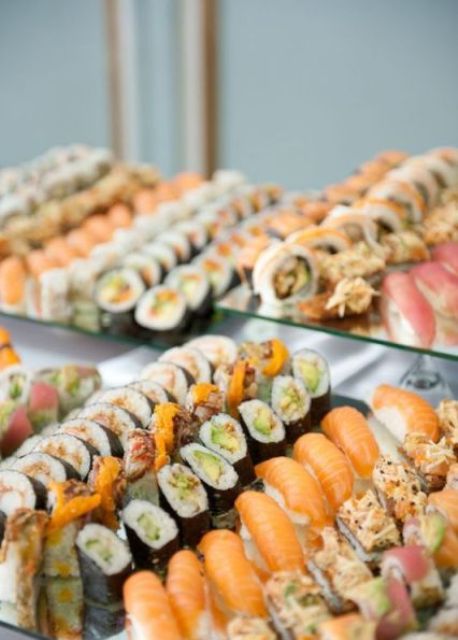 Image source: Pinterest
Having a sushi bar is a very modern concept that your guests are bound to be fascinated by. Also, these little Japanese appetizers are small, delicate, and can be made with a number of different fishes and flavors.
15. Caramel apple stand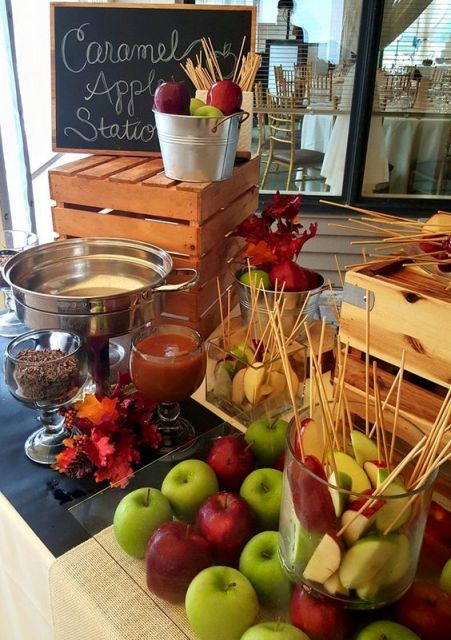 Image source: Pinterest
If you have caramel apples, that too of the unlimited kind, on offer for your guests, it is likely that they are not going to miss their alcohol too much. You can have your apples sliced or left whole, for the kids and adults, so that they have no difficulty dipping their apples in barrels of divine caramel, which they can munch on.
16. Fries station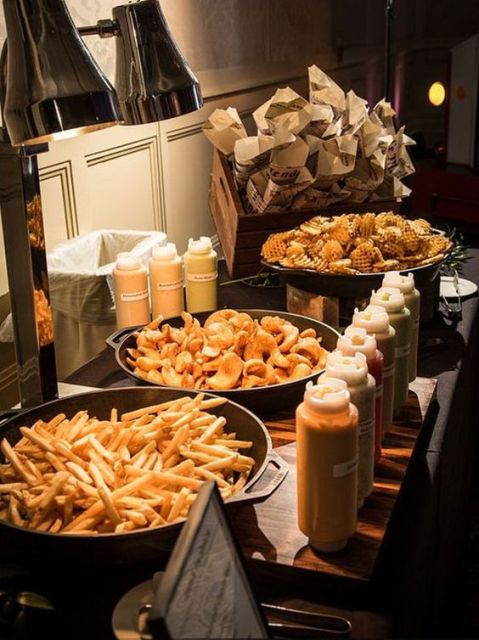 Image source: Pinterest
Yes, I know that some of the stricter parents might not be too fond of the idea, but it is your day, and you are celebrating, and no one will mind if you indulge in a little fried stuff for your guests, especially when you have an assortment of sauces and flavors to go with it.
17. Live barbecue/kebab bar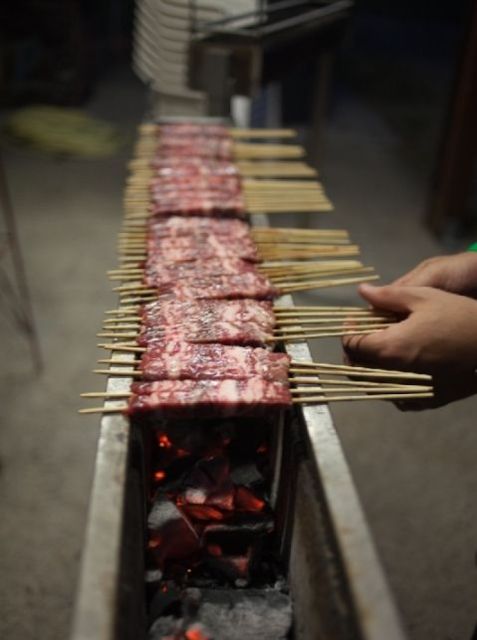 Image source: Pinterest
All you need for this is a source for open roasting, a lot of skewers, and a lovely assortment of marinated meat which your guests can choose from, and make their own barbecue and kebabs! Such appetizers make for a yummy substitution for your alcohol bar in conventional weddings, especially because they are unique and savory.
18. Chocolate covered fruit bar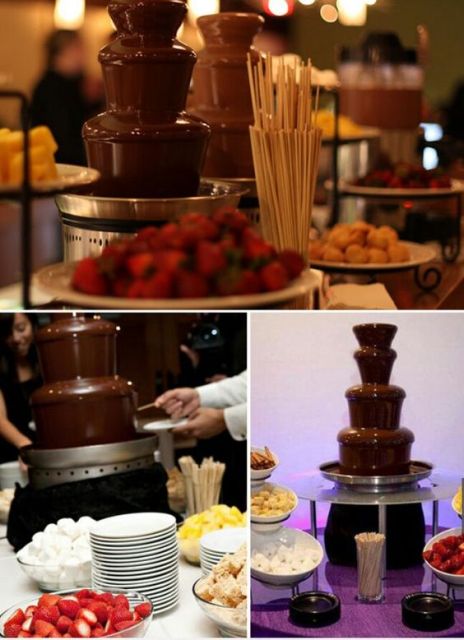 Image source: Pinterest
Imagine how cool your wedding would become if you had a chocolate fountain in it? Well, set that on a table and cover the table with fresh fruits and the like, and there will not be a single sulky guest, for sure.
19. Cotton candy mocktail bar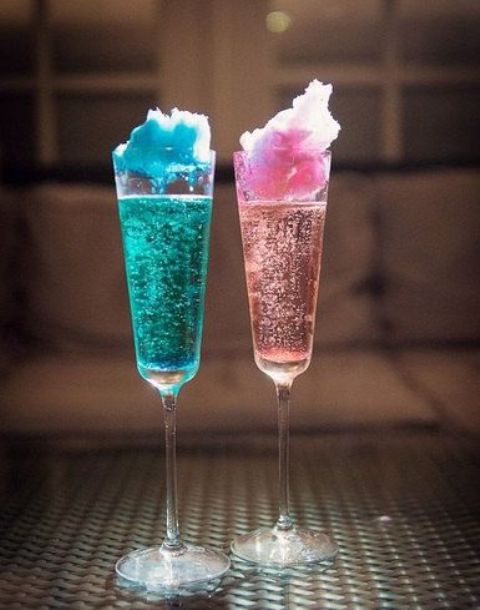 Image source: Pinterest
If you want to serve your guests something akin to alcohol, without disappointing them, or without getting them drunk out of their mind on your special day, invest in an assortment of mocktails. Especially beauties like these act as real eye grabbers, and all you need is a constant supply of flavored soda and different colored cotton candy. Your guests can pour the drink themselves and watch the magic happen in front of their eyes.
20. The ultimate cupcake bar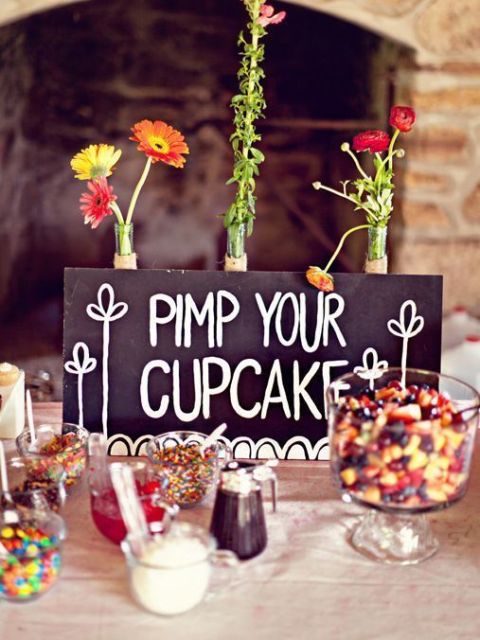 Image source: Pinterest
How can you be anything but satisfied when you have a table of cupcake waiting for you at a wedding? Keeping this in mind, you should totally ditch the alcohol and have a bunch of cupcakes, along with a load of cream and dry toppings, so that your guests can go nuts, literally and on the plate.
21. Pizza bar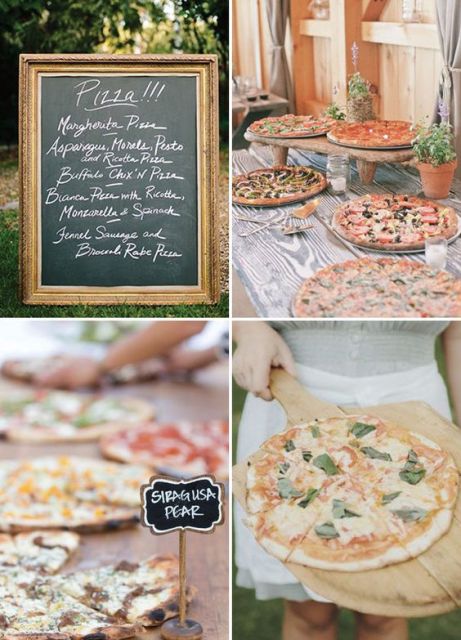 Image source: Pinterest
Make use of the most useful thing to have ever come out of Italy, a.k.a. the pizza, which has become so versatile in the recent past that you can have a station as large as you want for your wedding. Whether it is in the choice of crust, or in the choice of cheese or topping, have your guests choose from a wonderful array of pizza and revel in its cheesy goodness.
---
Suggested read: 15 fresh ways to complete the 'something blue' tradition at your wedding
---
22. Tea bar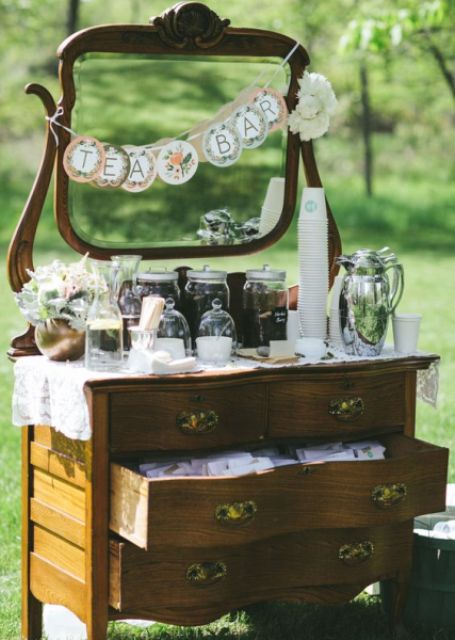 Image source: Pinterest
Very few things in life are as good as tea, and you can share that very sentiment with your guests when you organize a tea bar for them, with all kinds of tea leaves and brewed tea ready for them, to sip on while they are enjoying your wedding. You can even have extra condiments such as lemon, lavender and other things, which they can add to their hot or cold tea.
Thus, as this list of wedding bar ideas proves, it is likely that you have no dearth of options if you are considering alcohol-free weddings. If you just happen to come across this article, and were planning on a completely alcohol-laden ceremony, you might want to reconsider your boring option and check out fun ways to spice up your wedding bars (literally).
Summary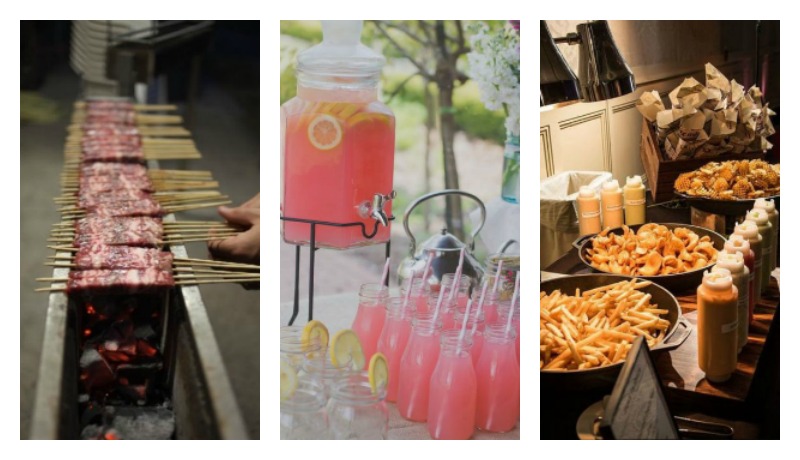 Article Name
22 Clever Wedding Bar Ideas That Don't Involve Alcohol
Author
Description
Wedding bar doesn't always need to be stocked with alcohol. For couples who want to try something different, here are a few clever wedding bar ideas!