With more and more brides going for 'less is more' when it comes to their wedding attire, choosing something different has become a tough task for the unique and classy dresser. This is possibly the reason why modest wedding dresses have become a sight to behold on aisles as brides walk down in them.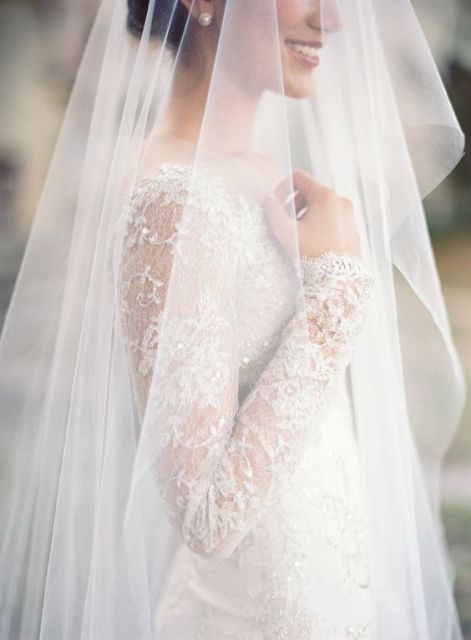 Image source: Pinterest
The thing about modest wedding dresses is that they are classy, modest, and gorgeous at the same time, making them the perfect choice for something sombre and traditional like a church wedding. If you think that wearing wedding dresses with long sleeves is going to make you look prudish and old-fashioned, then think again, because these are the epitome of class, elegance, and radiance, as demonstrated by these 20 exemplary modest wedding dresses.
---
Suggested read: 15 blush wedding dresses bound to make you blush with pleasure
---
1. Stunning white embroidered number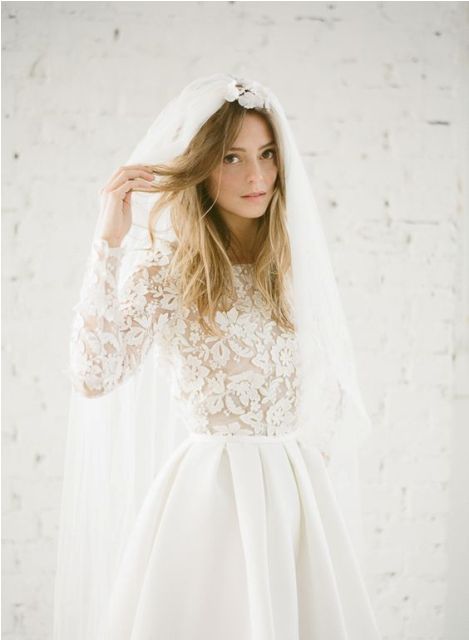 Image source: Pinterest
The very first example on the list proves to you how absolutely gorgeous full-sleeved wedding dresses can be. If you want to look modest, but still manage to introduce excitement in your wedding dress, look no further than this beautiful white on white lace embroidered number, with a full skirt made of ivory silk, and a simple round neckline. The design and motifs on the dress are simple, but together, they make a stunning picture.
2. Vintage style lace and embroidery piece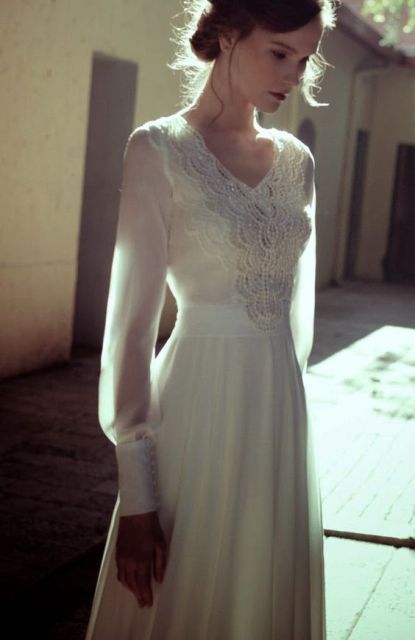 Image source: Pinterest
This is the kind of dress that looks like it was made for a modest church wedding. Inspired by some of the most sought after styles of the bygone days, this dress inspires absolute elegance and beauty, because of the embroidery originating from the modest V-neckline and the puff sleeves which are highlighted by the cuff-buttons and the wide satin belt.
3. Ivory and tulle masterpiece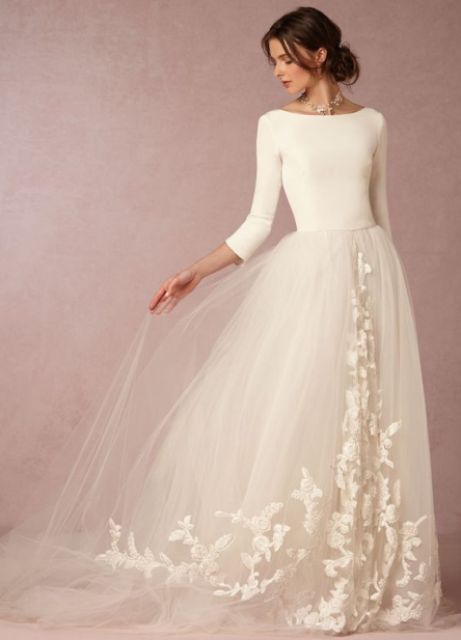 Image source: Pinterest
Modest wedding dresses like these make you wonder why anyone would go for anything else, when you have a spate of smooth, even, ivory silk giving way to a skirt overflowing with tulle and embroidered floral motifs, which come together to create this vision.
4. Quaint layered white lace dress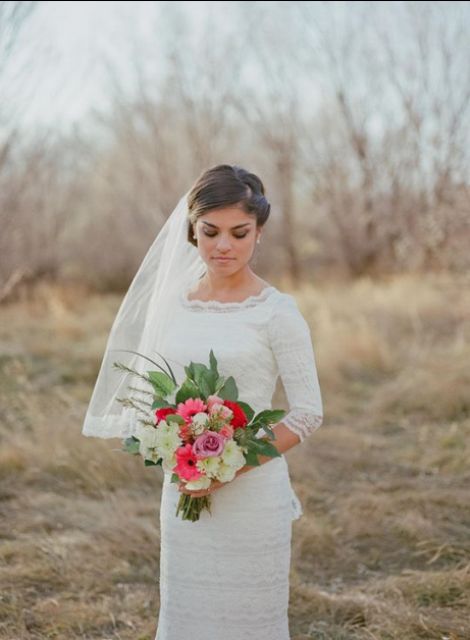 Image source: Pinterest
Lace is perhaps all modest wedding dresses' best friend, because it can make any dress look modern, elegant, and exquisite. This layered number is exactly that, especially since it has layer after layer of exquisitely stitched lace which makes this structured number the ideal choice for a traditional church wedding.
5. Fit and flare ivory silk dress with statement headpiece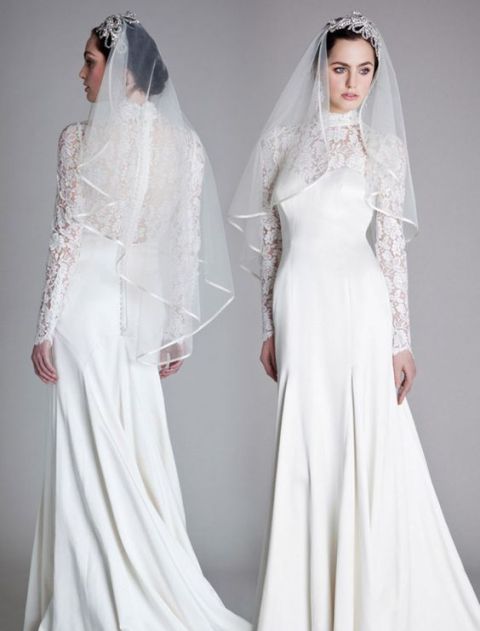 Image source: Pinterest
When it comes to long sleeved wedding dresses, this one is likely to take the cake, especially if you are a fan of fit and flare dresses. Usually, you might not have much choice if you want a modest church wedding, but that problem is solved by the incredibly elegant illusion neckline, which gives way to long laced sleeves, and a pleated bodice, perfectly accessorized with the statement veil and headpiece.
6. Full lace Zuhair Murad piece in pale white
Image source: Pinterest
Trust Zuhair Murad to create a piece that is going to take your breath away, even though it is ideal for modest church weddings. Unlike the previous one, this dress has an illusion waistline, which parts in the middle to show off a fitted lace skirt, while the rest falls in asymmetrical pleats all around the dress. The off shoulder sleeves and the overwhelming satin bow makes it look that much more appealing.
7. Body con dreamy Pronovias number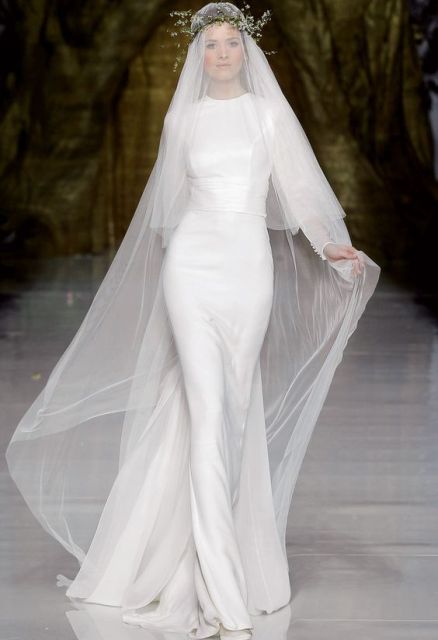 Image source: Pinterest
Pronovias takes modest to a whole new level with an all-white, body con dress, which is so unnervingly beautiful that you can't help but feel love and devotion and piety when you look at it. Accessorized with a long sheer veil and a rustic wreath, this dress is absolute perfection.
8. Another vintage inspired stunner
Image source: Pinterest
It is definitely time to bring back the fashion of the bygone days, and those styles combined with today's modern elements such as the appliqué belt on this dress make for some amazingly beautiful modest wedding dresses.
9. Lihi Hod contemporary stunner in lace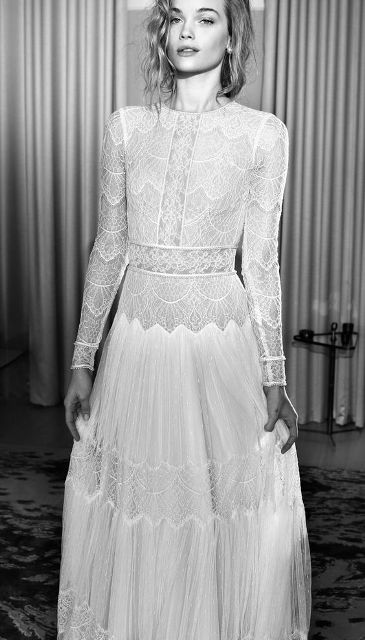 Image source: Pinterest
This is another instance which proves that lace is the undisputed go-to material when it comes to elegant wedding dresses with sleeves. Who would think a wedding dress with full sleeves and a tight round neck would be able to exude such elegance, simply by means of its lace detailing?
10. Sweet half-sleeved wedding dress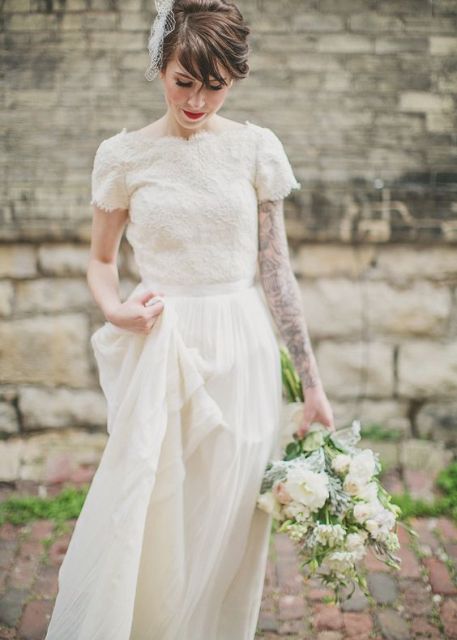 Image source: Pinterest
Just because you are getting married in a church does not mean that you will not be able to look cute for your wedding. This dress shows you the perfect style you can adopt to look cute and modest, with the simple embroidered lace top and the ample silk skirt. The toned down look of this dress is what makes it so remarkable.
---
Suggested read: 15 breathtaking winter wedding dresses for a white wedding
---
11. Some Elie Saab magic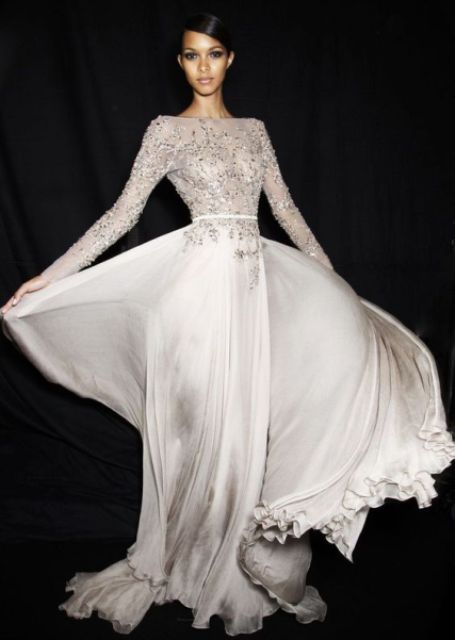 Image source: Pinterest
Elie Saab is one of the leading names when it comes to wedding dresses, and they certainly don't fall behind when it comes to making modest church wedding dresses. This absolutely ethereal silver embellished number is divine and simplistic, but the silvery silk that falls around the waist like a water fall and the straight neckline blocking the embellishment makes it a contemporary miracle.
12. Stitched wedding separates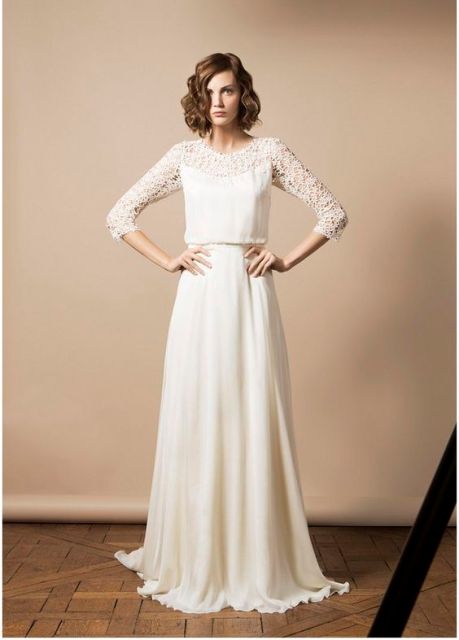 Image source: Pinterest
Even modest wedding dresses can come in breathtaking separates such as in this Delphine Manivet wedding piece, which consists of a simple top half with an illusion neckline and exquisitely stitched lace details on the three quarter-length sleeves and a skirt which is a modest A-line of pure ivory silk.
13. Fit and flare sparkler for the modern bride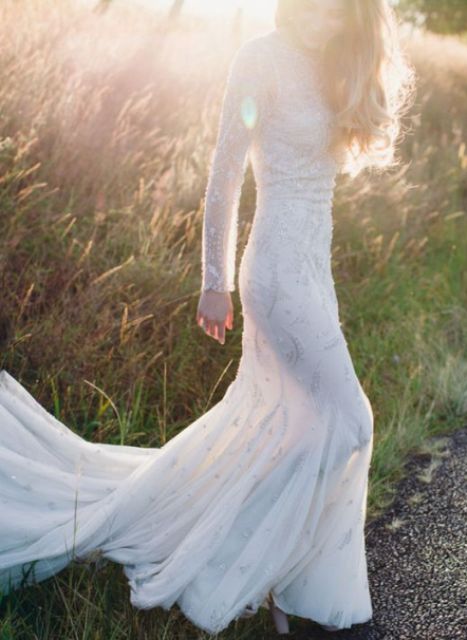 Image source: Pinterest
It cannot be denied that wedding dresses with long sleeves can get slightly prudish, with their designs and their cuts, if not made and chosen with specifications. This fit and flare modern creation shows that long sleeved wedding dresses too can be as chic as they come, especially because of the impeccable fit, the sparkling sequinned bodice, and the elongated, romantic train.
14. White and gold princess cut dress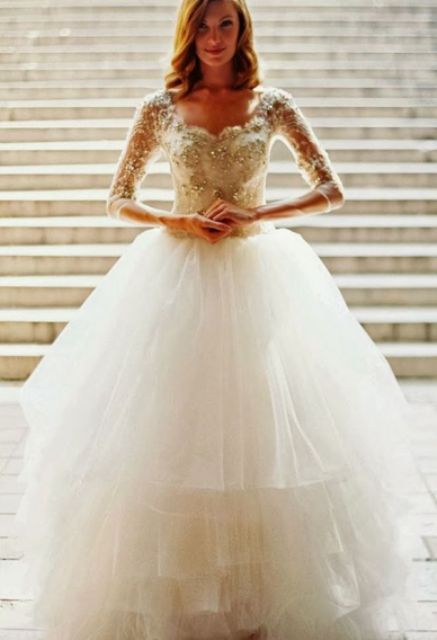 Image source: Pinterest
Who wouldn't want to look like a princess on their wedding day? In fact, your dress is a one way ticket to looking like one, if chosen correctly. A modest princess cut dress, such as this one with a simple round neckline and gold embellishments finished off with a skirt overflowing with tulle is something which would make you want to get a dress like this, and no other.
15. Freestyle simple yet gorgeous textured dress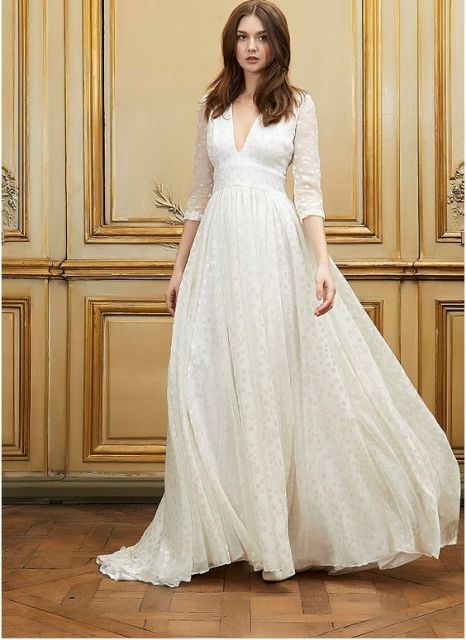 Image source: Pinterest
Inspired largely from Bohemian high fashion, this simple feminine dress includes masses of free-slowing fabric, which has been intricately hand-stitched with crystals and lace. The plunging V-neckline is daring but also modest, and of course, a signature vintage style.
16. Classic church lace and ivory silk wedding dress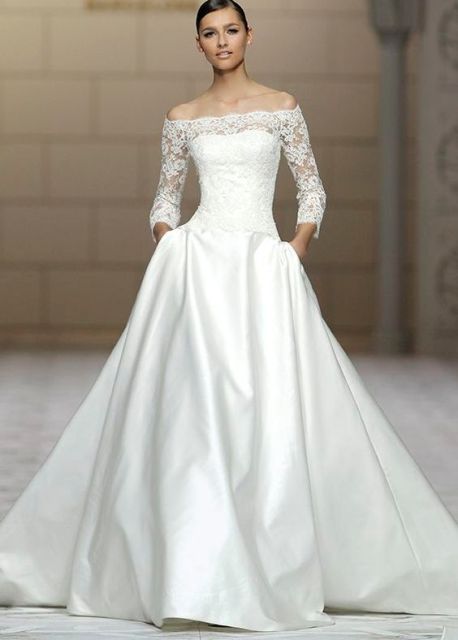 Image source: Pinterest
When you think of getting married in a church, you immediately think of a certain kind of wedding dress, which probably resembles this beautiful piece of artwork. The straight illusion neckline is made with the most intricate lace pattern work, and the rest of the dress, including the bodice and the A-line skirt, are made with gorgeous shimmery silk, which is bound to make you look like royalty.
17. Exceptional mid-length pure silk wedding dress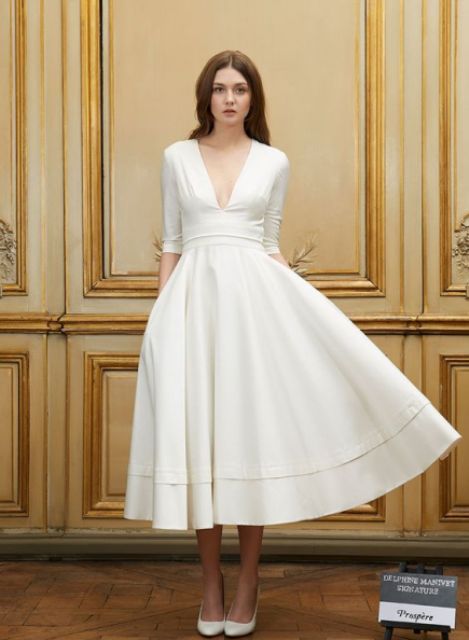 Image source: Pinterest
Who would have thought a mid-length wedding gown would look this beautiful and appropriate for a modest church wedding? The entire dress is composed of careful pleats which is bound to make you look ethereal and classy with the quarter-length sleeves and the deep V-neckline, but at the same time, add insane amount of comfort to your attire for the day.
18. Magical woven wedding dress by Ersa Atelier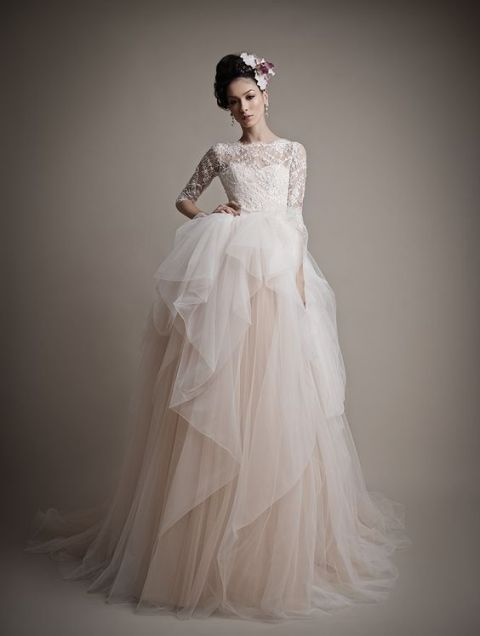 Image source: Pinterest
There are very few wedding dresses as stunning as this one. The ample use of French lace and tulle in the bouffant skirt is so elegantly offset by the full lace bust that you cannot help but marvel at the creation as a whole. The illusion neckline just adds that much more depth to the entire ensemble and it is guaranteed to make the bride look and feel like a celestial creature.
19. Classy wedding dress with shimmer finish
Image source: Pinterest
If you are not a fan of sequins, lace, embellishments or embroidery or any other kind of addition to your wedding dress, but you are still looking for something that is going to impress your wedding guests and make you feel like the most beautiful bride ever, then a wedding dress like this is your go-to dress. Plain white on white with a hint of shimmer on your skirt is what makes this full-sleeved, empire wedding dress such an absolute beauty.
---
Suggested read: 15 stunning colored wedding dresses to make your rethink a white wedding
---
20. Intricate ethereal lace and tulle wedding ensemble
Image source: Pinterest
There are very few wedding dresses as beautiful and as intricately woven as this one by Erza Atelier, and the good news is, it is modest, beautiful, and worthy of a queen. The whole dress is a conglomeration of intricately woven lace which is covered with a thin layer of pleated tulle, emerging from a dainty embellished belt of silver. Could it get any better than this?
These examples prove that modest wedding dresses appropriate for church ceremonies can be as beautiful and as ethereal and as contemporary and modern in style as any other wedding dress. In fact, they can be so very versatile that they don't have to be restricted to the church only, but can be worn in any other kind of ceremony as well!
Summary
Article Name
20 Modest Wedding Dresses That Are Apt For A Church Wedding
Author
Description
A Church wedding doesn't mean you have to forego on style and chicness for a modest bridal gown. Take inspiration from these stunning modest wedding dresses.