A wedding will remain incomplete if you don't prepare favors of various sorts for your wedding guests. Sometimes random small trinkets are given, which, in spite of their worth, may not be eventually that useful. After all, what is the use of a gift that will collect dust in one corner of your guests' house?
Instead, consider giving your guests some edible wedding favors that they would love to dig in, the moment they get their hands on them. There may be many other wedding favor ideas on your mind, but you could give these edible wedding favor ideas a try as they are sure to be a great hit and your guests will thoroughly enjoy these treats.
---
Suggested read: 20 awesome wedding cake ideas for a special reception
---
1. Cookies stamped with the name of each guest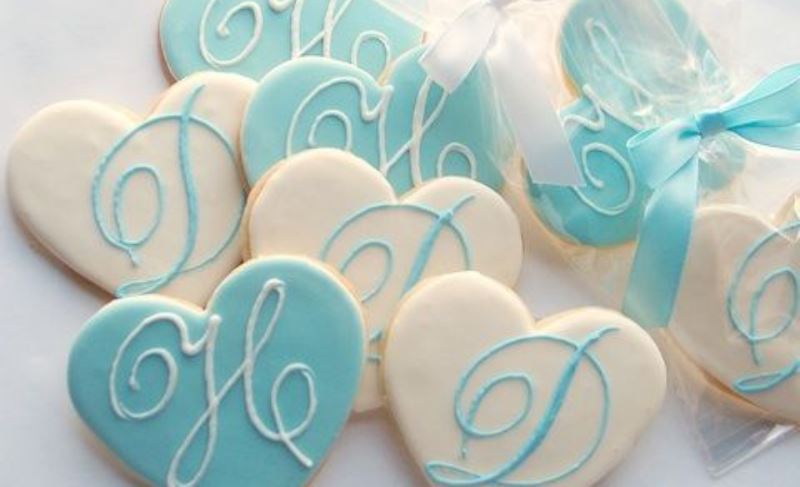 Image source: Pinterest
It goes without saying that every guest would love to see their name or initials on any memento from the wedding day, but especially if it is on a scrumptious cookie. These look practical, thoughtful, and really cute. All you have to do is have them hand stamped by someone according to your guest list.
2. Cakes in jars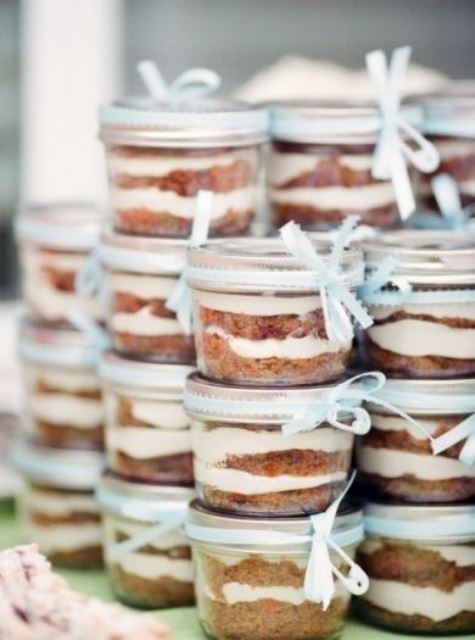 Image source: Pinterest
Have cakes put in glass jars and give them to your guests. Your guests would love to take these home. This is a pretty innovative idea and you can bring this up a notch by choosing colors of your wedding theme while selecting the jars or the cake. They might be a little expensive, but they are totally worth it.
3. Lollipops and candy canes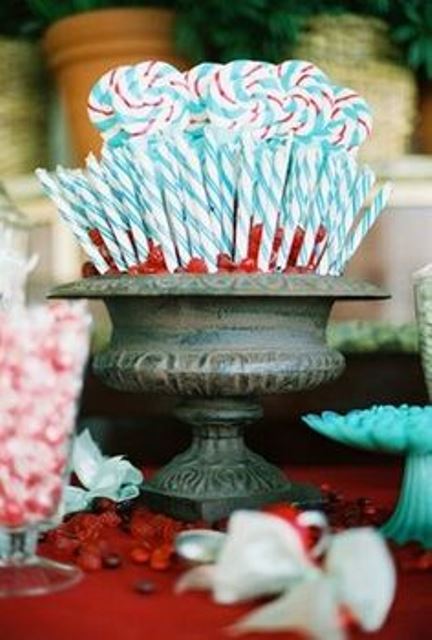 Image source: Pinterest
You can simply give your guests an assortment of cutely packed candy canes or lollipops. These are bound to make mouths water, especially for kids. For adults, these edible wedding favors will make your guests feel nostalgic and take them way back in time, especially if the wedding is carnival-themed. To give it a romantic touch, you can attach cute tags to complete the package.
4. Traditional tea bags
Image source: Pinterest
If you love classy, old-fashioned things and you are planning a vintage wedding with a country garden theme, then tea bags should be your choice of wedding favors. They will go perfectly with all the vintage crockery in your wedding. These tea bags usually come in envelopes that are brown and are wrapped with twine. If it is possible, try and add tiny napkin rings to them to up the rustic factor.
5. Easter eggs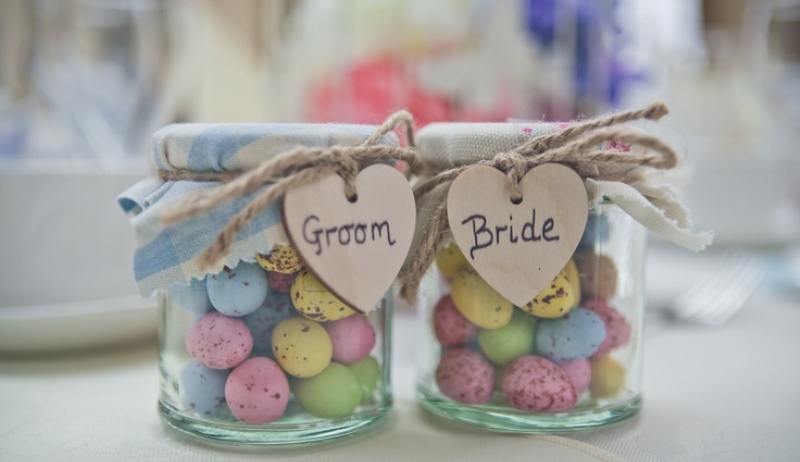 Image source: Pinterest
These are probably the cutest chocolate wedding favors if you are organizing a wedding with an Easter or spring theme. Use miniature eggs that you can color decoratively with pastel colors to make them look absolutely delectable. You can even place them in handmade nests before giving them away to your guests. This is a great DIY project for you and your bridesmaids.
6. Crème eggs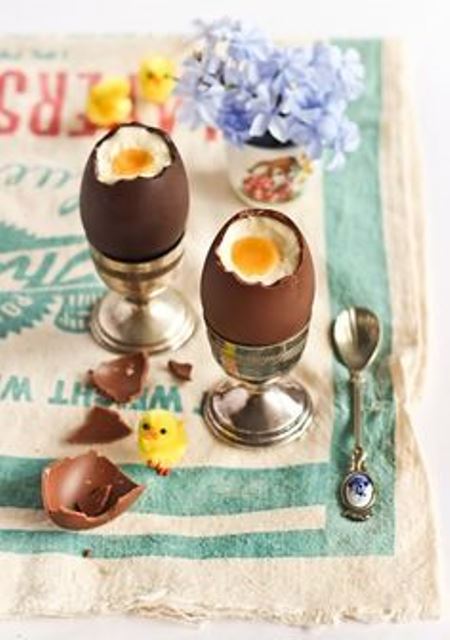 Image source: Pinterest
Cadbury has a range of awesomely delicious crème eggs that you can use as wedding favors. These eggs are another choice for Easter-themed weddings. For a more personal touch, you can also present these eggs with cute little flags bearing the names of the guests. Furthermore, you can also pack them in old-fashioned egg boxes before gifting them. Now won't these eggs look perfect on the candy buffet of your country-themed wedding?
7. Jam or jelly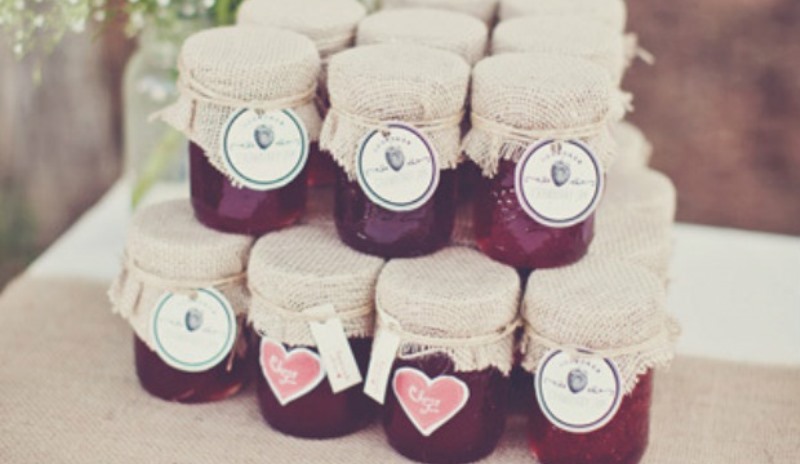 Image source: Pinterest
This should be your pick if you are fond of DIY projects and want to make handmade goodies for your guests. You can prepare jams, jellies, or even chutneys that are then served to your guests in glass containers wrapped in colorful fabrics. Your wedding guests will find a reason to pay you compliments for weeks after the big day.
8. Lemonade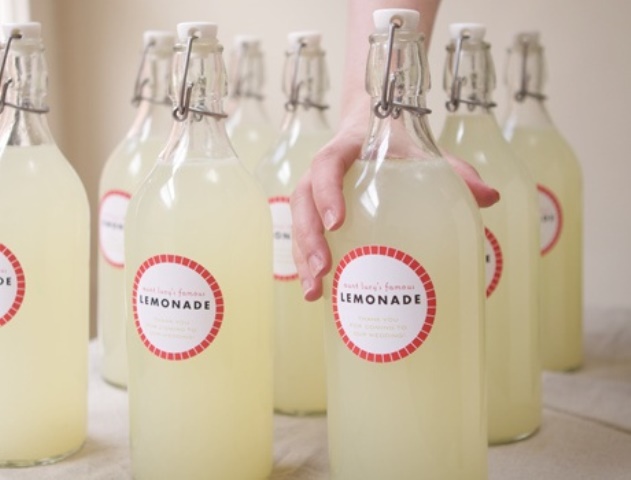 Image source: Pinterest
On a hot summer's day, few can resist a glass of lemonade. Even better, you could make homemade lemonade for your guests. This would be fitting for a vintage-style wedding, and it would be an exceptional treat if the occasion ends up being on a scorching day. You could improvise it in different ways – for instance, you could dye the lemonade in the theme color of your wedding, using natural flavors. You could also serve it to the guests yourself, which would give you a chance to personally speak to each one of them.
9. Scottish fudge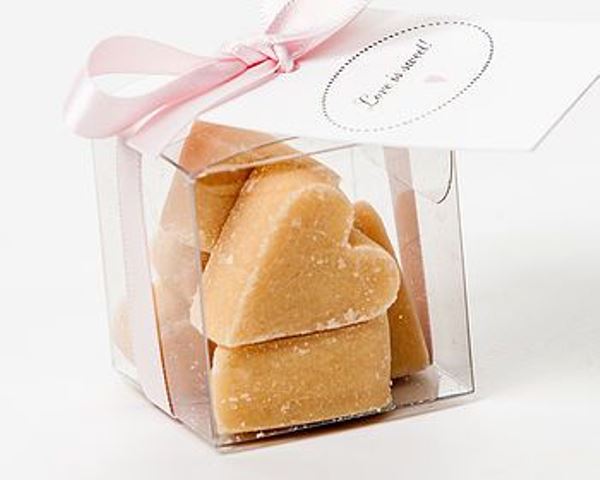 Image source: Pinterest
You must remember having fingers of fudge during your childhood. Why not serve Scottish fudge hearts as wedding favors? These will make your friends and family remember olden days and fond memories. These are usually made following a very traditional recipe. You are free to package them in any way you want, but they really look the best in glass cake stands.
10. Seasonal food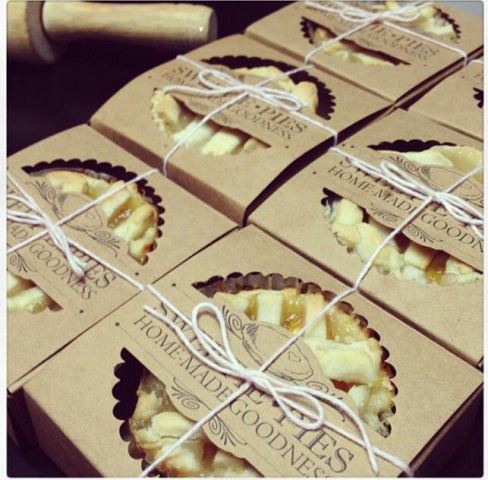 Image source: Pinterest
If you want to get inventive, you can serve favors that are symbolic of the season in which your wedding is being held. If your wedding is in the spring, then you can give your guests strawberry jam; or apple pies if your wedding is in the fall. Go for custom packaging to give these wedding favors a more personalized look.
---
Suggested read: 15 unique cupcake wedding cakes that left us wanting more!
---
11. PopTarts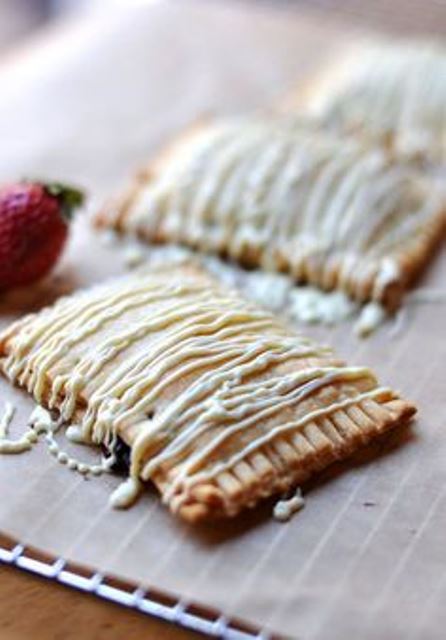 Image source: Pinterest
PopTarts are an all-time favorite of many, so you can't go wrong with this wedding favor idea. Plus, this is an excellent DIY project for the bride and her bridesmaids.
12. Hot sauce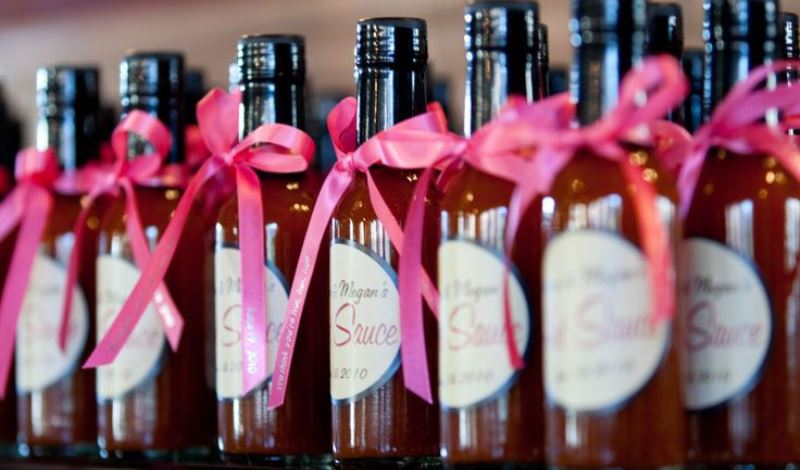 Image source: Pinterest
Your edible wedding favor needn't be all sweet and sugary. You can also go out of the beaten path and make something spicy. You could give your guests a sauce of your choice, and before packing and giving them to your guests, you could give them a unique name, like Spicy Tango or Groovy Delight.
13. Local foodstuffs
You might think that crumpets, cakes, and chocolates are a little too clichéd. In such a case you could try the famous food item of your locality and give it to your guests as a memento of the wedding location, especially if it is a destination wedding. Contact the best of your local bakeries and restaurants, and get them to make customized treats for your guests. If the town is renowned for any special historical building or monument, then you can make cakes or lollipops in its shapes.
14. Give them a taste of that secret family recipe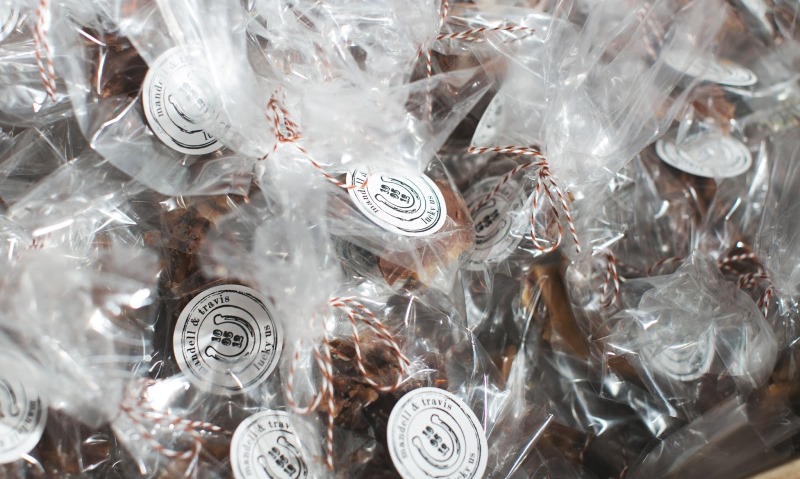 Image source: Pinterest
If your family has specific dishes that they are famous for, now is the time to give everyone a taste of it. Be it any kind of toffee or a special flavored popcorn or even cookies, make a batch and give them to your wedding guests as wedding favors.
15. Prepare midnight snacks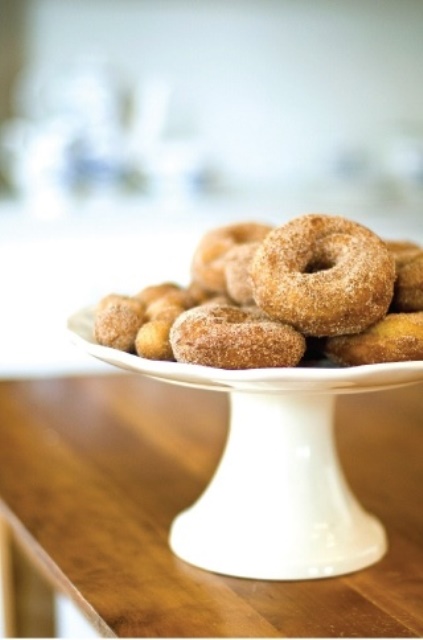 Image source: Pinterest
This could be a great wedding favor for your guests as this will keep your friends and family members energetic even after midnight. If possible, arrange for a stand of cinnamon donuts near the dance floor or, even better, ask the waiters to give the wedding guests these gifts while they are on their way to the hotel.
16. Pickles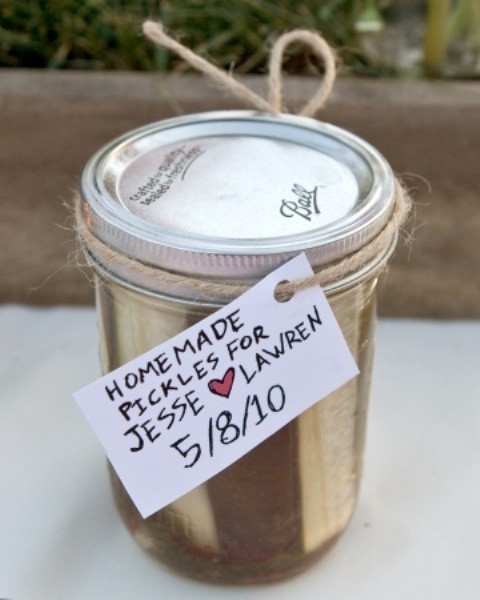 Image source: Pinterest
This is the newest food item that is trending in the list of possible edible wedding favors. Pickles will be a totally out-of-the-box gift for your wedding guests. You can also try mushrooms or beets or beans to go with your pickles. For a personal touch, you can gift the pickles in pretty little jars filled with brine.
17. Honey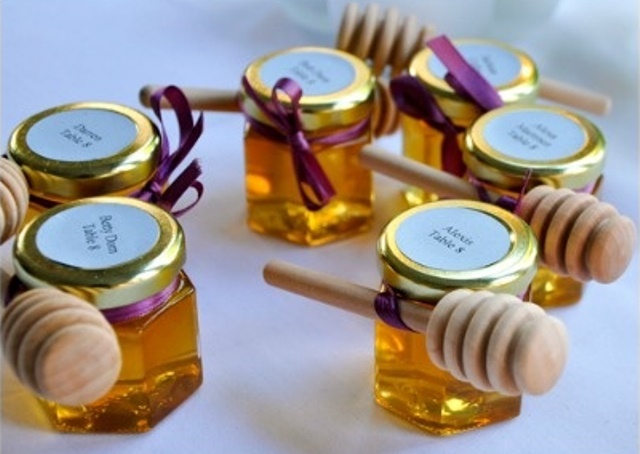 Image source: Pinterest
This is the most traditional and sweetest edible wedding favor that there ever was. When your guests are departing, hand them jars of honey made from local farms. Make sure to add customized decorations to your honey jars based on the theme of your wedding. Try burlap for a casual wedding, or if the occasion is more formal, use jars with golden lids. You could also give wooden honey dippers with these jars.
18. Coffee mugs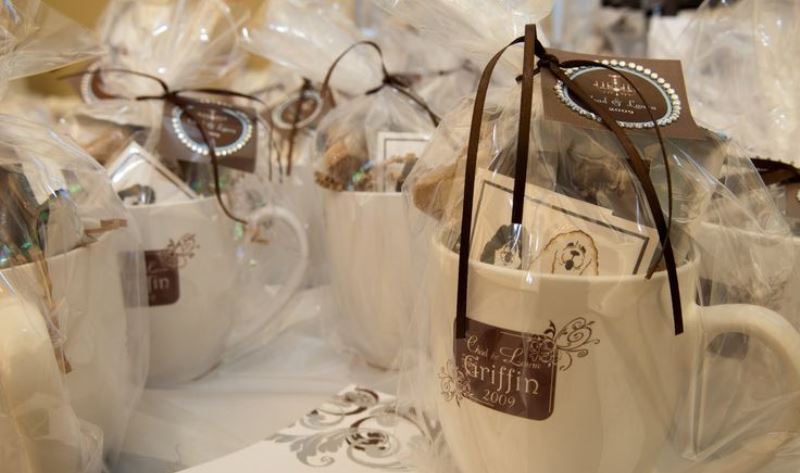 Image source: Pinterest
If you are a coffee lover, you can place orders for some custom-made mugs for each one of your guests. Fill these mugs with roasted beans. You can also make use of these mugs as escort cards by attaching tags with your guests' respective table numbers.
19. Tins of coffee beans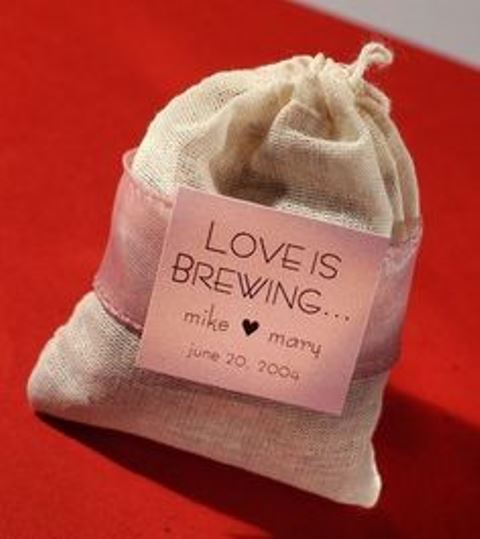 Image source: Pinterest
Here's another idea for all the coffee lovers out there. You can choose coffee beans that are covered with chocolate, and pack them in decorative tins. These can be served as a wedding favor and will be a great energy boost for your guests at the end of the evening.
20. S'mores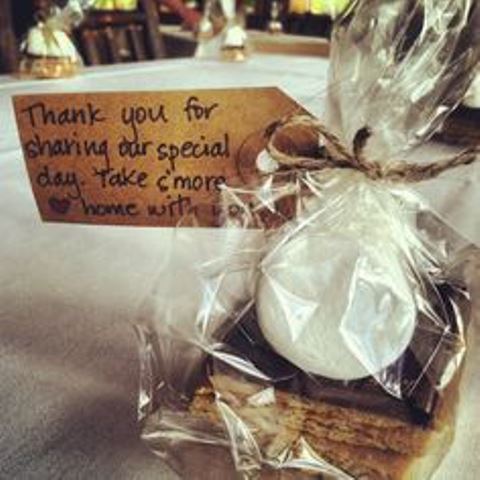 Image source: Pinterest
Revive your childhood by packing s'mores and giving them to your guests as a parting gift. These will be particularly apt if you have an afterparty with a fire pit. If you want, you can add all these ingredients in a cute transparent box or a cello bag.
---
Suggested read: 15 vital things you MUST avoid the week before your wedding
---
21. Custom made chocolate bar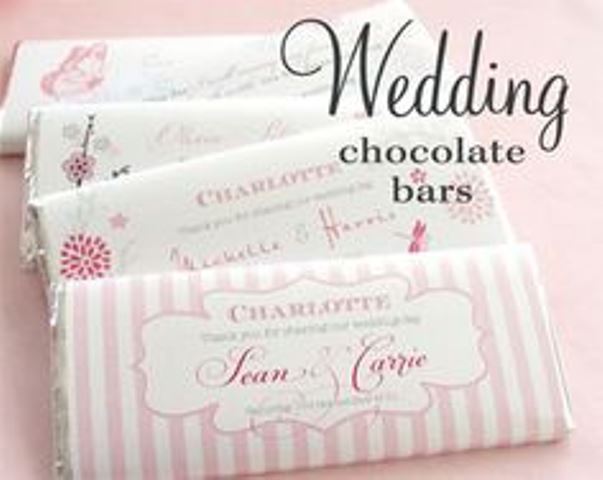 Image source: Pinterest
You can order chocolate bars as wedding favors for guests, but make them extra special by infusing your favorite flavors. Be it nuts, dried lavender, or crushed candy canes, you can use these chocolate bars to express your own personality.
22. Salted caramels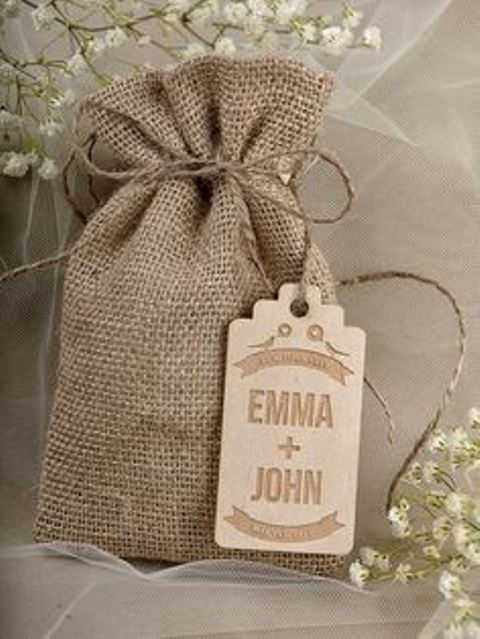 Image source: Pinterest
You can give these to your wedding guests as wedding favors, especially for a farm-themed wedding. These rustic burlap pouches can be stuffed with salted caramels that are bound to taste utterly delicious.
23. Herb seeds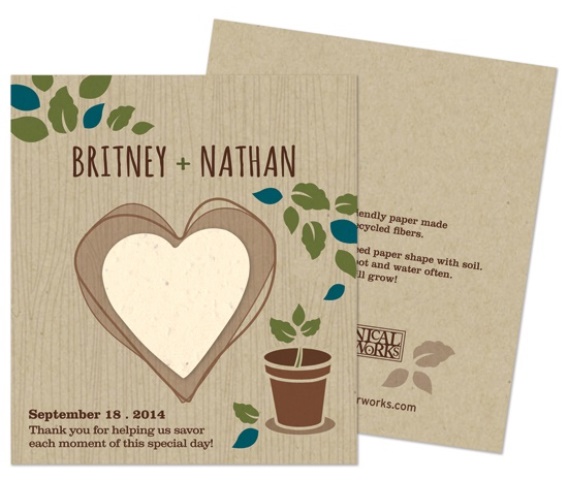 Image source: Pinterest
Matchstick packets of herb seeds are a symbol of your undying love, and are also practical since your guests can plant them in their own gardens. They are bound to appreciate the idea.
24. Sugar cookies
Image source: Pinterest
Give your guests loads of sugar cookies that will have your initials monogrammed on them. These sweet delicacies are available in the market in a variety of colors for you to choose from, so pick some that will match your wedding theme.
25. Sachets of tea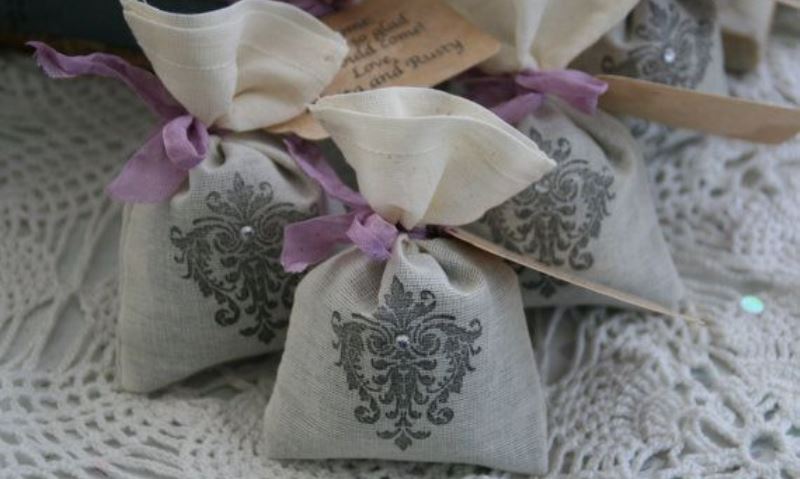 Image source: Pinterest
Tea leaves also make very classy wedding favors. All that you have to do is make colorful sachets and fill them with loose tea leaves of your choice, perhaps even your own special mix. You can choose from a host of tea selections and add appropriate labels or ribbons to the sachets. These gifts better be given on the morning of weddings, as these will help your guests be extra perky on the big day.
26. Printed M&Ms with a personal touch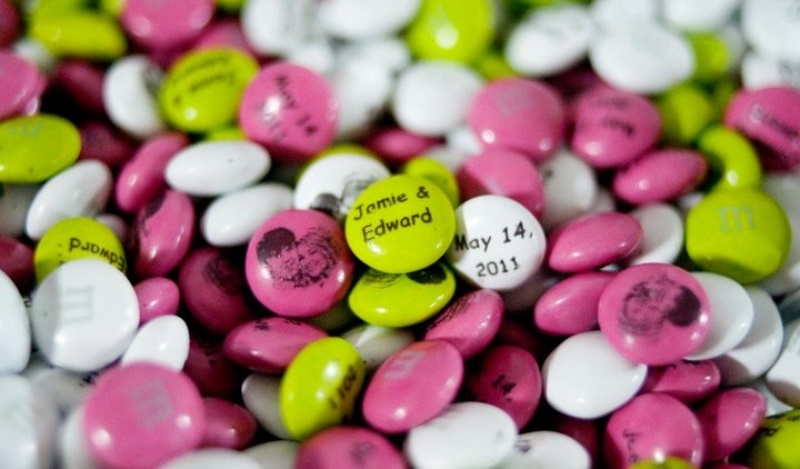 Image source: Pinterest
Among chocolate favors, these are bound to be the most memorable. You can print the message or graphics of your choice on the tin or even on the M&Ms themselves.
27. "Just married" chocolate packs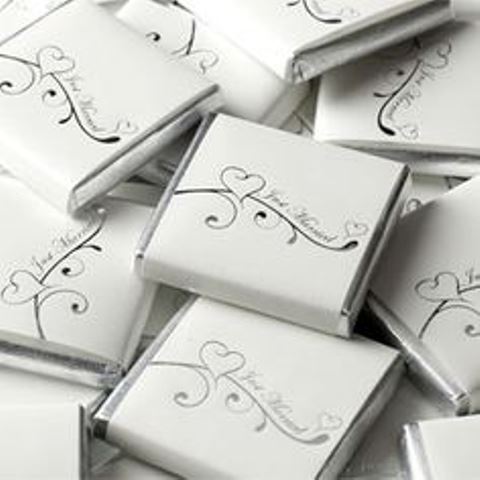 Image source: Pinterest
These are pretty cheap and at the same time look absolutely exquisite. You can give these small cubes of chocolates that have 'just married' written on their packs as wedding favors. These chocolates are sure to instantly melt in your guests' mouths.
28. Wedding almonds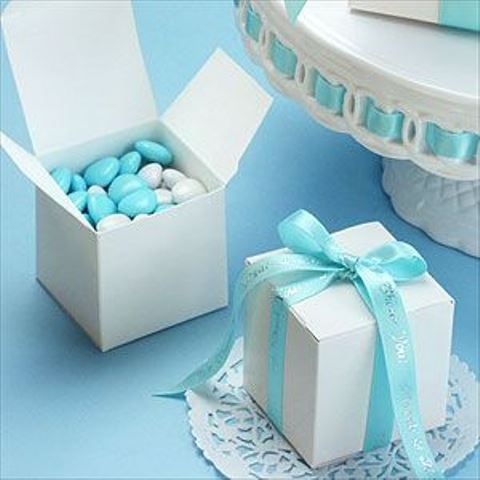 Image source: Pinterest
Almonds are also great to give as wedding favors. For your wedding, you can choose sugar coated almonds that come in a variety of colors. Pastel blue is usually pretty popular among couples.
29. Heart shaped chocolates
Image source: Pinterest
If you don't want to get into too much trouble preparing your wedding favors and would rather prefer something cute and small, you can go for chocolates that come in heart shapes. These chocolates can be wrapped in any color of your choice, so you can match them with your wedding theme color.
---
Suggested read: Dos and don'ts when finalizing your wedding guest list
---
30. Popcorn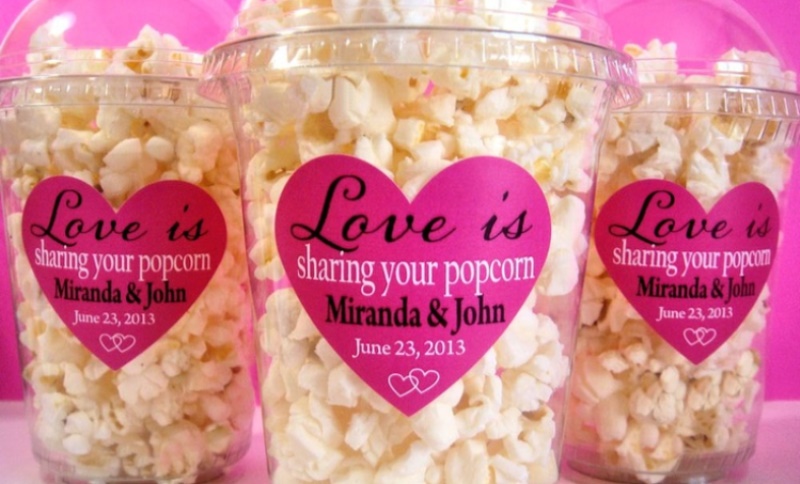 Image source: Pinterest
You can even choose to give popcorn to your wedding guests as wedding favors. Choose novelty popcorn cartons with the message of your choice emblazoned on them – the names of individual guests, a proverb, the date of your wedding, and more. Your guests are bound to love these.
The choices are many, and each one will look adorable and yummy after preparation. It is up to you to make your choice and give your guests a sweet reason to remember you fondly. Remember, always take the help of expert caterers if you are not that good by yourself in the kitchen.
Summary
Article Name
30 Edible Wedding Favors Your Guests Would Love
Author
Description
Weddings mean you have to give your guests wedding favors. Skip the norm and go for one of these delectable and sinful edible wedding favors!