Celebs have a habit of taking everything up a notch higher than the commoners like you and I, but sometimes things do get a little out of hand! Every autumn, there are tons of superstars out and about, donning their 'too hot to handle' Halloween costumes. These celebrity Halloween costumes are a testament to the fact that the stars 'are sexy and they know it!', and they cannot help but show it!
All these spooky pics on Instagram visibly show that Hollywood pulls out all stops when it comes to celebrating this spooky holiday. So brace yourself before you scroll through some of the insanely sexy celebrity Halloween costumes that NLT has lined up for you!
---
Suggested read: 30 insanely awesome DIY Halloween costume ideas EVER!
---
Remembering the 'ghoul' times!
1. Miley Cyrus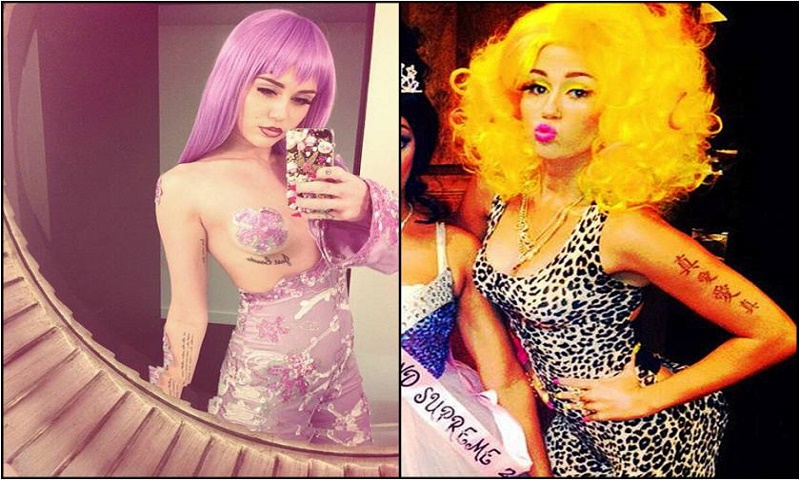 Image source: Instagram
Yes, yes, that is Miley Cyrus 'wrecking the ball'! Do you remember Lil Kim's notorious purple 'almost' jumpsuit from the 1999 VMAs? Well, Miley Cyrus stunned her own style of the sequined nipple pastie in 2013 like a boss!
In the right picture, we have Cyrus not twerking for a change, but instead pouting like Nicki Minaj! She puts on that hot lilac lipstick, a blond wig to wiggle and a faux tattoo to perfect the whole thing!
This is undoubtedly the best of all celebrity Halloween costumes, coz what can be spookier than Minaj?!
2. Mariah Carey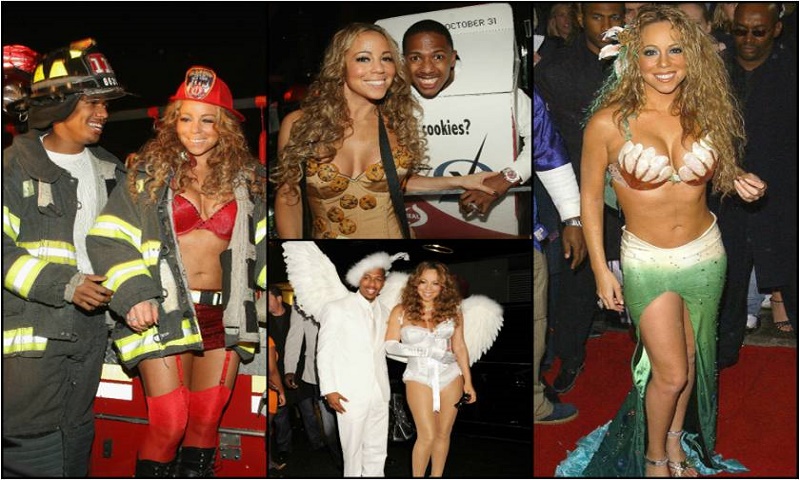 Image source: Pagesix
The rapper and America's Got Talent host Nick Cannon and his ex-wife Mariah Carey's (who needs no introduction) split has had the worst effect on Halloween! How? Well, pre-split, the couple was undoubtedly the best smoking-hot couple on the Halloween red carpet. They had turned on the spirit as firefighters andangels! One year they even took it to another level when Mariah turned up as Choco cookies and Cannon was the milk!
However, Mariah did not let her divorce come between her devotion to the festivities. She had a 'fang'fastic night walking solo, dolled up as a gorgeous mermaid!
3. Kim Kardashian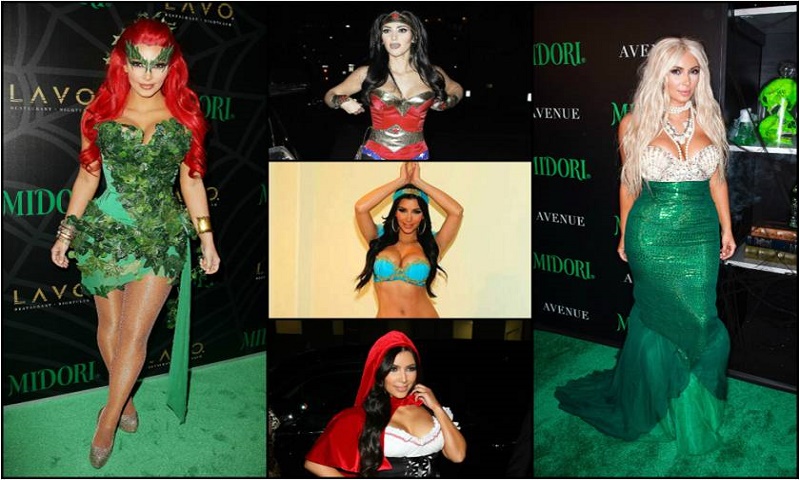 Image source: Twitter
Kim Kardashian is a hell of a woman, I must say! And no matter how many critics she has, she still manages to look hot as hell! Spooky! Every season she 'witches' all of us a Happy Halloween in different and diverse costume ideas, ranging from Poison Ivy to Wonder Woman! She also recreated the Arabian nights, dressed up as Princess Jasmine! While Kanye could have made a hot fox, Kim walked solo as Little Red Riding Hood! However, her mermaid avatar in the blue bikini top made the shutterbugs go crazy!
4. Heidi Klum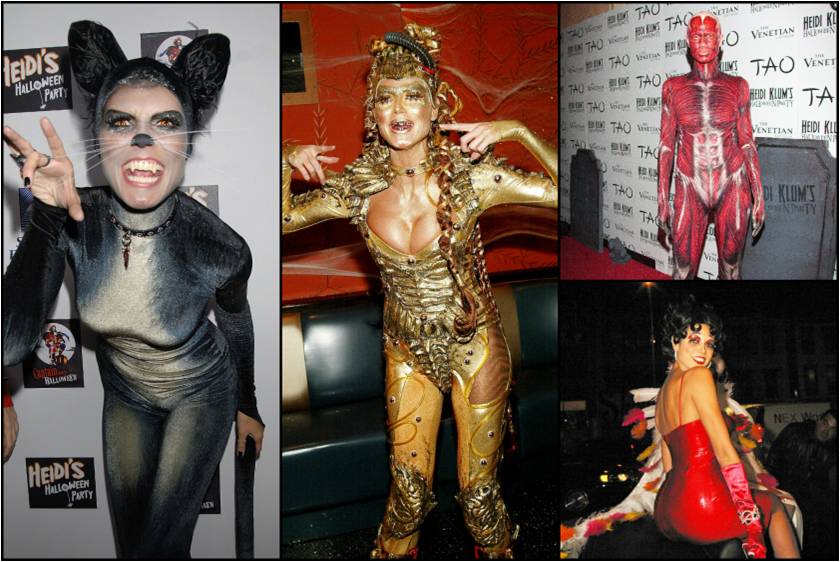 Image source: Pagesix
Heidi Klum not only throws fab parties; she also goes all out every Halloween season with her costumes and sizzling make up! She does not always try to look red hot but you know the babe just can't help it! She once got decked out as an elaborate butterfly! She is so into the 'spirit' of Halloween that we could do a separate line-up on her alone. In her own words, "In our house, its Halloween all year round!"
5. Christina Aguilera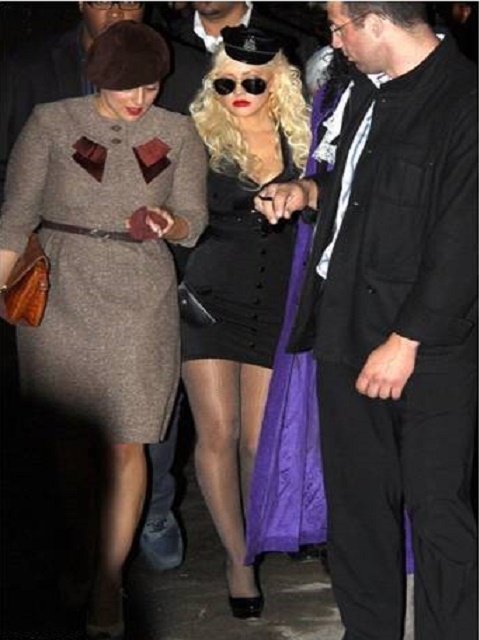 Image source: PacificCoastNews
Dressing up as a cop is pretty common in ever Halloween season. But no one knows how to choose a mediocre theme and then rock it as a pro like Christina Aguilera! In 2010, she made an 'arresting' sight when she left the Halloween bash dolled up as a sexomatic cop!
6. Michelle Trachtenberg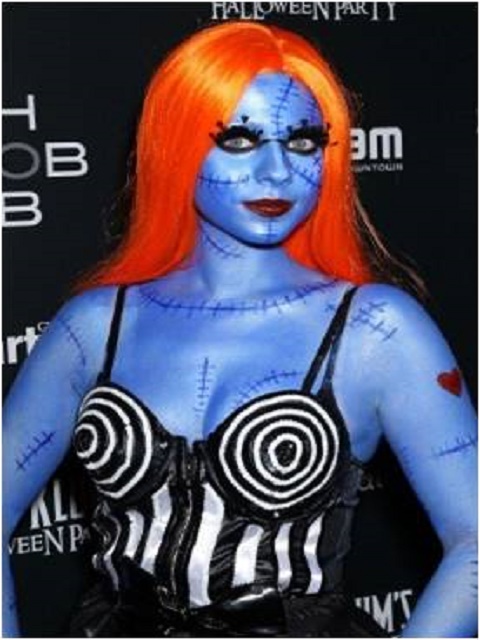 Image source: Pagesix
Sally from the movie "The Nightmare before Christmas" still creeps us out to hell and back! But Michelle Trachtenberg, with that illusion costume and excellent make up, takes it to just another level! Happy haunting, Michelle!
7. Joanna Krupa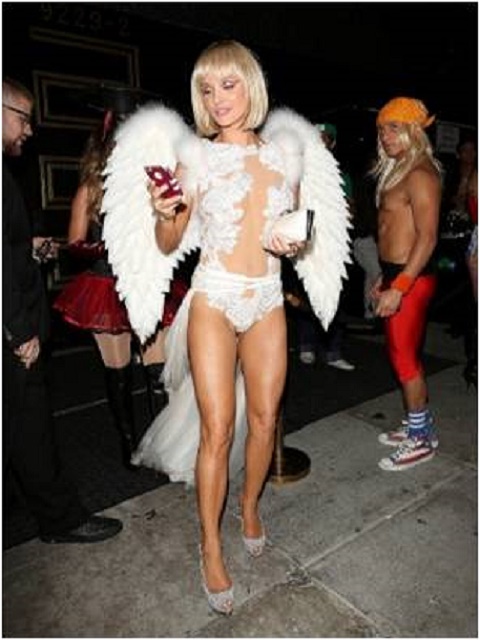 Image source: Pagesix
We all know that the beautiful Joanna Krupa is from paradise. She, nonetheless, loves to emphasis the fact! Her fairy Halloween costume could not get sexier with its white fabric and added wings, which 'flew' our hearts away!
8. Rihanna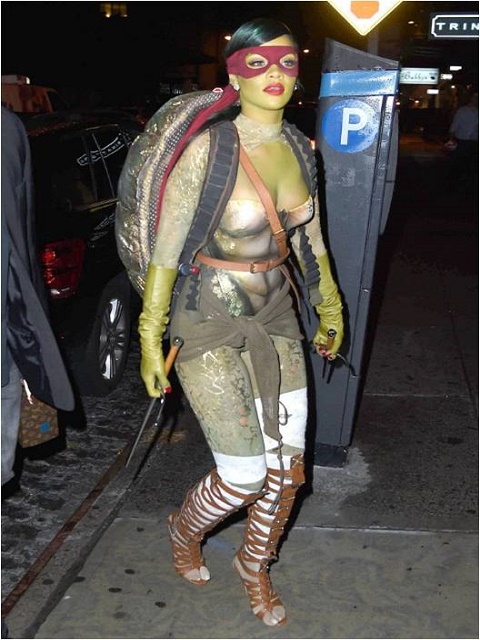 Image source: fameflynet
Rihanna is a goddess! Nobody could ever pull off the Mutant Ninja Turtle costume with the panache that she did in 2014. She looked insanely hot as a Ninja when she donned a low cut corset to smash it! She was not 'unfaithful' to the Halloween chi after all!
9. Nicole Trunfio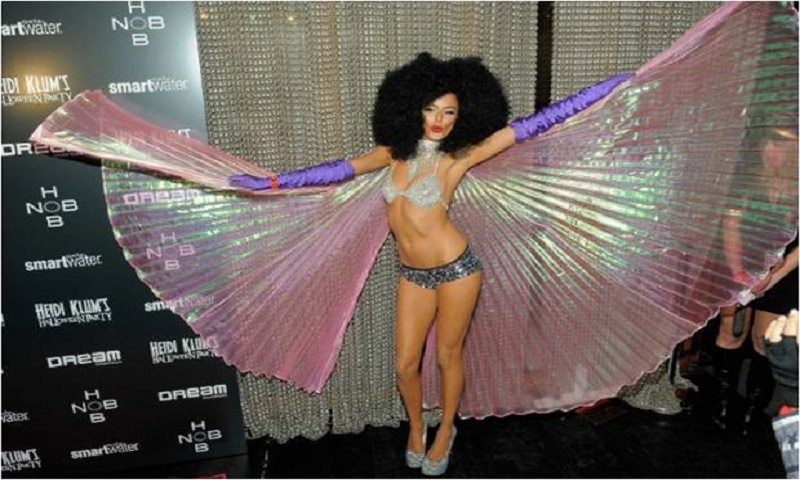 Image source: Pagesix
The wig, sparkler bra, and those flutters, Nicole Trunfio set the Disco mood of the 80s! The Bop queen made the whole event look like a carnival! She avoided any ghostly outfit because she only 'spooks' when 'spooken' too. Right, Nicole?!
10. Jessica White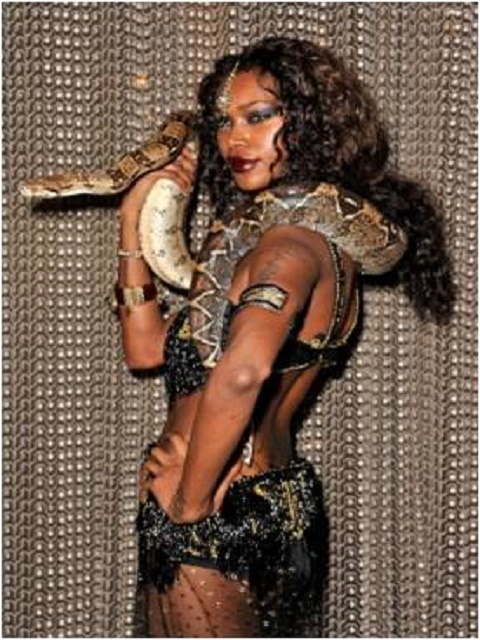 Image source: Pagesix
'Hisses' to you Jessica White for pulling off this serpentine Halloween costume with such grace! The make-up looked spectacular with the dark lipstick and mysterious eye shadow, flaunting her high cheek bones and beautiful brown skin! The snake around her neck just killed the whole look! Hot!
---
Suggested read: 20 of the creepiest Halloween makeup ideas that scare the bejesus out of you!
---
11. Ashanti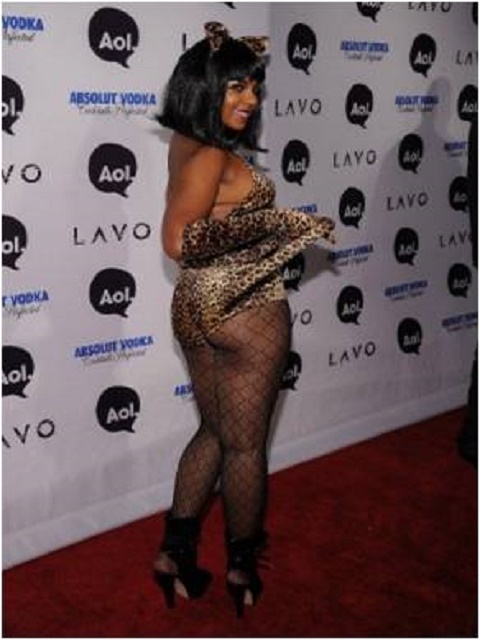 Image source: Pagesix
Animal print was a trend taken too seriously by Hollywood! Ashanti, true to her name, caused a hell of a ruckus by looking so wild in this Feline Halloween costume!  Gosh she looks booty-fully boo-tiful, if you know what I mean!  😉
12. Miranda Kerr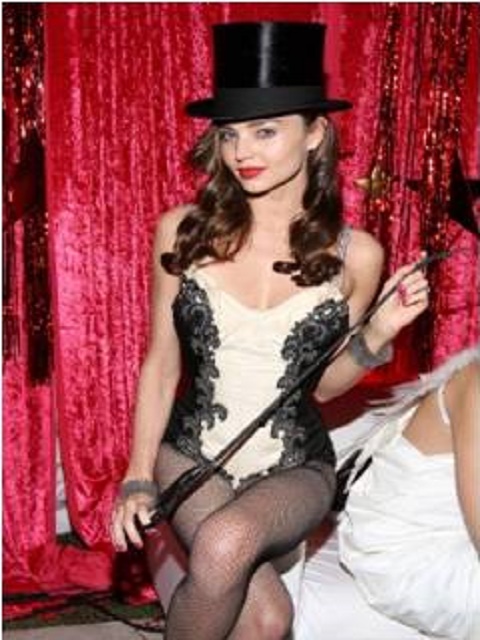 Image source: Pagesix
Always trust Miranda Kerr when it comes to spicing things up. If you still believe that Halloween is only about Ghosts or Fairies, Superheroes or Wonder women, you are 'living' a very boring Halloween, my friend! You need to take a 'coffin' break and think about what you want to dress up as. For some inspiration you have Miranda Kerr heating it up as a red-hot circus ringmaster!
13. Brooke Burke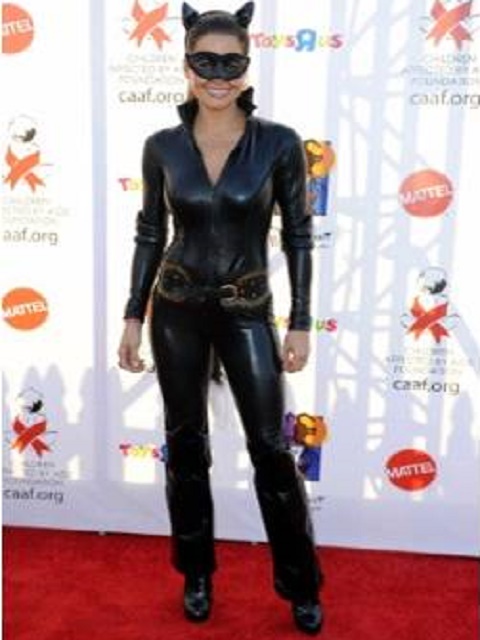 Image source: Pagesix
Many women in Hollywood have tried their own versions of the Cat woman, but no one can beat what Brooke Burke made out of her leather jumpsuit costume. The God embroidered belt made all the difference and was the talk of the town for a long time!  Well, Burke was not a 'scaredy' cat!  😉
14. Alessandra Ambrosio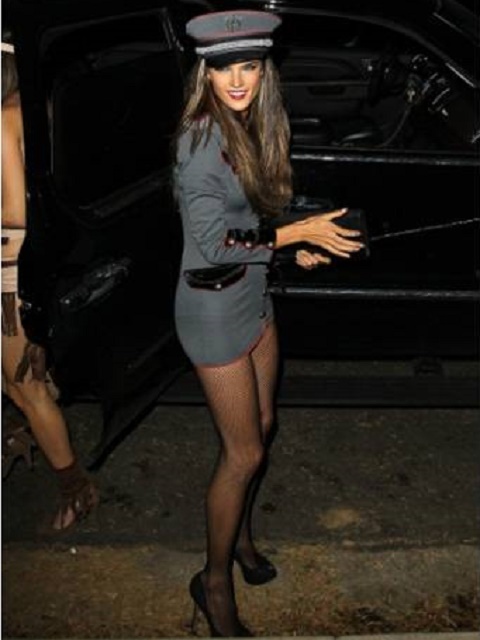 Image source: Pagesix
On trying something different, Alessandra Ambrosio's name must pop! She suited up in a super chic grey and black uniform to walk the Halloween carpet as an air hostess! If you have not checked out the hemline, you have missed the sexiest part of the costume. And ooh that pair of stockings! Flying high isn't she on our list?!
15. Khloe Kardashian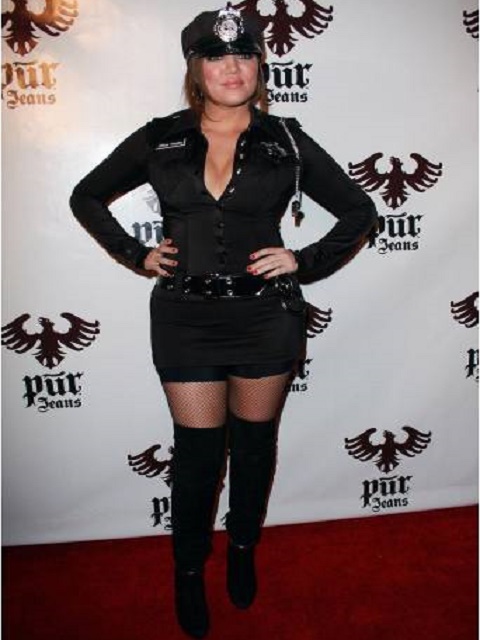 Image source: Pagesix
Khloe never lets her sister enjoy the limelight all by herself, does she? But one must also give her credit for not basking in Kim's limelight. Ahem! Moving on, Khloe did a pretty good job with this much-revealing police costume. As an officer, she does look absolutely arresting!
16. Christina Milian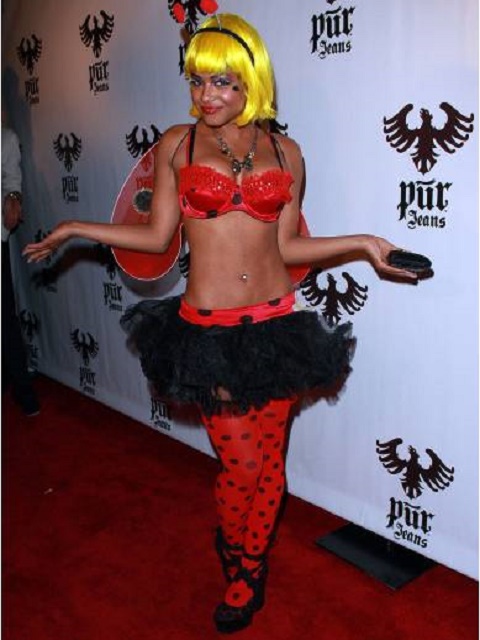 Image source: Pagesix
When it comes to finding a muse, something as insignificant as a ladybug can also do the trick! Christina Milian turned on the 'luck factor' as one dressing up as one!
17. Jessica Lowndes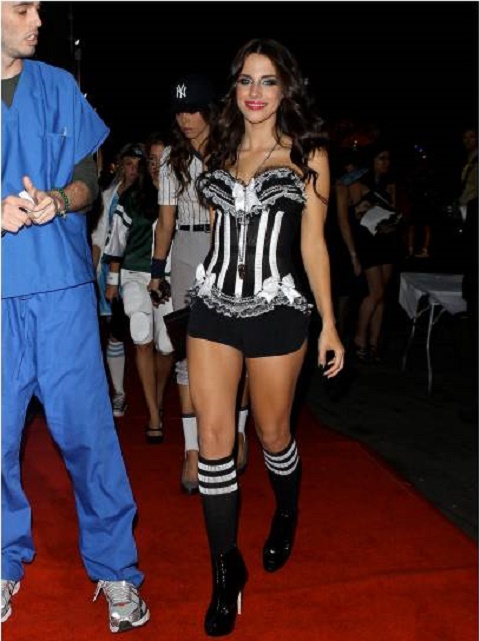 Image source: Pagesix
Imagine a football match with a referee as hot as Jessica Lowndes! Hold your horse of an imagination! We can't have a football match like that because the players will run towards her rather than the ball! Even as a make-believe referee, you cannot take your eyes off her!
18. Paris Hilton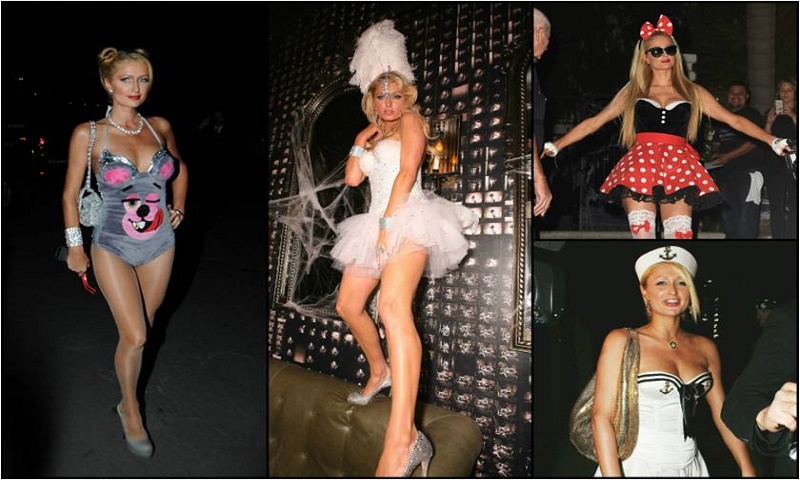 Image source: Pagesix
Oh! Paris! You are one hell of a looker! While your love for Disney is quite visible in your Minnie and Mickey Halloween outfits, you also sailed through our hearts as a seawoman.
19. Avril Lavigne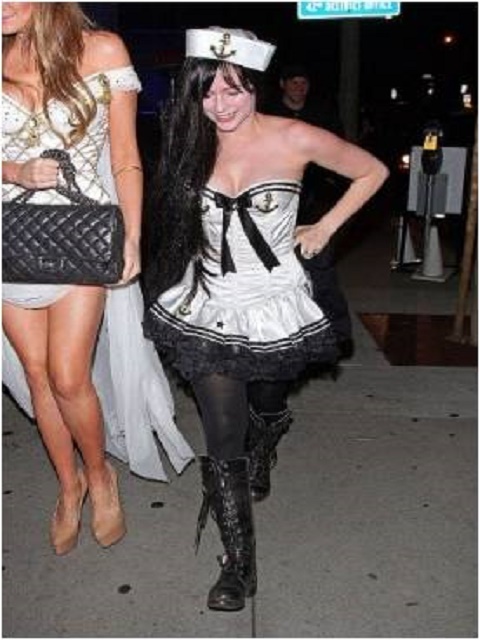 Image source: Pagesix
She's 'so beautiful, she'll make you wanna cry!' Avril Lavigne swaps her "Sk8r Boi" style for this sailor suit! Popeye is quite a popular guy, huh, Olive?!
20. Fergie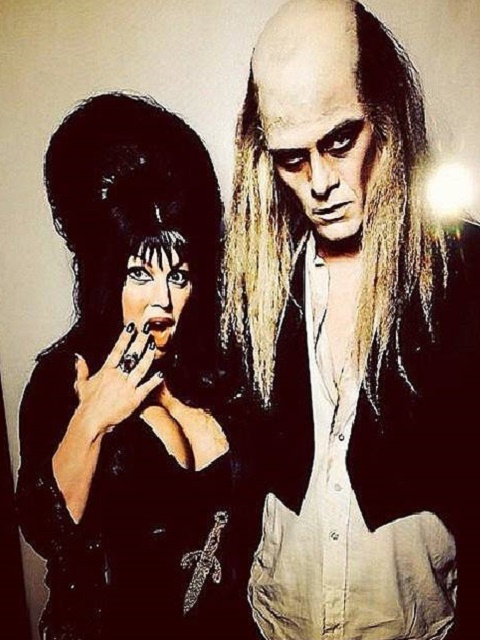 Image source: Instagram
One should 'boo-b' like Fergie on Halloween! She showed some real 'skin' when she converted into Elvira to show up at Kate Hudson's Halloween party in 2013.
---
Suggested read: Check out these funny Halloween costume ideas for couples!
---
21. Kendra Wilkinson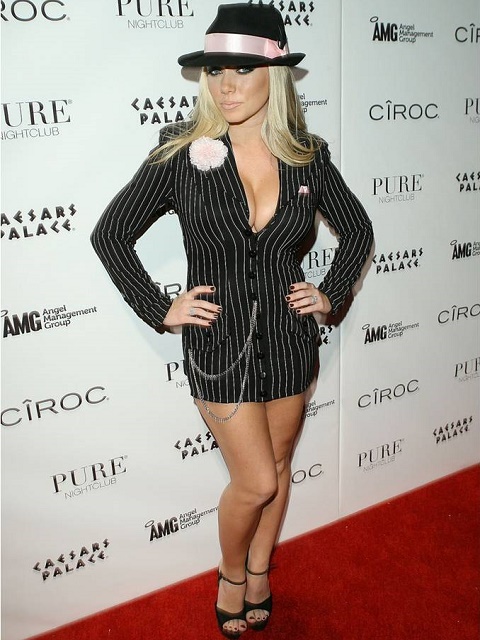 Image source: Getty Images
Going the gangsta way! Kendra Wilkinson swayed us when she 'donned up as a mobster in 2010.
22. Lala Anthony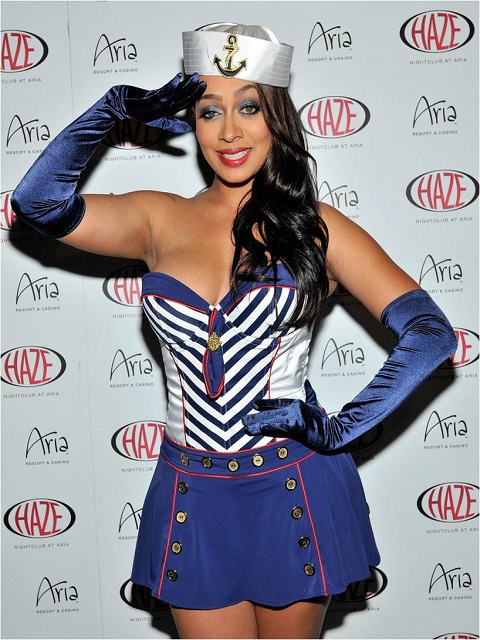 Image source: Getty Images
LaLa indeed looked like she was from lala land when she paraded her hips that don't lie in this sailor costume. Popeye is a lucky man! 😉
23. Kirsten Dunst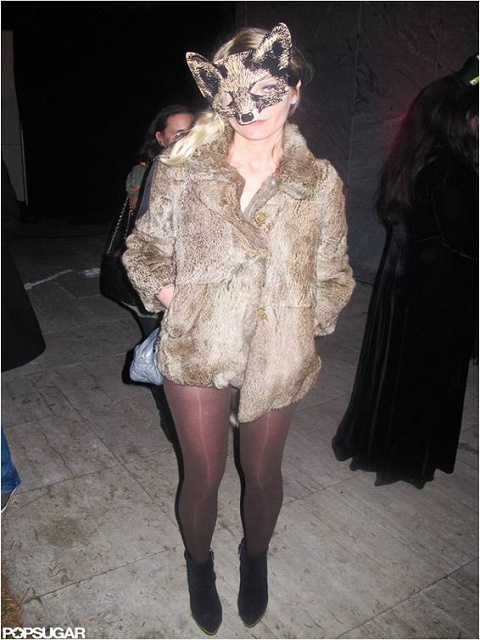 Image source: Inf-photo
The spidey girl decided to walk in as a stone-cold vixen at Maroon 5's bash in 2011!
24. Lindsay Lohan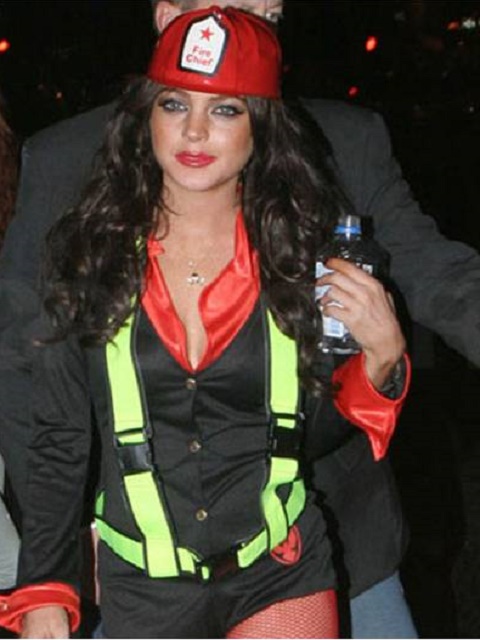 Image source: fameflynet
How could we miss Miss Lohan?  In 2005, Lindsay Lohan picked out a skimpy firewoman's uniform as her costume! Don't you think she would only add to the fire than extinguish it?  😉
25. Petra Nemcova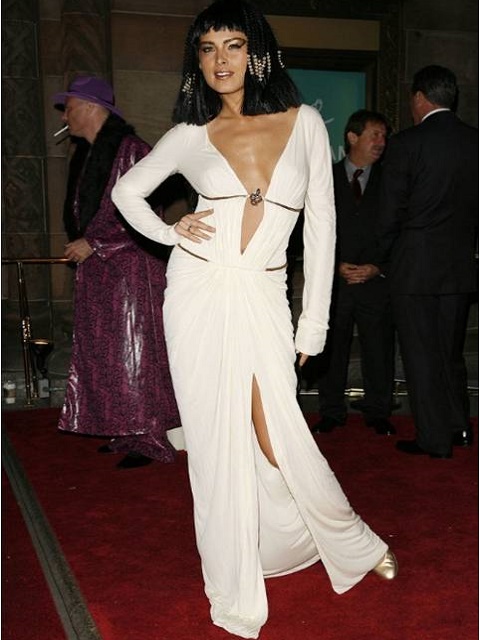 Image source: BaurGriffinOnline
Walking in as Cleopatra and not showing any skin? How's that even possible?! Petra Nemcova did it all in 2007 in New York City!
26. Tara Reid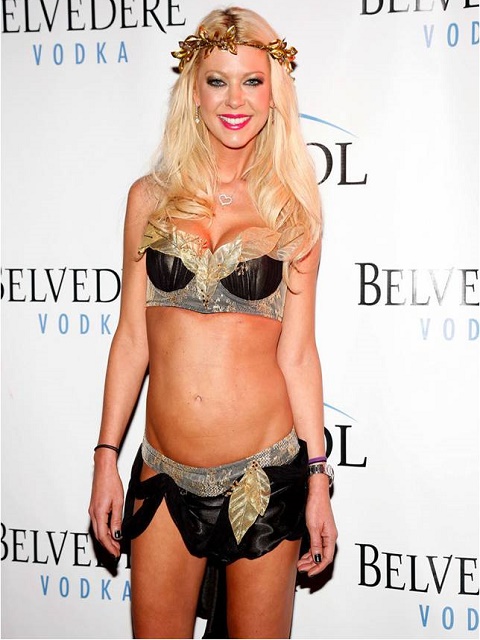 Image source: Getty Images
Tara Reid, who hosted the 2013 Halloween bash, wore a skimpy flowery costume to her own party!
27. Evan Rachel Wood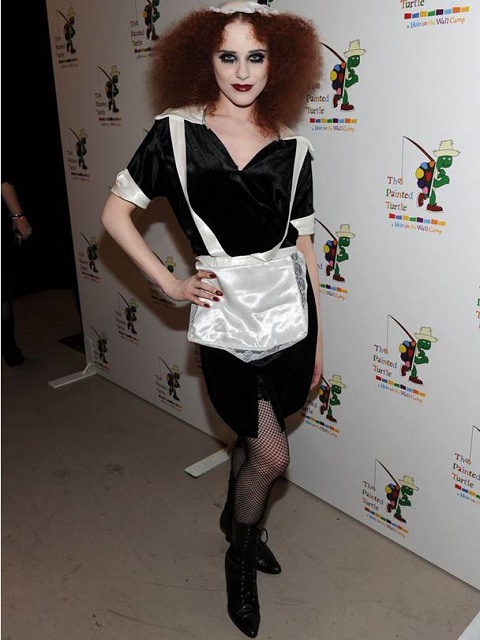 Image source: Getty Images
At a Halloween party in LA, Evan Rachel paid a tribute to 'The Rocky Horror Picture Show'!
28. Kate Upton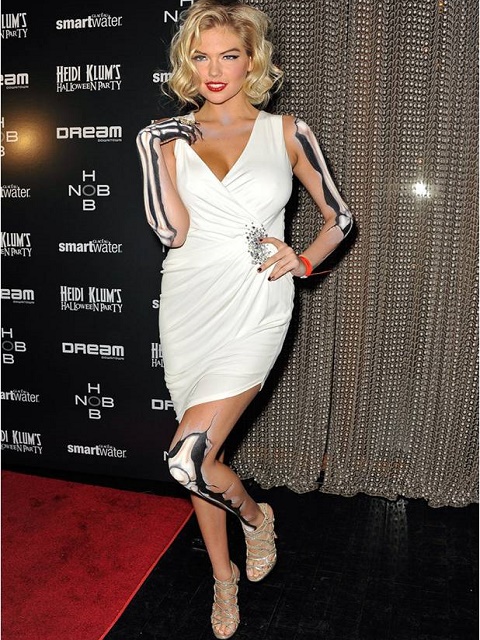 Image source: Getty Images
Here's another one from the guest list at Heidi Klum's 2011 bash. Kate Upton's sexy skeleton stole all the glare of publicity!
29. AnnaLynne McCord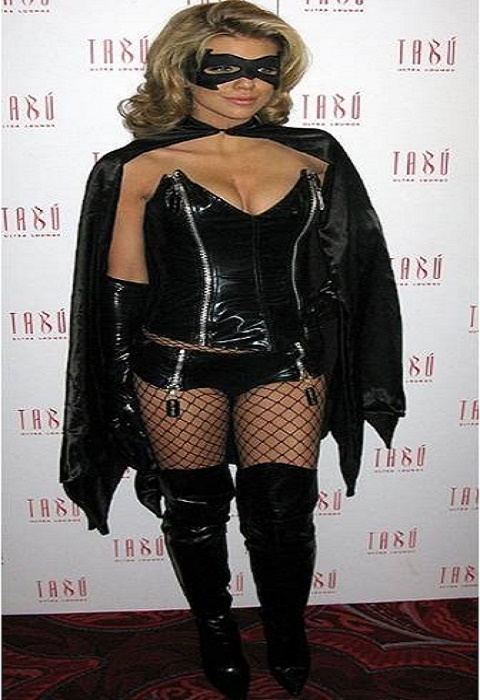 Image source: fameflynet
Zipping into a sexy Batman-ish costume, AnnaLynne McCord looked stunning!
---
Suggested read: How to remove makeup with things available in your kitchen
---
30. Chrissy Teigen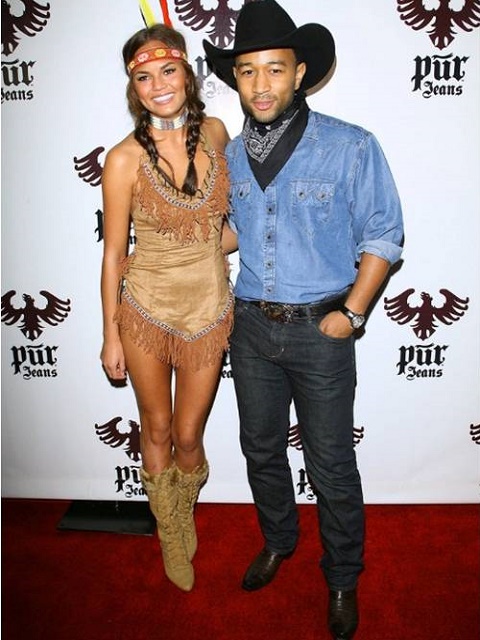 Image source: Getty Images
Chrissy Teigen went 'Pocahontas' with babe John Legend for a Halloween party!
Whether it's for Heidi Klum's star-studded gala, Maroon 5's super rad event or Adam Lambert's gathering, the megastars always start prepping up for Halloween way before the season arrives! From rock stars to crusaders and fighters, you will not be able to get enough of this celebrity costume madness! So who are you following this year? Do let us know!
Featured image source: Pagesix
Summary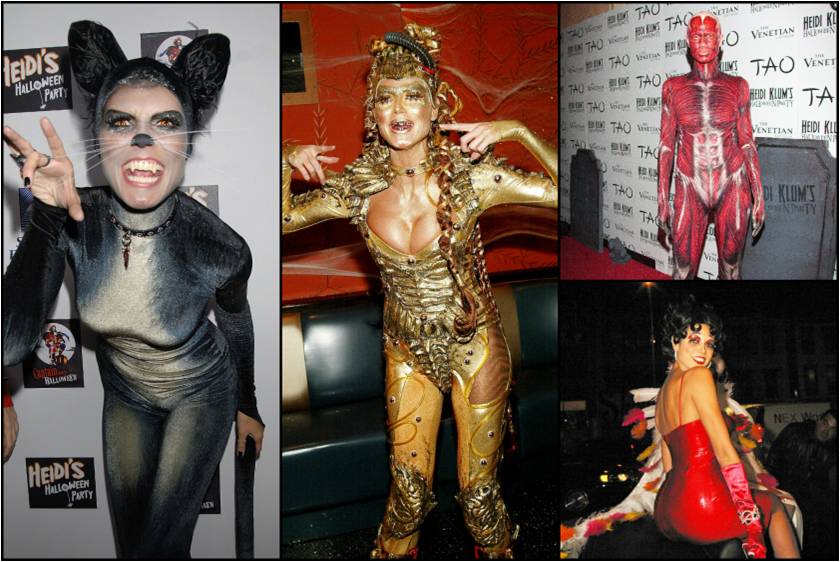 Article Name
30 Sexy Celebrity Halloween Costumes Too Hot To Handle
Author
Description
Celebrities take Halloween to a whole other level with their insanely detailed costumes. Check out 30 of the sexiest celebrity Halloween costumes ever!