Walking into a Halloween bash, hand in hand with your significant other, is pretty serious affair! You are 'tricked' by a million ideas running through your head, like 10 Usain Bolts competing for the Olympic Gold. You two will be making a statement with the costume you choose – so pick wisely! It can be hard to know where to even begin searching for ideas, and you definitely don't want to be matching anyone else! Well, NLT will put your search to an end as we bring you the funniest costume ideas that will allow you to waltz your way to the crown at the end of the party!
Halloween costumes can be hard to pick for one person, but when it is for a couple, it is entirely a different ball game! You have to think of the characters, decide if you both agree on them, and most importantly, decide if you think they will win you the prize for best costume!
---
Suggested read: 20 of the creepiest Halloween makeup ideas that will scare the bejesus out of you!
---
Well, check out the following funny Halloween costume ideas that we have lined up for you and your darling and pick your favorite one!
1. Batman and Cat Woman!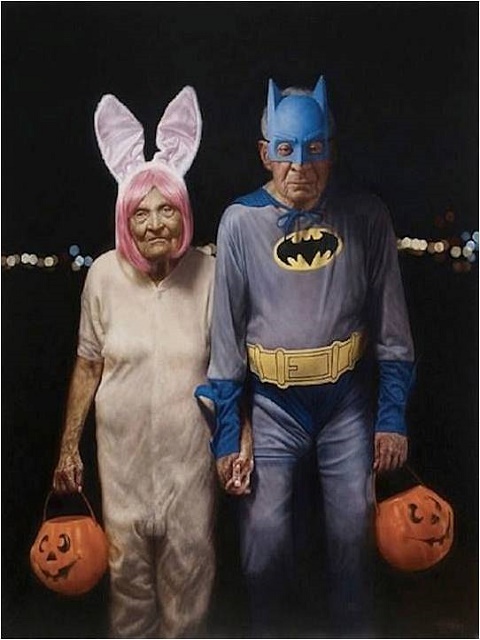 Image source: Pinterest
Age is just a number, especially when it comes to Halloween! Celebrating your golden years with a Halloween party – why not? Dress up as your favorite superheroes from childhood and bring back some fond memories, no matter your age!
2. Cookie Monster and the Cookie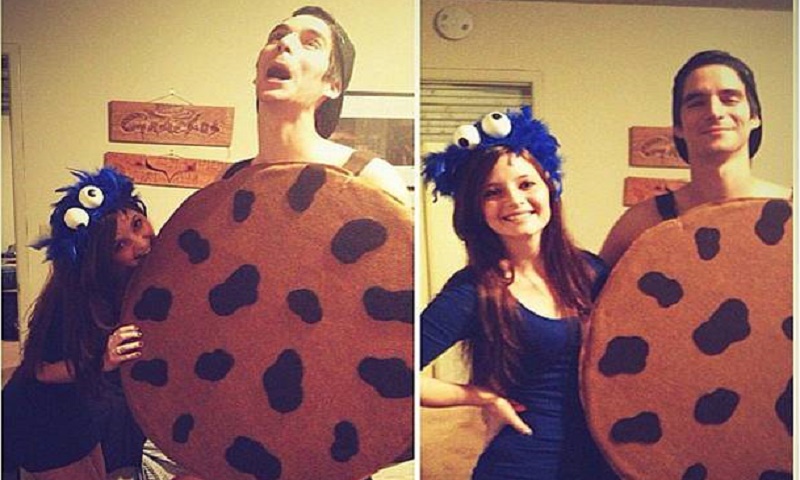 Image source: Instagram
If your boyfriend is not the type to enjoy dressing up, then this wacky idea could work out well for both of you! Carrying just a cookie in front of his torso shouldn't be that big a deal, right?!
3. Bugs and Lola from Space Jam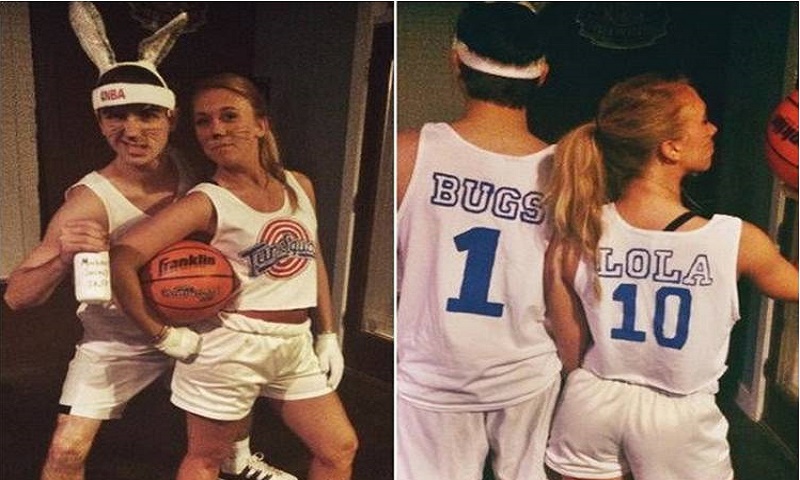 Image source: Distractify
If you love basketball, Michael Jordan, and the Looney Tunes, you can express this love by dressing up as Bugs and Lola! Too much lovin' for you? Well, I thought that was what you wanted, right?
4. Lego lovers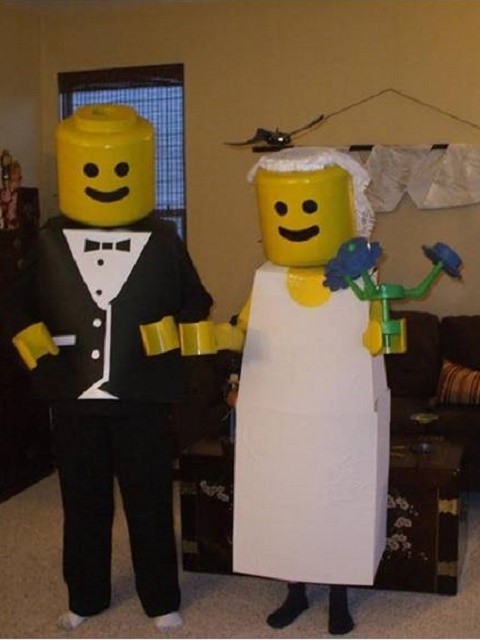 Image source: Distractify
"Everything is better when we stick together!" This should say it all!
5. Juno couple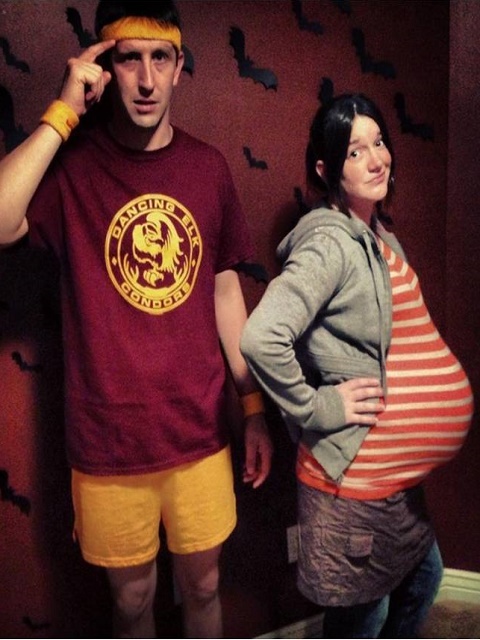 Image source: Distractify
Juno is definitely one of the best romantic comedies out there! "Paulie Bleeker is the cheese to every girl's macaroni!" This is both an easy and fun costume idea for any couple!
6. Goofy movie cast
Image source: Distractify
Seems like this couple took the 'goofy' bit way too seriously, don't you think? But they do look adorable and are also making a statement at the same time: forever in love, even when one of them 'goofs up' a bit!
7. Frodo and Gollum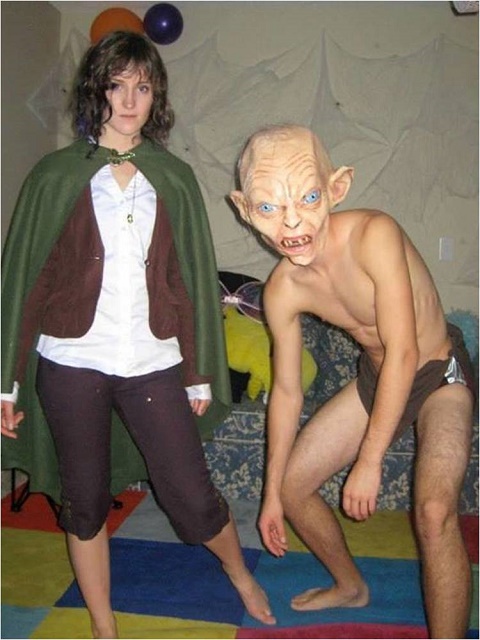 Image source: Distractify
If you are a Lord of the Rings fan, Tolkien would be impressed big time if you could pull this off! However, you should beware – there is a scene where Gollom chokes Frodo! Just saying!
8. Tinkerbell and Peter Pan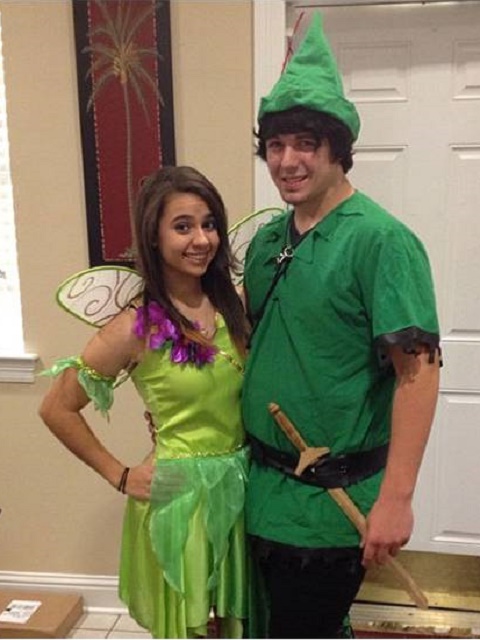 Image source: StyleGlam
"I am never growing up. 'Glow' up sounds more my thing!"
This is undoubtedly one of the best Halloween costume ideas. May your love never age or die out, but instead remain ever'green'!
9. Jack Sparrow and Mermaid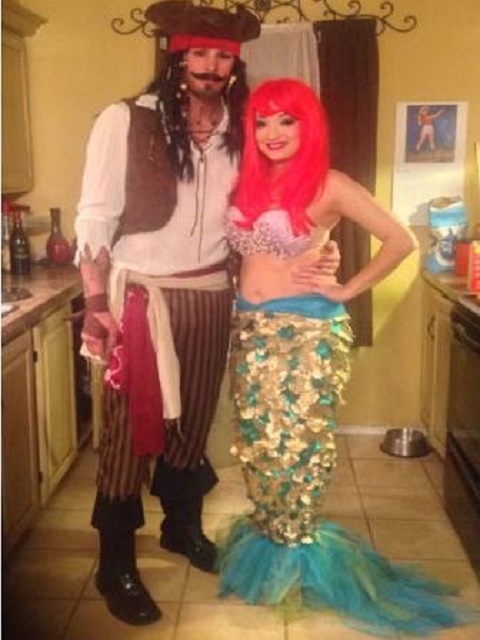 Image source: StyleGlam
Yeah, you may never be Johnny Depp. Please don't have any doubts about that! Nonetheless, you can duplicate his John Sparrow character as best you can and ask your ladylove to step in as… a mermaid? I don't know what these two were thinking!
10. Beetlejuice and Lydia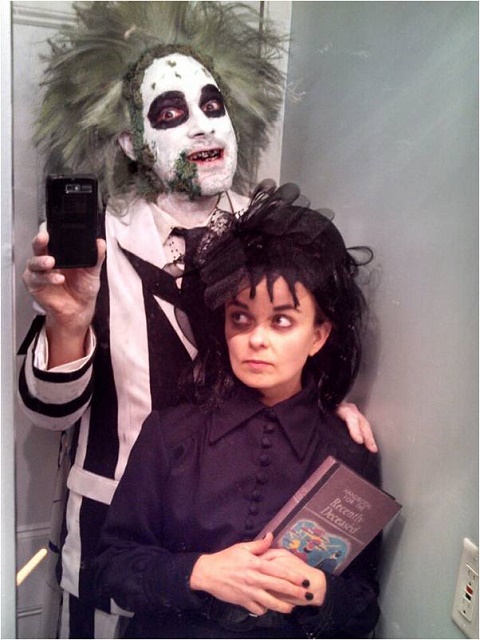 Image source: StyleGlam
If you are "strange and unusual" and want to display the quirky relationship that you share with your better half, Lydia and Beetlejuice should be right up your alley!
---
Suggested read: 30 insanely awesome DIY Halloween costume ideas EVER!
---
11. Couple robbers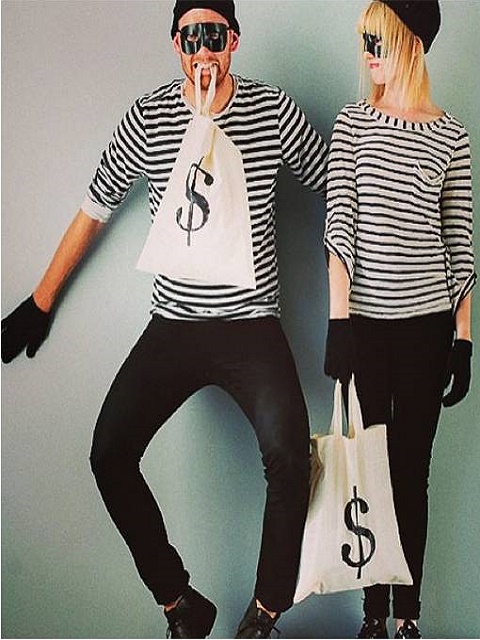 Image source: StyleGlam
Now this is exciting! This is the coolest way to look good and at the same time be in a costume, something that's rare when it comes to Halloween! I mean, how rad can will you both look when dressed up as a bank robber?
12. Tooth and Tooth Fairy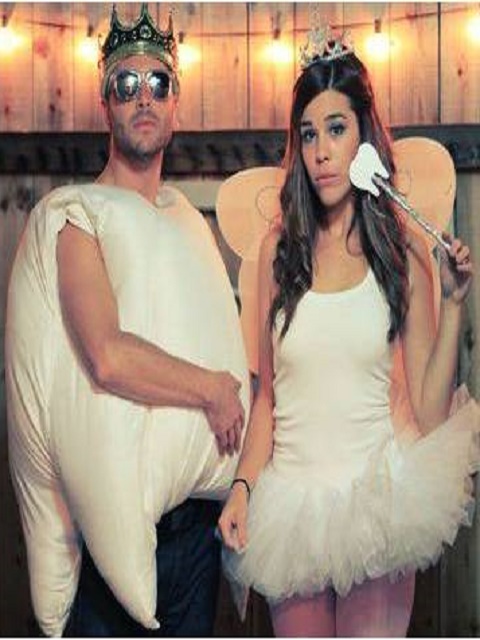 Image source: StyleGlam
A dentist's delight! I found this idea pretty cool and innovative, definitely something that would be the talk of the town! It also lets you doll yourself up and look good! You will earn some 'brownie' points, but make sure you brush after that!
13. Skeleton couple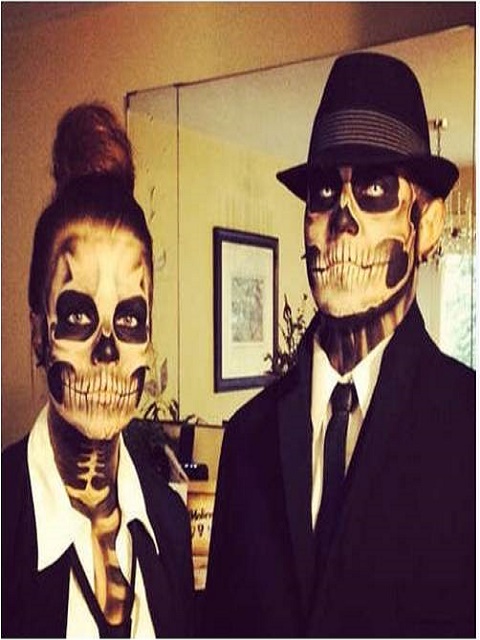 Image source: StyleGlam
As I write, I can feel these two staring at me with their piercing eyes. I better scroll down to the next couple!
14. Spartan couple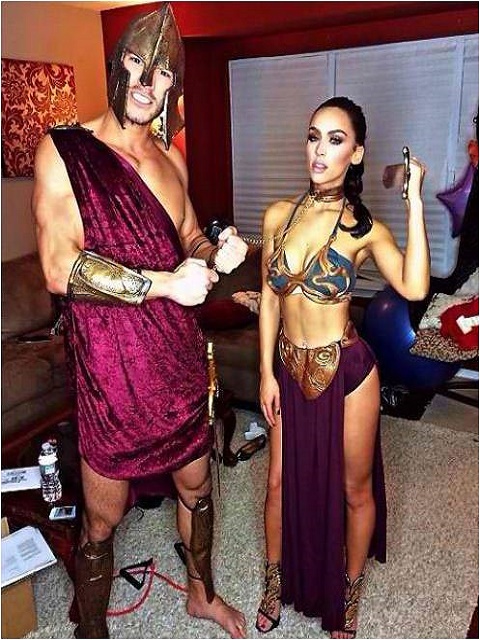 Image source: StyleGlam
Now this is hot! But don't let your man follow the legend too closely and get too far into the 'gory' details and go around yelling, "This is… Spartaaaaaaa…"!
15. Mad Hatter and The Match Hare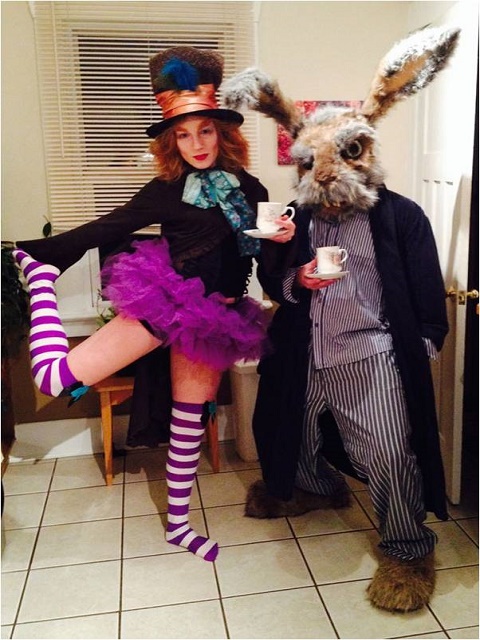 Image source: StyleGlam
"Curiouser and curioser" – that's what your friends will be if you two walk in as the Match Hare and the Madhatter. You could actually throw a Mad Tea party the next day and drink from the cup you will likely win at your Halloween party! 😉
16. Despicable Me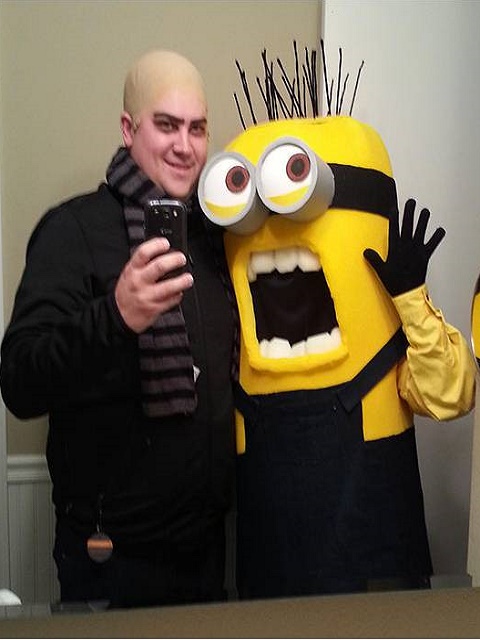 Image source: StyleGlam
Muak Muak Muak! If you want to get 'Gru'esome and awesome at the same time, this could be the costume choice for you! And let me assure you of one thing – everyone will want a selfie with the two of you!
17. The Incredibles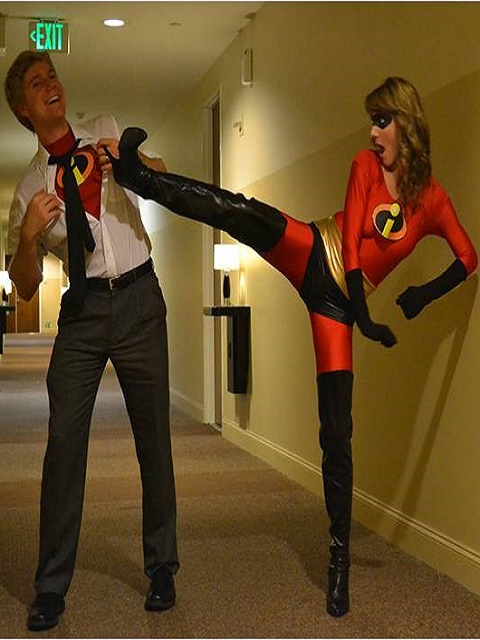 Image source: StyleGlam
You tell me where my suit is, woman. We are talking about the greater good!"
If that is how you are going to talk to me, I don't think anything's going to work out, Mister!
18. Victor and Emily (Corpse Bride)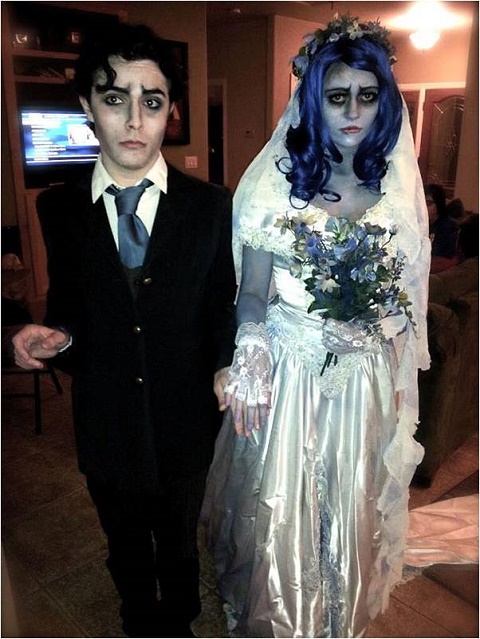 Image source: StyleGlam
And you may now kiss the (Corpse) bride! Spooky, funny, and popular among the masses, this is the best combination for a Halloween costume.
19. The Wolf and Little Red Riding Hood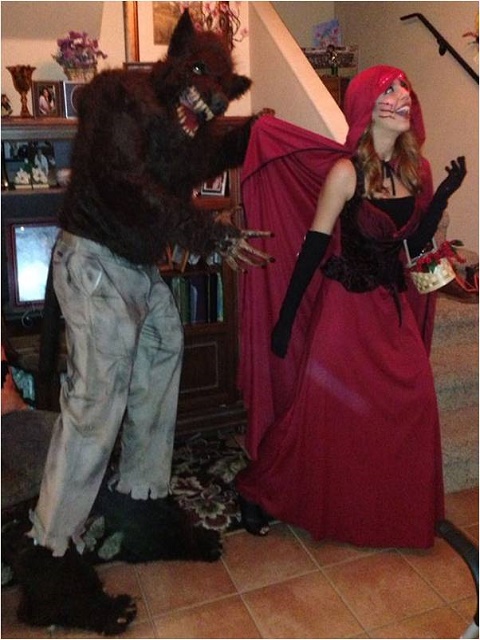 Image source: StyleGlam
Speaking of tales from our childhood, Little Red Riding Hood is a fabulous concept for Halloween! You could actually twist it a little and show what would happen if the wolf fell for 'Little R'! Doesn't that remind you of Beauty and the Beast?! This is another one of my favorite funny Halloween costume ideas for this season! Well, it seems I am on a roll now!
20. Superman and Wonder Woman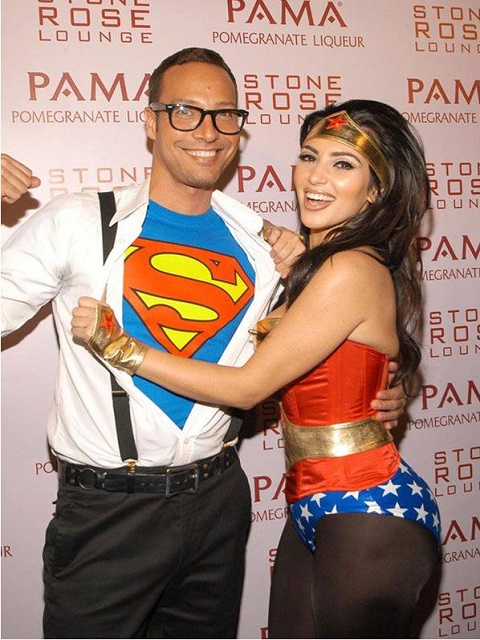 Image source:Pinterest
The many smooches of Superman and Wonder Woman are legends on their own. How about reliving that?! Having a perfect body is in no way mandatory.
---
Suggested read: 30 sexy Halloween costumes that were too hot to handle
---
21. Cop and captive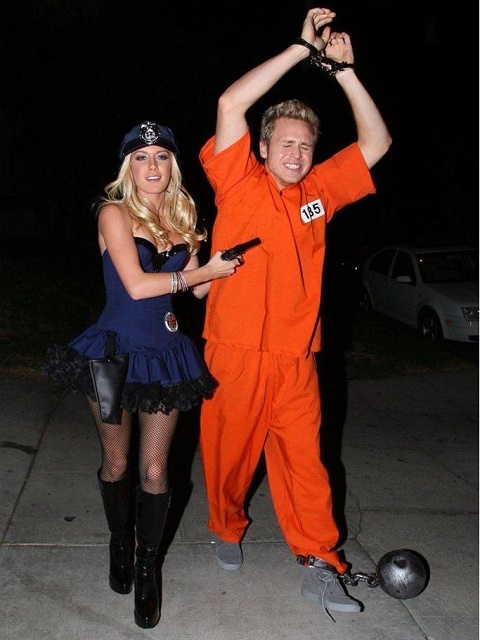 Image source:Pinterest
Is this is the perfect depiction of a marriage? Well, I will leave that for you to think about. 😉
22. Nacho cheese chips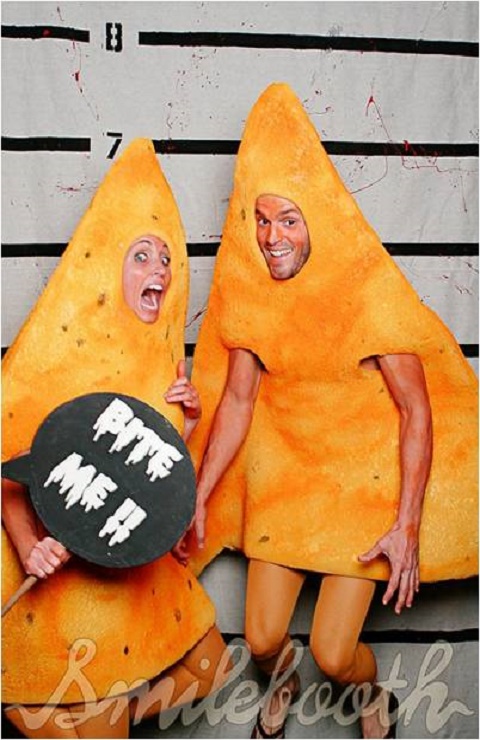 Image source: Popsugar
If you binge on nachos day in day out, you must try this costume. Looks pretty DIY to me! And that placard saying, "Bite Me" is a real 'killer'!
23. Mr. and Mrs. Pac Man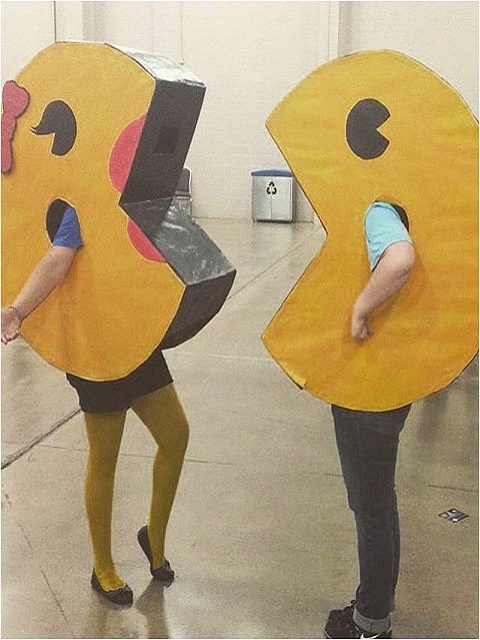 Image source: Instagram
Aww! You and your significant other will 'fit' each other perfectly. This costume is simply adorable!
24. Mario and Luigi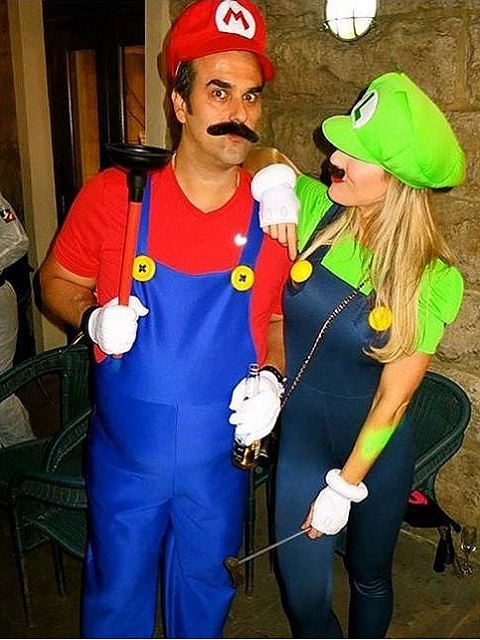 Image source: Instagram
The 90s kids spent every weekend playing this video game! I was definitely one of them. This is one costume I'd love to try out with my significant other!
25. Daisy and Bee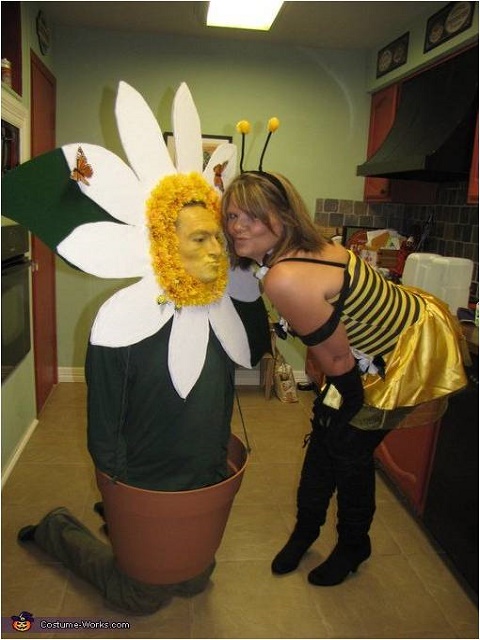 Image source: Popsugar
"And then he got down on his knees…" This guy definitely took that seriously! The bee however, looks extremely sweet, and is her costume easy to DIY!
26. Popeye and Olive Oyl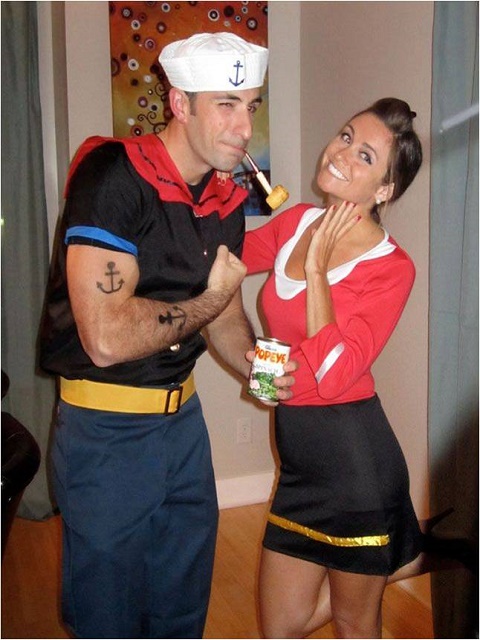 Image source:Pinterest
If you don't already know, Popeye is quite famous with the Hollywood ladies! He is a sailor man and too hot to resist! So, Olive dear, do be careful at the bash and do not forget the can of spinach!
27. Neytiri and Jake Sully (Avatar)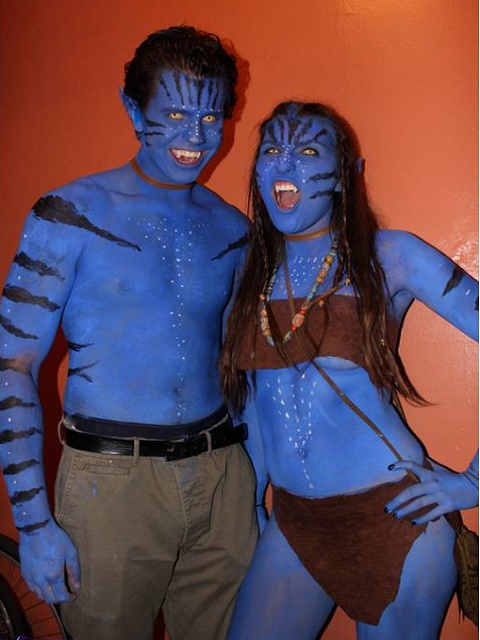 Image source: Costume-works
On Halloween, some couples dress up as characters from popular movies instead of fairy tales and popular myths! Neytiri and Jake Sully are tough to replicate but will be absolutely worth it!
28. The Mask and Tina Carlyle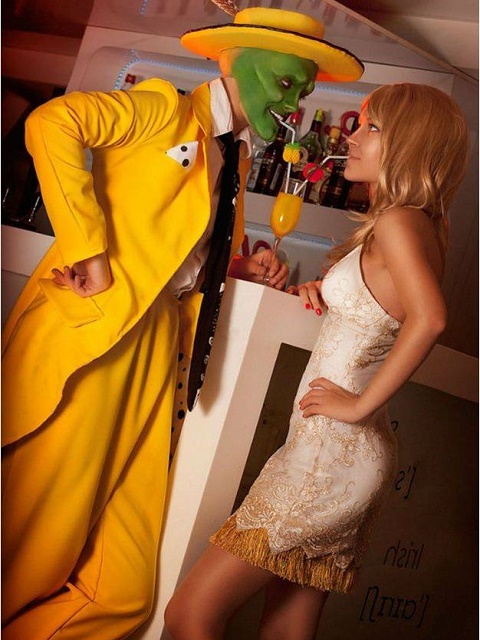 Image source:Pinterest
Jim Carrey and his antics as 'the Mask' are unforgettable! So why not recreate the magic this Halloween and let your babe be Cameron Diaz for a night!
29. The Eyes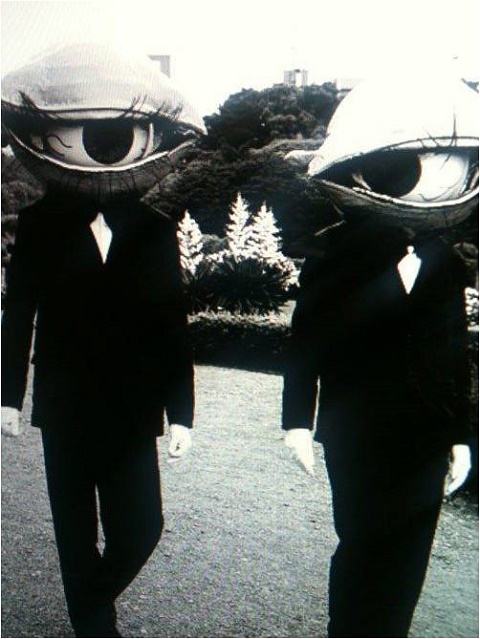 Image source: Pinterest
What makes a better costume pair than a pair of eyes? It's especially perfect because you and your significant other are already the 'apple of each other's eyes', so why not dress like it?
30. Khal Drogo and Daenerys Targaryen (Game of Thrones)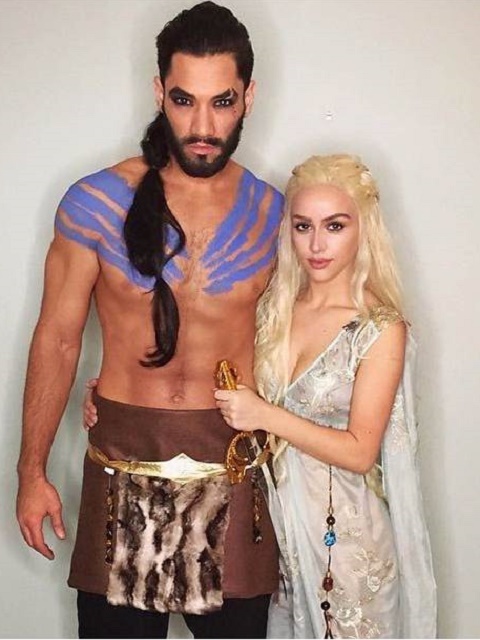 Image source: Pinterest
Khal and Daenerys' love story is the only one that can beat Daenerys' love for her dragon cubs on the Game of Thrones! If you are a trend follower rather than a setter, you must give this a try this Halloween because, as they say on the show, "winter is coming!"
---
Suggested read: 12 makeup hacks that will change your life!
---
If you and your bitter half 😉  are always the duo that brings the laughs to any party, may God bless you!
You must always keep the giggles going with whatever you do. So why not make this Halloween your platform to spread some smiles?! These funny Halloween costume ideas are going to showcase your amazing sense of humor. Whether you doll up as a Disney couple or video game characters, I'm sure you two will find yourselves laughing out loud!
Featured image source: StayGlam
Summary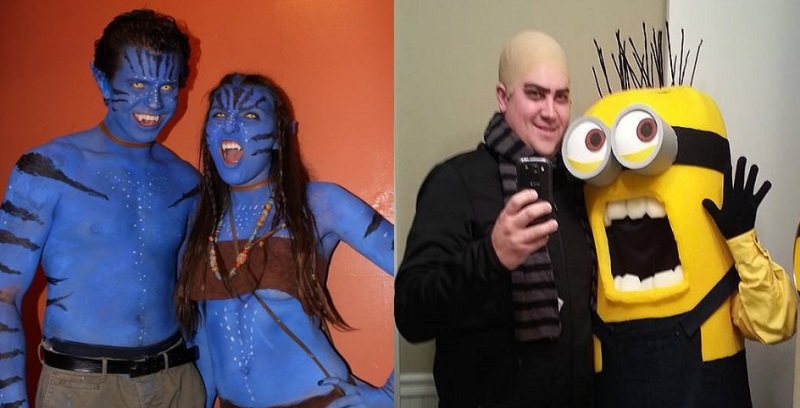 Article Name
30 Funny Halloween Costume Ideas For Couples
Author
Description
Although Halloween thrives on being spook-tacular, take a different route and choose one of these funny Halloween costume ideas.