"What are you dressing up as this Halloween?"
Whether you running errands at the grocery store, working at your desk or dropping your kids off to school, this is the question in the air! So, "What are you dressing up as this Halloween?" Don't fear, we are here to offer you some of the wackiest DIY Halloween costume ideas, which will definitely make you stand out from the crowd! And, yes, they can "be tried at home"!
---
Suggested read: Top 10 best dressed ladies at the Emmys 2015
---
Have a "spook"-tacular time!
1. Beetlejuice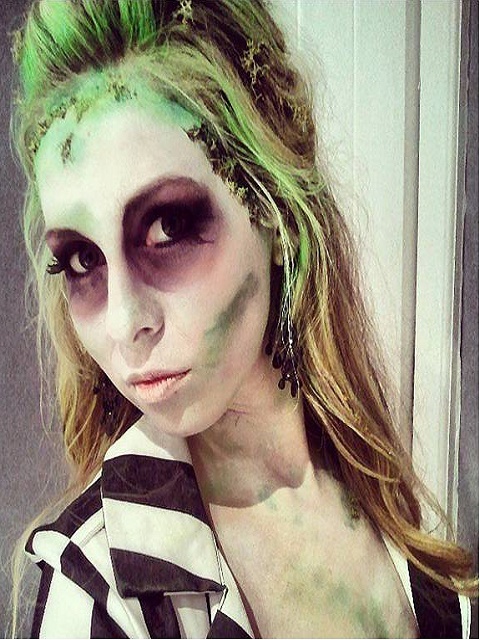 Image source: Instagram
In order to bring life into this movie costume, you have to look dead! While the woman in the picture is already a doppelganger of Lady GaGa, we need to work a teeny bit harder! Beetlejuice can be perfected with grey face powder, a green mold and smoky eyes. Just don your stripy top to go with it and you are Halloween-ready!
2. Fortune-Teller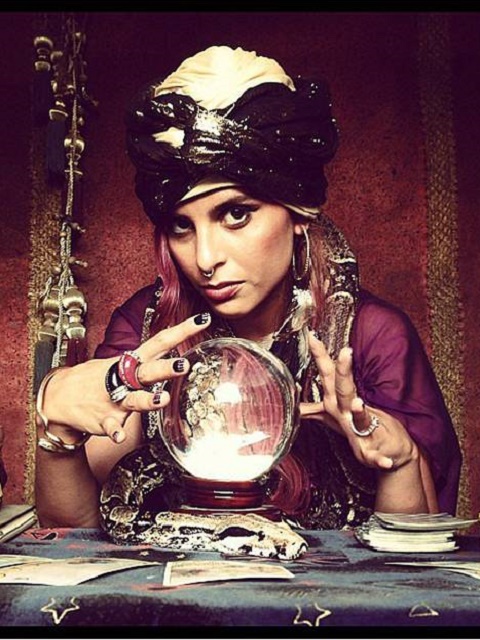 Image source: Instagram
"Coz I'm a gypsy… I might steal your clothes and wear them if they fit me!" All you need is a head wrap, a glittery top, a stole as a shoulder drape and a long skirt to create the mystic charm. Golden and loud costume jewelry is a must! Couple all this with that enigmatic smile and you are "trickortreatlicious"!
3. Poison Ivy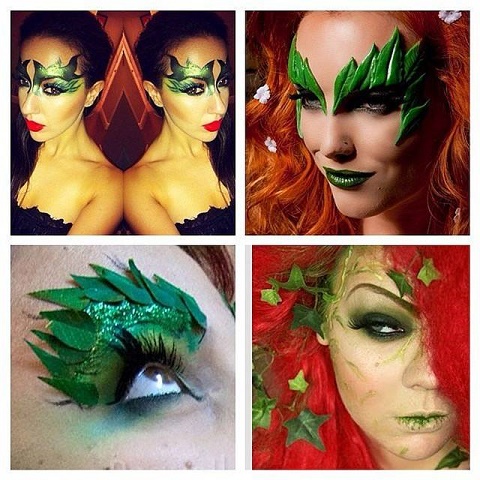 Image source: Instagram
It's Halloween and I want to explore my evil side! Well, we have the best DIY Halloween costume ideas to bring the devil into you to life! One of DC Comic's favorite villains, Poison Ivy, is simple and easy to replicate. All that you need is some painted leaves!
4. Mime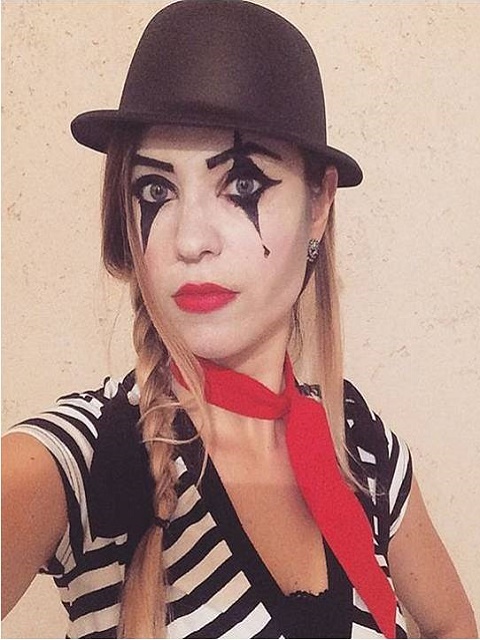 Image source: Instagram
If you are a lecturer or a pop star and want to give some rest to your voice for the Halloween night, the mime costume is your thing! To carry this out effortlessly, all you need is some white face paint (avoid a cheap one, because it's your face, for Christ's sake!), a streaky B&W or a plain black tee and a pair of white gloves. Easy yet Halloweeny!
5. Corpse Bride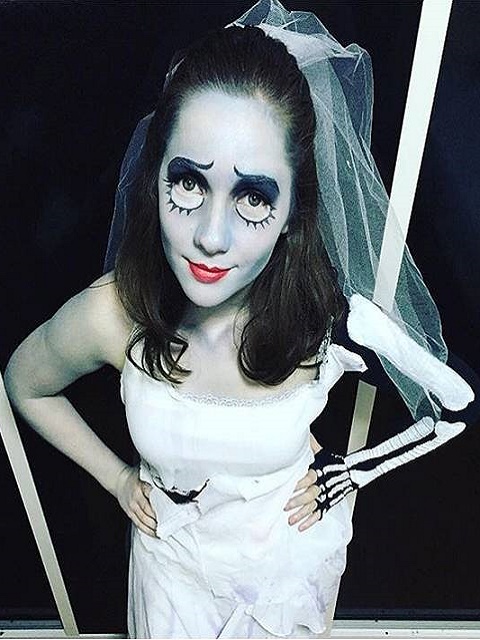 Image source: Instagram
If you are a Tim Burton fanatic, this costume is your baby. Dolling yourself up as the Corpse Bride requires some morbid make up, a flowery crown and a 'made to do' old white bed sheet for the gown. All set to say, "I do"!  😛
6. Mr. Zipped-face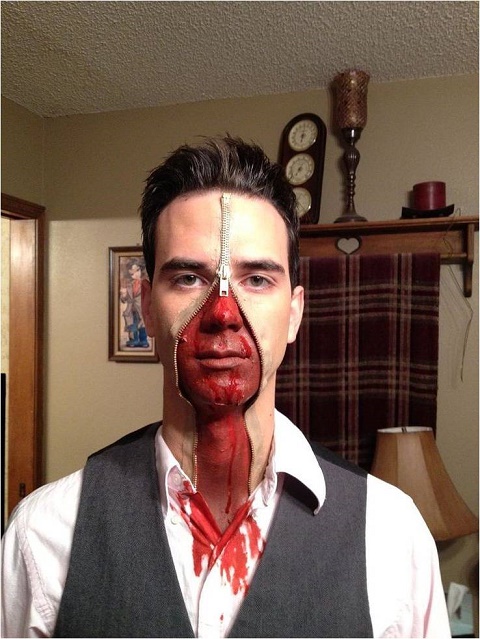 Image source: Pinterest
Some red paint, a zip and some adhesive is all you need this Halloween to terrify them all!
7. Jigsaw Costume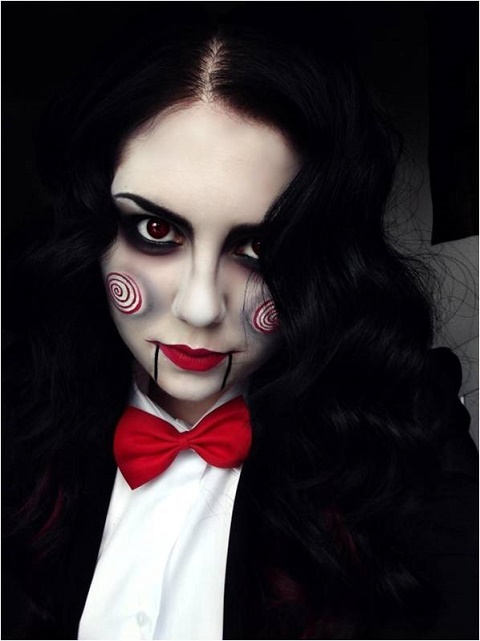 Image source: Popsugar
You are in the mood for something creepier? Then go for this one. Apply a super-smudged dark eye shadow and then create an eerie look with white eyeliner. Use red lipstick for the cheek-swirls. Finish the killer DIY with a black marker to draw lines down your chin!
8. Spidey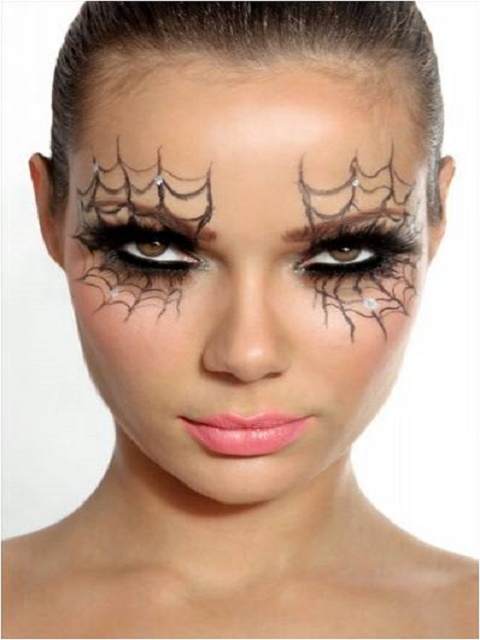 Image source: Popsugar
Fancy some spider lashes? Well, we are here to help! Creating cobwebs around your eyes is easy. Sketch common web shapes starting from your brow to the cheek-apples. Spidey is a common Halloween costume for all hallows eve.
9. "The Smirk"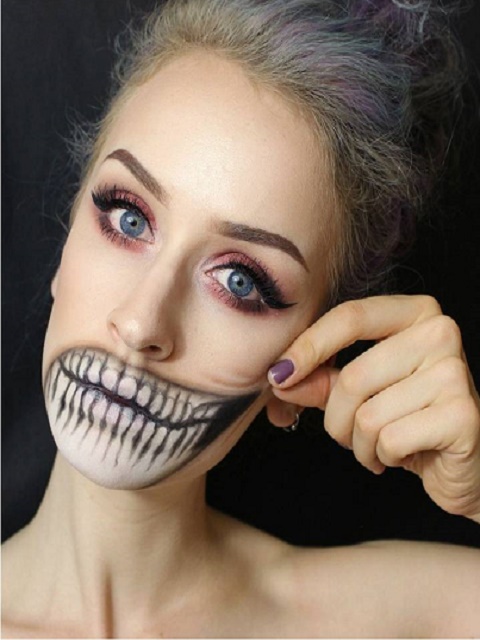 Image source: Instagram
If you think you are a Halloween costume expert, this DIY will require your skills hand down. Body paint, some eye shadow, a pair of false lashes and a huge slice of talent; the creepiest makeup creation is ready! Getting this right will definitely win you some awards at the Halloween night!
10. All-Seeing Eyes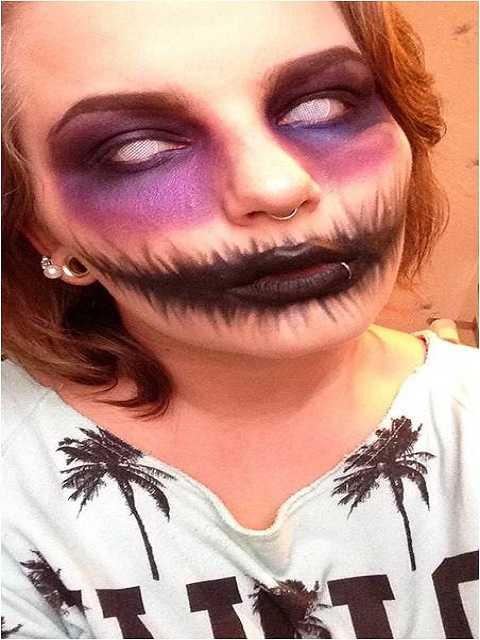 Image source: Popsugar
This is where your makeup talent will be put to test. A lilac and violet eye shadow and black eye liner can do the whole trick. A pair of white eye lenses will give them the creeps!
---
Suggested read: 25 royal wedding dresses that are totally swoon-worthy
---
11. Bewitching Brows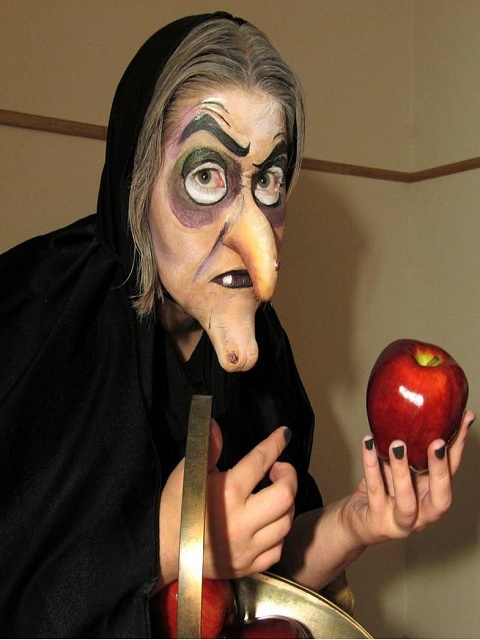 Image source: Popsugar
Remember how we used to dress up as one of Macbeth's three witches? Well, you can do the same this Halloween. While the facemask must be created with cardboard and then painted accordingly to highlight the features, the gown can be any black drape. To add to the flavor you could even create a witch hat with the left over cardboard!
12. Evil Eyes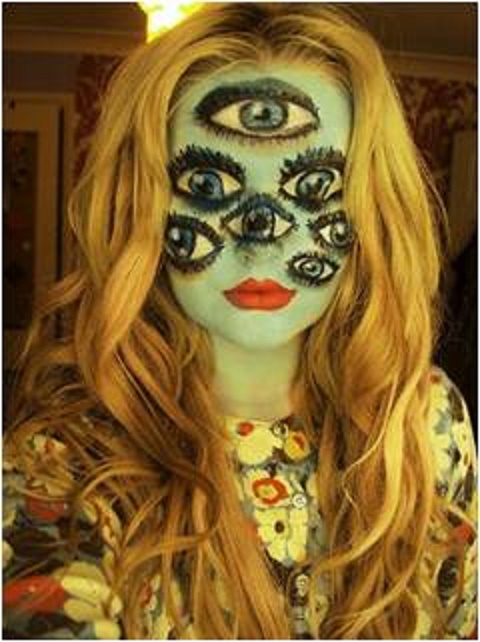 Image source: Popsugar
Apply an aqua blue face powder and then sit before the mirror to draw up the eyes. A hot pop red lipstick in the end seals the deal!
13. Pastel Paint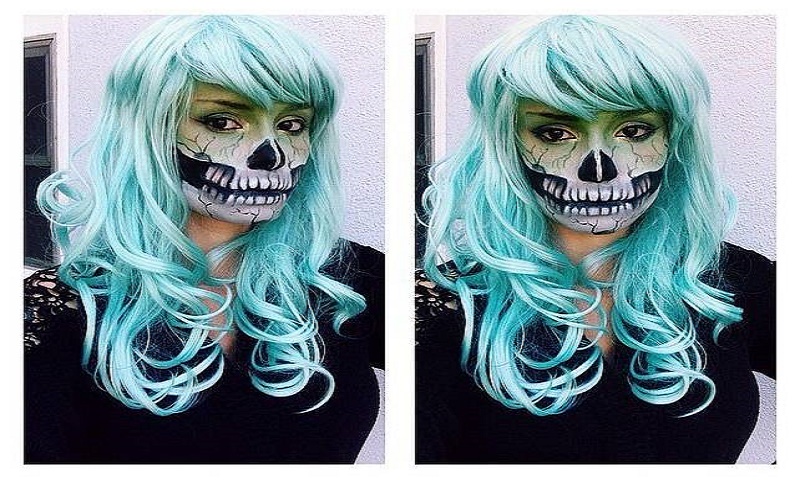 Image source: Popsugar
As the name suggests, this DIY costume idea needs pastel paint—and a lot of it! You also will need a wig that can be easily dyed into the color of your choice, though we suggest that you tint it in something neon to accentuate the gloomy and spooky face art.
14. Two Faced- Joker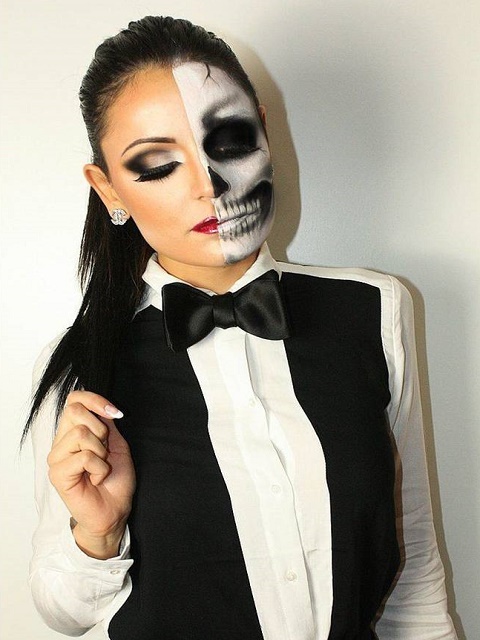 Image source: Pinterest
Needing only white and black face paint and your man's suit, this is easier than any DIY! Oh, yes, don't forget the bow!
15. Jedi robe costume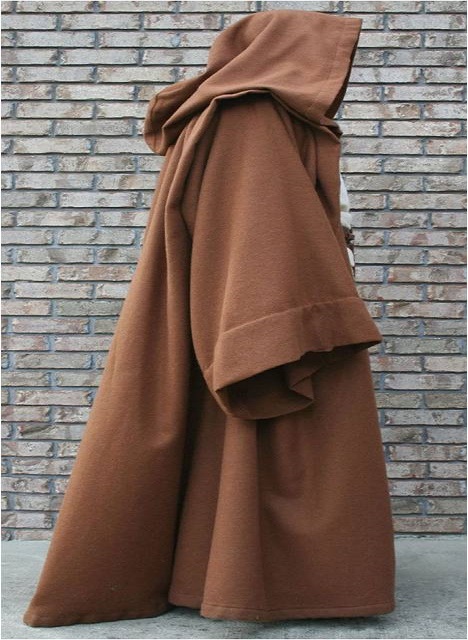 Image source: Pinterest
Is the tent that the kids used at summer camp rotting in the trunk? Well, it's time to get it out! Dye it brown and stitch it up to create this spine chilling robe with a hoodie!
16. 4-Legged Stilt Monster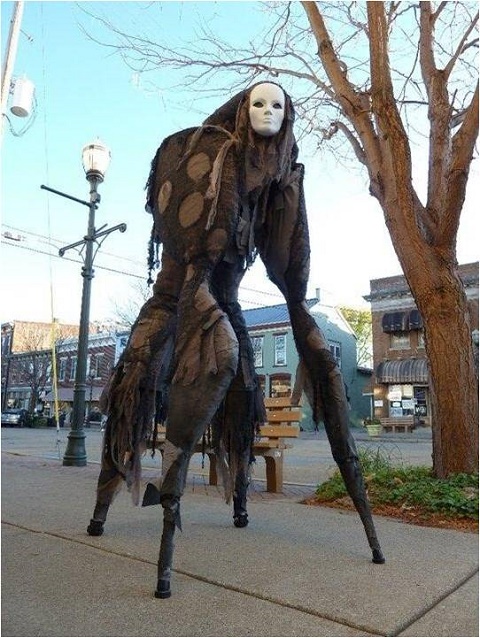 Image source: Pinterest
This looks real intricate but is actually super DIY! Extra-large medical crutches can be used efficiently for the arms and circus peg & drywall stilts for the legs. That's all that you need to hold the body made from foam and fabric! This thing can scare the hell out of anyone!
17.  Scarecrow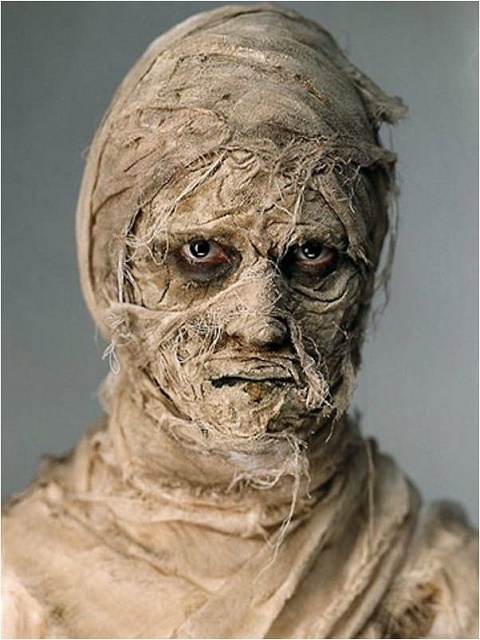 Image source: Popsugar
Another Batman character that you could try is the Scarecrow! While children use a brown carton for the same, you can look more real by draping a bandage (dyed in dark brown to give it a used look!) around your face and then shredding it on the edges! Don't forget to make holes for the nostrils!
18. The Illusion Costume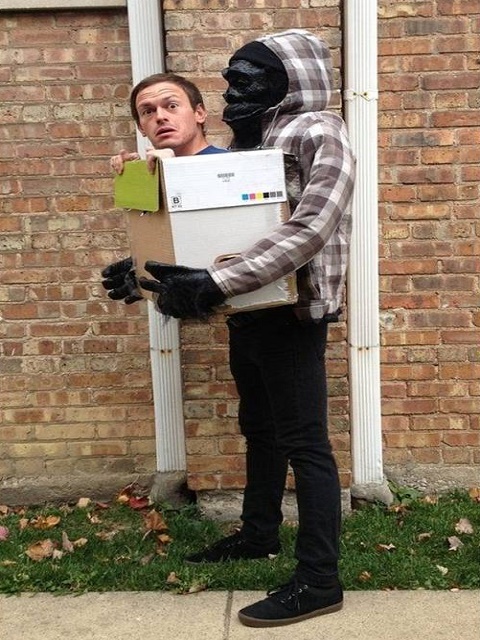 Image source: Popsugar
To make the torso, you need some junk, preferably polystyrene! The shoulders are made using sturdy cardboard. Once it's clubbed together, clothe it and give it a face mask, may be, that of a gorilla! After that, find a box, big enough to fit you in. Your delusionary Halloween DIY costume all set!
19. An American Horror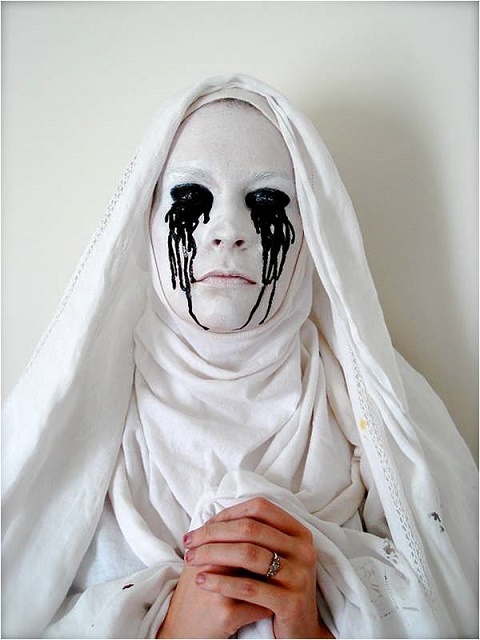 Image source: Popsugar
Pull the curtains down and strip the beds of their sheets, it's Halloween! While the curtains can be used for the wimple, the bed sheet can be draped around the body. You can stitch laces along the wrists and the edge of the wimple to give the costume a dainty look. For the face, use white face paint and jet black paint for the devilish eyes. Voilà! You are an American Horror.
20. The Creeper Costume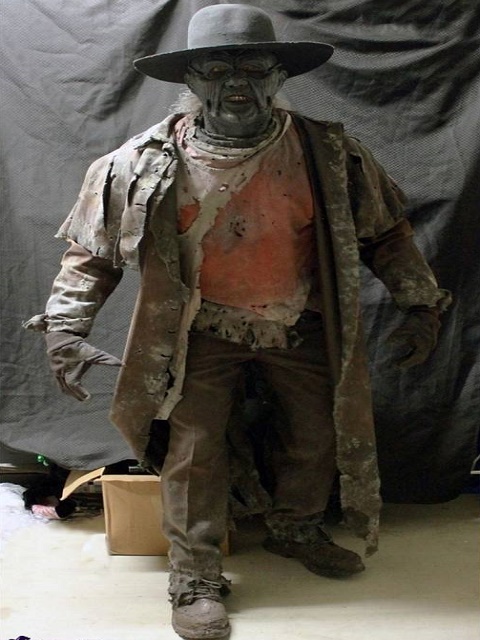 Image source: Popsugar
Do you remember this creature from Jeepers Creepers? Well, this could you on Halloween if you follow some of our crazy DIY Halloween costume ideas. The mask is sculpted in silicone, but you can create it using a "Thermoherb" pack since it is skin-friendly. The costume is created by stitching together many different pieces of clothing to match the character in the movie!
---
Suggested read: 15 stunning long-sleeved wedding dresses that make a statement
---
21. Giant Squid Costume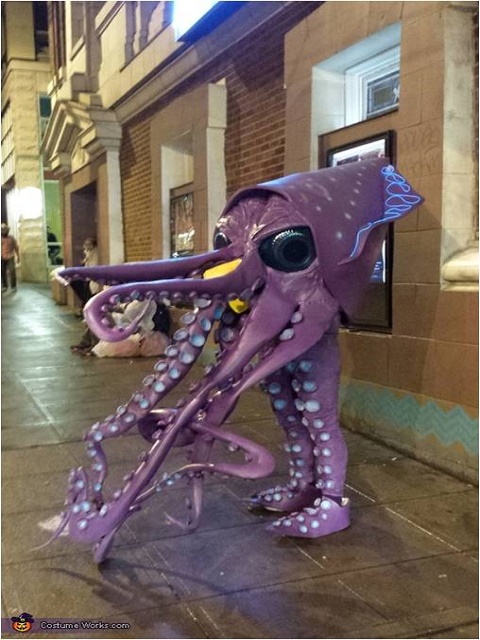 Image source: Costume-works
The entire body in this costume is made-up using cross-linked polyethylene rubber attached with a contact element. Foam discs can be heated and molded to create the suckers. The whole body of the squid then has to be layered with Rosco Flexcoat and allowed to dry for a day. A tough one but completely a DIY Halloween dream!
22. Frozen Marshmallow Costume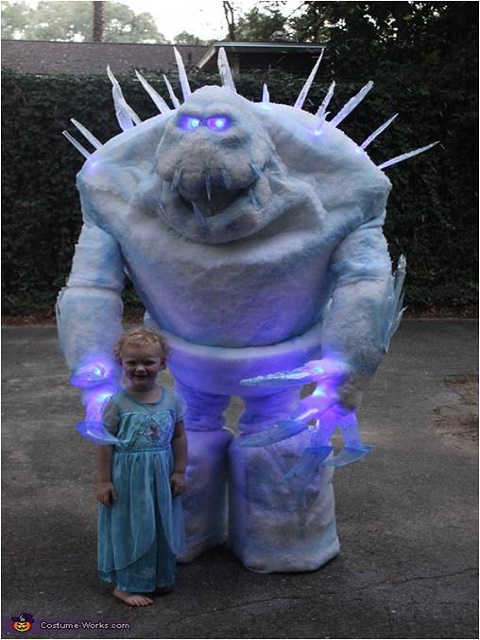 Image source: Costume-works
So your daughter is a huge 'Frozen' fan and so are you? Well then this is a must try! To create the snow monster, you need to use cardboard for the frame and shape. Then use paper Mache and shower foam to cover it up! For the head, use a hard-hat and then spray some foam on it. You can use PVC pies for the arms and plastic for the teeth. Add some spikes and nails, and you're done!
23. "Out of the Shower" Zombie Costume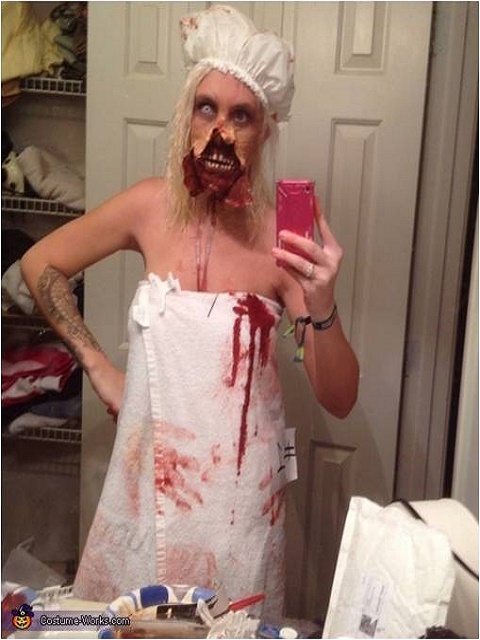 Image source: Costume-works
A zombie is a Halloween pet! You can, however, give your zombie costume a little twist by creating an version of the undead right out from a shower! To create the face prosthetic, use toilet paper, some liquid latex and fabricated nails for the teeth! Pop in contact lenses and throw on a towel to scare the town!
24. Prom Zombie Costume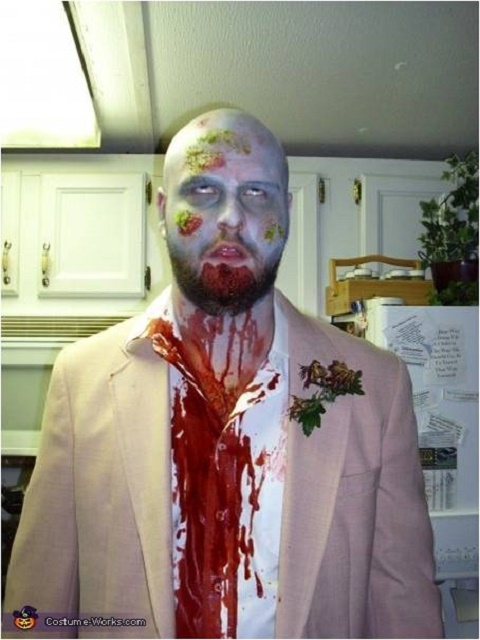 Image source: Costume-works
Since we are talking zombies, here's another one that can turn some heads (literally). This costume can be simply designed by putting an old suit to use and splashing red paint over it! To make-up the wounds, use liquid latex. Add some more blood (;)) and you are done!
25. Zombie Zipper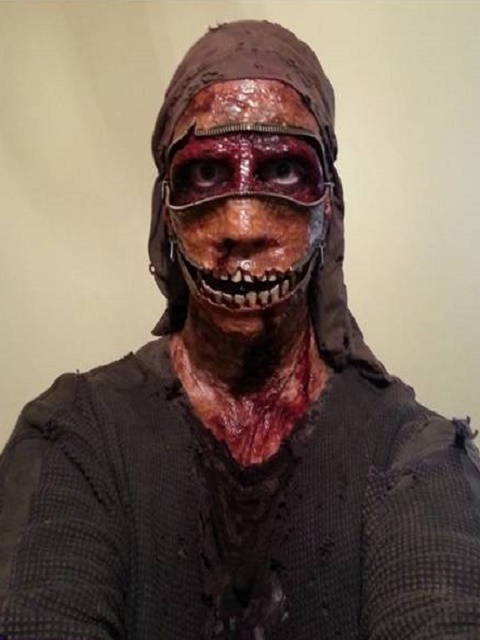 Image source: Costume-works
To make your own zipper zombie, create the mask with liquid latex, some toilet paper, a little foam, a roll of cotton wool and yes, some zip. After applying the face paint, spray some fake blood around the eyes, and mouth to look gorier!
26. Dead Killer Clown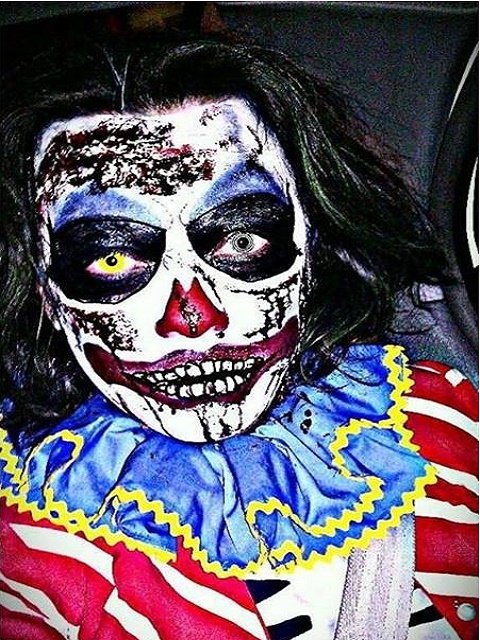 Image source: Costume-works
Nobody can ever do it better than Heath Ledger, but why not try! A ruffled collar contrasted with a thin trim that has a string placed in so that it crunches up! You need to pay a visit to a thrift shop (hey, Macklemore!) and get yourself a jacket. You can then add skeleton cut outs to it. For the facial scars, use tissue and glue and then, as a Halloween tradition, spray the blood!
27. Skeleton Man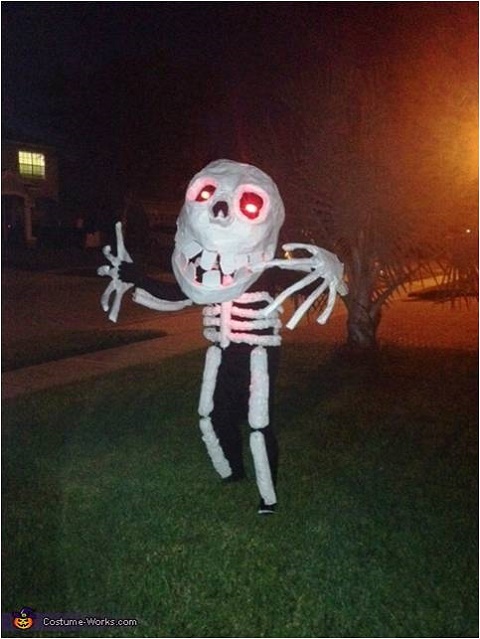 Image source: Costume-works
Firstly, work on the head. Some wire hangers can be duct taped together to form the frame for the curved head. Gather some paper towel rolls, from your own bathroom and your neighbor's. For the ribcage and bones, you'll need some more wire hangers, paper rolls and cardboard. Use bike lights for those eerie red eyes.
28. Evil Clown Costume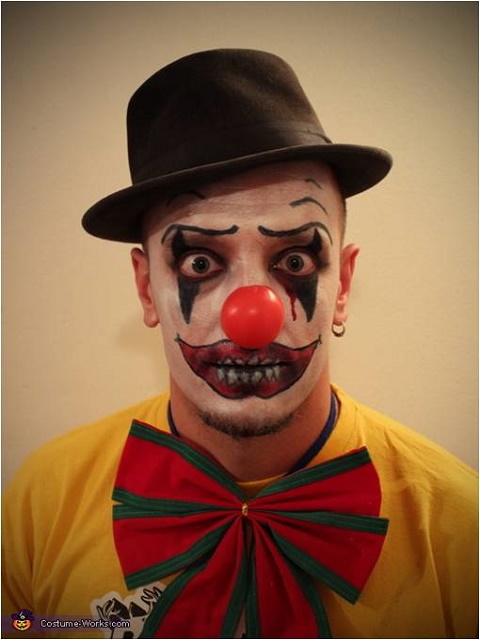 Image source: Costume-works
The evil clown is the easiest on this list. The investment is on the colorful costume, which can be designed by stitching small bits of flamboyant cloth together. The face can be decked out with some white face paint, red lipstick and a smudge of proof liner for the eye makeup.
29. Edward Scissorhands Costume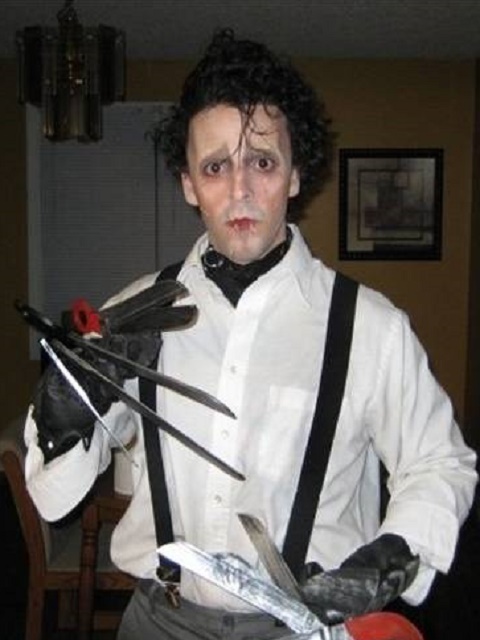 Image source: Costume-works
I love this one! Is it because of Johnny Depp? Aaannnyyway! You can create the Edward Scissorhands costume with suitably painted clothes, and an electrical tape that'll go around the forearms and neck. You can easily create the scissors for the hands, using cardboard and silver foil. The rest depends on how well you can make your face up to look like Depp. I reckon that's impossible!
30. Pinhead Costume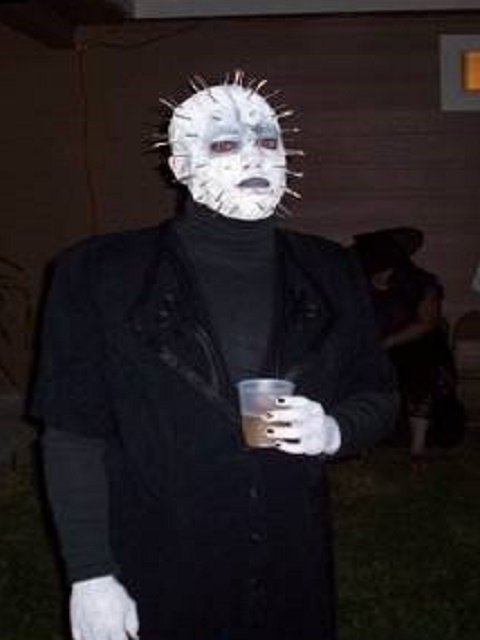 Image source: Costume-works
Everybody has a black turtle neck right? Bring it out, and pair it up with a black gown!  You need to invest some bucks on a black nail polish, a bald cap and liquid latex! For the nails, use shreds of white or silvery athletic tape. For the bloodshot eyes, we think the JD on the bar should do the trick! 😉 C'mon, it's Halloween!
---
Suggested read: 25 rustic wedding dresses urban brides would love
---
Aren't these Halloween costume ideas just breathtaking? I know you can't wait to try your hands on them! The best part about any holiday (apart from the food) is the losing yourself in the dress-up! The fun is doubled when we are talking Halloween costumes because you have to "Come as you aren't" for the night. So, once you are done with any of these, do let us know your experience in the comment section below!
Featured image source: Popsugar
Summary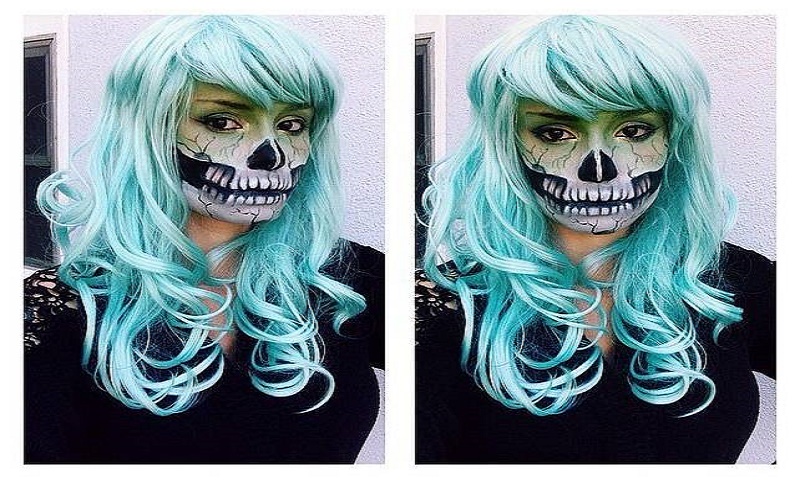 Article Name
30 DIY Halloween Costume Ideas You Can Try
Author
Description
This October 31st, try out one of these easy DIY Halloween costume ideas for that party.