The year just rolls by every time! We are done with Navratri and, before we know it, Diwali will slip through our fingers too. Why not add another celebration to cover the period between the two festivals in this season of celebrations. Yep, I'm talking about Halloween! NLT has curated 30 Halloween costume ideas for couples that we thought were aww-mazing!
Because 'Double-Trouble' is quite a trend today! 😉
---
Suggested read: 20 of the creepiest Halloween makeup ideas
---
1. Mickey and Minnie Mouse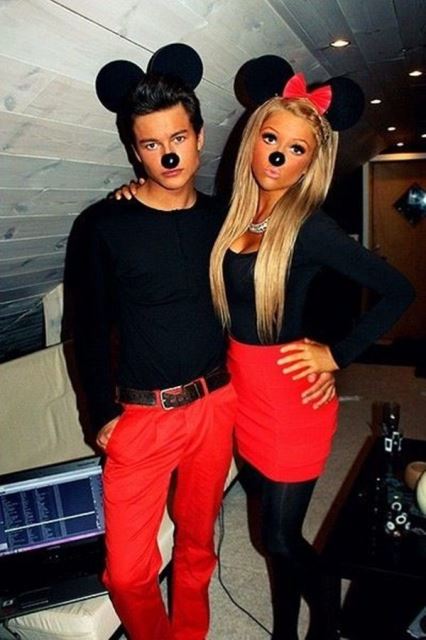 Image source: Pinterest
If there is one eternal love story that we all go back to again and again, it is not that of Rahul and Anjali (puh-lease!), but of Mickey and Minnie Mouse! God bless Walt Disney for the inspiration for this amazing Halloween costume for couples! Okay, you can do that K2H2 thingy while dressed as Mickey and Minnie!
2. Day of the Dead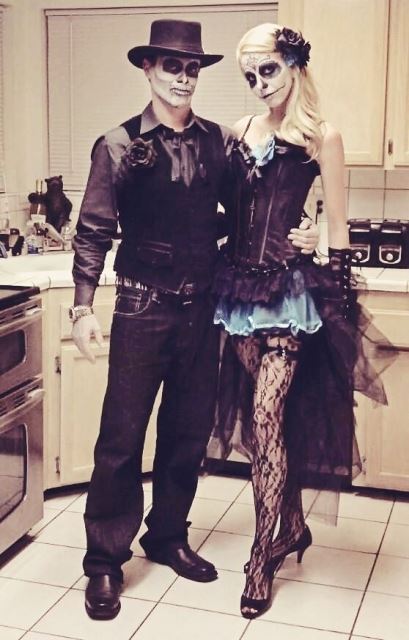 Image source: Pinterest
Yes, it is the day of the dead and so that horror element should not be lost at any cost (Bipasha would agree with me!) A chilling couple can give different 'feels', if you know what I mean! 😉
3. Carl and Ellie from Up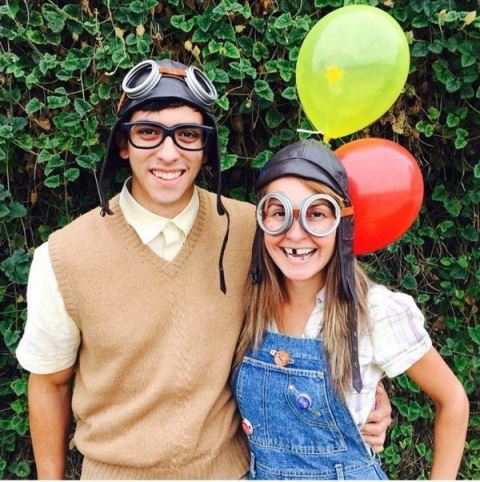 Image source: Pinterest
Nothing will go wrong with such a sweet, romantic Halloween costume. In my opinion, this is one of those Halloween costume ideas for couples that will set the adorable meter at an all-time high! And those pair of dungarees; the 'Shandaar' girl hearts them!
4. Airline pilots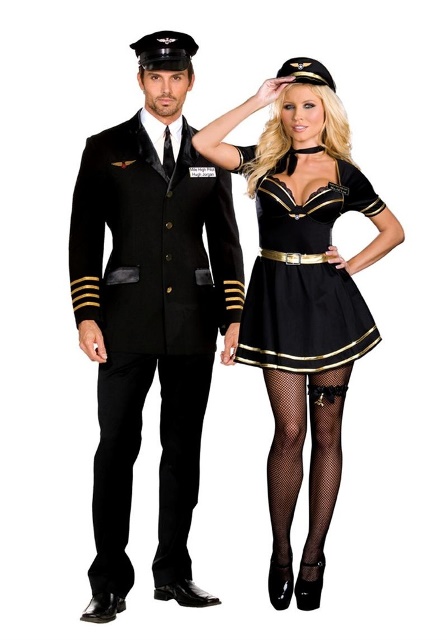 Image source: Pinterest
Today couples don't 'fall in love'; they 'rise in love'. Well, this could be a philosophical statement if you want to make one through your Halloween costumes. However, from a more materialistic point of view, this Halloween costume makes the Desi couple look HOT! Period.
5. The Joker and Harley Quinn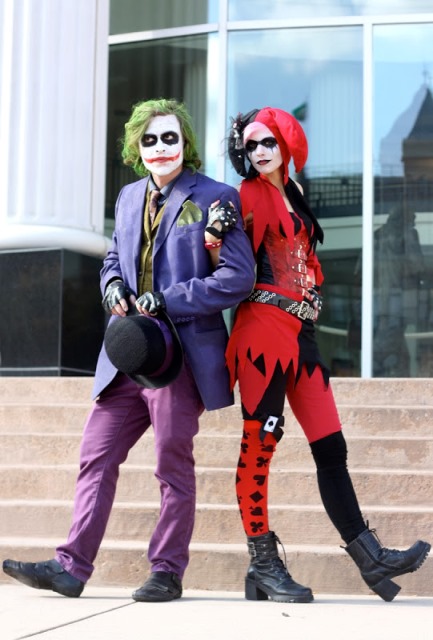 Image source: Pinterest
A costume with a twist – The Joker and Harley Quinn! According to the couple that posted this on Pinterest, both of these Halloween costumes were handmade. The things that she could not find at home were bought from a thrift shop. Isn't she a creative genius? Well, Halloween demands you to be one.
6. Duracell and Morton Salt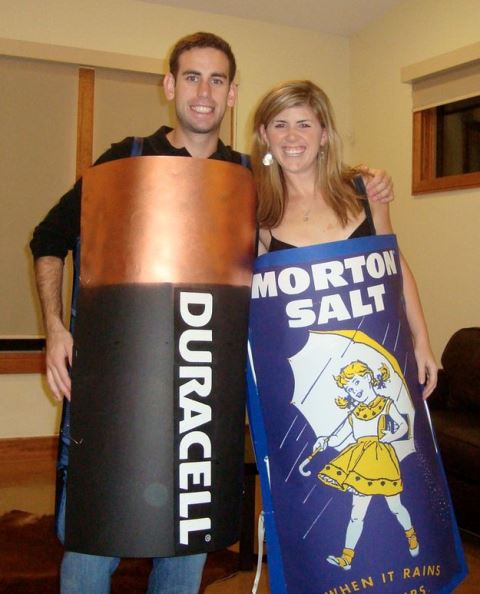 Image source: Pinterest
To keep the 'stamina' up, Duracell could be the key! Dear Vicky Donor, I am talking about Halloween costumes here!! And when it 'rains' you can have Morton salt by your side! All for the 'pun' of it! 😀
7. The Incredibles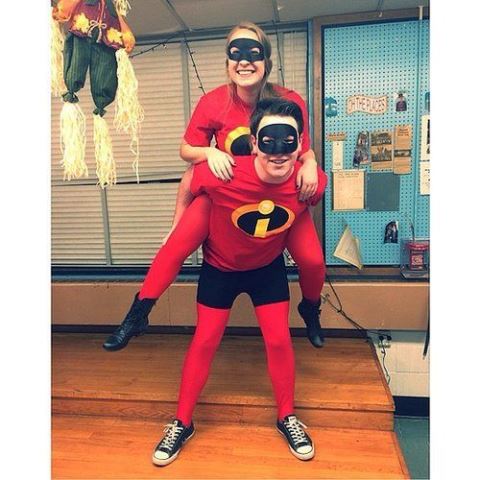 Image source: Pinterest
No, they aren't Mr. and Mrs. Crime Master Gogo! The costumes for the 'Incredible' couple are easy to create and inexpensive!
8. Mario and Luigi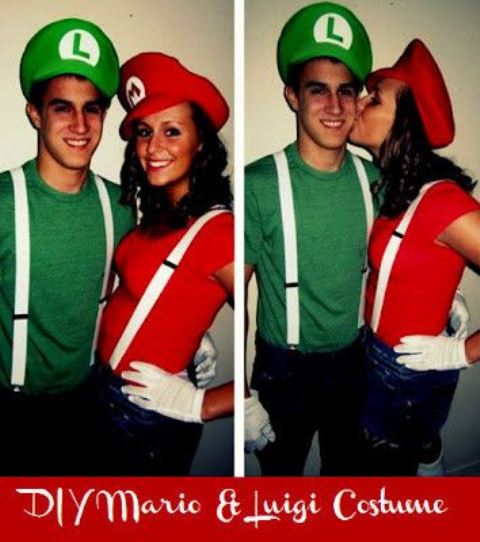 Image source: Pinterest
Speaking of aww-worthy Halloween costume ideas for couples, one cannot leave out Mario and Luigi, right? That pair of white gloves make them look like the perfect partners in crime.
9. Rapunzel and Flynn Ryder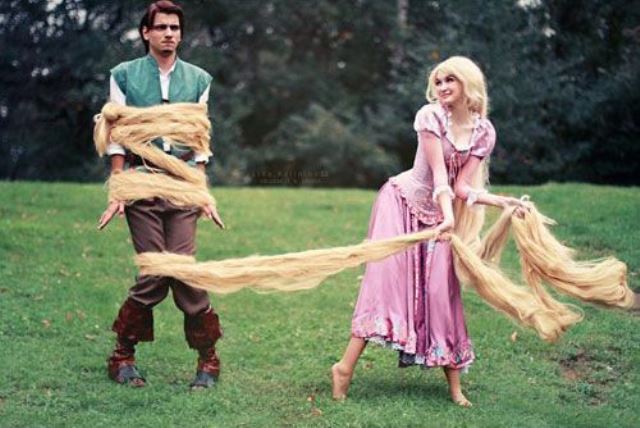 Image source: Pinterest
This one reminds me of the scene in DDLJ where Kajol gets drunk and runs around the whole of 'somewhere in Europe' while Shahrukh (<3) tries to manage 'the mischief'.
Anyway, once you've dressed as Flynn and Rapunzel ad you've found yourself on a veranda (aka 'a Rapunzel spot') at the party, ask someone to click that memory!
 10. Buttercup & The Dread Pirate Roberts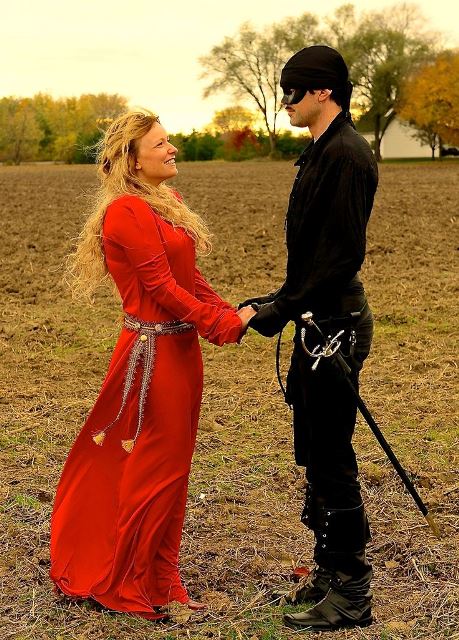 Image source: Pinterest
The Dead Pirate Roberts has a doppelganger that is closer to home. Who? Remember that horse ride in 'Baazigar'! Aha! You can use Ma's red sari for this Buttercup gown. Hope my Ma's not reading this!
---
Suggested read: 30 sexy celebrity Halloween costumes that were too hot to handle
---
11. The Painter and Landscape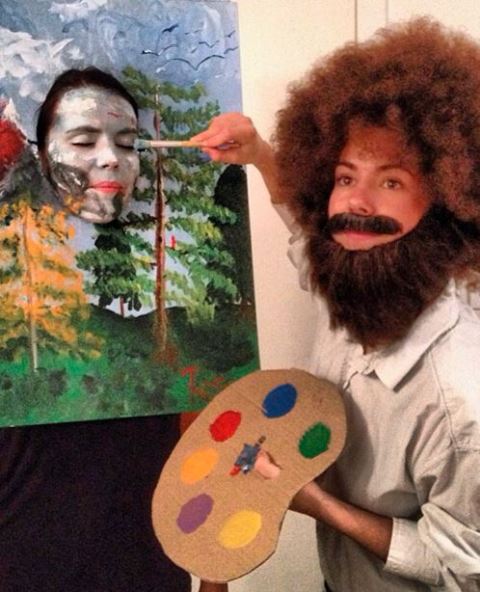 Image source: Pinterest
Now this is one hell of a creative Halloween idea, I must say! If you are planning to replicate this, I can assure you that this will be the most surprising idea at the party. Winning the sash in the end will be a cake walk for you and your better half!
12. Harry Potter and the Golden Snitch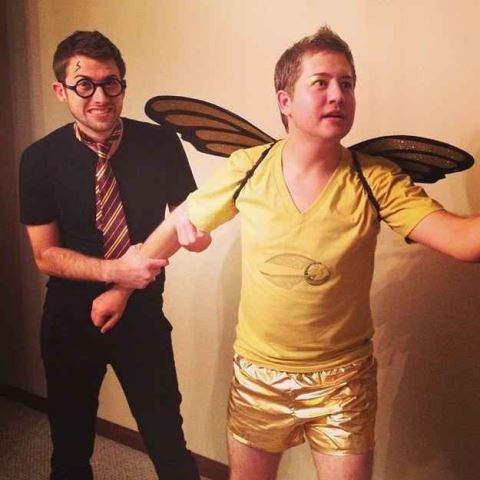 Image source: Pinterest
We are all Harry Potter fans, aren't we? And as such, we know very well that the love story between Harry and the snitch is the greatest in the 'epic'—even greater than the one between Hermione and Ron! A broom is a must, even though this couple has given it a miss.
13. Buzz Lightyear and Jessie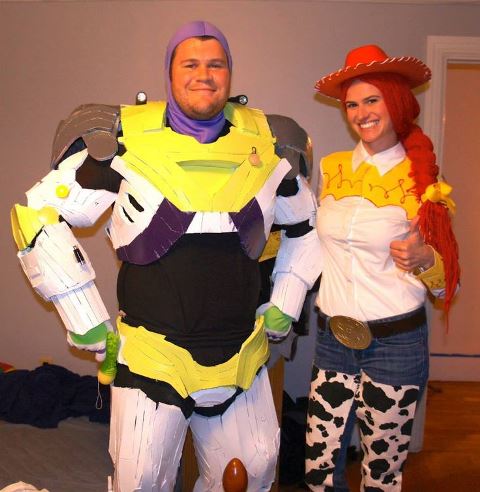 Image source: Pinterest
Toy Story is one of my favorite animations! The friendship between Buzz Lightyear and Jessie is one of the best things about the series. Taking inspiration from this movie, I think the couple in the picture has done an outstanding job!
14. Half and Half
Image source: Pinterest
This couple has taken the term of endearment 'better half' to a wackily cute level of awesomeness! Skeleton on opposite sides of each other's faces rather than the same sides (unlike the one in the picture), allows the couple to click pictures where, one way it appears like two skeletons are kissing, and the other way two humans. Ain't that cool?!
15. The Shining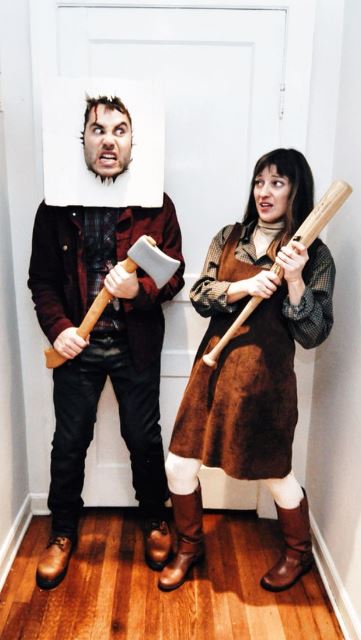 Image source: Pinterest
"Redrum! Redrum! Redrum!" Write this is in a piece of paper that you will be carrying to the Halloween bash and stand in front of the mirror! Ha, Bazinga!
16. Instagram
Image source: Pinterest
We Indians rule Instagram, checking out what Kareena's up to or if Alia partied hard last weekend! So I think Instagram can be a great source of inspiration. It's unique, easy to DIY, and real aww-dorable!
17. Batman and Catwoman
Image source: Pinterest
"There's a storm coming, Mr. Wayne!" But darling, you are the storm! 😉
This is a costume that sets sizzling chemistries on fire on all Hallows Eve! And once you are in them, the superhero inside you will take over. That's when you can say,
"So, this is how it 'feels'?"
18. Papa Smurf and Smurfette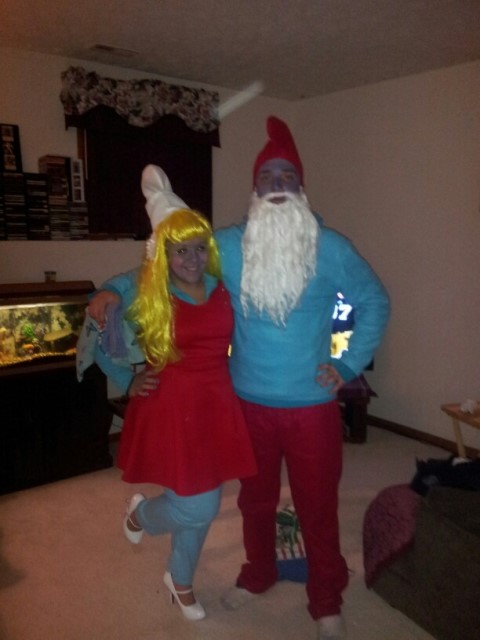 Image source: Pinterest
"There is a place; a place that knows no sadness, where even feeling blue is a happy thing."
If you and your partner are preaching the mantra of happiness all of the time, then these Halloween costumes must be tried! Who knows, "Kal Ho Na Ho!" 😉
19. The Simpsons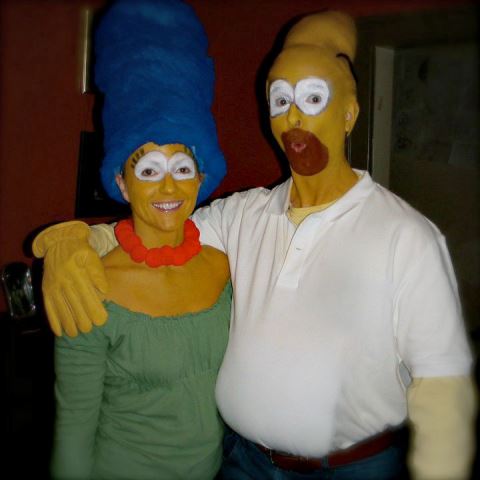 Image source: Pinterest
If you are too proud to be an Indian (kinda like me!), I suggest that you and your partner dress up as Apu Nahasapeemapetilon and Manjula Nahasapeemapetilon. But if you have never binged on the Simpsons, memorizing the titles of your characters could be the toughest bit of the whole act!
20. Daisy and Bee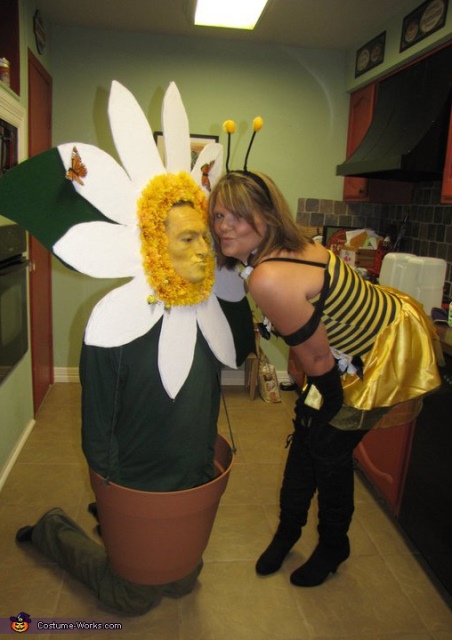 Image source: Costume-works
Yes, we keep our men on their toes all of the time! But this poor chap seems to be in an even tougher situation. Or this is what love's all about?! Tell me about it!
---
Suggested read: 30 insanely awesome DIY Halloween costume ideas EVER!
---
21. Juno and Bleeker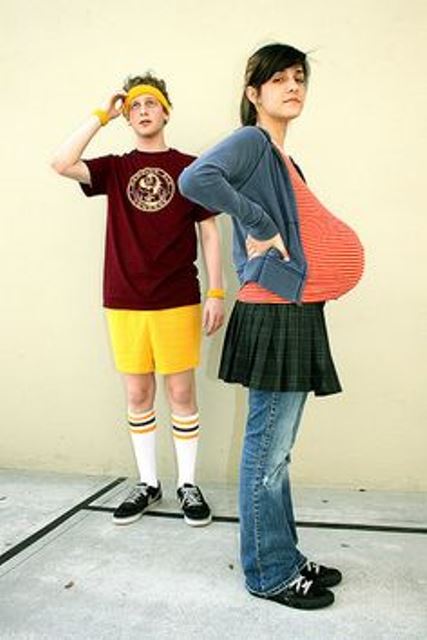 Image source: Pinterest
If you aren't into putting too much effort into your Halloween costume and would be more than happy to 'come as you are', being Juno is your baby! Just stuff a pillow to create the preggie belly. Your 'Bleeker' could wear his basketball shorts and tee!
22. Sesame Street Martians
Image source: Pinterest
If your kids love the Martians, you could surprise them with these Sesame Street Martian costumes. They are totally rad, don't you think? And do count the number of "Awws" you both are greeted with! Go "Yip yip yip!" about it!
23. The Exorcist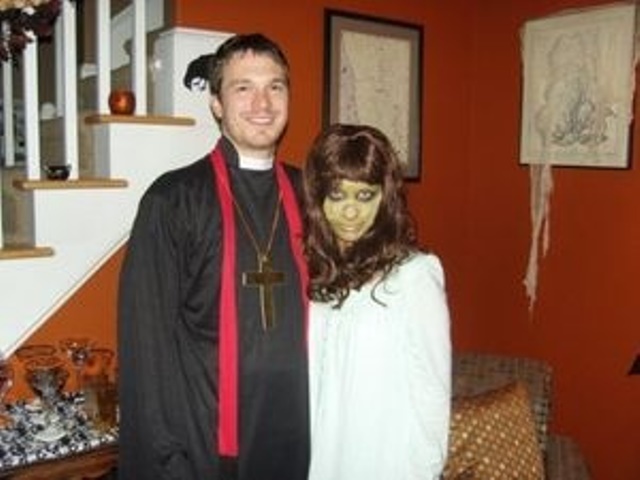 Image source: Pinterest
What a great day for an exorcism!
These homemade costumes came from salvation, a lot of liquid latex and a little creativity. I am the infamous Regan (from the movie 'The Exorcist') and my husband is playing the role of the priest. We love couples costumes with a twist!
24. Living statues
Image source: Costume-works
These costumes of live statues can be made quite easily and yet are kinda path-breaking. You can spray paint your costumes silver and your body too. Once your costume is done, all you need to do is stand in various spots and pose. Pure Bollywood!
25. Suzy and Sam From Moonrise Kingdom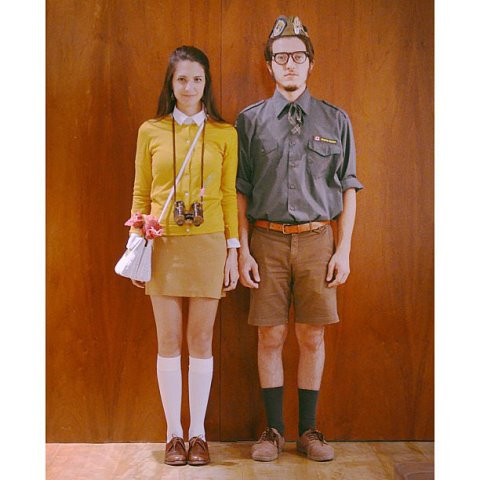 Image source: Popsugar
If there is one couple's Halloween costume that will take over the whole Halloween bash at your neighbor's party, is this one!
26. Popeye and Olive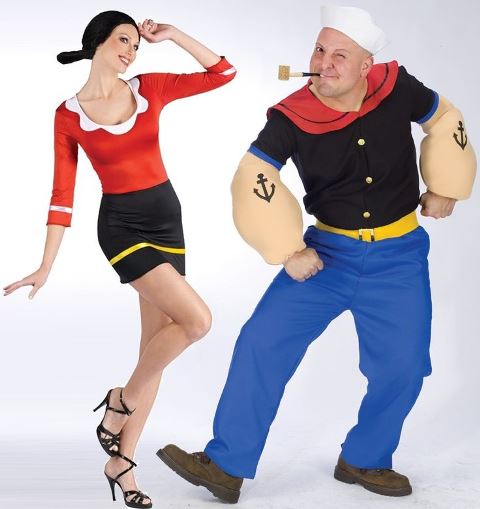 Image source: Pinterest
The 6-pack, 8-pack culture that our boys have imbibed from Bollywood will work to your advantage if you choose this Popeye and Olive Halloween idea! Make sure he isn't better built than what I mentioned, though…
27. Unplugged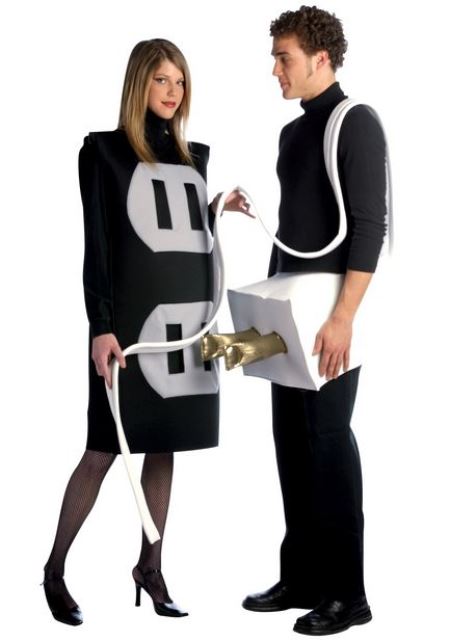 Image source: Pinterest
Or you could carry the MTV logo and call it 'MTV Unplugged'. Musically yours, always and forever!
28. Queen Nefertiti and Pharaoh Akhenaten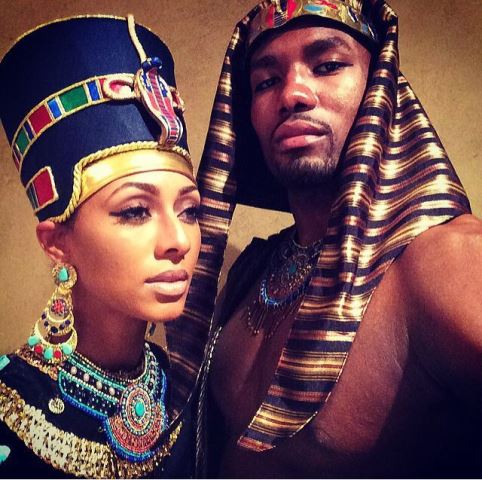 Image source: Pinterest
Flaunt that beautiful olive skin with this fabulous Halloween idea for couples! Your mom's costume jewelry will come really handy!
29. Mary Poppins and Bert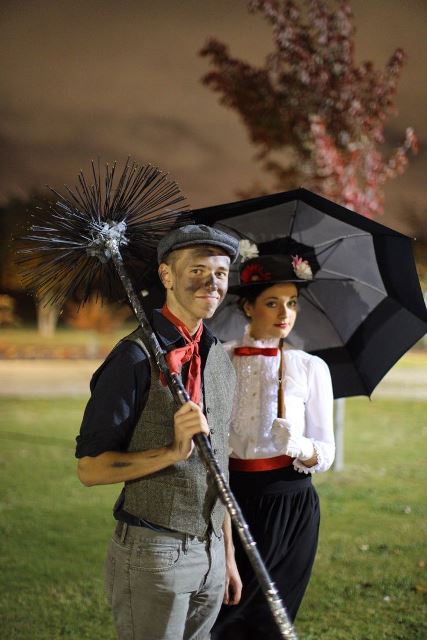 Image source: Pinterest
The magical nanny and her performer friend would be a perfect costume idea for a couple to go to a Halloween party this year.
30. Heaven and Hell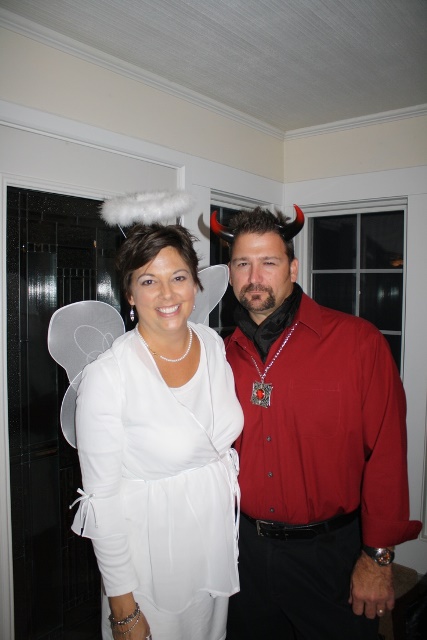 Image source: Pinterest
Aren't men from hell and women from heaven or something like that? 😉 Showing the opposite forces that keep the whole universe in balance (almost!), this Halloween costume is surely to turn heads!
---
Suggested read: The couple that go trick or treat-ing together, stay together
---
Look, even Frankenstein's monster had a bride, so this Halloween don't walk it all alone if you have somebody you love! Let us know if these costumes spiced up the romance between you and your bae in the comment section below. Until then,
"Hum hain rahi pyaar ke, phir milenge chalte chalte!" 😉
Featured image source: Pinterest
Summary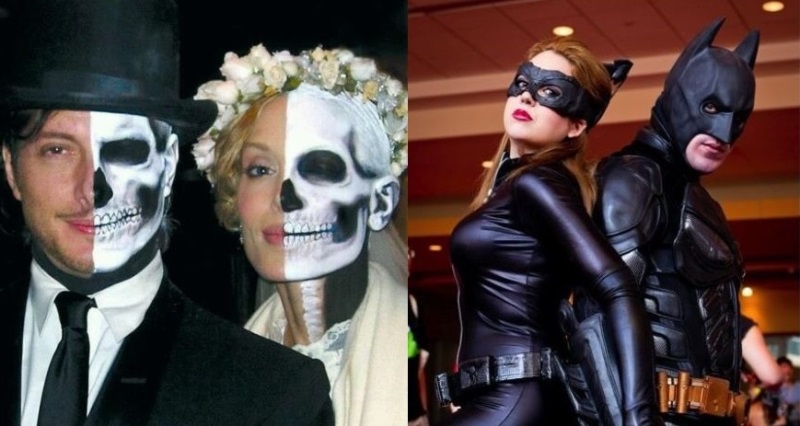 Article Name
30 Halloween Costume Ideas For Couples that Gave Us The Feels
Author
Description
Halloween just a day away, here are a few Halloween costume ideas for couples you can steal from.