Halloween's coming up, so we thought we'd give you a few amazing ideas for costumes this year! LOL, jk! We're obsessed with cats and we'd like to share our unhealthy obsession with you through 25 absolutely adorable yet sexy Halloween cat costumes!
---
Suggested read: 30 Halloween costume ideas for couples that give us the *Feels*
---
1. Simple and chic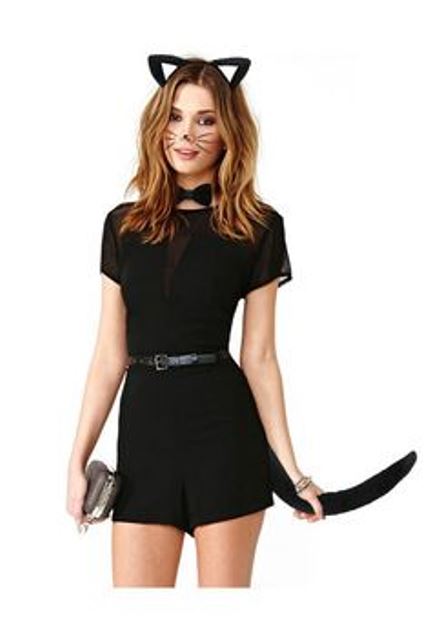 Image source: Pinterest
If you have to go to a posh party, then this chic kitty-playsuit (kittysuit?????) is perfect! The adorable bow-tie is a very cute addition to this costume!
2. Cute and sexy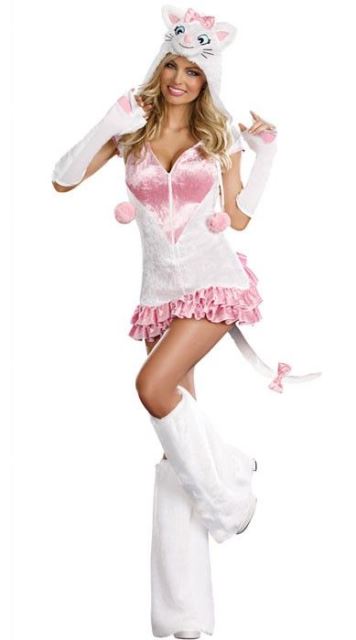 Image source: Pinterest
This costume is a bit cuter and a loooot sexier than the last one! We love the pink and white combo, and the adorable hoodie. The paw gloves are a nice touch!
3. A bit conservative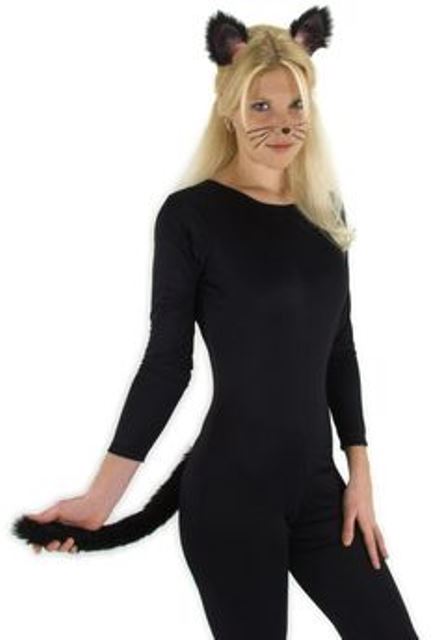 Image source: Pinterest
This costume is a bit more conservative but just as adorable as the others. We love the extra fluffy ears and the little tail! You could bling it up a bit with some jewelry or just leave it simple and sexy!
4. We're dying of cuteness overload!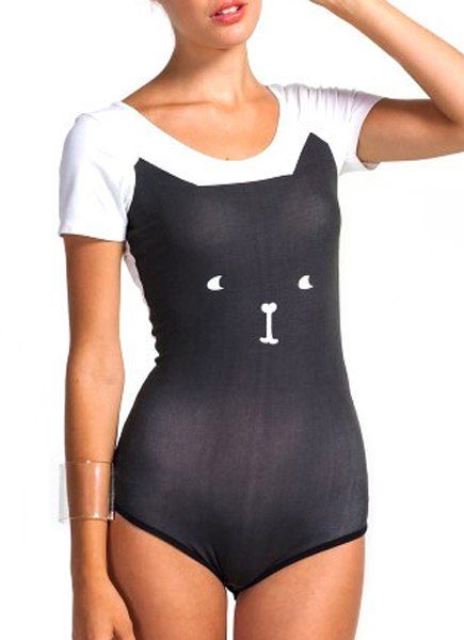 Image source: Pinterest
We can't. We can't! This bodysuit is the best thing we have ever seen. We need 12354532 of them. ASAP. You don't even need to wear anything else with this bodysuit. You will be the best dressed person in the whole world. You will have won at life. LOOK AT THOSE ADORABLE KITTY EYES, OMG, WE'RE DYING!
5. Kitty knitted hat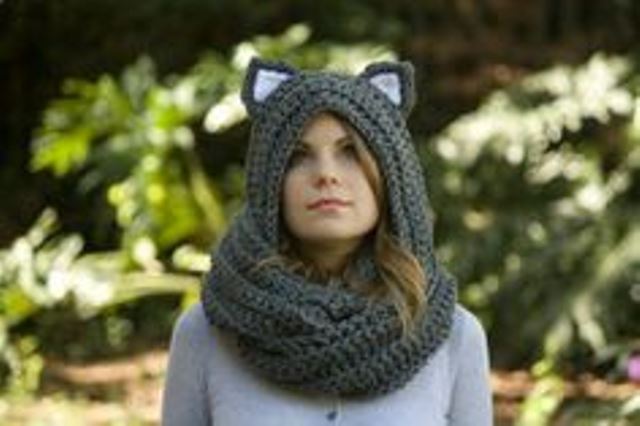 Image source: Pinterest
This isn't a costume per sé, but look at those adorable kitty ears!! This knitted kitty hat/neck-warmer is all we want for Christmas. Seriously, we can't get over how adorable this is, AND how incredibly practical too! That's what, we cat lovers, are…practical. Huehuehue. This kitty head/neck warmer is perfect for winter, so stock up!
6. Flower/Kitty ears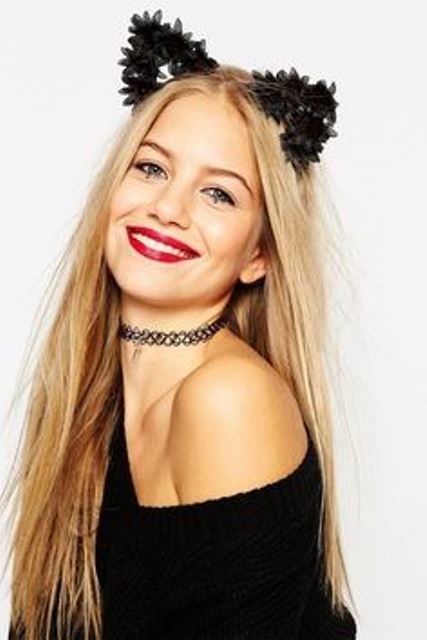 Image source: Pinterest
These cat ears are actually made of tiny little black cloth flowers and we can't stop marveling at the sheer creativity of it. This cat-ear-headband is the perfect accessory for those who want to look adorable yet sexy, without making too much of an effort. These are just the prettiest cat ears and we're obsessed!
7. Lace cat ears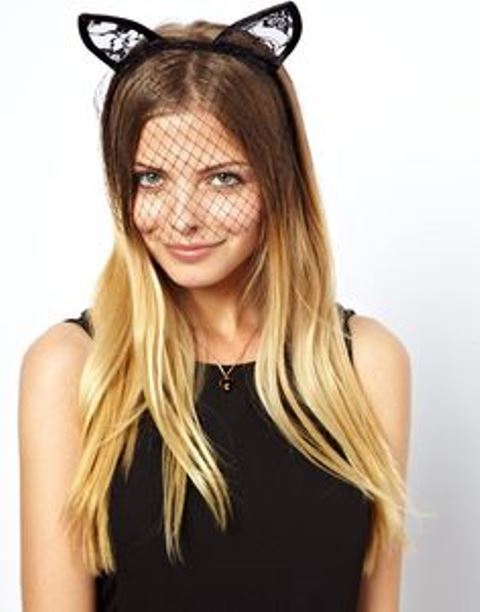 Image source: Pinterest
This set of lace cat ears with the net peek-a-boo action reminds us of an undercover cat ninja. Are you a cat? Are you a super posh assassin? Are you both? Aaahh who knows? This headset will look amazing with a well-fitted black dress and minimal jewelry.
8. Jungle cat makeup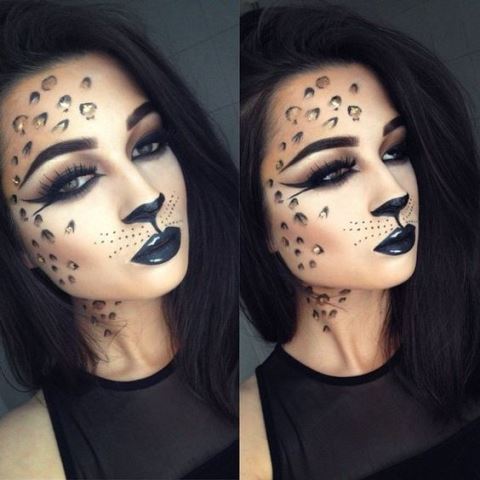 Image source: Pinterest
When your makeup is THAT BOMB, you can wear a potato sack for a costume and still look like the most badass cat in the universe (except actual cats of course, who are actually the best beings in the universe). We can't get over that amazing cat eye. This is art. ART.
9. Vintage cat makeup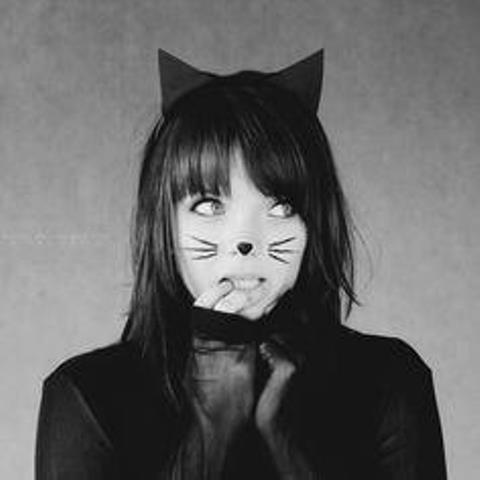 Image source: Pinterest
This vintage cat makeup is giving us major #HalloweenGoals. You'll basically nail two amazing trends at the same time. Kitty AND vintage! We love the understated cat-eye and the adorable whiskers. The sheer top adds a sexy element to this super cute look!
10. Pun pun puuuuun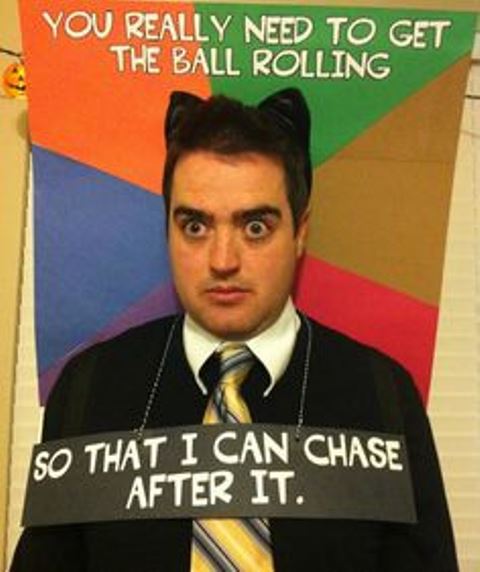 Image source: Pinterest
We see you, cat-loving guys. We've got your back! Take this punny cat costume for instance! Wear this costume and you'll win Halloween. If there's one thing we love almost as much as cats, it's puns. So, this costume has won us over, completely!
11. Bling bling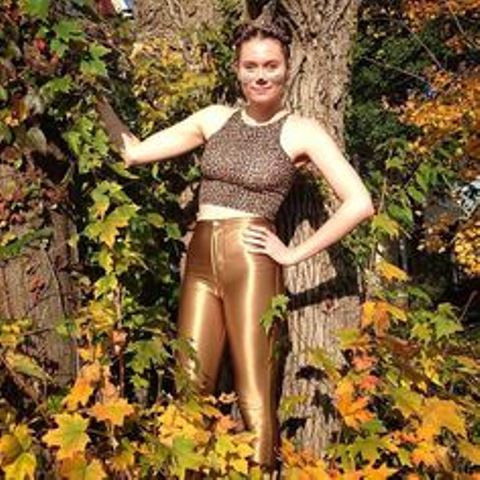 Image source: Pinterest
We love ourselves some bling bling! Glam up a pretty basic jungle cat costume with a pair of metallic pants, like the one in the picture. This is a pretty amazing last minute costume for all you lazy bums! The leopard print hairbands are a very nice and quirky touch!
---
Suggested read: 30 sexy celebrity Halloween costumes that were too HOT to handle!
---
12. Sssylvesster onesssie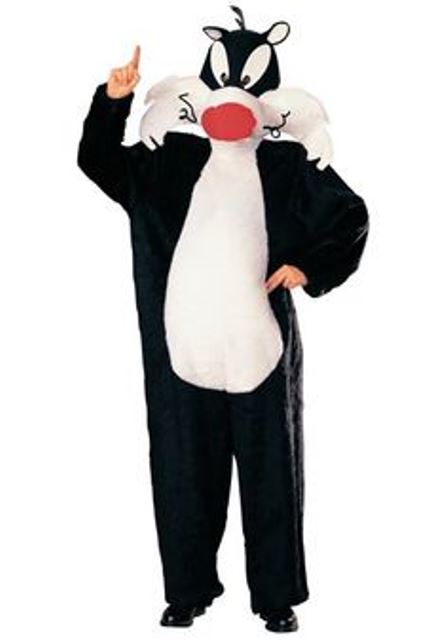 Image source: Pinterest
We can't really have a list of Halloween cat costumes without including one of the most iconic cats ever! This Sylvester costume is perfect for men, women, and anybody who doesn't relate to the gender binary. This costume is adorable and super comfy and is also perfect snuggle material for those who'd rather stay in and binge-watch Game of Thrones!
13. Cute Cheshire Cat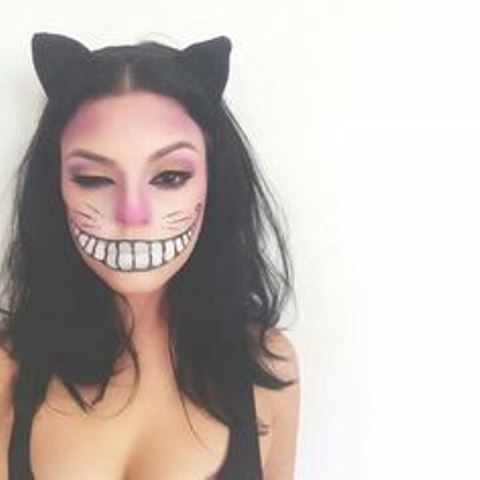 Image source: Pinterest
Yet another iconic feline character, the Cheshire Cat! We love the simple and cute makeup. It's not too over the top and is the right amount of sexy and cute!
14. Another Cheshire Cat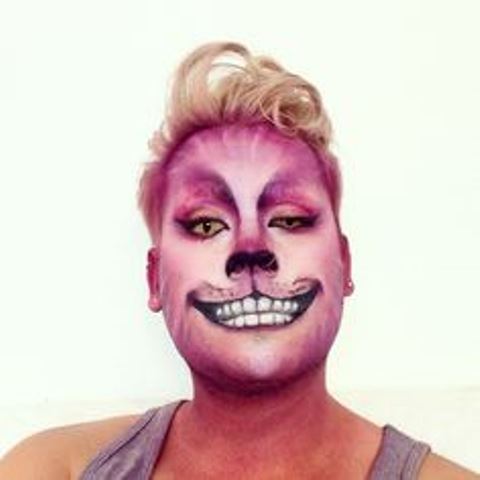 Image source: Pinterest
Who said men can't slay at makeup? This amazing Cheshire Cat makeup is giving us such major goals! You can wear pretty much anything with this look, and still look like you have the most authentic cat costume ever!
15. Grumpy cat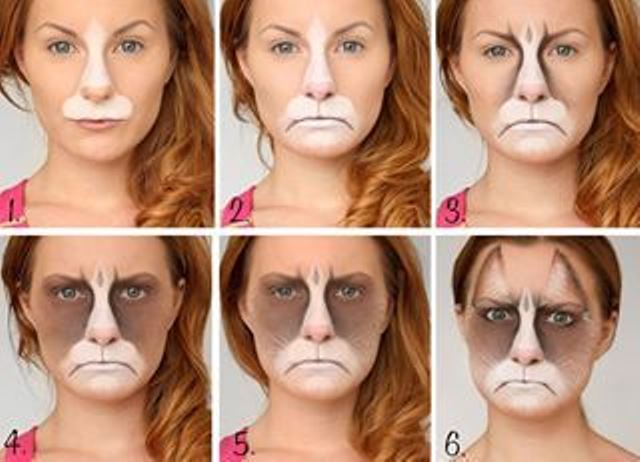 Image source: Pinterest
You don't always have to dress up like a sexy kitty. Stand out from the crowd with this amazing, AMAZING Grumpy Cat look. Flaunt your perpetual grumpiness while also looking adorable coz you are also an adorable little kitty!
16. The lazy cat lover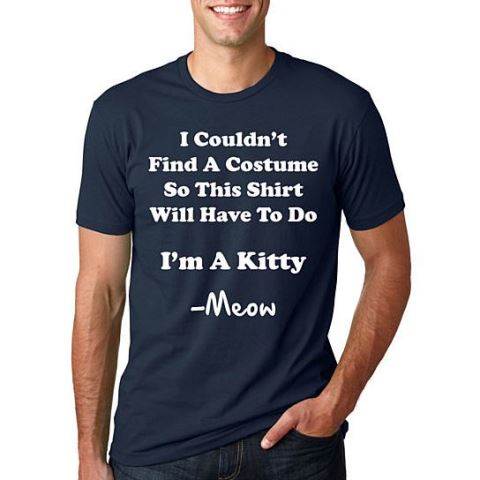 Image source: Pinterest
This t-shirt is perfect for anybody who loves cats but is way too lazy to make the effort to dress up as an actual cat. The t-shirt is unisex, which is AWESOME. If you want to look like you at least TRIED to make an effort, you could throw on a pair of cat ears or draw a few whiskers on your face. Or you could just walk around in this because you are clearly a cat personified.
17. Kitty/Vet couple costume
Image source: Pinterest
We totally get if you want to do a couple costume with your significant other, but ALSO want a cat costume because it is just too hard to choose between your partner and your cat. So we've found some brilliant ideas to mix the two and give you one amazing kitty couple costume idea! This vet/kitty costume is one of the best things we've seen in days! 😀 It's smart, creative, and hella easy!
18. Kitty litter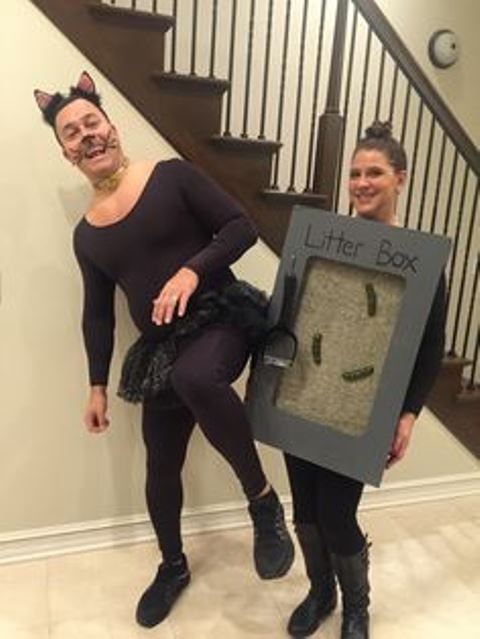 Image source: Pinterest
Brb, DYING! XD XD This is the best couple costume EVER. We're sorry. But it is. This couple has won Halloween. This couple has won at life. Not only is this costume idea incredibly punny, but it also has absolutely no time for your gender roles! The guy looks positively elated (and might we add, very pretty!) in that tutu/catsuit! We are completely in love!
19. Cat jumper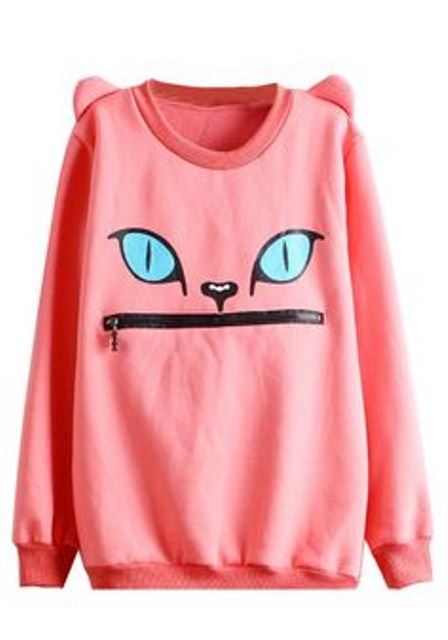 Image source: Pinterest
It's pink, has a front pocket, has a beautiful kitty face, and has ears on the shoulders! We need this jumper in our lives, OMG! We love the cute color and the striking blue eyes against the pink. But it's the ears that we just can't get enough of! The front chain is an added bonus, although it'd be pretty cool if the inside of that pocket looked like a set of teeth, like the Cheshire Cat's! But seriously though, this jumper is all we need this fall!
20. Jungle cat (leopard) onesie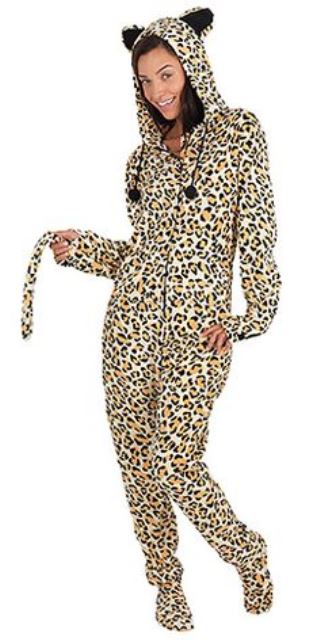 Image source: Pinterest
Alright, nobody said that the only time we can dress up as a cat is during Halloween. Why not go for this comfy as heck leopard-print onesie WITH A HOOD AND A TAIL?! Oh, the hood has ears, and we can't take the cuteness – it is hurting our eyes! This is the perfect outfit for a day at home, snuggling up to the cat. Well, it's also good for when you want to cuddle your cat but it would rather ignore your very existence, but oh well!
21. Siamese cats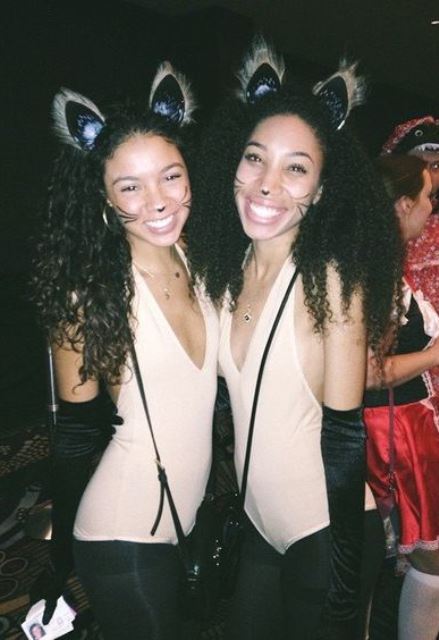 Image source: Pinterest
This costume is perfect for twins, sisters, best friends or even couples! It's simple, chic, and very cute! The Siamese Cat costume is also a brilliant last minute costume idea. All you need are a pair of nude bodysuits, black tights, and gloves! Oh, and cat ears, DUH! We're suckers for amazing DIY costumes, so it's no surprise that we absolutely love this one!
22. Hipster cat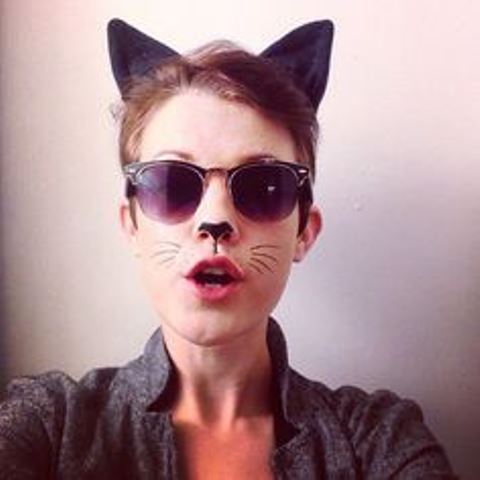 Image source: Pinterest
You can totally be hipster AND a cat. We love the half-rimmed wayfarers with the cat ears and the whiskers. But what would be even cooler is switching the wayfarers for a pair of cat-eye sunglasses and ditching the cat ears! This look is perfect for maybe a fun themed brunch or a theme party where you want to dress up but not look like you tried too hard (it's an art of balance). So far, we're loving the hipster cat look!
23. Cat hair…?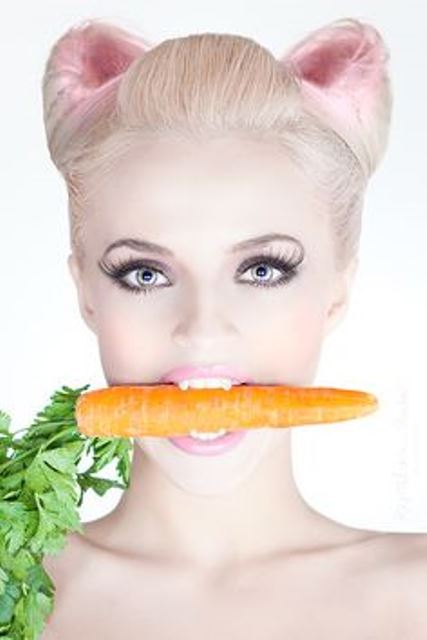 Image source: Pinterest
We've seen a lot of strange Halloween cat costumes, but this one takes the cake! Cat-ear HAIR?! OMG, we love it! We're not sure how she did it, but we need to find out and try (and fail miserably) to get our very own kitty-hair-ears! What's even better is that the insides are pink! If you can manage to nail this hairstyle, then you really don't need to do anything else because you are the Queen Cat and we shall all bow down to you!
---
Suggested read: 20 creepiest Halloween makeup ideas that will scare the bejesus out of you!
---
24. Sexy Garfield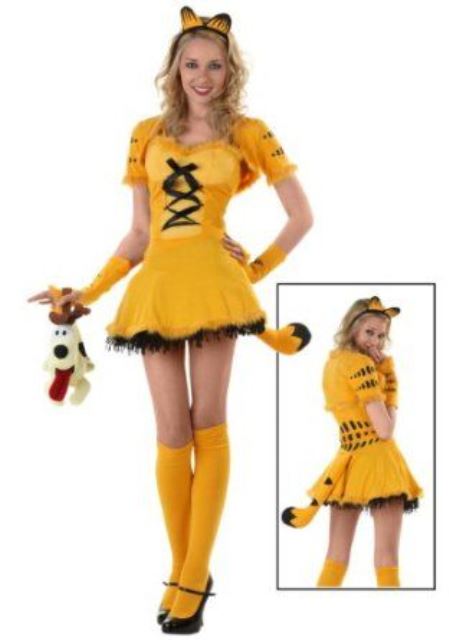 Image source: Pinterest
Yet another iconic cat. This sexy Garfield costume isn't essentially all that authentic, but the color and the tail are so cute, we're willing to overlook the ugly corset and the lack of Garfield-iness of the costume. But it's still a pretty adorable yet sexy cat costume and we like it quite a bit!
So long story short, we love cats. And in case some of you started reading this in the hopes of seeing adorable cats in adorable costumes, here's a cutie pie kitty in a sushi costume. Excuse us while we go cry over just how adorable this cat is and how we humans will never be able to match up the cuteness of this kitty nigiri (kittygiri?).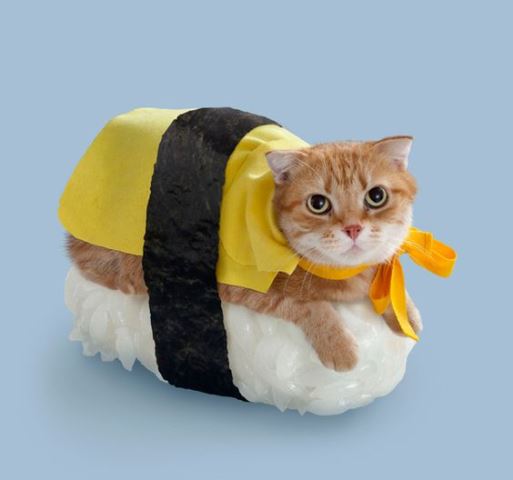 Image source: Pinterest
Summary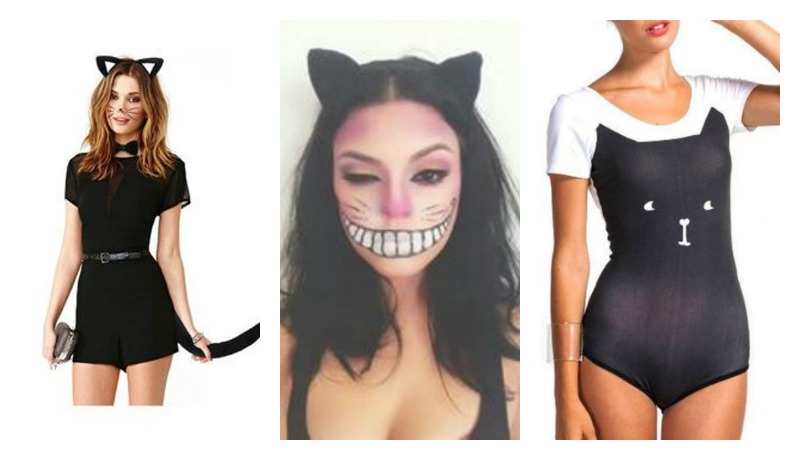 Article Name
24 Of The Most Adorable Yet Sexy Halloween Cat Costumes
Author
Description
With Halloween just around the corner (okay, almost 2 months away!), we thought we'd give all cat lovers some inspiration with these Halloween cat costumes!