Definitely, one of my favorite books that I've read this year, The Course Of Love by Alain De Botton is what you should gift yourself and the person you love, immediately.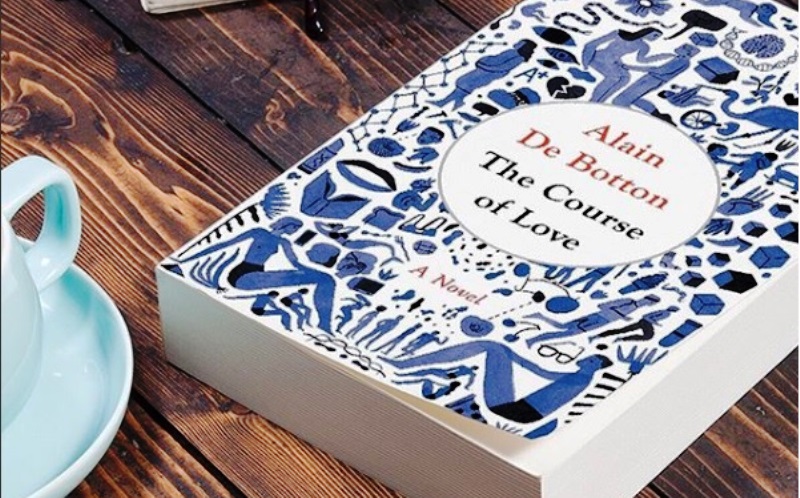 Image source: Instagram
Replete with lessons that are the real stuff, this book prepares you for relationships. It tells you that what is usually depicted in books and movies as love, is only the start of it, the real struggle begins hence. This book is a provocative life-affirming novel for people who want to understand love in all its entirety.
In today's post, we will be sharing with you some of our favorite quotes from the book. We hope you will enjoy reading them as much as we did curating them for you.
---
Suggested read: #50BooksInAYear The Little Prince by Antoine de Saint-Exupéry
---
Best quotes from Alain De Botton's, "Course Of Love"
The weird honors of love
"We should add that it is a privilege to be the recipient of a sulk: it means the other person respects and trusts us enough to think we should understand their unspoken hurt. It is one of the odder gifts of love. Eventually" 

The capacity to acknowledge
"We don't need to be constantly reasonable in order to have good relationships; all we need to have mastered is the occasional capacity to acknowledge with good grace that we may, in one or two areas, be somewhat insane." 
A kind of a gamble
"Marriage: a hopeful, generous, infinitely kind gamble taken by two people who don't know yet who they are or who the other might be, binding themselves to a future they cannot conceive of and have carefully omitted to investigate." 
Whenever you can, love
"Few in this world are ever simply nasty; those who hurt us are themselves in pain. The appropriate response is hence never cynicism nor aggression but, at the rare moments one can manage it, always love." 
Negotiate the differences
"The partner truly best suited to us is not the one who miraculously happens to share every taste, but the one who can negotiate differences in taste with intelligence and grace." 
Rewriting the wedding vows
"In an ideal world, marriage vows would be entirely rewritten. At the altar, a couple would speak thus: "We accept not to panic when, some years from now, what we are doing today will seem like the worst decision of our lives. Yet we promise not to look around, either, fro we accept that there cannot be better options out there. Everyone is always impossible. We are a demented species." 
Why aren't we as kind to adults as we are to children?
"It's not just children who are childlike. Adults, too, are – beneath the bluster – intermittently playful, silly, fanciful, vulnerable, hysterical, terrified, and pitiful and in search of consolation and forgiveness. 
We're well versed at seeing the sweet and the fragile in children and offering them help and comfort accordingly. Around them, we know how to put aside the worst of our compulsions, vindictiveness and fury. We can recalibrate our expectations and demand a little less than we normally do; we're slower to anger and a bit more aware of unrealised potential. We readily treat children with a degree of kindness that we are oddly and woefully reluctant to show to our peers.
It is a wonderful thing to live in a world where so many people are nice to children. It would be even better if we lived in one where we were a little nicer to the childlike sides of one another." 
What sounds romantic is a blueprint for disaster
"We take this idea of love with us into adulthood. Grown up, we hope for a re-creation of what it felt like to be ministered to and indulged. In a secret corner of our mind, we picture a lover who will anticipate our needs, read our hearts, act selflessly and make everything better. It sounds 'romantic'; yet it is a blueprint for disaster." 
The sulk
"At the heart of sulk lies a confusing mixture of intense anger and an equally intense desire not to communicate what one is angry about. The sulker both desperately needs the other person to understand and yet remains utterly committed to doing nothing to help them do so. The very need to explain forms the kernel of the insult: if the partner requires an explanation, he or she is clearly not worth of one. We should add that it is a privilege to be the recipient of a sulk: it means the other person respects and trusts us enough to think we should understand their unspoken hurt. It is one of the odder gifts of love."

What we call love is only the start of love
 "The start receives such disproportionate attention because it isn't deemed to be just one phase among many; for the Romantic, it contains in a concentrated form everything significant about love as a whole. Which is why, in so many love stories, there is simply nothing else for the narrator to do with a couple after they have triumphed over a range of initial obstacles other than to consign them to an ill-defined contented future–or kill them off. What we typically call love is only the start of love." 
---
Suggested read: Today's Book on #50BooksInAYear: Love Is A Dog From Hell By Charles Bukowski
---
Happiness and familiarity are often misunderstood to be the same thing
"We believe we are seeking happiness in love, but what we are really after is familiarity. We are looking to re-create, within our adult relationships, the very feelings we knew so well in childhood and which were rarely limited to just tenderness and care. The love most of us will have tasted early on came entwined with other, more destructive dynamics: feelings of wanting to help an adult who was out of control, of being deprived of a parent's warmth or scared of his or her anger, or of not feeling secure enough to communicate our trickier wishes.
How logical, then, that we should as adults find ourselves rejecting certain candidates not because they are wrong but because they are a little too right—in the sense of seeming somehow excessively balanced, mature, understanding, and reliable—given that, in our hearts, such rightness feels foreign and unearnt. We chase after more exciting others, not in the belief that life with them will be more harmonious, but out of an unconscious sense that it will be reassuringly familiar in its patterns of frustration."
Being loved is being understood
"Love begins with the experience of being understood in highly supportive and uncommon ways. They grasp the lonely parts of us; we don't have to explain why we find a particular joke so funny; we have the same people; we both want to try that rather specialised sexual scenario. 
It cannot continue. When we run up against the reasonable limits of our lovers' capacities for understanding, we mustn't blame them for dereliction. They were not tragically inept. They couldn't fully fathom who we were – and we could do no better. Which is normal. No one properly gets, or can fully sympathize with, anyone else." 
Maturity is the ability is accept one's own craziness
"It's profoundly counter-intuitive for us to think of ourselves as mad. We seem so normal and mostly so good – to ourselves. It's everyone else who is out of step… And yet maturity begins with the capacity to sense and, in good time and without defensiveness, admit to our own craziness. If we are not regularly deeply embarrassed by who we are, the journey to self-knowledge hasn't begun." 
On how to not betray your lover
"Never having been betrayed sets up poor preconditions for remaining faithful. Evolving into genuinely more loyal people requires us to suffer through some properly innoculative episodes, in which we feel for a time limitlessly panicked, violated and on the edge of collapse. Only then can the injunction not to betray our spouses evolve from a bland bromide into a permanently vivid moral imperative." 
Gaze upon the human race with love
"How kind we would be if we managed to import even a little of this instinct into adult relationships – if here, too, we could look past the grumpiness and viciousness and recognize the fear, confusion and exhaustion which almost invariably underlie them. This is what it would mean to gaze upon the human race with love. Esther's" 
You cannot avoid loneliness and chaos
"Our romantic lives are fated to be sad and incomplete, because we are creatures driven by two essential desires which point powerfully in entirely opposing directions. Yet what is worse is our utopian refusal to countenance the divergence, our naive hope that a cost-free synchronisation might somehow be found: that the libertine might live for adventure while avoiding loneliness and chaos. Or that the married Romantic might unite sex with tenderness, and passion with routine."
Fictional love stories have ruined us
"By the standards of most love stories, our own, real relationships are almost all damaged and unsatisfactory. No wonder separation and divorce so often appear inevitable. But we should be careful not to judge our relationships by the expectations imposed on us by a frequently misleading aesthetic medium. The fault lies with art, not life. Rather than split up, we may need to tell ourselves more accurate stories – stories that don't dwell so much on the beginning, that don't promise us complete understanding, that strive to normalise our troubles and show us a melancholy yet hopeful path through the course of love." 
---
Suggested read: Today's Book on #50BooksInAYear: Collected Love Poems By E E Cummings
---
That is all we have on today's post on The Course Of Love by Alain De Botton. Did you like what you just read? Let us know in the comment section below.
Keep your eyes on this space if you love books and tales they carry in them. If you want to contribute an article, then please feel free to do so.
See you again next time.
Featured image source: Instagaram 
Summary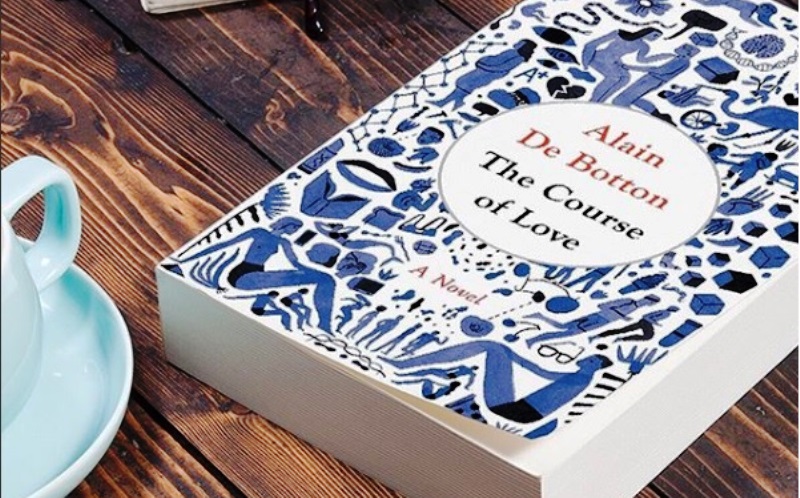 Article Name
#50BooksInAYear The Course Of Love By Alain De Botton
Author
Description
In today's post, we will be sharing with you some of our favorite quotes from, The Course Of Love. We hope you will enjoy reading them.