Oily skin, like all skin types, has its own flaws. Though people with oily skin run a lower risk of developing wrinkles, they have to constantly deal with their makeup bleeding half way through the day. However, to make sure it does not happen with you, here we are with the best powder foundation for oily skin.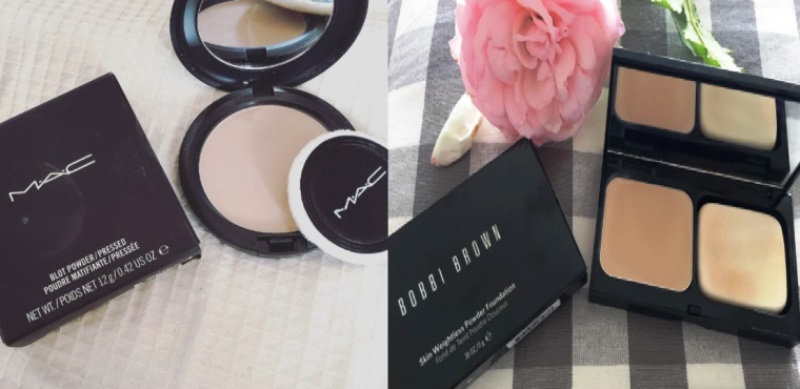 The most effective way to make sure that the extra grease does not ruin your overall makeup, is to develop and follow a skincare routine that will help you moisturize your skin, while controlling the excess production of oils by the sebaceous glands. Maintaining this routine is key to getting a healthier skin that looks radiant and fresh.
---
Suggested read: Everything You Must Know About Choosing The Best Foundation For Oily Skin
---
 When it comes to choosing the right products to cleanse oily skin, completely avoid thick creams. Gels also are a taboo! These would further clog up your pores, and wreak havoc on your oily skin. Liquid cleansers too, should be ducked, especially, if your skin is prone to blackhead formation. Therefore, it is not only the cleansing and the way you do it that's important; what products you use, should be give just as much significance!
It is wrong conception that applying foundation will clog the skin pores. People worry that the formula will wreak havoc on the already abnormal functioning of the oil glands. This depends on the product that you use. Using a powdered formula that is light and blends into the skin effortlessly, will not cause the makeup to cake up and you will look anything but greasy!
According to Daniel Chinchilla, a celebrity makeup artist who works with Ariana Grande says,
"Some of the most common mistakes that people with oily skin make is wearing the wrong foundation. They choose foundations that are for dry skin or formulas that have a glowing finish to them. You should definitely stick to foundations that are matte and possibly oil-free."
A thumb rule when it comes to picking foundations for oily skin, is to go for one that offers a matte finish. This will help absorb the extra oil and moisture off your face. You also need a formula that offers good coverage and is long-wearing so that you don't have to spend most time in the restrooms touching-up on your makeup. Many are not aware of the fact that touch-ups can actually be catastrophic on oily skin type.
Today, let us tell you about the powder foundations which work best for oily skin, keeping the shine under control, while not lending a blanch look.
When looking for a foundation formula for oily skin, the first thing you need to see, according to Sally Duvall, an MUA based in New York, is that the product does not leave a shimmer or iridescent glow. The second step is to go for powder formulae with matte finish because they absorb the excess oil and moisture like a pro.
Also, the powder foundations work as a setting powder too. So you don't need another layer of powder to make sure your makeup does not bleed. To apply the product, use a big, fluffy foundation brush. Sweep it over your face, while concentrating more on the T-zone. Once it blends into your skin, brush to wipe off any excesses.
Always apply your product with a brush applicator. Using sponges or the fingers is not a good idea, because, one, you might apply excess of the product, thus creating a cakey makeup, and two, you can focus on the areas that need attention.
People with oily skin types have makeup woes that could make even the stone-hearted cry! The most annoying thing is that the oil keeps slipping and sliding through the face, wrecking the entire makeup, making it look patchy and horrible, to say the least. Therefore, choosing the right powder foundation can help you set the makeup tight.
Also, you need a formula that has an SPF factor, so that you don't need to use a sunscreen. Applying a sunscreen under the foundation, creates an extra layer which stimulates the production of oil by the sebaceous glands, making things worse. So, go for a product that offers matte finish and also evens out your skin tone. Also, you need to see the kind of coverage that the product offers. Also go for a shade that compliments your skin, and is the closest to your complexion. You don't want to look like a whitewalker, do you?!
---
Suggested read: The Complete Beginner's Guide To Determining One's Skin Tone
---
Best powder foundation for oily skin
Here are our top 5 picks of powder foundation for your oily skin.
1. MAC Blot Pressed Powder
The first one our list is MAC Blot Pressed Powder. It works like magic on oily skin, as it regulates the secretion of oil by the sebaceous glands, while also setting the makeup to give the look an amazing finish.
The other very cool thing about this formula from MAC is that it adds a hint of color and some texture to your face, so that you don't look pale. This product is a long-wearing one, that sets your makeup for the entire day. The finish it offers is sheer and naturally glowing.
2. Bobbi Brown Skin Weightless Powder Foundation
Next on our list is the Bobbi Brown Skin Weightless Powder Foundation which is actually weightless, in case you were wondering! The formula is designed for oily skin, and so is a one stop solution to all the makeup problems related to oily skin.
It works as a foundation and also as a setting powder. The texture it lends to your skin is creamy, smooth and extremely fresh. Also, in case you're worried, while the powder absorbs the excess moisture from your skin by blending in perfectly, it does not leave it looking dull.
This formula from Bobbi Brown helps conceal blemishes, red spots, pores and fine lines. Though a product designed specifically for oily skin, it also works for the normal skin type.
3. Maybelline New York Fit Me Pressed Powder
This product from Maybelline New York is your go to if,
You have oily skin
You have no money, like moi!
The Maybelline New York's new Fit Me range absolutely worth a try! It offers an absolutely fresh, new look; it smoothens your skin, gives it texture, evens out the skin tone and controls the extra secretion of oil, and all this is just 300-odd bucks. What more do you want from your foundation!?
This formula is feather-light, but lasts really long. The coverage it provides is awesome, and the finish is natural. If you are someone who loves the no-makeup makeup, this formula should be in your holy grail of products.
No, no, it does not clog pores. So, chill!
4. Clinique Stay-Matte Sheer Pressed Powder
The next product on our list is the Clinique Stay-Matte Sheer Pressed Powder, which is formulated specifically for people with oily skin. It absorbs the extra shine amazingly, which lending you an ultra-sheer texture. Once you apply this, we can guarantee you won't want to use any other product.
This formula does not require frequent touch ups and can be used to target particular oil spots too. To even out your skin tone, apply the product with a foundation brush.
5. Lakme 9 To 5 Flawless Matte Complexion Compact
This formula lens the operfect nude makeup look, which makes it a favorite among fashion junkies. Also, it is so easy on the pockets, which means, yay!
The product flawlessly blends into the skin, evening out the tone to give you the natural, oil-free look.  The vitamin E in the formula, not just makes you look flawless, but also nourishes the skin to make it naturally radiant.
This is a long-wear product that lasts almost an entire day. The finish it offers is matte-finish, and it also conceals red spots, blemishes, wrinkles, if any.
Also, for girls who travel, this is a convenient foundation to carry around!
6. Bareminerals Matte Foundation Spf 15
This matte formula from Bareminerals is a keeper! It is a powder and yet it feels as smooth as cream on the skin. It stops the release of excess oil and also prevents the skin pores from clogging up.
---
Suggested read: This Guide On Picking The Right Foundation Will Keep You From Making Rookie Mistakes!
---
That is a wrap on today's post on how to pick the best powder foundation for oily skin. Did you find this useful? Let us know in the comment section below.
To receive these posts in your inbox, sign up for our daily newsletter today.
See you again tomorrow.
Summary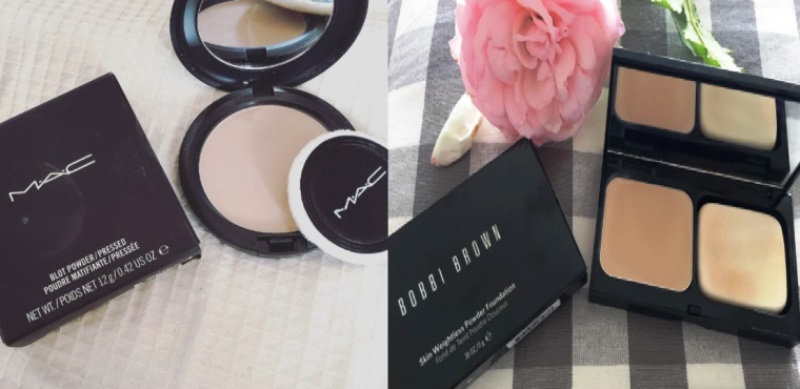 Article Name
Everything You Need To Know About Picking The Best Powder Foundation For Oily Skin
Author
Description
In today's post, we will help you with a makeup ritual for your skin. Then, we will tell you more about the best powder foundation for oily skin.