---
Suggested read: 11 Super Expensive Celebrity Valentine's Day Gifts You Could Never Afford
---
4. Christian Guzman & Heidi Somers
Although they're mainly famous for their highly successful YouTube fitness channels, Christian Guzman and Heidi Somers, are among the youngest, most successful athleisure-wear designers of our time. Christian owns Alphalete, which is a luxury athleisure-wear line, while Heidi has her very own line of gym-wear, called BuffBunny.
When they're not conquering the world and improving their business acumen, they're pranking each other, and boosting each other up, and making us cry happy happy tears.
Christian prefers skinny jeans and relaxed, long t-shirts that show off his AMAZING body. Hey if we had a body like that and worked as hard as he does, then WE WOULD TOO KAY. He really reallyREALLY loves sneakers and has a pretty sick collection.
Heidi has a pretty badass body as well, and usually has a very laid-back, athleisure-themed personal style. But she'll pull off that cocktail dress and the cut-outs and the skimpy straps when it's time to partayyy.
Years together –a little over 1
Children – 3 pupsters
Fashion score – 6/10
5. Chiara Ferragni & Fedez
Chiara Ferragni is a fashion blogger turned CEO (The Blonde Salad), who has one of the most insanely high-fashion Instagram feed. Her musician fiancé, Fedez fits right in there with his equally expensive taste in clothes and an unbelievably dorky level of cuteness to rival Chiara's.
They are the quirky, stylish, funny Italian couple you never knew you needed in your life, but now you just can't get over them. Sigh.
Chiara's style is feminine but high-fashion as she experiments with styles, prints, colors, but always looks on-point. Her style can best be described as "off-duty model".
Fedez has a far more laid-back sense of style. He wears a lot of hoodies, chains, baggy shorts and oversized clothing. There is a special place in his heart (read: borderline obsession) for Louis Vuitton's Supreme Collection.
Years together – almost 2
Children – they're expecting a little baby ravioli
Fashion score – 8/10
6. Kimye
Unless you've been living under a rock, you've probably heard of Kim Kardashian and Kanye West, a.k.a. Kimye. Needless to say, their relationship has been filled with drama, scandal, and lotsa nude selfies. But one thing that trumped all of that is how madly in love they are with each other. Kanye is the most romantic husband, constantly showering Kim with gifts and being her #1 fan. Kim is just as amazing; she posts the cutest pictures of him with their children, and is ALWAYS promoting his fashion line – Yeezy. This is the kind of symbiotic relationship we came here for yaaaaaas.
Kanye stays true to his brand and sports a very chill, hipster aesthetic, with lots of frayed denim, tie-dye, bleach jobs and oversized t-shirts.
Kim's style is 100% "OG Bombshell". No matter what she wears, whether it's a couture gown, or a washed-out tracksuit, she always makes sure it fits her perfectly, in all the right places.
Years together – almost 6
Children – 3
Times we've tried to make them adopt us – 2445
Fashion score – 7/10
Summary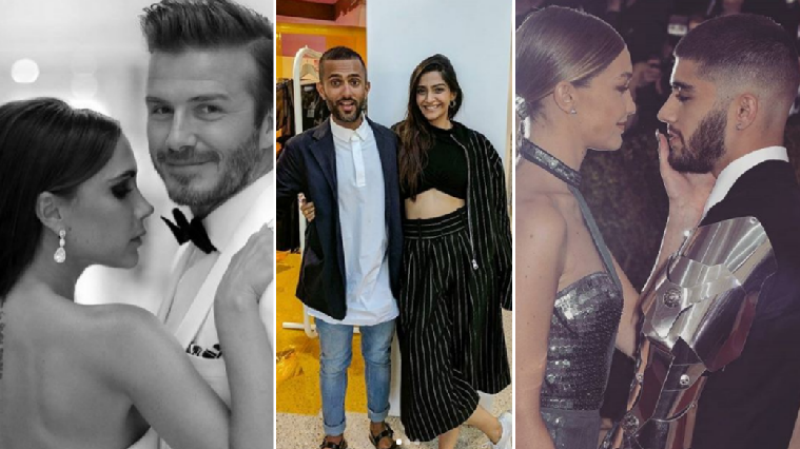 Article Name
8 Fashion Couples Who Have The Cutest Love Stories Ever
Author
Description
Want to ogle at some good-looking fashion couples this Valentine's Day? Here are 8 couples we can't stop obsessing over!