The unreal and awful beauty standards of the international media industry have left young people, especially women very confused about themselves. It promotes sickeningly thin models, and anorexia and other problems, which are directly associated with malnutrition and poor health.
It is important to show men and women that having a normal body, with curves and fat and stretch marks and no thigh gap is normal, and nothing to be ashamed of. In fact, people should be aspiring to look healthy, rather than anorexic, because the appeal is diminishing day by day. France has made it illegal for models to be under a certain weight, which is a step forward in the right direction, and everyone is waiting with bated breath for the world to follow their example.
---
Suggested read: A Look At The Most Popular Plus Size Modeling Agencies And Their Ethos
---
Even though the percentage of plus sized celebrities, or rather, normal sized celebrities in the media industry is very less compared to the thin, skinny body type, there are nonetheless more thick celebs who are embracing their bodies, and proving to be an inspiration to several generations.
Here are some of our favorite plus sized celebrities, who have effectively flipped the bird to the haters, and taught us that it is okay to embrace ourselves, no matter what size we are!
 1. Christina Hendricks
Christina Hendricks is one of the prettiest red-heads in the business, and with her host of talents, she has emerged as one of the most body-positive celebrities in Hollywood. Even though people have constantly criticized her weight and her figure and her clothing choices, Hendricks has remained consistent with her incredible love for herself, and shown other that no matter what people say, when you look in the mirror, you should only see beautiful.
2. Adele
Adele is one of the most talented and one of the most popular celebrities in the music industry today. She is also the only woman who has had three of her singles amongst the Top 10 songs in the Billboard Hot 100 charts. She is also super-funny, plays a host of instruments and is basically flawless. Apart from all her other qualities, she also doesn't feel the need to apologize for the way she looks, and has quoted that she doesn't think skinny people look attractive. YAAS queen.
3. Octavia Spencer
Octavia Spencer is one of the most influential and talented people out there, and oh, have I mentioned that she is also an Academy Award winner? She has acted in several critically acclaimed films like The Help and Hidden Figures and is an advocate for Black rights and gay rights and she also happens to be one of the most gorgeous actresses in the industry. She too, doesn't feel the need to conform to the almost crushing beauty standards of the industry, and her immense success is just proof that the whole idea of the perfect size is a farce.
4. Queen Latifah
Not only is she called Queen, but she is an actual queen in real life because get this, she is an actress, singer, rapper, and is considered one of the most influential feminist in genres like hip-hop, soul and R&B. She is also an Academy Award nominee, and has an Emmy and a Grammy under her belt. For all the people who have criticized her for her size, weight, shape, etc., she is also an excellent kick boxer.
5. Melissa McCarthy
There was a time when designers refused to dress her for the red carpet, because they felt that she would make their designs look back. Today, Melissa McCarthy is one of the funniest, most talented and most sought after actresses and comedians in Hollywood, who has a host of great films to her credit, and also a fashion labels that doesn't cater to the conventional labels that designers choose to adhere to!
---
Suggested read: The Most Comprehensive List Of Famous Plus Size Male Models And All You Need To Know About Them
---
6. Tess Holliday
Tess Holliday is one of the world's most famous plus sized celebrities, because of her incredible confidence, and also because she is a staunch advocate of body positivity, which got her where she is today. In fact, she was named one of the world top plus sized models by Vogue Italia, and has over a million followers on Instagram, not to mention, she is so super pretty. She has been modelling for various high profile brands and companies since 2011.
7. America Ferrera
America Ferrera has had her fair share of photoshopping and criticism done to her body, because according to conventional standards, she is plus sized and overweight. However, when asked about her position as one of the most forward advocates of curvy women and body positivity, Ferrera said that she was "normal" sized, and that there was nothing wrong with being a size 6 or a size 8. We say- PREACH!
8. Amber Riley
There are several reasons for which Amber Riley is famous. Firstly, she is an incredible dancer and is the first contestant of African-American descent to win the popular dance show called Dancing with the Stars. She is also an excellent singer, and she appeared on the hit TV show Glee. Amber also owns her own line of clothing for fashionable plus-sized women who find it difficult to get clothes their size in normal stores, and the brand is called Ri8leyland Fashion. FYI, she is just 31 years old and has already achieved this much, and is, at the same time, a badass advocate of body positivity.
9. Gabourey Sidibe
Gabourey Sidibe has emerged as a force to be reckoned with, not only in terms of her acting skills, which she portrayed in the Oscar-winning film Precious, but also has a self-confident and beautiful woman. People seemed to have taken a no-holds-barred policy when criticizing her size and her ethnicity, but she too hasn't minced her words when clapping back to the haters. When people went batshit crazy about her Golden Globe appearance last year, she tweeted a response saying, "To people making mean comments about my GG pics, I most def cried about it on that private jet on my way to my dream job last night #JK". All we can say is, SLAY QUEEN!
10. Oprah Winfrey
Oprah Winfrey is possibly the most recognized face of international television ever. What started out as a tragic, poverty-stricken and lonely life for her, turned around and she became one of the richest, most famous people on the planet after hosting The Oprah Winfrey Show. Not only is she an example for black empowerment, but she is also living proof that your weight and your shape and your size has nothing to do with your success. She is now an actress, producer, media proprietor and philanthropist.
11. Kelly Clarkson
Here is another singer who didn't let haters and body-shamers affect her fabulous and highly successful singing career. Kelly Clarkson is probably the most famous winner of the popular American reality TV show- American Idol, and since then, the amount of weight she has gained and lost has garnered more attention than was required. She has continued to pursue a tremendously successful run at singing, and as for the hater? Well, in the words of Kelly herself- "What doesn't kill you makes you stronger."
12. Mindy Kaling
Talk about defying the odds! Mindy Kaling is a plus-sized celebrity, who also happens to be an Indian American and a huge success amongst the sitcom and Hollywood circuit in America. You don't get to hear a lot of stories like that, do you? Despite people discouraging her and telling her that her career was a dead-end, she persevered, and after starring in The Office, she got her own show called The Mindy Project which became an international sensation.
---
Suggested read: Why Accepting Plus Size Models In Mainstream Media Is A Step In The Right Direction
---
13. Ashley Graham
Very few people love themselves the way Ashley Graham loves herself, and that is the most awe-inspiring, positive thing to witness in the world for those struggling with body image issues. She consciously ensures that she doesn't lose weight, and has become the first plus-sized model to be featured on Sports Illustrated Swimsuit edition. She has own line of plus-sized clothing and plus-sized swimsuit and is an all-round badass who also happens to be one of the most successful models in the world.
Plus sized celebs are a way to help people realize that that celebrities too, are people, and that people shouldn't be forced to look a certain way. These are the kind of people who are using their fame for the right ends, to promote positivity and to help those struggling with themselves to overcome insecurities. If they can do it, and flaunt it the world with so much confidence and beauty, so can we! 
Summary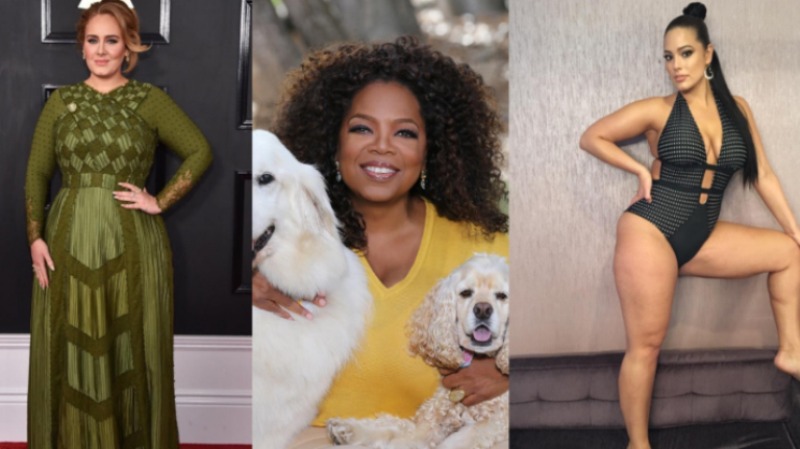 Article Name
13 Plus Sized Celebrities Who Are Showing Everyone How To Love Themselves
Author
Description
Check out some inspiring plus sized celebrities who are using their fame to give the right message their fans - love yourself, just the way you are!