Just when we think we've seen all the elaborate, epic, and over the top marriage proposals, in sneaks another one, which raises the invisible bar on the world's best marriage proposals. One such surprise and over the top proposal was pulled off by an Aussie man for his partner and girlfriend, at a cinema.
Meet Liam Cooper, 23, a musician from Wollongong, south of Sydney, who is responsible for pulling off the painstakingly planned and amazingly executed marriage proposal we've seen in a long time.
Image source: Youtube
With the help of his friends, the movie theater staff, and the American pop band Magic, Liam managed to give his girlfriend Amy Smith, 23, a marriage proposal to talk about for years to come!
The main protagonist in this proposal is a video created by Liam for Magic's hit song 'Rude,' in which he, his friends, and his father-in-law-to-be star and act out their own version of the song.
---
Suggested read: Romantic UK man surprises girlfriend with crossword puzzle proposal
---
Then, with the help of the staff at the movie theater, he arranged to have the filmclip screened after the trailers were shown. It was a regular double date with Amy's sister and her brother-in-law, with Amy having no idea about the surprise that Liam had planned. Meanwhile, the cinema was secretly filled up with the couple's friends along with random moviegoers.
As soon as the trailers were screened, Liam exited the auditorium saying he needed to use the bathroom. During his absence, the filmclip he had made was screened, much to the delight and amazement of his girlfriend, Amy.
Image source: Youtube
In the clip, Liam can be seen peddling his bike as he races to his girlfriend's family home in an attempt to ask Amy's father for her hand in marriage. But, his father-in-law-to-be refuses to give his consent, and slams the door on him!
A clearly dejected Liam is seen making a check list of things he could do to impress Amy's reluctant father – by working out at the gym, getting a clothing makeover, and even buying a Porsche.
As it concluded, a clearly nervous Liam reentered the cinema donning a suit and tie. He then went down on a knee and popped the question to Amy, saying,
"Amy, I love you and I want nothing more than for you to be my wife and for us to spend the rest of our lives together. Amy Jane Smith, will you marry me?"
A clearly shocked Amy is seen wiping her tears away, as she says: 'YES!'
Image source: Youtube
Not just that, but at the end of the YouTube video, the band Magic also made a cameo appearance, where they left a video message to congratulate the now-engaged couple, and also to laud Liam's efforts in putting together the epic marriage proposal.
Although Liam was rejected thrice in the music clip by Amy's father, Liam laughingly said that he approached the Smiths for their blessing late last year.
"I actually asked her parents last November if I could marry their daughter and they were happy to say 'absolutely,'" he said. "It was great to have Amy's dad on board and he had a lot of fun filming it. We had organized friends to hang with Amy for five hours that day so we could film her dad at their home."
The couple plan to marry in November, on the South Coast of New South Wales.
Check out the video of the proposal here:
The proposal, which took place back in February, was uploaded by Liam on YouTube, three days ago, and has since been viewed more than 200,000 times.
Congratulations, you guys!
Not only did his proposal make his partner weak in the knees, it also managed to set the bar pretty high for all the future would-be husbands who are even thinking of proposing marriage to their significant others!
Did you think this was awesome or what! Share your thoughts in the comments below!
Featured image source: Youtube
Summary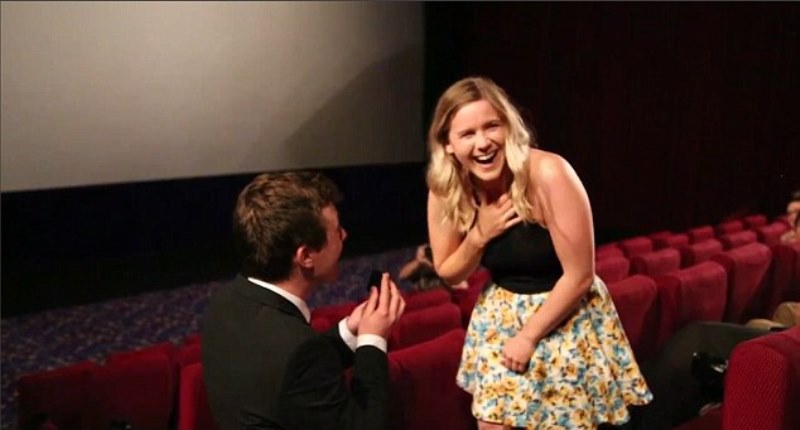 Article Name
Aussie Man's Best Marriage Proposal Brings Cinema To Tears
Author
Description
Aussie man, Liam Cooper, has set the bar pretty high when it comes to best marriage proposals. Check out his painstakingly planned marriage proposal here.