We've seen all kinds of proposals over the last several months, from a virtual reality marriage proposal to an 'awwww-worthy' Disney World proposal to a global scavenger hunt proposal to a Japanese man's GPS proposal. Seems like an invisible competition is ongoing on the Internet for the most innovative proposal of all time. And the contenders just keep raising the bar every few days/months.
Take this guy, Kurt Gies, of Philadelphia, for example.
Image source: Youtube
What did Gies do, you ask? Well, the couple's dog shoots marriage proposal with a GoPro camera! Gies, speaking with NBC10/WCAU, said that he and now-fiancée Amanda Wiseman, had planned a trip to the beach, the place where they met in Ocean City, New Jersey. And just like any man worth his salt, Gies wanted to come up with a creative way of proposing to Wiseman and surprise her with it. Plus, he was sure of somehow including the couple's dog, Roo, whom they'd rescued from a Philadelphia shelter two years ago, when he popped the question. So, instead of asking a friend or a coworker to film the marriage proposal, Gies mounted the GoPro on Roo's harness, all the while playing it cool as if nothing special was about to happen.
---
Suggested read: This virtual reality proposal will make you fall in love for sure!
---
The dog, Roo, sits totally still during the entire proposal, where you can even hear Wiseman say, 'Of course I will!' But then, whether the dog gets distracted by something or just gets plain bored with the human drama unfolding in front of it, it looks away just after Gies puts the ring on Wiseman's finger.
Image source: Youtube
Expectedly, the couple wasn't sure if the dog had caught any of the proposal or not. But when they got home and looked through the footage, Gies said that Roo had turned its head after the proposal. During their happiness, the couple doesn't forget the dog, and the moment they call over the dog is pretty darn cute. Roo almost seems as excited as they are about the good news.
Check out the video here:
Amanda Wiseman is a volunteer at the animal rescue shelter, from where the couple adopted Roo. Gies also told NBC10 that the couple is still looking at various venues for their wedding, which is planned for sometime next year. Although Roo won't be filming that event, Gies and Wiseman will think of something for her to do to celebrate their union in matrimony.
Check out the ring that Gies put on Wiseman's finger:
Future Mrs @kurtwearshats !!! pic.twitter.com/x48iHJMWik

— amandarulez (@amandarulez) April 3, 2015
Congratulations, you both!
Featured image source: Youtube
Summary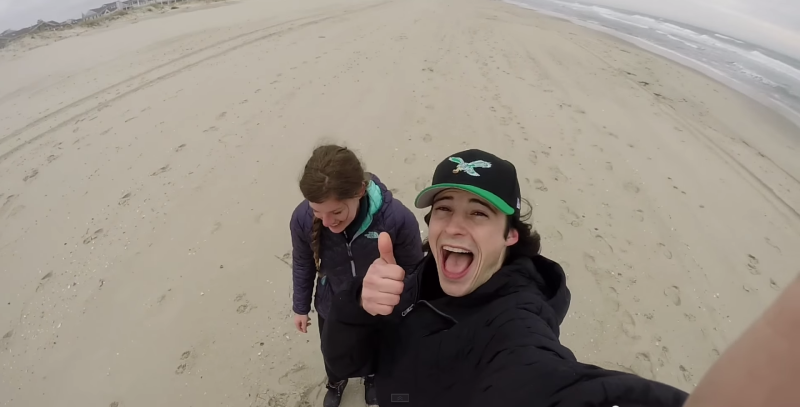 Article Name
Dog Shoots Marriage Proposal For Her Owners
Author
Description
Dog shoots marriage proposal for her owners, Kurt Gies and Amanda Wiseman, and it's the best thing you'll see today! Check out the video here.