It's a time when marriage proposals are no longer private and intimate affairs. Instead, they're put up on the Internet for all the world to see and become 'viral,' so that they can have their fifteen minutes of fame. Whatever be the reason for putting these videos up online, they sure do make our day with their thoughtfulness and the effort put behind the elaborate proposal.
Take this time capsule proposal for example. A group of friends is putting various things in a time capsule ready to bury it in the ground, which they intend to open it 20 years hence. But as they start digging, the man, Jason, hits something with his spade.
Image source: Youtube
The excited group all huddles in to see what it might be. Jason's girlfriend, Lydia, finally pulls the box out of the earth. Jason encourages her to open the unlocked capsule, only to find a ring a box inside.
---
Suggested read: A ghost photobombs couple's wedding photograph!
---
Initially, Lydia seems confused with it all, saying, "This is not for me."
Then, it all becomes clear to her as her boyfriend, Jason, goes down on one knee and pulls out the actual ring from his pocket. Obviously overwhelmed by the whole thing, Lydia bursts into tears, but after saying yes of course. Thank God, Jason's efforts didn't go to waste!
Image source: Youtube
The rest of the group moves away from the screen, giving the couple a private moment alone, where a happy Lydia is hugging Jason and still crying.
Awwww!
Watch the video here:
The video of the time capsule proposal, as it is being dubbed, was uploaded online and raked in thousands of views in no time at all.
This proposal of Kelowna, Canada, may be the first ever time capsule proposal in the world.
A time capsule is 'a historic cache of goods or information, usually intended as a method of communication with future people and to help future archaeologists, anthropologists or historians.' But people bury time capsules all the time. They put in letters, pictures, locks of hair, dolls, coins, etc., in a time capsule and hope to unearth it at a specified future date, as a means of looking back over the past. It's an awesome thing to do.
Congratulations to the happy couple, Jason and Lydia!
Featured image source: Youtube
Summary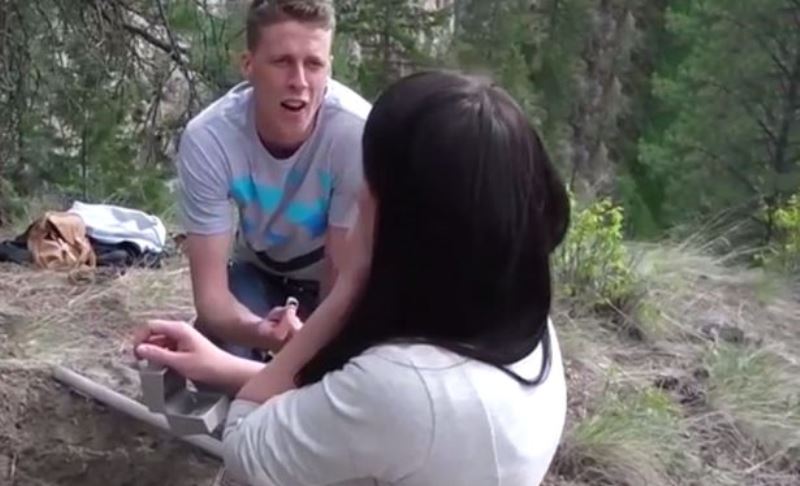 Article Name
This Time Capsule Proposal Might Be The Most Romantic Ever!
Author
Description
This time capsule proposal may be dubbed the most romantic ever! Check out the video of the first ever time capsule proposal in the world here!