Do you fancy catching up on the top videos on the internet? Do you often find yourself surfing through some of the best videos and love sharing it with your friends? Here I bring to you 12 of the best videos tailored on the best of 100 series.
---
Suggested read: 100 years of Bollywood captured in sand…
---
If you have a knack for seeing how things molded over a century, have a go and hey when you're here, don't forget to fill your bowl of popcorn. 
1. 100 years of wedding gowns
Ever seen your grandma's wedding tape and expressed surprise at her wedding gown?  Watch this video compilation that takes you through the way wedding gowns have transformed over the years.
2. 100 years of beauty in 1 minute
Who knew that beauty and hair was given due importance even 100 years back? This video will take you to a never seen before tour of transformation of makeup and hairstyles and yes you won't be able to recognize the same girl in different looks.
3. 100 years of fashion
The world has known everything about fashion since ages and you can see the maxis, midis and minis all looking perfect as and when they came into being.
4. 100 years of Halloween costumes
It has always been spooky and the essence was the same even 100 years back. Black used to play its charm even then and you cannot sport a Halloween look without the tint of black today.
5. 100 years of fitness
With progressing age, the need for fitness increased and it can be very well seen in this clip. 100 years back people practiced simple fitness steps and with time it went on getting more rigorous and energetic- and oh-the-woe complex! No wonder I am more glued to the 100-year series than 100 crunches!
6. 100 years of men's fashion
With suits, bow ties, baggy caps, pointed shoes and more, men's fashion has always been trendy and be it today or 100 years back, the male community has never failed to woo the females with their style statement. Take a look and you will nod…
7. 100 years of female dance
C'mon- salsa is fun and bachata is so passionate-  but there might just be more to dance than you know. Take a look..
8. 100 years of lingerie
Can you imagine your granny in sexy lingerie? Or someone in her time doing things with the balconette you didn't know possible? Well, tadaa..this one shall, perhaps, be your favorite one on the list!
9. 100 years of men's swimwear
This one is a raunchy pick showcasing the change in men's swimwear fashion from sleeved tops to sleeveless and then going bare. They have sported half pants, bermudas, boxers as well as under wears. Have a great time, ladies. 😉
10. 100 years of beauty fashion show
L'Oreal had its fashion shows back then and they are a pro at it even now. It is just the change in fashion trend that you get to see; the essence of the show being the same all these years- you are worth it!
11. 100 years of black beauty
The video brings to you pretty dusky faces in the last 100 years. It is a feel good clip and you will get to know that the history had a thing for black beauty and there were people who carried it well. Plus, it is pretty pertinent now- don't you think?
---
Suggested read: 100 years of Indian beauty in two minutes!
---
12. 100 years of music
I still have songs from the 1980s and 1990s in my iPod playlist, and of course they are good to listen to. If you want to go back further, this video will help you in showing the transition music underwent in the last 100 years.
Which one of these 100 year series did you find particularly captivating? Tell us in the comments below.
Featured image source: Youtube
Summary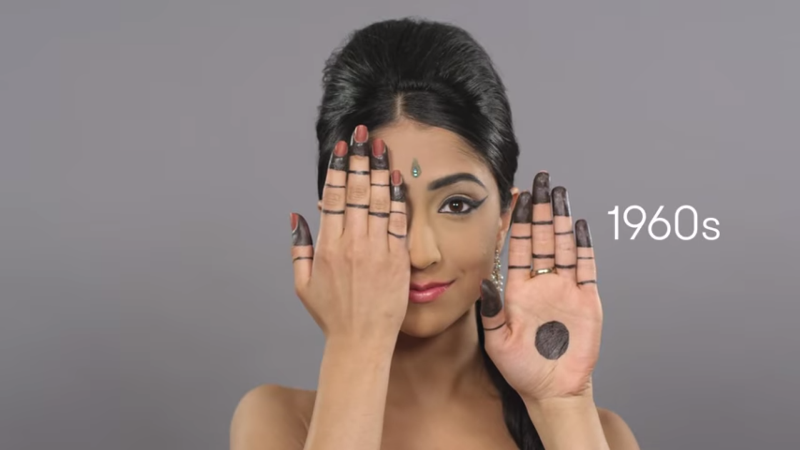 Article Name
100 Years Of So Much: Best of the 100 Year Series
Author
Description
Coz 100 Years is a long, long time for CHANGE. Watch it all captured in a minute or two!