From surprise wedding dance routines by the newlyweds to the bridesmaids surprising the couple with a hilarious song and dance number to the father of the bride surprising everyone with a game of catch with his little girl, we've seen it all. However, what you haven't seen is a surprise dance routine put up by the groomsmen, for the bride.
That's right. The groom, along with his groomsmen, put up one heck of a show for his new bride in Richmond, Virginia. What's more, the dance routine was all the more on point because the groom is a professional dancer, and so is his ballerina bride, who is with the Richmond Ballet Company.
Image source: Youtube
Kirk Henning and Valerie Tellmann, who have been together for the last 11 years, got married in July. They are both professional dancers, whose wedding reception was held at CenterStage, Richmond, Virginia, the very stage where they had performed together when they were with the Richmond Ballet company. With both the bride and the groom being professional dancers, the stakes for Henning's wedding surprise had to be higher. And Kirk didn't disappoint. He and his groomsmen performed an epic, eight-minute choreographed routine, much to the delight of the ballerina bride.
---
Suggested read: 15 amazing wedding diet tips for a fitter you
---
The performance was captured by their wedding photographer Ginger Topham, who put it up on YouTube. Since then, the video has gone viral, garnering more than 900,000 views. In the video, you can see the group dancing its way through some of the bride's favorite songs, Britney Spears' 'You Drive Me Crazy,' Mark Ronson and Bruno Mars' 'Uptown Funk,' Enrique Iglesias' 'Bailando,' Classified's 'Higher,' Kenny Loggins' 'Danger Zone,' Brad Paisley's 'The World,' and finally Walk The Moon's 'Shut Up And Dance.'
Image source: Youtube
Throughout the video, you can see the ballerina bride barely keeping in her enthusiasm, and a few times, she even jumps up and down on her seat like a little girl! What's more, the performance was peppered with props like confetti, cowboy hats, gymnastic moves, a Top Gun tribute, and of course, some killer moves.
Speaking to Richmond Times-Dispatch about the surprise dance routine that her husband performed for her, Valerie said,
"I told him early on in the wedding planning process, 'Well, I hope you're working on your groomsmen dance for me.' But he was so busy with touring and school, he said, 'Valerie, it's just not going to happen.'"
Well, the surprise did happen, and how incredibly did he pull it off!
Image source: Youtube
Talking to InsideEdition, Kirk said,
"When Valerie and I were engaged, one of the first things she said was, 'You could do a groomsmen dance for me!' I did not know that groomsmen dances were a thing, but the more I thought about it, the more I realized how much fun it could be."
On the surprise her new husband managed to pull off, Valerie said,
"I was floored! As you can see in the video, I was giddy, jumping up and down like a little girl. Every song kept getting better and better and there were surprises around every corner."
Check out the video here:
Meanwhile, unbeknownst to Valerie, Kirk had been planning his surprise routine for four months, going so far as to send out instructional videos to his groomsmen so that they could learn the dance moves. Apparently, his groomsmen lived all over the country; hence the tutorial videos.
Well, we can only say this much – that Kirk's advanced planning paid off, with his bride all smiles! We wish the happy couple a very happy married life and many more such wonderful surprises in their lives!
Featured image source: Youtube
Summary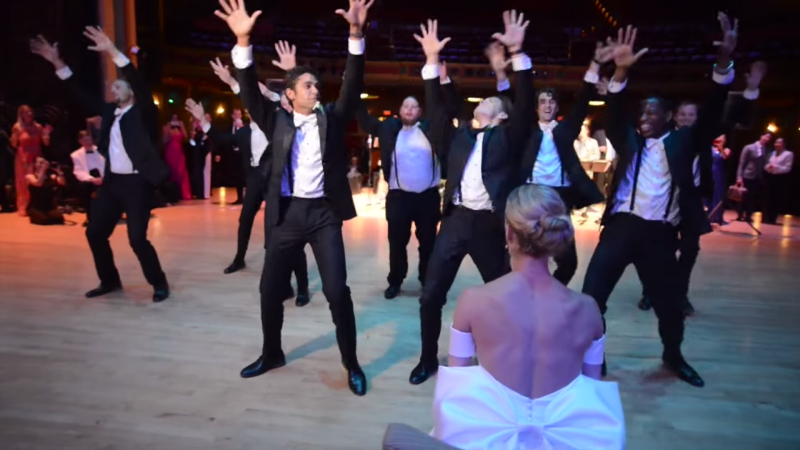 Article Name
Groom Performs Wedding Dance Routine For Ballerina Bride
Author
Description
Dance pro groom Kirk Henning, surprises his ballerina bride Valerie Tellmann with this eight-minute wedding dance routine. And it's amazing! Take a look.