What comes to your mind when someone cries out, "Jeans"? I am betting even if you are the zaniest member of the crew, you imagine a skinny faded and torn pair of blue denim pants. Am I right or am I right? 😉
Folks who grew up in the early 2000s, like most of us, will recognize the mid-rise skinny jeans as the standard pair: Unoffending, unprovocative, and completely neutral (or can we call it bland?!)
For many, that pair is good enough. It works with whatever you team it up with, and like I already said, it is safe! Do you think alike? If so, the following trends are going to offend you! If not (which I am guessing is highly likely since you follow our posts ;)), denim trends 2016 is a dream come true!
---
Suggested read: 15 stunning tips and tricks to wear boyfriend jeans with panache
---
Contrarians, like ourselves, want their denims to do quite a lot more than just covering their legs. We want the pair to bring something worth to the table, and add drama to an outfit. We want our pair to be a conversation starter, and when I say that I don't mean an automated, mass-produced compliment that goes like, "Your pair looks good on you." Good? We want great! Right, guys?
We want our pair to be both bold and aggressive. We want them to evoke nostalgic movie moments, or a kind of filmy mood! Come on, we need to read the writing on the wall: The skinnies, however cool, and however long they have served us in the past, do not quite make the cut anymore, when it comes to building our personality!
Denim trends 2016 ain't for everybody, and that is the whole point! If the 70s patched gauchos or croppy bells have become ever-present, they are about to lose the special sauce that makes them an underdog favorite!
Here are the denims that you so absolutely need right now:
1. Franken jeans
A kind of patchwork jeans, you can say, but this is a new trend since it is more about denim being stitched together to form one pair, rather than scrap material being stitched on to cover a random hole. These jeans are a smoother, whether they are Tetris-style or front-backs like the ones Vetements broke new grounds with. This is a more experimental upgrade to boho chic 70s style that we filled our racks with last fall.
2. Accessorized jeans
Denims that come to the party with their own accessories are what we are hearting this season. Pierced jeans and flares that are covered in patches or embellishments are our answer this year to last season's jewel-crusted jeans. Pair these with cute tops and party shoes, but avoid heavy jewelry since your pair already has that on point!
3. The denim coverall
So you think the coveralls aren't as sexy as a jumpsuit or as cute as a romper? But don't you see how cool it is?!! All it requires is a wearer who is worthy enough to pull them off! For those Saturday Night Fever feels, slip into a dark denim, and you are sorted!
4. Mermaid jeans
These jeans with the bonkers-gorgeous rippling hemline need to be in your closet! You are sure to come across a number of copycats on the racks, but if can splurge some, get the original! Got some really dramatic pair of wedges you haven't quite dared to wear lately? Pair them with the mermaid jeans!
---
Suggested read: White jeans style guide: What to wear with white jeans
---
5. The perfect fit
It does not matter what size you are, when you find your perfect fit, it will do the same three things for you that it will for anyone else: It will lay flat on your mid-section though it has a bellybutton-grazing rise; it will flaunt your legs with its slightly tapered slim-fit but not skinny leg-section; and it won't stretch despite its unforgiving weave! Levi's is reissuing a couple of its vintage styles, but with some digging, you can find your perfect fit in thrift shops as well!
6. Flared jeans
Though we blasted the 70s trend a minute ago, we are still keeping them on this catalogue as they are trendy AF. Although there are whispers that bell-bots are going to make a re-return (yea!), flared jeans are certainly more popular. Why? They are comfy. Check. They are not a restricting as skinny pairs. Check. They give your top a boho vibe. Check Mate!
Go for a shade that is dark so that they look more up-to-the-minute!
7. Patchwork denim
These babies are back, if we are to believe the Fall 2016 Fashion Week runways. You can go for something that is subtle or for something more elaborate, it is your call, but you are sure to have fun with these playful pairs!
You can ease yourself into the patchwork denims by clubbing it with a solid-coloured top and heels with a rounded toe-box.
8. Cropped jeans
This one is a random trend, of course. We are seeing it everywhere, from stores and fashion mags to Instagram feeds of fashion bloggers! These ankle length, not capri-length, for God's sake, and also not boyfriend baggy, but cropped from the middle of the hem that hits the ankle, needs to be donned ASAP! These bros are going to break bad and get you a lot of attention!
9. Denim mini skirts
These skirts are not exiting the fashion scene anytime soon. Just last summer the 60s staple made a comeback into closets of the fashionistas around the world. Button-up denim skirts are back too, and so are frayed skirts. Now do we say that's awesome or is it terrifying? I think it is just a sign that the emo culture is having a moment of its own!
10. Two-tone denim
The two tone denim is a bolder equal of the patchwork denim, but nonetheless, a fashion trend you must get your hands on, this fall. Spotted frequently on the fashion runways, these pairs are on every cool-girl website you buy from. The pair has two shades, as you can see, the upper part being lighter than the lower part. There are also pairs which are a combination of two shades, one in the front and the other at the back. If you are someone who cherry-picks only classics, this may not be your choice, but don't you wanna have some fun, missy?!
11. Embellished denim jackets
The embroidered denim extends way beyond just jeans. Fall 2016 fashion runways saw a series of embroidered denim jackets, and My! My! They were vibrant, playful and decorative AF! Denim jackets are your best bet when you want to indulge in some layering when winter comes! So stocking up on a couple of them wouldn't be that bad an idea!
12. Frayed hem jeans
As literal as that can get: Jeans that have a frayed hem! Go for a pair which has subtler fraying happening at the hems, like what you see in this picture. But if you want to make a splash, go ahead and pick that outrageously gorgeous pair! It is your call!
13. Distressed denim
Destroyed jeans, as we called them then, were huge in the year 2000. I am sure if you were in high school during that time, your goal too was to save enough dough to buy a pair of distressed jeans! This trend never really escaped from our lives, did it? Anyway, this year it has become as important as it was in the early 2000s. You cannot get past your street without seeing people in a pair that is either fraying or has holes in it!
---
Suggested read: 12 stunning ways to wear distressed jeans that will up your style quotient
---
14. Denim dresses
Denim dresses are on sale everywhere: online and offline! They have become the basic piece for everyone, courtesy their versatility. Pair them with embellished flats or ankle-length boots. With the right clutch and a choker, you are all set to paint the town whatever color you want to!
15. Embroidered denim
When it comes to denim trends 2016, the more the merrier! Whether you go for an embroidered pair of jeans or embellished denim jackets, you are abso-fricking-lutely going to make ripples!
If you are not scared of going a little overboard, try pairing your embroidered denim jacket with a conspicuous logo jeans! Avoid the ones with back pockets, though! Try chunky jewelry and flats, and you are good to go, girl!
Though denims are a year-round trend, fall is when you get to showcase the best in you through them! Since autumn is just round the corner, it is high time you start hoarding these beauties! Even if you aren't very crazy about fashion, these trends are must-haves! Try some (all!) of these denim options, and style it with your favorite accessories. You can even share some of your pro-tips with us! Sound off in the comment section below. This is a two-way street!
For more on fashion, styling tips and makeup tutorials, sign up for our newsletter today! See you until next time.
Summary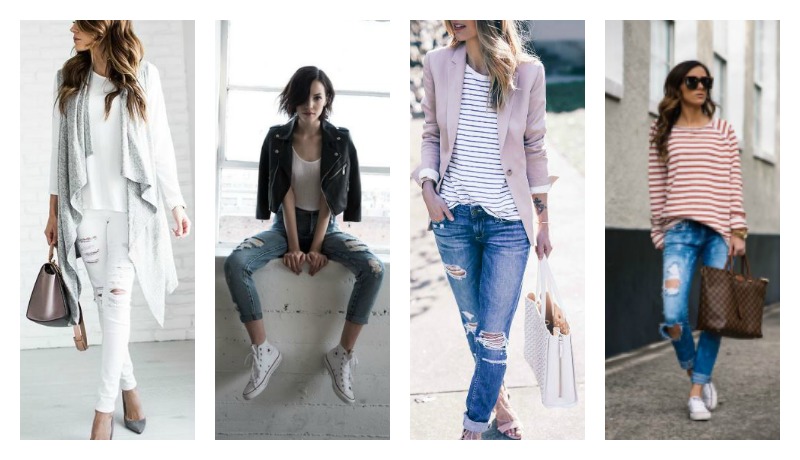 Article Name
Denim Trends 2016: You Cannot Miss Out On These!
Author
Description
It is high time you step away from that skinny pair! Here's a guide to the denim trends 2016 because FOMO, in this case, is real!