The father daughter wedding dance holds a special place in every bride's life. Most girls dream of sharing this special dance with their dads on their wedding day. But, a creative father from Ohio has bucked tradition and surprised his daughter with a special game of catch!
Image source: Youtube
Jim Mickunas' daughter Kandice came together on the dance floor to sway gently to Louis Armstrong's classic hit, What A Wonderful World, for the father daughter wedding dance. But after a few moments, he pulls away from her, and someone passes a pair of baseball gloves to the father-daughter duo. That's when the daughter catches on to what her dad's doing. With John Fogerty's Centerfield playing in the background, Jim and Kandice play a game of catch on the dance floor.
Image source: Youtube
---
Suggested read: Father of the bride gives the best present to his little girl
---
The proud dad explained the rationale behind his surprise on his YouTube channel, writing:
"My daughter has always found her own path. She played Flag football at 6. She hated wearing dresses. She wore a tuxedo to her first communion. She lettered in Soccer and Track. She then became an Engineer for the largest automaker in the world when she was 22. I could not imagine having a traditional father daughter dance with her. That is not what we were or are …  So I came up with this. She had no idea!"
Image source: Youtube
As if the moment wasn't touching enough, Jim then beckoned his new son-in-law and passed his glove off to him, to take his place playing catch with his daughter. Walking off the dance floor, he watched the newlyweds passing the baseball back and forth. After the final toss of the ball, Kandice went over and hugged her dad for the surprise. It's truly a heartwarming video.
Check out the video here:
Since the father daughter wedding dance video was uploaded four days ago, the video has garnered more than a million views on YouTube.
Did you do something special with your dad on your wedding day? Tell us in the comments below!
Featured image source: Youtube
Summary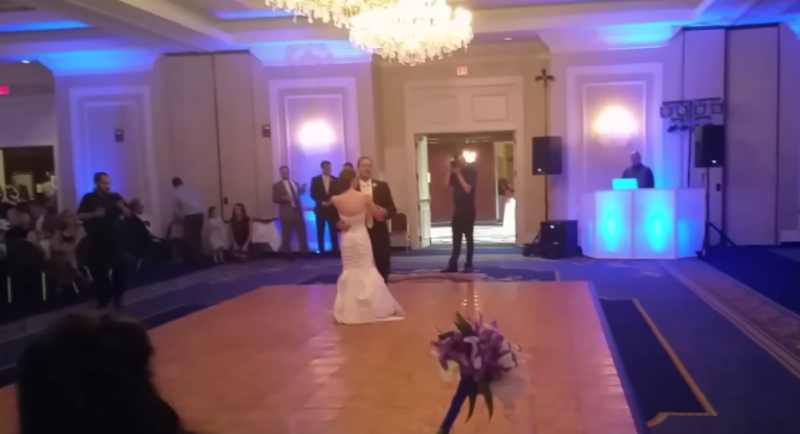 Article Name
Father Daughter Wedding Dance Takes An Unusual Twist
Author
Description
This father daughter wedding dance will warm your heart for sure. Check out this father's surprise wedding present to his daughter.