Proposing marriage to your significant other is a private moment, shared by the two of you in a place that holds special meaning to you both, or a semi-private place, maybe like either of your parents' place. But then, the trend of public marriage proposals started, from men popping the question at major basketball games, baseball games, at restaurants, at malls with flash mobs, in front of hundreds, if not thousands, of strangers.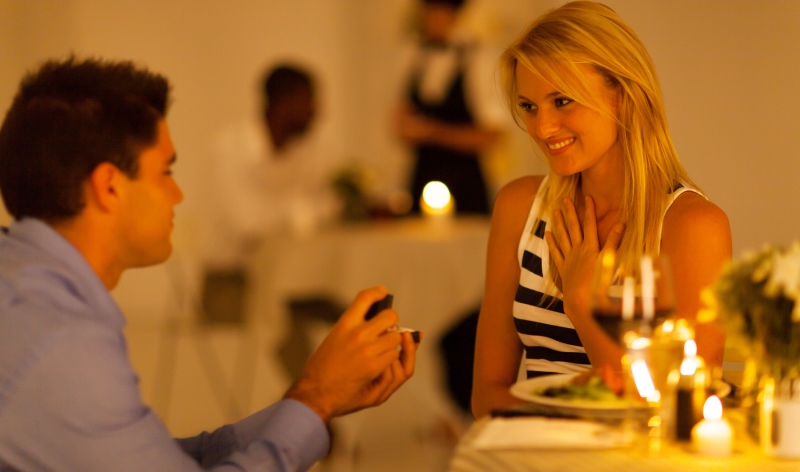 Image source: Shutterstock
The latest trend to hit potential proposers of marriage is thinking up elaborate marriage proposals. Let's recap what we've seen this year alone – a dad taking his newborn son's help in proposing to his girlfriend, a Frozen-themed proposal, a wedding planner proposed by planning a fake wedding, a reality TV star shut down Times Square to propose, and last but not least, a Japanese man's GPS proposal that was visible from the sky too! Phew! These men put in too much effort to get their ladies to say "YES."
Now, what would you say if I told you about a flash wedding, not unlike a flash mob proposal? Shocked? Don't be, because that is exactly what happened at the Mall of Georgia.
Here are the details.
Image source: YouTube
Meet Brian Green and Christina McGinnis. They had been in a relationship since 2010, had gotten engaged in 2013. The couple is also parents to an adorable 23-month-old baby girl, Aspen. The couple had tried to plan a wedding a few times, but found the prospect both overwhelming and expensive.
"It took away the purpose and excitement of being married," said Brian. "The wedding is just the ceremony. The marriage is what's important, so I just wanted to focus on the marriage."
Image source: YouTube
So, just before Christmas, Brian came up with a plan to surprise his now-wife, Christina, with a flash-mob wedding near their home in Georgia. A photographer friend of Christina was roped in, who asked her to pose for a wedding photo shoot wearing her wedding gown, complete with accessories, hair, and makeup. When an excited Christina walked through the mall for the "photo shoot," she was told by her father that she would be getting married.
The overwhelmed bride said, "I didn't have a clue. Not one clue."
The ceremony took place in front of a giant Christmas tree at the Mall of Georgia. Watch the full video of the surprise flash mob wedding here, which was produced and uploaded onto YouTube by Brian's brother Chris:
Featured image source: YouTube
Summary
Article Name
The bride who got the best Christmas present!
Author
Description
A bride in Georgia received the best Christmas present ever! Read on to know what she received for Christmas.