Being single and happy isn't everyone's cup of tea. Some people find joy in being with someone, sharing their life with that special partner. But not everybody finds the 'one' easily. Many of us have to kiss our share of frogs – many, many frogs in fact – before we find our Prince Charming. What if you get tired of waiting for that frog to turn into the prince? What would you do then?
You marry yourself, of course!
Wait, I haven't gone bonkers.
Meet Grace Gelder, 31, a photographer in London, who had been single for six years, and decided it was time to get hitched – to herself! This amazing and slightly quirky lady said, since she formed such a brilliant relationship with herself, she decided to marry herself. She even proposed to herself on a park bench on Parliament Hill last November.
"A few did comment, in a lighthearted way, that it was a bit narcissistic," Grace said of her decision. Adding, "Obviously, if you've just announced you're marrying yourself, it is plainly a statement of self-love, and I was under no illusion how self-indulgent that might appear. But I was completely comfortable with my motivations."
When she told her parents about her decision though, they were very open-minded, and took it in their stride. "As long as it makes you happy, Grace, we're fine with it," was their reaction.
Grace, at the age of 18, while at university and studying performance art, listened to the line, "My name's Isobel, married to myself," in a Bjork song called Isobel. As she listened to that song, she recalls thinking, 'crazy as that sounds, I totally get that. It's about making this pact or promise to yourself and then somehow enacting that in how you live your life from that day on.'
Grace also acknowledged the fact that she had been "on a journey of personal development using meditation, dance and performance to increase her self-awareness." Included in that was a Shakti Tantra programme which focused on "sexuality and how that was bound up with making agreements with yourself and other people."
Make no mistake; this was a ceremony which included all the frills and frou-frou associated with a wedding. A friend and celebrant Tiu de Haan, married Grace in a ceremony where she wore a white wedding dress, a ring, said her vows, and which was attended by 50 of her friends and family. The ceremony took place in a farmhouse in Devon. When it came to the 'kissing' part of the wedding ceremony, Grace sealed her vows to herself by planting a kiss on herself, on a mirror!
"It felt like a really big deal saying my vows, which were mostly about me promising to take more risks in matters of the heart. I remember really paying attention to the words as they left my mouth and it felt like they were hanging in the air," said Grace. "Equally, the ring, a less spontaneous purchase than the dress, brought home to me this idea of commitment, sealing the deal if you like."
As is normal in any wedding, Grace was having cold feet a month prior to the ceremony, and had to be convinced that she was doing the right thing.
"I really don't see it as any kind of feminist statement, but creating a wedding of this kind on my own terms felt incredibly empowering," she said. Adding, "My self-married status – meaningless though it may remain in the eyes of the law – has also given me this great sense of clarity. I seem to sense much more clearly than before if something is worth pursuing or best left alone."
And the newlywed had one last quip for us: "And just because I married myself, it doesn't mean that I'm not open to the idea of sharing a wedding with someone else one day."
Would you marry yourself? Share your thoughts in the comments below.
Summary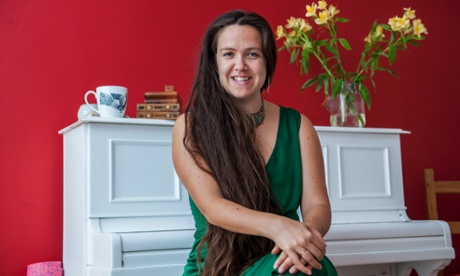 Article Name
Grace Gelder was single for 6 years. What did she do next?
Author
Description
Grace Gelder, a photographer from London, decided it was time to tie the knot - with herself, after being single for six years. Read on to know more.