The nippy season is in and so are the dreadful mornings that rip our sound slumber with an unwelcome blast of chill air. If getting out of our warm and cozy beds and dragging our I'd-rather-sleep selves to work weren't THE tasks already, that bad case of hat hair (damn you, you cute things, bonnies) that allows that invisible veil of stubborn static to linger behind until bedtime adds to our woes. And if you are anything like me, you have tried all the anti-static hair products in the market to make that thing go away. If you have had no luck so far, today is your lucky day. I happened to chance upon just the defrizzer I needed to make sure I didn't look like I was electrocuted on my way to work- and a happy hair day made me realize I could spend the day spreading the joy! So, what if the holidays have whirled by… here's a handy list of the best anti-static hair products in town that is going to make your hair (and you) oh-so-happy (and yes, it means you can throw that dryer sheet out):
---
Suggested read: 10 wonderfully effective home remedies for dry, damaged hair
---
1. IGK Laid Back Defrizz and Anti-Static Spray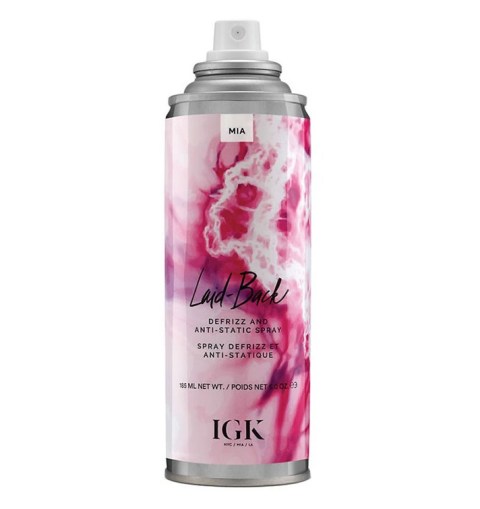 Image source: IGK Hair
Whether it is the static from the blizzard or a case of summer frizz from too much beach-time, the IGK Laid Back Defrizz and Anti-Static Spray can smooth over your flyaways in a flash. Packed with coconut water and panthenol, this smoothing formula tames that unruly winter static and nourishes your hair. Its modern formulation makes it a gluten, paraben and sulfate free formula with vitamin extracts and mineral oils that condition the hair besides providing it with ample hydration and shine. Also, its lightweight nature does not sit heavy on your hair, thereby leaving your tresses dressed to impress, no matter the time of the day. You can buy the life savior hair…err, here. 😉
2. Nunzio Saviano Anti-Frizz Sheets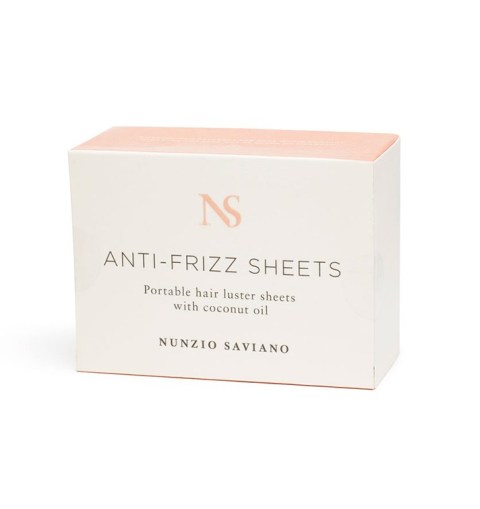 Image source: Nunzio Saviano
Whether you wish to combat frizz at home, on-the-go or right before a momentous moment, grab one of these anti-frizz sheets and hold them onto your flyaways and hairline for an instant smoothening. Enriched with super-fine polymers, each of the Nunzio Saviano Anti-Frizz sheets is enriched with shockingly lightweight coconut oil that delivers the ideal amount of taming pat as well as nourishment to your strands for a static-free finish- without any greasy residue. You can buy a box here.
3. R+Co Foil Frizz Static Control Spray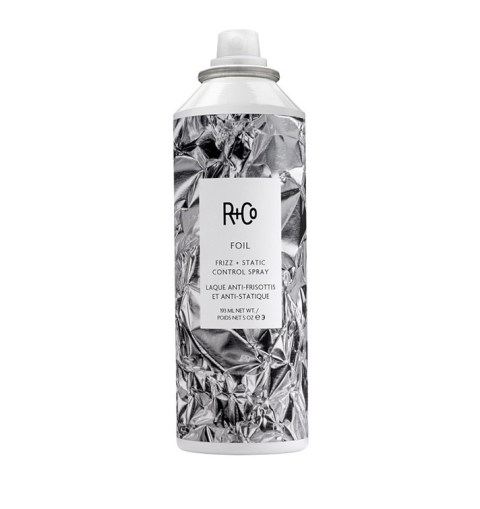 Image source: R+Co
If the incredibly 'chic' packaging didn't do you in (I can make countless Insta-posts with it), the anti-static spray by R+Co is richly laden with Vitamin E and argan oil so that you not only tame frizz and eliminate static cling but also give your hair a dab of nourishing softness and shine with each use. What's more, the oriental composition comes in a startling variety of fragrances including (but not limited to) Juniper berries, blood orange, rhubarb, leather accord, violet and dark woods. If you are enticed already, get your wood nymph spirit vial here.
4. Garnier Sleek & Shine Anti-Frizz Serum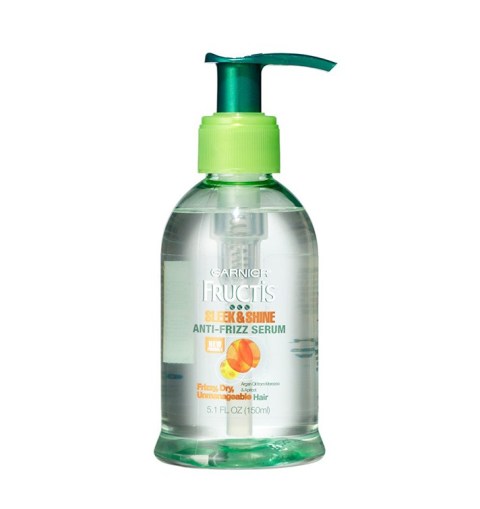 Image source: Garnier
If you needed a go-to defrizzer to destress your life and tresses, this argan-and-apricot-oil infused serum is the messiah you need. It works on both damp and dry hair to lock in those flyaways and prevent them from creating trouble. You can buy your own bottle here.
5. Kenra Professional Shine Spray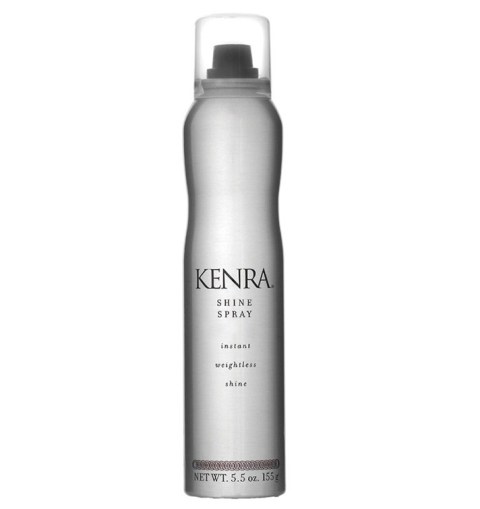 Image source: Ulta
A heavy-duty frizz fighter can be spent off on the days the mercury decides not to slip and sink lower. On those not-so-cold days, a light touch shine spray like Kenra can be used to moisturize your tresses and render them static-free. So, the next time a sudden bout of static comes knocking, pop out a Kenra Professional Shine Spray bottle and mist it sparingly over your hair (avoiding the roots) to slash through the static and add a fresh layer of shine.
6. Living Proof No Frizz Humidity Shield Spray
Image source: Living Proof
It is no revelation that you can do zilch to control the humidity in the air. But you can prevent the sticky mess you create when you mix your windswept hair from winter morning commute with the dry, hot blast from the office radiator. No Frizz Humidity Shield is a lightweight solution for dry hair application that blocks out humidity even when it reaches its apex. Powerful enough to correct the first signs of frizz, the formula operates on a patented Healthy Hair Molecule (OFPMA) technology that combines smoothing emollients with a weatherproof formula to guard the hair against humidity, ward off static and deliver a non-greasy, weightless protection that does not deflate your hairdo. You can buy the product here.
7. Bed Head by Tigi Control Freak Serum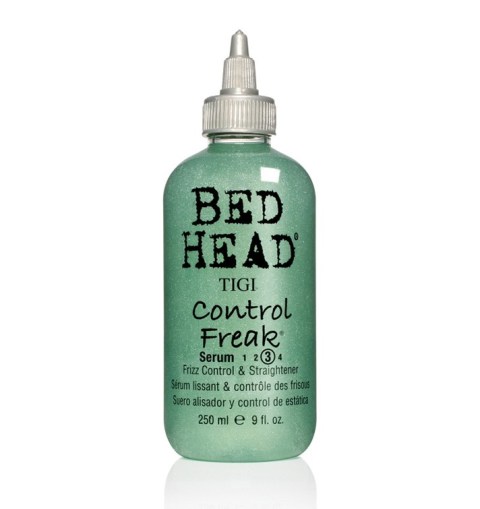 Image source: Ulta
This one-stop solution to all your hair static problems works by conditioning and moisturizing your hair, sealing static and delivering a glorious shine to your tresses. A lightweight, thermal-protectant and greaseless formula, the Bed Head Control Freak Serum serves to resist humidity and smoothen your flyaways by dialing down the frizz-music before the dance begins. Smoothing a few drops of the serum (barely-there amount) over your damp curls should do the trick. You can buy the item here.
---
Suggested read: The top 10 MUST HAVE hair styling products & how to use them, on your own
---
Remember that reigning in frizz is no child's play. Anybody who has fought frizz knows that taming it is the physical equivalent of trying to cage an unleashed wild boar. They say precaution is better than cure and they are right! Make friends with these best of the best anti-static hair products and freeze the frizz out of your life! Coz as it turns out- HAIR comes the revolution!
Featured image source: Google, copyright-free image under Creative Commons License
Summary
Article Name
Freeze The Frizz: Here Are The Best Anti-Static Hair Products For The Nippy Season
Author
Description
Make friends with these best of the best anti-static hair products and freeze the frizz out of your life! Coz as it turns out- HAIR comes the revolution!