It is no news that the wedding season is closing in, and you certainly do not want to be left behind. You could even say that every time you login to Facebook, someone gets married! So you better be up to date on the popular trends you should keep a track of when your friends are busy tying the knot. And if you are a bride-to-be, then it is extremely important that you make the right fashion choices.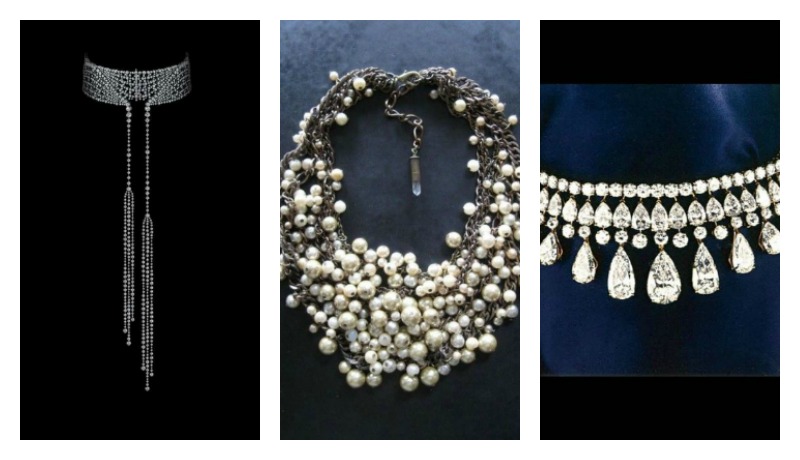 So, what is the current craze when it comes to wedding jewelry? You guessed it right – choker necklaces!! Gone are the days when the bride and her friends chose to were jewelry equivalent to their body weight. In this day and age of minimalism, a singular, exquisite choker necklace can achieve what 10 normal necklaces and 20 bangles fail to do – grab eyeballs! So think no more; it is time to select the perfect choker necklace that would make you the showstopper at the wedding.
Before you jump the gun and purchase one, you should probably take a look at the different types and styles of chokers available in the market today. It is also necessary that you choose a design that suits your face and neck, as all styles do not suit everyone.
So read on, to discover 10 stunning choker necklaces you must absolutely, positively try this wedding season.
1. Mesmerize with emerald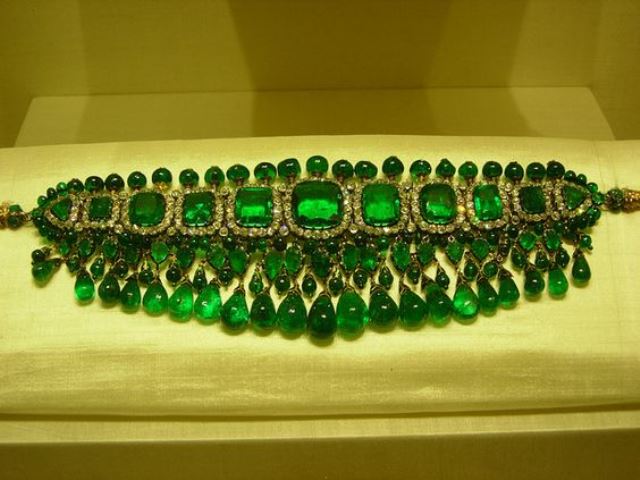 Image source: Pinterest
This gorgeous choker studded with emeralds is an absolute stunner. No doubt that it will make you the star of the show. It looks elegant and rich, and would go perfectly with both saris and salwar suits. Those who do not prefer too much bling can really rock this design, as it does not look too gaudy, yet has a certain charm about it. You can even go for rubies or sapphires in a similar design.
---
Suggested read: Your Zodiac has a lot to say about the jewelry you should wear
---
2. Play with pearls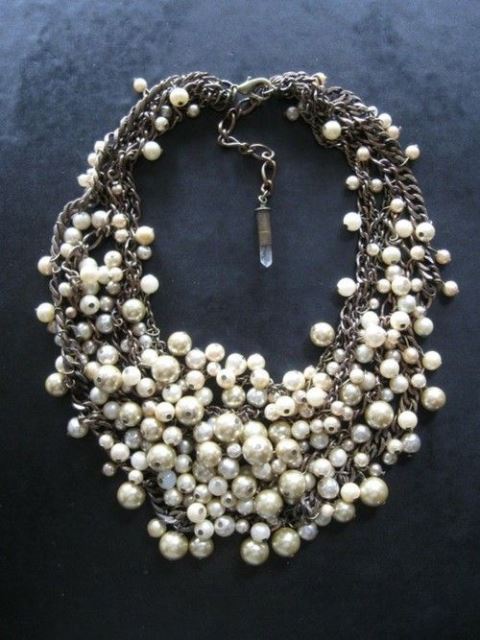 Image source: Pinterest
Nothing can match up to the unblemished beauty of pearls. They symbolize purity and perfection and go beautifully with dresses and wide-necked cholis. The piece presented here can do wonders to a strapless white wedding gown. This multi- layered choker can work on many levels and will look great with off-shoulder dresses and gowns.
3. A wonder made out of white gold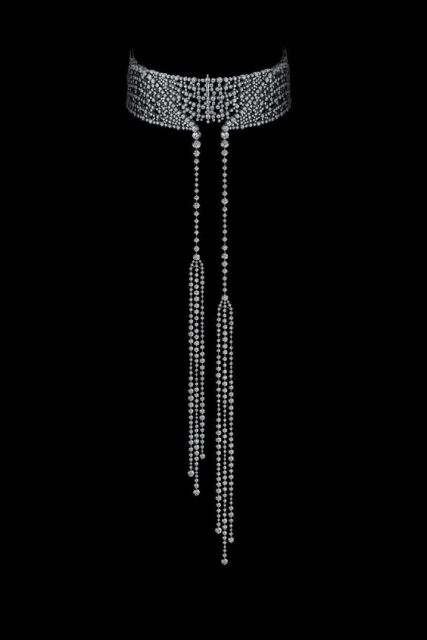 Image source: Pinterest
This design can work magic on your outfits. It will look great, clinging to your throat, inviting eyes to linger a little bit longer. The best part about this design is you wouldn't require any other piece of jewelry if you are wearing this. This will look great with dresses, gowns, and strapless cholis.
4. Go with gold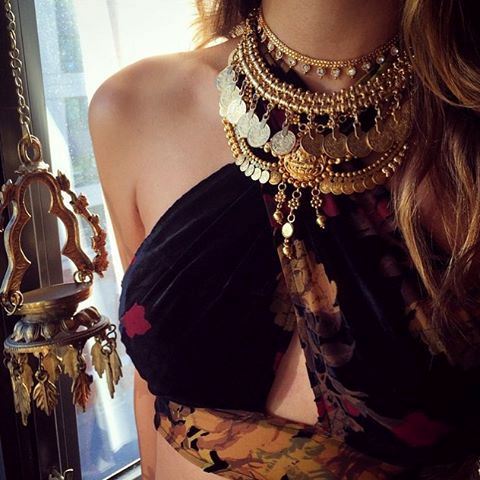 Image source: Pinterest
Indian weddings would not be the same without gold. So here is a beautiful piece molded in gold. It is traditional and funky at the same time. The multiple layers add so much character to the gold choker, rendering your outfit a regal aura. When in doubt, always go with gold, especially when weddings are involved.
5. A silver lining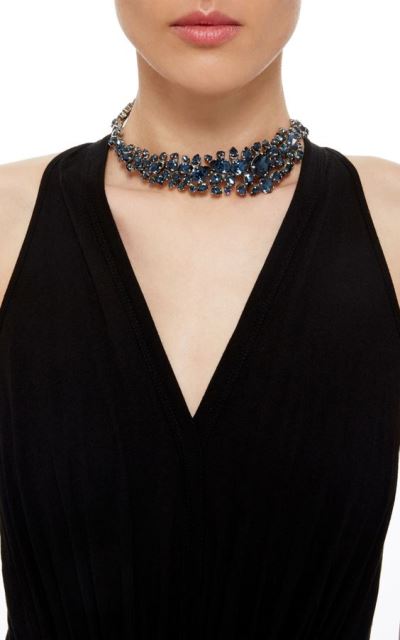 Image source: Pinterest
Who doesn't like a silver lining? Why not be the one wearing it this time? This stunning design is made out of oxidized silver and sapphire-hued Swarovski crystals. It will make all of your jewelry dreams come true and will also make you look like a dream and help you live one too. The design is quite edgy and out of the box and would magnificently deck your throat.
6. Dazzle with diamonds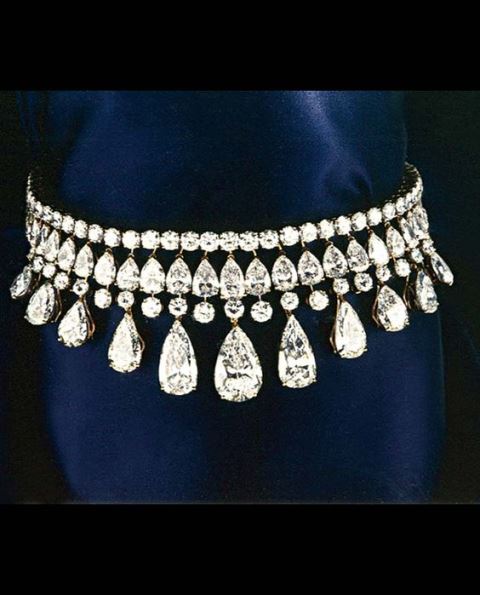 Image source: Pinterest
Now, we come to the king of gems, the diamond. These days, diamond jewelry tends to outshine gold. This piece will frost your neck perfectly – with flawless droplets of multi-sized diamonds dangling around your throat! Everyone in the room will look at you adoringly and slightly jealously, I must add. No gem can match up to the beauty of a diamond. It really makes every woman look like a queen.
7. The elegance of black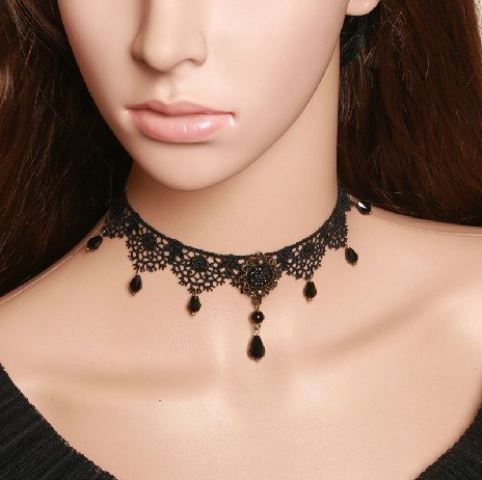 Image source: Pinterest
Which girl does not love black? How about this simple yet detailed black choker that would go perfectly with your little black dress? The best part about this design is that it would suit any outfit perfectly – be it a sari, suit or a dress. Match it with a pair of black danglers or studs and a black bracelet, and you are good to go. If you are not a bling person, then this is the perfect wedding fashion tip for you.
8. The majestic peacock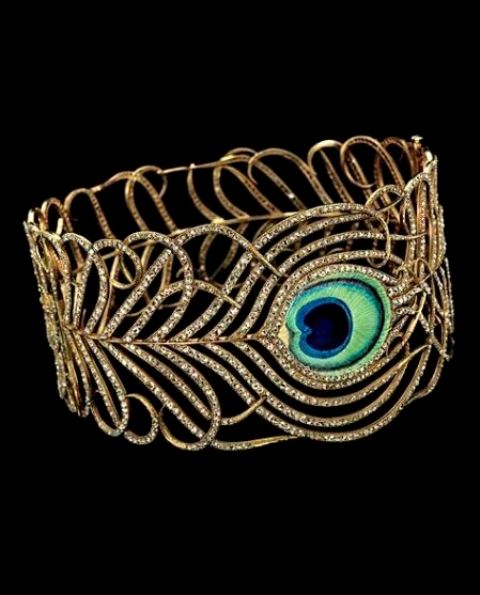 Image source: Pinterest
This is for the nature lover in you. This brilliant design has merged the beauty and colors of a peacock feather with gold. Wear it with confidence, and you will certainly make many a head turn.
9. Beauty of blue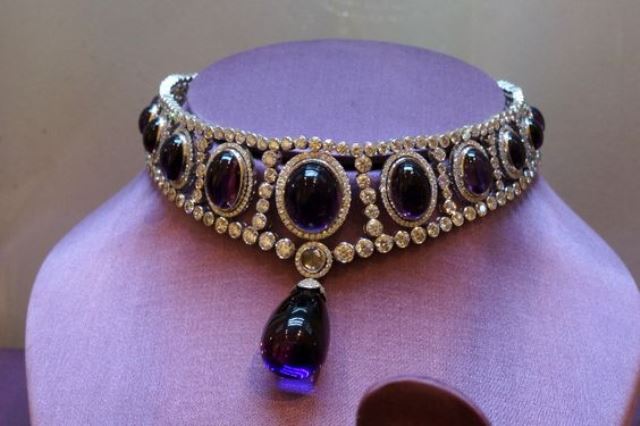 Image source: Pinterest
This stunning choker has been fashioned out of Faberge diamond and cabochon amethysts. The pendant on the choker looks like a brilliant blue robin's egg. It can certainly pull up your style quotient and make you look like a diva.
---
Suggested read: Amazing jewelry worn by Bollywood divas in historical and contemporary movies
---
10. Red as a ruby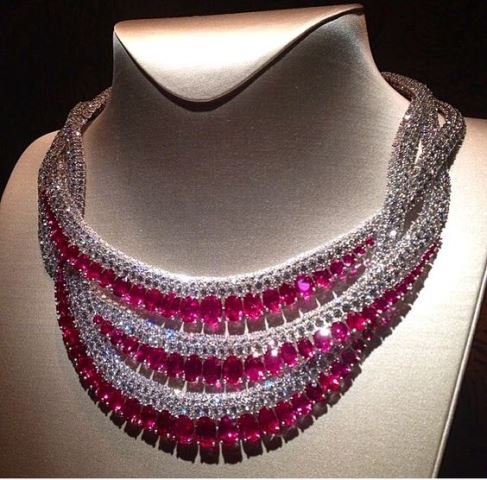 Image source: Pinterest
The list would not be complete if we leave out ruby, the blood red beauty. This miracle has been fashioned out of rubies and diamonds. Isn't that the best combination ever? The red of the rubies are balanced perfectly with the sparkle of the diamonds. The multiple layers make the combination look even more stunning.
We are already going gaga over these stunning choker necklaces. What about you?
Summary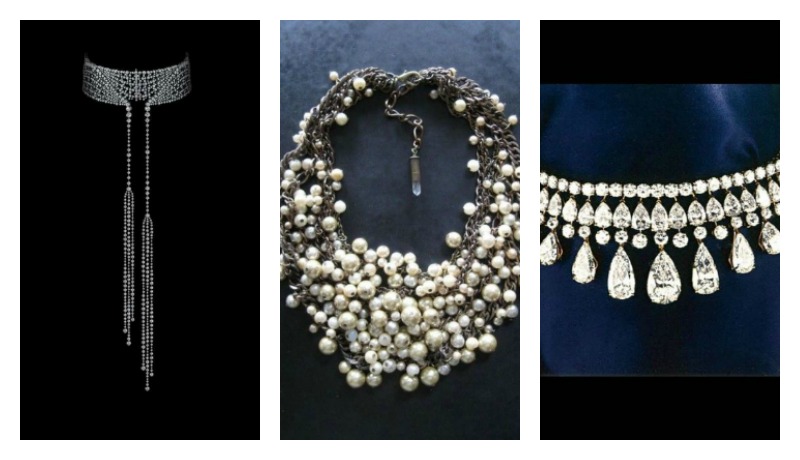 Article Name
10 Stunning Choker Necklaces You MUST Try This Wedding Season
Author
Description
Choker necklaces are all the rage this wedding season. Take inspiration from these stunning necklaces & wow the rest of the guests at your friend's wedding!