If I told you that you can get married for free and all you'd need for it is an internet connection, would you believe me? If I told you that your destination wedding was a couple of clicks away and no, you'd not need to mete out your credit/debit card details, would you think I had lost it? Well, then, I have news for you!
After doling out furniture, kitchen utensils, and Swedish meatballs, IKEA plans on spreading some love. The Swedish retailer IKEA enters the realm of love by launching a novel and one-of-its-kind virtual wedding service. Called WeddingOnline, this new service is a virtual video conference that one-ups Skype by allowing remotely located lovers to tie the knot. For the wedding to be legally binding, the IKEA virtual wedding service requisites are a marriage officiator, the bride and the groom – obviously – and a minimum of two witnesses in the same chat room. The process is easy and simple – where a couple can choose to be wedded in bliss by spending some clicks, instead of wads of green.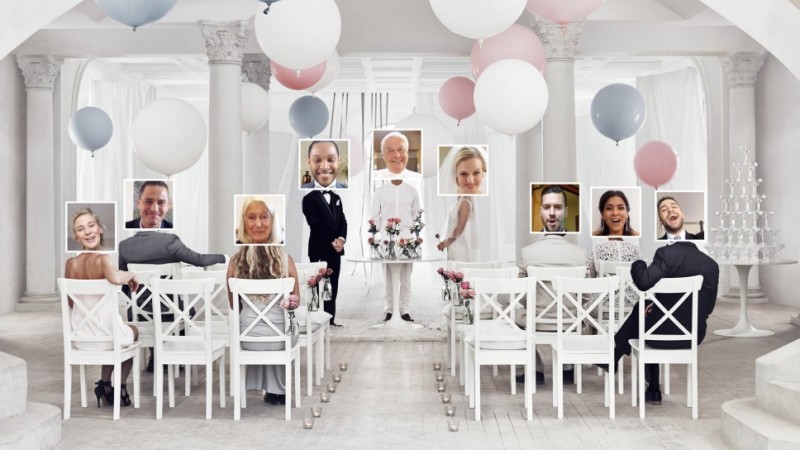 Image source: Youtube
Couples who are willing to get married this way are required to log in through their Facebook credentials and are then given a step-by-step tutorial. They can then proceed to filling out details, choosing a locale, and sending out invites.
"The best sort of love is easy and effortless. And promising one another eternal devotion at a wedding should be just as simple. That's why we've created a new type of wedding that's neither expensive nor complicated," Ikea declares on its wedding page.
---
Suggested read: What your wedding veil style says about your personality
---
IKEA virtual wedding service allows couples to pick from a gamut of virtual wedding locations that include a rustic farm, rooftop, beach, fishing boat, fairy-tale forest or a white hall filled with balloons, and invite guests from all over the world to attend the personalized wedding ceremony by simply plugging in their microphones and webcam. There isn't any need to spend on wedding attires either as your faces are superimposed upon virtual avatars and the whole ceremony is a happy place beaming with smiling faces that are looking into the webcam with a mixture of anticipation and glee. However, just like any real life wedding, the happy couple and guests have access to a location for a limited period (six hours) before they are sent packing.
Image source: Shutterstock
IKEA also allows pretend weddings for those who want to test the service and its quality, and even has a WeddingOnline page that offers inspiration and ideas for those who aren't ready to take that walk down the aisle just yet. There are party tips for this spring and summer, with ideas for "everything from big weddings to small 'just because' parties." They include a rock-solid seating plan using smooth stones and a white pen to write your guests' names, which they can take home as a keepsake. IKEA also suggests a personalized bottle design that matches your DIY bottles with table settings using gift wrap, and hanging flowers in unexpected places to make a party extra colorful.
Whilst it is certainly the first step toward undermining the traditional wedding set-up and questioning the exorbitant amounts of money spent on a single ceremony, whilst weeding out other unnecessary hassles of a conventional ceremony (you remember the great wedding debacle of '07 when Uncle Al almost pounded on Aunt Anna, right?), the service is truly questionable and is subject to a critical dialogue on the 'pseudo-holy' matrimony in which the couple are bound.
Nonetheless, here's a glimpse of the novel virtual wedding service offered by IKEA:
What do you think of the newly launched IKEA virtual wedding service? Tell us in the comments below!
Featured image source: Youtube
Summary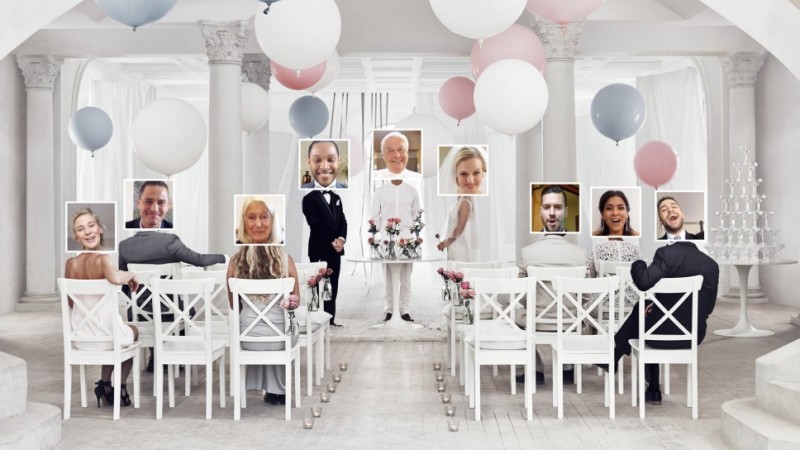 Article Name
IKEA Virtual Wedding Service Now A Reality!
Author
Description
It is now possible to get married with just an internet connection with the newly launched IKEA virtual wedding service called WeddingOnline. Check it out!