Nine-year-old Sanele Masilela was named the world's youngest groom for the second time in a row in July 2014, when he remarried the 62-year-old woman, Helen Shabangu, whom he'd tied the knot with, a year before that. Apparently, this marriage happened despite the fact that Helen has a husband, with whom she shares five children, all aged between 28 and 38.
Dressed in a silver tuxedo, the baby-faced Masilela held his bride's hand while repeating their wedding vows, one year into their initial wedding. This second ceremony was held in July 2014, at the blushing bride's home in Ximhungwe in Mpumalanga, South Africa, with about 100 guests in attendance, including Helen's first husband and all her kids, and Masilela's mother.
Image source: Barcroft
Surrounded by wide-eyed guests, the mother-of-five married the nine-year-old boy and even shared a piece of cake, a toast, and even a kiss with him, and her first husband, Alfred Shabangu, 66.
In 2013, when the boy claimed that his dead ancestors had told him to wed, the 9-year-old married 62-year-old woman, Helen. To everyone's shock, the boy's family took him at his word as truly a message from the heavens, and hurriedly forked out £500 for the bride and £1000 for the actual ceremony.
Although the ceremony was held in 2013, the nine-year-old Sanele insisted that his and Helen's nuptials be solemnized with the second ceremony as per South African traditions. Despite several villagers shunning the act and calling it 'sickening,' the boy's family defended the marriage by saying it was just 'a ritual' and therefore not legally binding.
While Sanele's mother Patience Masilela said,
"Sanele was fine and he was happy about the ceremony last year and it what he wanted – he was not shy. He was just happy to get married, very excited and was not embarrassed about it. So much so he wanted to do it again."
Image source: Barcroft
Further, the 47-year-old mother went on to say,
"After the wedding last year people keep asking them question like will they live together, sleep together, have babies but I keep telling them that after the wedding everything went back to normal – nothing changed."
The widow also claimed that with the wedding ceremony, 'we made the ancestors happy. If we hadn't done what my son had asked then something bad would have happened in the family.'
---
Suggested read: This 18-year-old girl is all set to marry her own father!
---
She finally added,
"I didn't have a problem with it because I know it's what the ancestors wanted and it would make them happy."
The bride's first husband, who attended the wedding, had this to say,
"My kids and I are happy because we don't have a problem with her marrying the boy – and I don't care what other people say."
Image source: Barcroft
Well, if he doesn't have a problem, then that makes it okay for his 62-year-old wife to marry a nine-year-old child?! Where's the sense in that?
In all the wedding hullabaloo, let's not forget what the world's youngest groom had to say about the whole affair:
"I told my mother that I wanted to get married because I really did want to. I'm happy that I married Helen – but I will go to school and study hard."
Further, he added,
"When I'm older I will marry a lady my own age. I chose Helen because I love her and, although we don't live together all the time, we meet at the dumping site where my mother works regularly."
Huh. Writing this article has left me speechless. While I recover my speech capabilities, you let me know what you think about these kinds of blind traditions, in the comments below.
Featured image source: Barcroft
Summary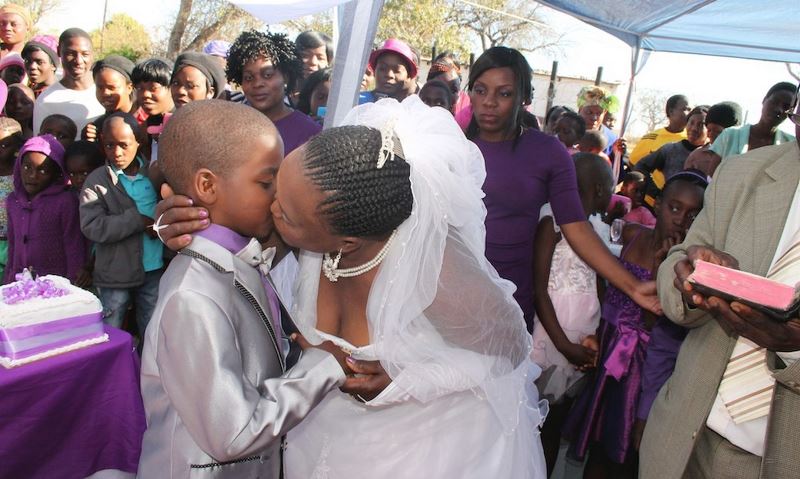 Article Name
9-year-old Boy Marries 62-year-old Woman In South Africa
Author
Description
A 9-year-old boy marries 62-year-old woman in South Africa because his ancestors told him to. Check out the bizarre wedding!