Instances of sexual harassment have become everyday occurrences in our country. Makes for a very bleak picture, I tell you. Nobody is safe from harassment, it seems. Whether it's day or night, in a public place or a private one, no place is safe for women.
In a cringe-worthy incident of sexual harassment, a man was allegedly found masturbating in front of a woman, in broad daylight, in the Colaba area of Mumbai. The lady, Maryanna Abdo, a writer, was the victim who was molested. Upon confrontation, the man hid his face and ran away when she tried to take him to the police station.
Please RT-this man just masturbated at me on the street in broad daylight. Ran away after a confrontation. pic.twitter.com/VwzLndJvaw

— Maryanna Abdo (@MaryAbdo) August 17, 2015
Abdo, who is a writer who works out of Mumbai, London, and LA, took to the micro-blogging site Twitter in the hopes of identifying the assaulter. The picture shows one man with his arm raised, partially covering his face, two other men too. When another user pointed out the scope for misunderstanding, Maryanna tweeted another picture with the offender's picture highlighted.
---
Suggested read: Kolkata Uber driver caught masturbating while driving woman passenger
---
Further, she also clarified that the other two people in the picture were kind enough to respond to her calls for help. Regardless of their help, the offender managed to slip out of their hands and escaped.    
To clarify, here's the guy. These other two were kind enough to respond to my calls for help. pic.twitter.com/aMzULT1uCj — Maryanna Abdo (@MaryAbdo) August 17, 2015
Maryanna also put up the exact location and time when the incident occurred at around 7:50 AM on Twitter, on the request of another user, which might help in nabbing the offender. Another user apologized to Abdo that she had to experience such an incident in our country. But Maryanna was quick to point to the fact that whether it's India or some other country, it's a deep-rooted problem, and not specific to one region or country.
@rahul4change Red dot marks the spot. Happened at 7:50 AM. pic.twitter.com/c0c5y3noOQ

— Maryanna Abdo (@MaryAbdo) August 17, 2015
This isn't the first time that such an incident has occurred. Just a few weeks back, a man tried to kiss a girl forcibly, that too in broad daylight. This incident occurred in one of Delhi's posh localities, Connaught Place. But the offender was shamelessly protected by a sub-inspector, who proclaimed that 'kissing is not molestation.' Right.
In another incident of a similar nature, a British woman faced harassment at a bus stop in Mumbai, which she documented on Lucy's Miles Away travel blog. Following that, several Indian men apologized to her for the incident.
Such incidents have gone up at an alarming rate in the recent years. Another misconception about women of foreign nationalities is that they are 'loose' and that they don't have any qualms about being promiscuous or being sexually harassed. This is a very wrong notion and this perception about foreigners needs to be changed. First and foremost, they are human beings and women, which in itself commands respect.
Let's all retweet this pervert's picture and help nab him, so that no other woman is harassed the same way that Maryanna Abdo was.
Story update on 19th August, 2015
After the picture of the alleged masturbator posted by Maryanna Abdo went viral on Twitter, Mumbai police have apparently been successful in nabbing the offender. He is identified as Gopal Valmiki, who works in the Colaba locality of Mumbai, where the incident occurred two days ago.
The cops were able to arrest Valmiki after they received a tip-off from a local resident about his whereabouts.
Well, the cops have acted swiftly and nabbed the alleged culprit who was caught masturbating in front of Maryanna Abdo in broad daylight. Now, it's up to the courts to punish him for his offence.
Kudos to Mumbai Police!
Featured image source: Twitter
Summary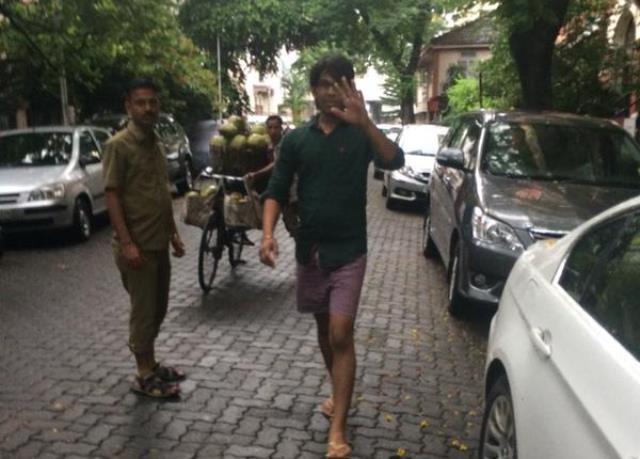 Article Name
Man Allegedly Masturbated At A Woman, His Picture Goes Viral On Twitter
Author
Description
Man allegedly masturbated in front of a woman in Colaba, Mumbai. When confronted, he apparently ran. The victim took his picture and posted it on on Twitter.