Love is a strange thing. Sometimes, it makes you lose yourself. But mostly, it brings you home to YOU.
Image source: Youtube
Such is the love of Serbian artist Marina Abramović and her artist-lover Ulay, who met in 1976, during one of the former's art performances. Ulay became Marina's collaborator and lover for twelve years, making Marina (an uncrowned queen of performance art) as completely his as he became hers. For twelve long years, their deeply intimate and passionate relationship continued to wear their wild, taste their truths, skirt their souls, hold their hearts, mix their magic, and propel their purpose – as they attempted to lose their selfhood in each other, become one with the other vis-à-vis art. But thereafter, they parted ways and it wasn't until 2010 when Marina Abramović was performing at New York's Museum of Modern Art, a grueling piece entitled "The Artist Is Present," sitting in the museum's atrium and inviting the swelling crowds of viewers to sit directly opposite her, in silent dialogue that she was caught, unsuspecting, in the gaze of a lover she'd given her being to, and whose being resided in hers. And it is such an eternity of LOVING, in all its gripping novelty, that we see in that silent moment that passes betwixt these lovers. Catch the beautiful moment here:
Yes, Marina broke protocol when she moved and held the hands of her former lover. But I could not imagine how she couldn't do more. I guess that's what happens when you are an artist and you love another. I am far too much of an ordinary mortal to even attempt to say something about a love so deep, so stirring, so beautiful, and so pregnant and poignant, even in its silences. But here's a humble try:
That gaze … brings me a thousand lifetimes …
Where there was no YOU and there wasn't a ME …
Only love … 
Like the shadows of our lovemaking … that was US and is …
Like the ticks of the clock … that read the timeless bliss …
Like memories of tears we kissed and freed …
Like smiles we lived and the home we be'd …
For a moment, my forever, you've again come to me …
In this moment, we're home and in WE, I am ME …
Some more snippets of their BEAUTIFUL journey of love:
---
Suggested read: A son made an adorable video to find his mom a boyfriend
---
During their years together as lovers, they created several riveting and powerful performances, one of which attempts to 'capture' the union of their souls, their bodies melting into one entity as they lock their mouths, breathe in the other's breath until the carbon dioxide eventually filling their lungs causes them to lose consciousness, albeit in each other's embrace! Check out the moving performance called Breathing In/Breathing Out here:
But when the crazy, mad, passionate, and intense love of these lovers had run its course, they parted ways, in atypical fashion vis-à-vis a recorded performance called The Lovers, in which both Marina Abramović and Ulay are seen walking toward each other from opposite ends of The Great Wall Of China until they meet in the middle, and then, trot off in the opposite directions. It took them a lot of haggling and negotiation with the authorities to actualize The Lovers: The Great Wall Walk. Given that their work together deployed ritualized actions, mythology, and Eastern thought, this landmark performance was a perfect way to end the common oeuvre and let the mythological and philosophical connotations of the 'wonder of the world' play out a separation that marked a parting of Love in Art and Art in Love. Catch the full video here:
"An artist should avoid falling in love with another artist, an artist should avoid falling in love with another artist, an artist should avoid falling in love with another artist…" reads Marina Abramović's artist manifesto.
But after watching how deeply one can love, and learning of the ways in which you can pierce through the ocean of one's eyes to reach out onto the treasures laid bare on it's floor – in one's soul – we cannot but disagree!
Falling more in love with LOVE, each day – coz this kind of LOVE exists. Thank you Marina Abramović and Ulay! THANK YOU!
Featured image source: Youtube
Summary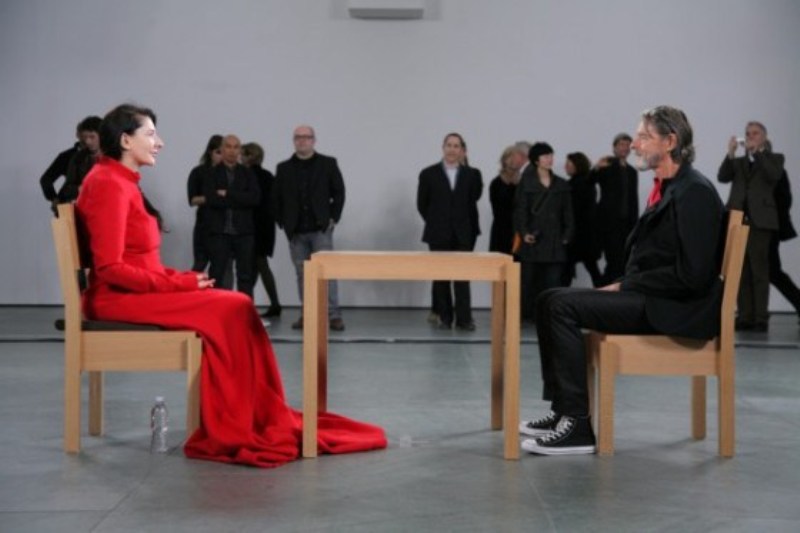 Article Name
Marina Abramović and Ulay: A Moment Of Eternity Between Lovers
Author
Description
LOVE is too magical to be contained in words. And this tender moment between Marina Abramović and Ulay will prove just that. Made me well up.