As soon as you say his name, you are hit by nostalgia! Milind Soman, the man who stepped out of a box Alisha Chinai's 'Made in India,' and walked straight into our hearts! A model, actor, and a leading fitness enthusiast. Soman 'ran into us' again after completing the harshest triathlon ever: The IRONMAN Triathlon!
On July 19th, last year, Soman ticked this off his bucket list by completing a course of 3.8 km swimming, 180.2 km cycling, and 42.2 km run in Zurich, Switzerland. Timing 15 hours & 19 minutes, he won the 'Ironman' title making all of us swell with pride!
But that's not where the story of Milind Soman running ends! On the 26th of July, 2016, the hottie started sprinting another marathon, turning heads and grabbing curious eyeballs! He ran from Ahmedabad, Gujarat, to Mumbai via Silvassa, a 570-km long stretch, and he did it… barefoot!!
---
Suggested read: The Saree Man of India is making a solid point about the gender fluidity of the garment
---
Soman ran this marathon as a part of 'The Great India Run,' an inter-city marathon. On the first day itself, Soman achieved a target of 67 km by setting foot in the town of Anand. On the second day, he accomplished 62 km. Here's a video posted by him last Thursday, where you can see him running as if he was taking a brisk trot down the beach, and not running a marathon on asphalt, that too barefoot!
Though the weather was quite challenging, quitting was not an option for a winner like Soman!
It is quite obvious now that Soman has a fitness regime one could die for! Milind Soman running this marathon is a wake-up call for people like me, who procrastinate on paying attention to their health! Here are a few fitness tips that the 50-year-old was gracious enough to share!
1. Run amidst nature: To have an experience of a kind, one must run on a trail that is filled with the ethereal gifts of nature, says Soman. Apart from the health benefits, it also instantly uplifts your mood.
2. Maintain an exercise regime at home: According to Soman, all those who work unearthly hours must stick to a regime that can be easily carried out at home. Get yourself a treadmill, he exclaims!
3. Swim whenever you can: You can ignore (just barely!) Milind Soman running, if you see him swimming! Swimming works out your core muscles and improves your breathing, which is essential considering the pollution we have to deal with nowadays!
4. Keep yourself hydrated, always: Soman quips that drinking the right quantity of water is crucial. If you fail at it, the ramifications are beyond repair. Water also helps our body cleanse itself. It clears the skin of all the toxins. It will give you a natural glow by helping you get rid of your acne and pimples.
5. Get your body to function 100 percent: Soman believes that once your body starts functioning at its full capacity, you can achieve anything you want! You need to spruce yourself up from the inside by indulging in a balanced diet that includes lots of fruits and milk.
6. Run barefoot: Soman accepts the fact that initially he ran barefoot just to see how it feels. Eventually, he realized that it helps one focus better and control the running.
7. Breathing properly: "Not breathing right is a problem faced by most of the world today, and it is absolutely appalling! Breathe right and you will feel uplifted," says Soman.
Soman's 76-year-old mom joined force with her son yesterday. Clad in a saree, Usha Soman, ran barefoot alongside her son, showing her support for the cause of generating health awareness.
Milind Soman reached Mumbai today, three days before the expected date!
Team NLT would like to congratulate him for his triumph! Cheers to more!
Featured image source: Instagram
Summary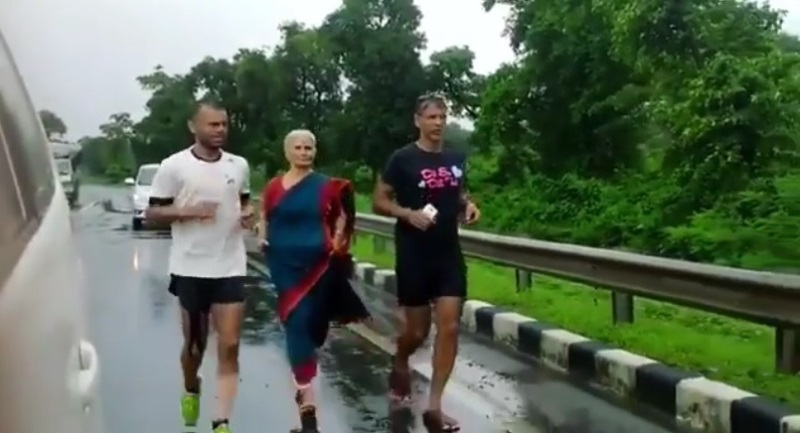 Article Name
Milind Soman Running With His Mother Is The Best Thing You'll See Today!
Author
Description
Milind Soman running with his 76-year-old mother, barefoot, is truly the best thing you'll see today!