What tells apart Gigi Hadid's street style from her supermodel avatar, is that in the former there isn't a runway beneath her, or is there?! 😉  Don't believe me? Have a look at this!
Literal, much?!
When we talk Gigi Hadid style, we talk nothing. That's right- we are speechless! There's sheer gorgeousness oozing out of the quintessential Gigi Hadid style, and at such a rapid rate that it is difficult to pin what this quintessential Gigi Hadid style really is. Diverse, versatile and jaw-dropping, it is FASHION wrapped in a single being.
---
Suggested read: Gigi Hadid Instagram: All of twenty, talents aplenty
---
I mean, seriously, this woman's ensembles are just so good, God d*mm*t! Gawking at her OOTD looks, don't you always find yourself dumb-founded, with mouth agape?! She always manages to look like she just walked out of an ad campaign or something! "Camisoles with a slip dress?!" we exclaim, but the very next moment we want to work that look for ourselves! Give her any combination, classic or experimental, and she will personalize it, providing us with a new fashion trend. She does keep up with the Kardashians, but this time round we tried keeping up with the various looks she has donned!
Apart from a fit body (haven't you seen those sharp abs through her crop tees?!) and toned legs, she effortlessly constructs a genteel ensemble, with the perfect combinations whatsoever! Her outfits not only flatter her figure, but also lend her a very chic and modish flair. Well, we have some news for you! We have deconstructed some of the looks Hadid has sported in the past, and are going to give you all her styling tricks that you can work up for yourself. ☺
The Airport Look
Just give her an award for her airport style already, fashion police! Her looks at the port are always winners. Whether she flaunts a casually chic flair or goes all in for an over the top fashion moment, we heart her!
The 'Hadidas' bomber jacket
She was again spotted in a terrific amalgamation of outfits while travelling. She wore some of our favorite pieces like, a pair of go-go sunspecs, skinny jeans and leather boots. But what stole the show was her personalized bomber jacket! We are definitely sold on this one, and of course, want one for ourselves, duh!!!
The red carpet
Born in LA, Hadid is the daughter of a Palestinian Architect, Mohamed Hadid and Yolanda Foster, a Dutch model. She grew up in front of the camera, since her mother appears on the T.V. show, The Real Housewives of Beverly Hills. No wonder, Hadid who is best friends with Kendall Jenner, ushered herself into a bona fide stardom with 10.3 million followers on Instagram! Her fans want to keep track of every move she makes, and she never disappoints up, does she?!
Summertime dressing!
Only Gigi can pull off a low-maintenance bun, cropped tank top and boyfriend jeans, with such fashionista-ease! A pair of round, Lennon-like sunspecs, a king-size white and red tote, and white espadrilles should be a perfect combination for summer!
Accessorizing it right!
Hats are something that men have mastered way better than us, women! But Gigi Hadid here seems to be giving some tough competition to them boys, what say? Try a woven top hat with a pair of torn blue jeans and a lacey white blouse. Summertime panache in no time! You can also give it a feminine touch by teaming the hat with a patterned or floral sundress. A dark wide-brimmed earthy fedora can also work wonders to break the spell of an all-back outfit!
---
Suggested read: 15 stunning looks from Cannes 2016 that took our breath away
---
Color popping!
Whether it is a matte pink lippie or you prefer sheer more, we are absolutely certain, you already have a couple of tubes of fuchsia or rosy lip products in your bag! If your pink pop lipstick is as bright and pigmented as the one Hadid featured in, you don't need anything else to complete the look. Just allow your foundation to blend perfectly, and groom your eyebrows, and you are good to go!
For more on your favorite fashion icons, stay tuned to NLT! Subscribe to our daily newsletter today! ☺
Featured image source: Pinterest
Summary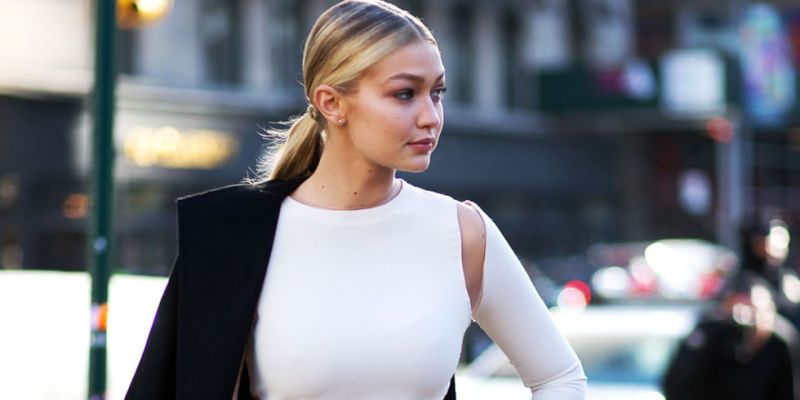 Article Name
Of Gigi Hadid Style: Why Gigi Hadid Should Inspire Your Taste In Fashion
Author
Description
Because the quintessential Gigi Hadid style is a runaway success, with or without the runway!