When people want to find out what is trending in the large and somewhat daunting world of fashion, they look to some of the leading it-girls in Hollywood, such as Beyonce and her sister Solange, Selena Gomez, the Kardashians and Jenners, Taylor Swift, Emma Stone and other such names, who have never been known to make a misstep in fashion, ever.
One of the top trends that have been spotted on some of the most renowned fashionistas in the world, is the apparel lovingly called the choker-top, which is half halter shirt, half turtleneck. Although the previous half of the description may vary, it essentially consists of a strip of cloth around the neck, like a choker, eliminating the need for a statement neckpiece, or any other accessory for that matter. Here are 14 ways in which you too can rock the choker top, and look like a super-celeb.
1. T-shirt choker top trend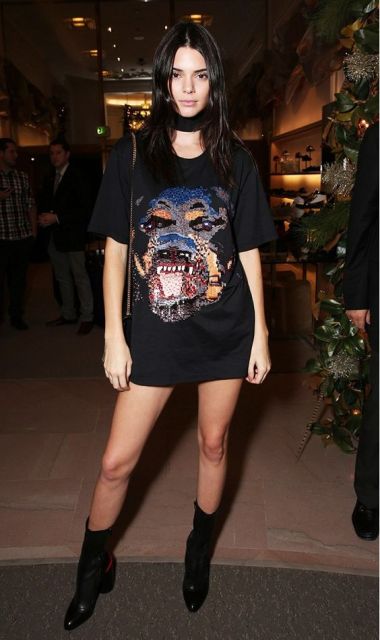 Image source: Pinterest
It won't be inappropriate to start with one of the queens of the fashion world a.k.a. Kendall Jenner. She pairs a T-shirt choker top dress with glove boots and looks fab AF.
2. Sexy plunging choker top jumpsuit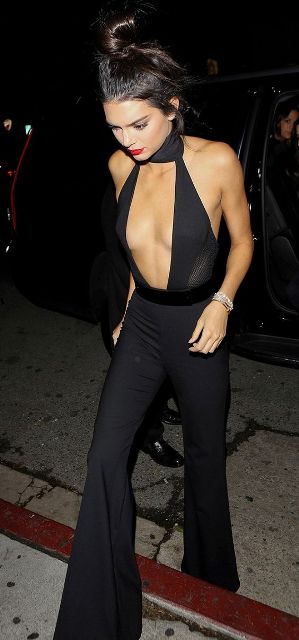 Image source: Pinterest
Let's not stray too far from home. In fact, let's not stray at all. Kendall Jenner gives another lesson or two about how to pull off an incredible choker top jumpsuit with élan, for an incredible night out.
---
Suggested read: How to match your crop top with your shape
---
3. Inverted halter style choker top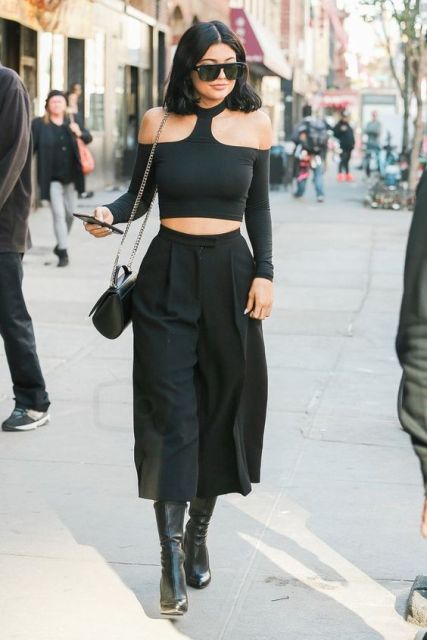 Image source: Pinterest
It is a world renowned fact that style runs in the Kardashian family, as demonstrated by Kendall's younger sister- Kylie, in her incredibly sexy black choker top along with a pair of rad Givenchy boots.
4. Cute off-shoulder choker top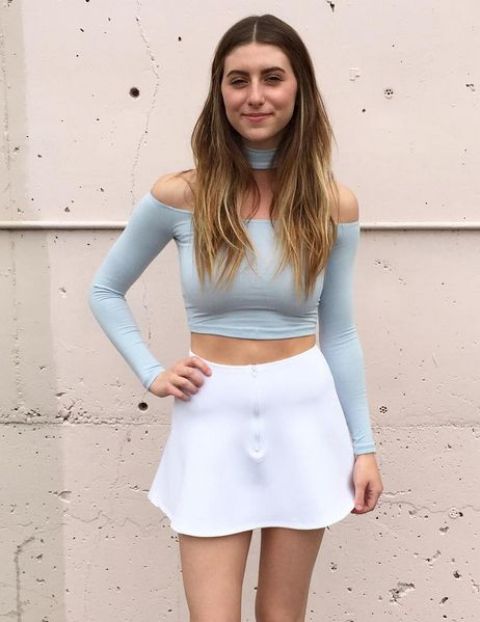 Image source: Pinterest
Another innovative way you can wear your choker top and look fabulous, is by getting an off-shoulder version and pairing it with a skater skirt in a neutral colour.
5. Black on black formal choker top trend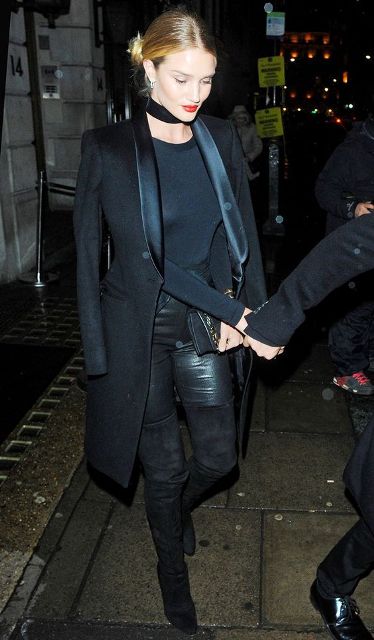 Image source: Pinterest
Rosie Huntington Whiteley shows you how you can look like a superstar, even in formidable all black outfits like these, where you pair it with a trench coat and leather pants.
6. Wild part choker top outfit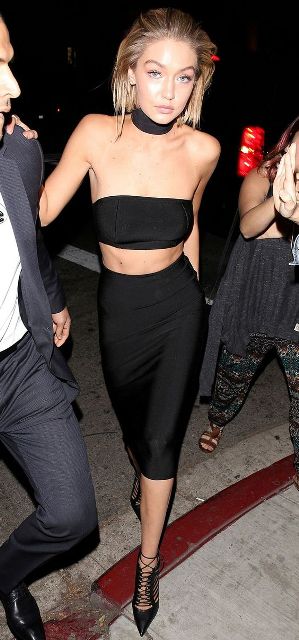 Image source: Pinterest
Gigi Hadid has never been afraid of going bold, and neither should you, with this tube top and choker top combination, along with a chic black pencil midi.
7. Denim and choker top casual ensemble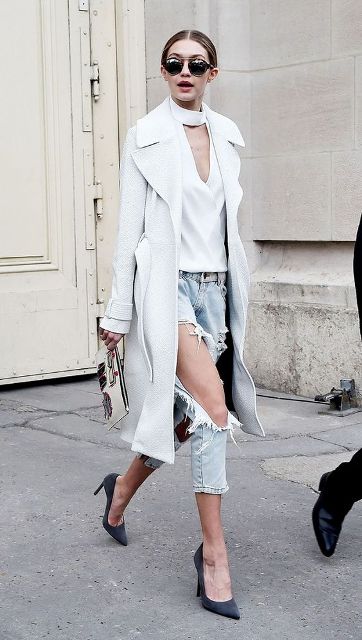 Image source: Pinterest
Another instance where Gigi Hadid shows you how you can rock a choker top in all white, a trench coat, distressed jeans and a pair of epic pointy heels.
8. Alternate choker top and denim casuals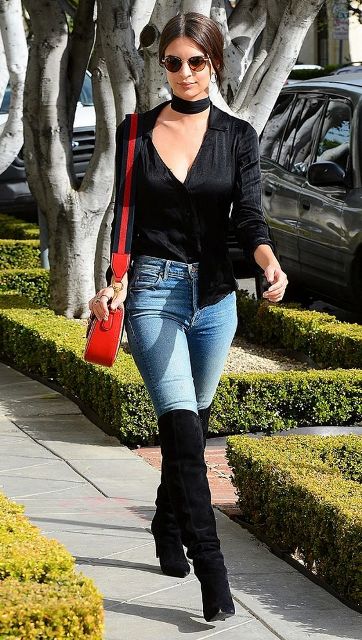 Image source: Pinterest
If you are not feeling as adventurous about your outfit as Gigi in the last one, you can try a more casual look with a simple black choker top, jeans and knee-high boots.
9. Dress it up with your choker top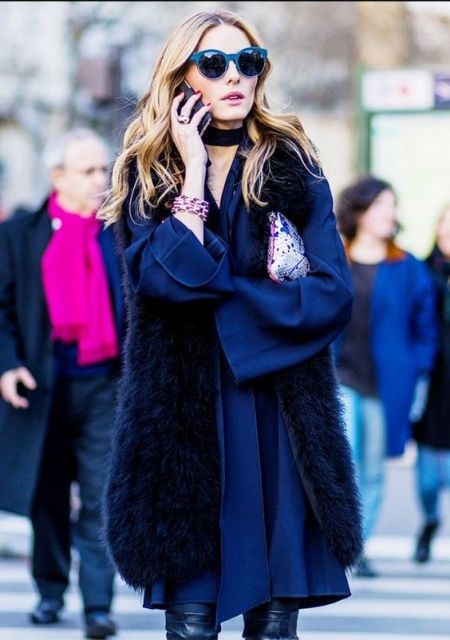 Image source: Pinterest
Although black seems to be the celeb go-to color, you can get your choker dress in any color, and spice it up with a fur gilet, and knee high boots.
10. Colorful choker top and skirt combination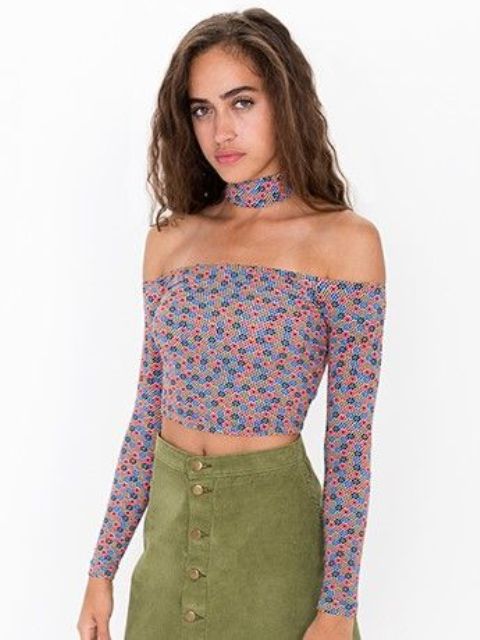 Image source: Pinterest
If the hipster in you is calling out, then you can go full floral too, and pair your off shoulder choker top with a contrasting colored skirt.
11. All white party casuals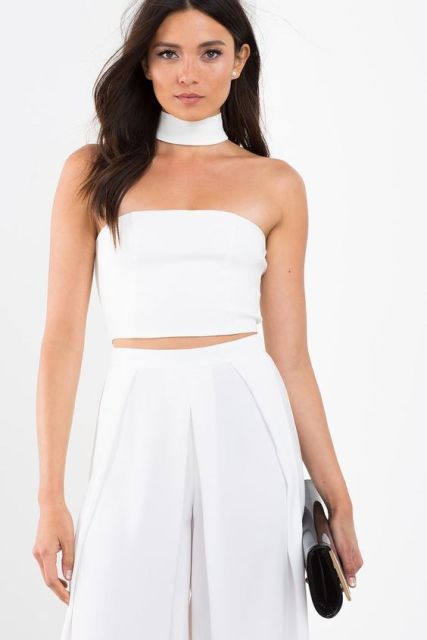 Image source: Pinterest
If you want to look like a Kardashian through and through, check out this (slightly more modest) bare choker top, and tailored flare pants.
12. Ivory knit choker top and skirt trend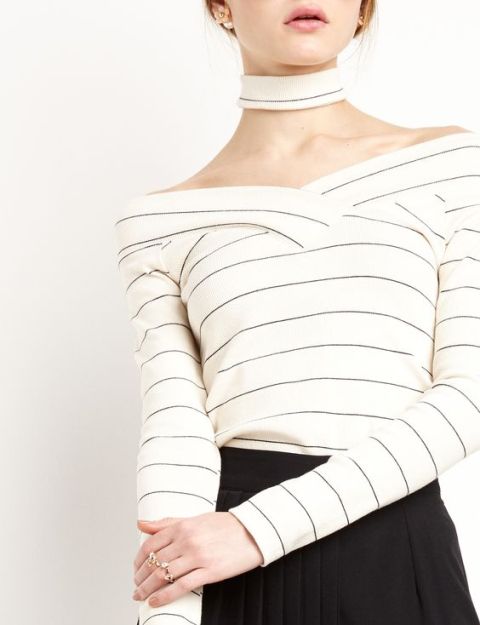 Image source: Pinterest
All you need to do is pair your ivory knit choker top (with the choker tailored in similar print) and pair it with a neat pleat black skirt, and you have a winner on your hands.
---
Suggested read: 15 versatile looks that will cover all kinds of weekend plans you may have
---
13. Choker top and midi magic

Image source: Pinterest
A beautiful V-neck choker top in pristine white and a bold printed A-line midi and a great pair of pumps, and you have a red carpet look right there.
14. Abstract velvet choker dress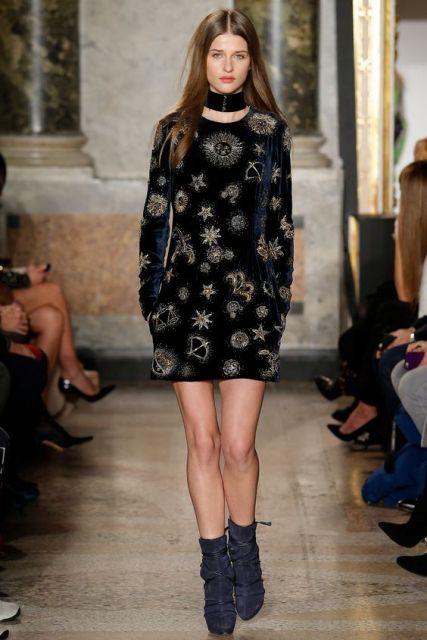 Image source: Pinterest
Yes, fabulous dresses like these also come with matching velveteen chokers. All you need to complete the look is a pair of fabulous heels, either in the form of boots, or platforms.
Now go get your choker outfit now!
Summary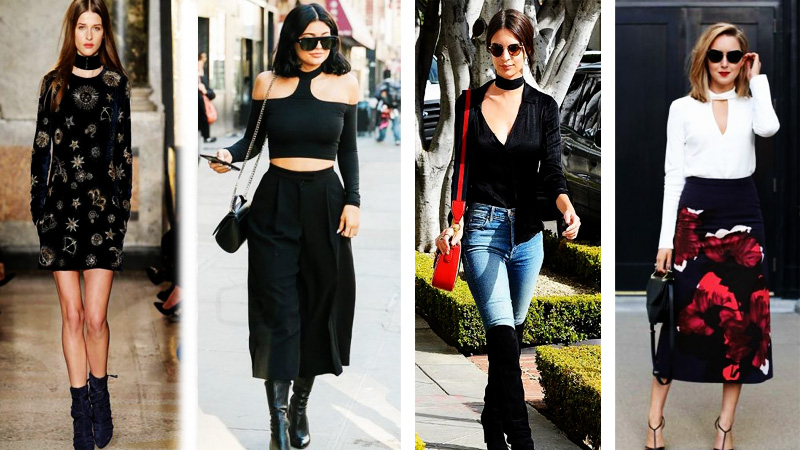 Article Name
Wear It Like Hollywood: 14 Stunning Ways To Rock The Choker Top Trend
Author
Description
If the who's who of Hollywood is taking to the choker top trend, who are we to refuse the soaring trend?