Walking down the aisle holding your father's arm toward your waiting groom is nothing to be proud of. After all, thousands of weddings happen every day, all around the world, and thousands of brides walk down the aisle to the wedding march. But this lady, Tami Martin, had reason to celebrate such a seemingly small feat of walking down the aisle to exchange vows with her beloved, Rob Dietrich.
The reason? Tami Martin broke her back in a seemingly minor car accident, but which left her with major internal injuries, on October 25th, 1999. "There wasn't a physical mark on my body," recalled Tami. "Everything was internal. My spine was crushed between L1 and L2."
Not just that, she found even physical therapy difficult, which set her back considerably in her recovery. "I'd taken a break because I gained a lot of weight, and I broke my leg doing physical therapy," explained Tami.
She lost the extra weight with the help of a surgical procedure, and was able to walk the required 63 feet to the altar with her walker tucked beneath, to join Rob in holy matrimony. The doctors had told her that she would never walk again, let along make it to the altar on her own two feet. But Tami is not the type of woman who takes no for an answer. In the last 15 years since her accident, she has embraced her life as a paraplegic, setting and achieving goals, no matter what.
Of her incredible feat of walking to her own wedding, she said, "I walked down the aisle publicly after being told I would never walk again."
Tami, the paraplegic bride, credits her success to her perseverance, grit, and will power, along with the unswerving support of her groom, Rob.
"The last time I weighed I had lost 192 pounds," said Tami of her surgical procedure. "I had always been fit before. I said I might not walk, but there is no way I'm going to be out of shape."
Tami believes in a higher power that gave her the strength and will to persevere. Her faith carries her forward. "And now my goal is to walk again on my own without the aid of anything," said a determined Tami, who was carried out of the church after the wedding by her adoring groom, Rob.
This bride sure showed that faith, will power, and perseverance can help you achieve anything. That almost nothing is impossible in this world, if you're willing to work for it. We wish the newly married couple a happy married life.
Summary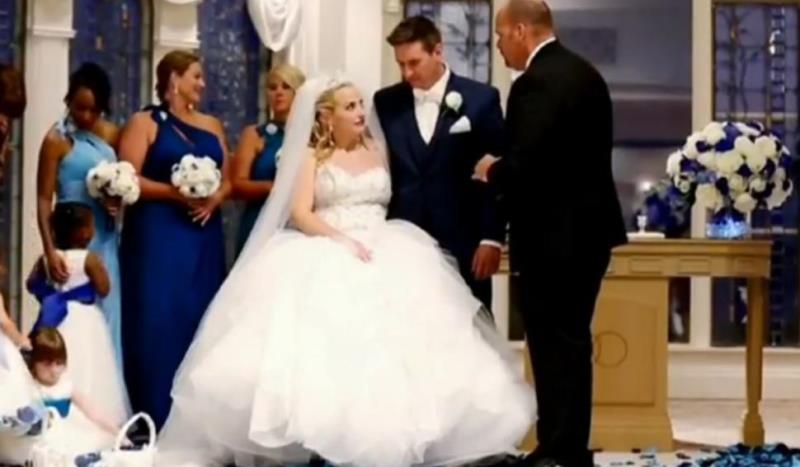 Article Name
Paraplegic bride loses 192 pounds, walks on wedding day!
Author
Description
Tami Martin had a really special wedding day when she walked down the aisle to meet her groom at the altar. Read on to know why it was special.