Weddings are emotional – especially for the bride and the groom. It's a ceremony that brings together two different individuals from different backgrounds, and binds them together 'till death parts them.' And it's always good to send up a prayer to whoever's listening up there for a relatively smooth ride, albeit with a few bumps and dips along the way – in their journey of wedded life. Where will be the fun in a smooth ride without the aforementioned bumps and dips, right?
Anyway, an about-to-be-married couple's perfect Memorial Day wedding photo has gone viral. Why, you ask? Well, it shows the couple praying, just before the wedding ceremony is to take place on Memorial Day weekend in North Carolina. The picture is of US Marine Corps Cpl. Caleb Earwood, 21, and his now-wife, Maggie, 22.
They're turned away from each other, whilst holding hands, and can be seen praying before saying 'I do.'
Caleb told Today.com,
"We were about to take our first steps in life together, and we didn't want to take a step without it being in God's will. I prayed to God for my beautiful and intelligent wife that he blessed me with and the amazing family I was marrying into."
Since it's considered bad luck for the groom to see the bride before the actual ceremony, Caleb stood on the staircase while Maggie leaned up against the wall, in order to avoid making eye contact.
Maggie, speaking about the special moment she shared with her now-husband, said,
"When I first grabbed his hand, he was shaking really bad, so I knew he was really nervous. It relieved me to know the person I was getting ready to marry felt the same way about God."
Caleb and Maggie both grew up in Asheville, North Carolina. Before the couple started dating about two years ago, they were friends in high school. But once they started going out together, they have been inseparable.
An excited Caleb gushed thus about his new bride:
"She's so beautiful. I couldn't help myself!"
---
Suggested read: This father-daughter wedding dance will warm your heart
---
Photographer Dwayne Schmidt, who captured the beautiful moment, almost didn't make it to the wedding due to a personal health issue. But, in the end, he did make it, and was able to capture this touching exchange between the absolutely smitten bride and groom. Schmidt also admitted that in his four-year career shooting about 100 weddings so far, Maggie and Caleb's wedding was one of his most memorable exchanges.
For their honeymoon, the newlywed couple is visiting Dollywood in Tennessee, and they plan to live in Jacksonville, North Carolina, close to Camp Lejeune, where Caleb is stationed.
Speaking about their picture going viral, Caleb said,
"We're thankful that our picture is able to bless so many people and touch that many hearts."
Well, we sure were touched by the heartwarming picture.
Tell us what you think about the perfect Memorial Day wedding picture, in the comments below.
Summary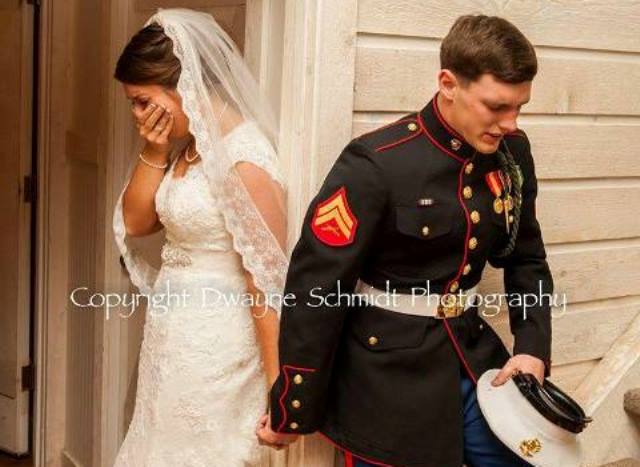 Article Name
Photographer Snaps Perfect Memorial Day Wedding Picture At Marine's Wedding
Author
Description
Photographer captures perfect Memorial Day wedding picture of couple praying before their wedding ceremony. Check out the touching picture.