Play Out, a unisex underwear company, has chosen three breast cancer survivors, who underwent double mastectomies to pose topless for their latest ad campaign. The three cancer survivors who did not opt for breast reconstruction believe that this ad campaign will challenge existing definitions of femininity, initiate a critical dialogue about beauty ideals and lash out against the dominant narrative of restoring one's 'femininity' (perceived?) through reconstruction. They also believe that the campaign shall open up channels for a healthy discussion about gender and identity, gender boundaries, sexuality and the fluidity, thereof.
Image source: Candace Doyal/Facebook/flattopperpride
Sylvie Lardeux and Abby Sugar, the co-founders of Play Out chose Emily Jensen and Jodi Jaecks, from Seattle, and Melanie 'Melly' Testa, from Brooklyn, to join androgynous model Rain Dove in the brand's latest campaign, celebrating their bodies – a breathing nominal of their 'choice' to embrace their 'no-less feminine' identity as cancer survivors who have gone flat out with pride!
Image source: Playout-underwear.com/Nomi Ellenson
The underwear company in collaboration with FlatTopper Pride, an online supportive space and blog for the LGBTQ community and women dealing with breast cancer, wanted to connect with other queer people who had breast cancer and chose not to have breast reconstruction and live without wearing prostheses.
A series of photographs were taken of Emily, Jodi Jaecks, and Melly Testa wearing Play Out underwear and proudly going flat. Emily and Jodi Jaecks can be see hugging, holding hands, brushing teeth, and living their daily life, all the while wearing nothing but Play Out's snazzy undergarments.
Image source: Candace Doyal/Facebook/flattopperpride
---
Suggested read: Plus-size retailer Evans to launch limited-edition #StyleHasNoSize collection
---
Each of these women was diagnosed with breast cancer at a young age, and each chose not to receive breast reconstruction post double mastectomy to remove both breasts.
"I became a more whole person – I became more ambitious, I became more self-assured, and I became more intently focused on raising awareness of the intersectionality of breast cancer and queerness," writes Emily Jensen in her blog in reference to Audre Lorde's book The Cancer Journals.
Watch the commercial Play Out launched, in addition to the series of highly inspirational and empowering photographs:
The video too, not unlike the photographs, attempts to blur gender distinctions through the androgynous kiss in a stirring moment of drenched passion! The company proudly avers that their mission is to exhort people to 'embrace a landscape without gender borders.'
Image source: Candace Doyal/Facebook/flattopperpride
Abby Sugar writes on her blog:
"This is not about Breast Cancer Awareness. This is about gender, lingerie, femininity, health, healthcare, age, agency, and breast cancer in the LGBTQ community and more."
And while we are nodding away in agreement, we believe that when 58 percent of cancer survivors choose to forgo breast reconstruction, there must indeed be a powerful gender discourse (silent, yet seething) waiting to erupt on the social forefront. And we applaud Play Out and team to give it a space for reverb!
Featured image source: Candace Doyal/Facebook/flattopperpride
Summary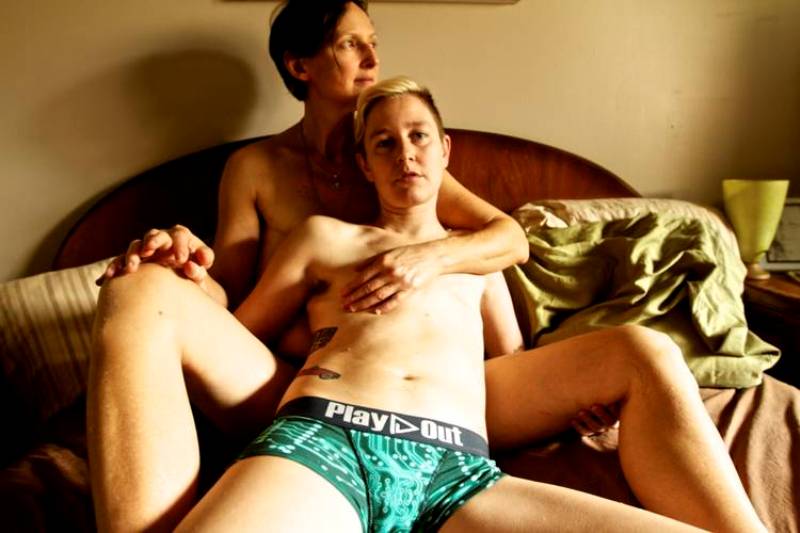 Article Name
Play Out Chooses Breast Cancer Survivors To Change The Definition Of Femininity
Author
Description
Play Out underwear company has chosen breast cancer survivors to pose topless for their new snazzy line of underwear - the catch - no breast reconstruction!