Sufjan Stevens is a sing-songwriter and multi-instrumentalist from New York City. His debut album 'A Sun Came' was released in 1999, under Asthmatic Kitty, which continues to host some of his recent music, too. Ever since, he has come a long way in terms of his craft, as well as a well-deserved high standing podium. Stevens' lyrics read like poetry, sound like heaven, and feel like companionship in a storm.
---
Suggested read: [Valentine's Day Special] 30 Songs To Get You In The Mood For Valentine's Day
---
Here is a short compilation of his songs that have left a lasting influence on my life:
'Chicago' (Come On Feel The Illinoise)
"I fell in love again
All things go, all things go
Drove to Chicago
All things know, all things know
We sold our clothes to the state
I don't mind, I don't mind
I made a lot of mistakes
In my mind, in my mind"
The protagonist of the song is a fictionalized version of Sufjan Stevens himself. Chicago is a core and indistinguishable part of Illinois' identity. Similarly, this song recounts a very personal experience that the singer song-writer had faced. In an interview, he said, "I've had quite a few exceptional and traumatic experiences in Illinois, a few times when visiting Chicago at a particularly difficult time in my life or driving cross country and being pulled over by the cops just outside Peoria." As all of the best memoirs, the song bleeds into your memory and helps you find your own story in somebody else's.
'Death With Dignity' (Carrie & Lowell)
"I forgive you, mother, I can hear you
And I long to be near you
But every road leads to an end
Yes, every road leads to an end
Your apparition passes through me in the willows
Five red hens – you'll never see us again
You'll never see us again"
The 'Carrie' in the album name refers to Sufjan's mother, who was estranged from him for a great part of his life, and whom he lost to stomach cancer. It also subtly refers to Oregon's 'Death With Dignity Act 2009', which made it legal for health professionals to allow lethal drugs to eligible patients, in a system of assisted suicide. Vox comments, "(the album) is an attempt to learn to grieve…The opening song 'Death With Dignity' is the end of the story of Stevens' pain." In a soul-jerking interview with Pitchfork, Stevens confessed, "Her death was so devastating to me because of the vacancy within me. I was trying to gather as much as I could of her, in my mind, my memory, my recollections, but I have nothing. It felt unsolvable." In this song, he addresses the void of growing up without a mother, and the ultimate catharsis rising out of the ability to forgive.
'John My Beloved' (Carrie & Lowell)
"Are we to speak, first day of the week
Stumbling words at the bar
Beauty blue eyes, my order of fries
Long Island kindness and wine
Beloved of John, I get it all wrong
I read you for some kind of poem
Covered in lines, the fossils I find
Have they no life of their own?
So can we pretend, sweetly
Before the mystery ends?"
This song begins with a reference to a lover, but quickly fuses that with references to Jesus. In a way, this is a devotional song, to love, and the sense of protection that religion entails. In 'John My Beloved', like all of Stevens' discography, he addresses the rawest form of emotion. Towards the end, there is a rather metaphysical reference to him running out of time, and the subsequent desire therefore, to make the most of what is left.
'For the Windows in Paradise, for the Fatherless in Ypsilanti' (Greetings From Michigan: The Great Lake State)
"I was dressed embarrassment, I was dressed in white
If you had a part of me, will you take your time?
Even if I come back, even if I die
Is there some idea to replace my life?
Like a father to impress
Like a mother's mourning dress
If we ever make a mess
I'll do anything for you"
The crux of the song is explained in this line: "If you have a father, or if you haven't one, I'll do anything for you." This narrative is about love, inclusion, empathy, and about giving back. There happens to be a place in Michigan, called Paradise. Stevens explains, "(In Paradise) I noticed that there was all these single mothers and women and grandmothers but there weren't any men, and so I had sort of devised a story in my mind that they had all died in the war and that they were all widows. But they were really a very happy and optimistic community and they all seemed to be working together, and it was, like, women of the world take over."
---
Suggested read: 25 Heartfelt Love Songs Of All Time That Will Make You Fall In Love All Over Again
---
'All of Me Want All of You' (Carrie & Lowell)
"Shall we beat this or celebrate it?
You're not the one to talk things through
You checked your texts while I masturbated
Manelich, I feel so used
Found myself on Spencer's Butte
Traced your shadow with my shoe
Empty outline changed my view
Now all of me thinks less of you"
This song is thick with imagery, and allusions. On the surface, it speaks of heartbreak in romance. Upon prodding further, one realizes that it explores Stevens' broken relationship with his mother, and how her absence went on to affect the way he built his life. The reference to Manelich is particularly interesting. In this article, the author relates every part of the Catalan play, Terra Baixa (Marta of the Lowlands) to the intricacies of Stevens' emotions. It tells the story of Manelich, who was denied access to his marital bed by Marta. He spent the night waiting by the door, as Marta ignored him ("checked your texts"). Carrie had ignored Stevens' need for a mother in a similar way. In the play, Manelich's first introduction to love is innocent and joyous, as was baby Sufjan's, but it soon bares its fangs and becomes a source of deep pain. Sufjan Stevens is literature at its finest.
'I'll Be Home for Christmas' (Let It Snow: Songs for Christmas – Vol. IX)
"I'll be home for Christmas
You can plan on me
Please have snow and mistletoe
And presents on the tree
Christmas Eve will find me
Where the lovelight gleams
I'll be home for Christmas
If only in my dreams"
This album is a significantly more mature take on Christmas songs. You could call it the adult version of carols. The shift from assurance in "you can plan on me" to knowing sadness in "if only in my dreams" is something that adulthood is replete with. The song speaks of longing for filial fulfillment, estrangement, and the constant desire to be surrounded by the ones you love. Often as we grow older, work and other engagements push us farther from our homes, both physically and emotionally. The song's existence in a Christmas compilation goes on to indicate that festivals are when we feel the loneliest.
'I Want To Be Well' (The Age of Adz)
"And I forgive you even
As you choke me that way
With the pill or demon
And the shrouded shalom
Under conversation
In tremendous weight of
A crowd of ages outside
Dressed for murder
I'm not fucking around (well, I want to be well, I want to be)"
This song references Sufjan's own illness and the schizophrenia of the artist Royal Robertson. The entirety of the album references Robertson's life, a great number of his paintings are used in the album booklet and cover. Personally, I feel like the narrative is directed from the patient to mental health professionals who are in charge of him. In the text quoted above, the protagonist says that he forgives the "pill" (doctor) and the "demon" (the apparitions). The "crowd of ages" outside can be a reference to medical students who are studying his case, or the hospital staff waiting on the doctor. "Dressed for murder" refers to the typical sanitized gowns of mental asylums. The crux of the narrative lies in acknowledging the internal conflict, and tracing a patient's ardent desire to heal.
'Fourth of July' (Carrie & Lowell)
"The evil, it spread like a fever ahead
It was night when you died, my firefly
What could I have said to raise you from the dead?
Oh, could I be the sky on the Fourth of July?

'Well, you do enough talk
My little hawk, why do you cry?
Tell me, what did you learn from the Tillamook burn?
Or the Fourth of July?
We're all gonna die.'"
This song is a conversation between Stevens and Carrie, his mother, as she lay dying in a hospital bed. Each stanza alternates between the two speakers, with the Verse from Sufjan and the Chorus in quotes from Carrie. It is one of the most gut-wrenching pieces of music I have ever admired. Listening to the song, to the intimate emotion in Sufjan's voice, affords us a very private audience with the memories of the singer. Despite everything that had gone into his broken relationship with Carrie, her last moments of life bonded them. Stevens said, "Her death was so devastating to me because of the vacancy within me…At that point, I was only interested in communicating my love for her, unconditionally. There was a reciprocal deep love and care for each other in that moment. It was very profound and healing."
---
Suggested read: Here's A List Of Coke Studio Songs That Will Cheer You Up Instantly
---
Sufjan Stevens' music is a discourse on life itself. It is intimate, heartbreaking, healing, but above all, honest.
Featured image source: Google, copyright-free image under Creative Commons License 
Summary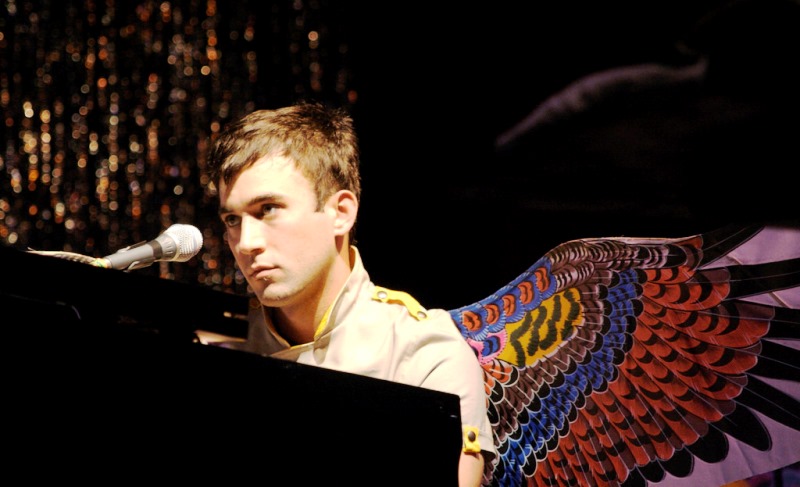 Article Name
Sufjan Stevens Is The Literati Savior Your Life Has Always Needed
Author
Description
The songs of Sufjan Stevens read like poetry, sound like heaven, and feel like companionship in a storm. Here is a short compilation of his songs.