Let's get one thing clear, the only reason we're talking about different body shapes is so that you know what sort of dresses will make you look more badass than other days, and because it's fun. Everybody is unique, and so are their bodies. You're not an apple, or a pear, or an hourglass. This list of female body shapes has been compiled just for fun. No female body shape is better than another. You're beautiful the way you are.
Okay, now that we've cleared that out, let's move on to what we mean by different body shapes. As you may be well aware, your body does NOT look like your friend's. Or maybe it does, in which case, wow, you lucky pumpkins go out and slay the world with your super strong twinning game! There are a gazillion different body shapes and you may fit into more than one type. Body shapes can be classified as different fruits, basic shapes, etc.
---
Suggested read: 20 stunningly sexy sheer wedding dresses that will make you swoon
---
Here are a few of the most common female body shapes!
1. The Hourglass Body
The hourglass body shape is probably the most well-known body shape there is, and it has certain key characteristics. A person with an hourglass body has a full, curvy figure, that's drawn in at their tiny waist. If the width of your breasts (chest-width) is equal to the width of your hips (the widest part of your body), and your waist is the narrowest part of your body, then you probably have an hourglass figure.
Image source: Pinterest
Both, Christina Hendricks (left) and Marilyn Monroe (right) are among the most beautiful women among the world. While Marilyn Monroe had a relatively petite hourglass figure, Christina Hendricks, on the other hand, is a plus-sized beauty. As you can see, you don't need to be stick thin, with a flat tummy to be beautiful ('cause Hendricks is a BEAUT). When you have curves like these, why not show them off? Wear well-fitted dresses that hug your curves (yes, tummy and all) and make you look feminine and breathtakingly gorgeous. If dresses aren't your thing, don a pair of snug high-waist jeans and a fitted top for a more casual, but just as sexy look!
2. The Spoon-shaped Body
This body-shape has come into the spotlight pretty recently, thanks to the sudden popularity of big booties! The spoon shape is a lot like an hourglass body shape, only the hips are wider and the breasts are not as full. If you have a relatively nice set of breasts (not tiny, but not really voluptuous either), a tiny waist, and significantly large hips with a sort of "shelf-like" appearance (bums you could balance a teacup on), then you probably have a spoon-shaped body.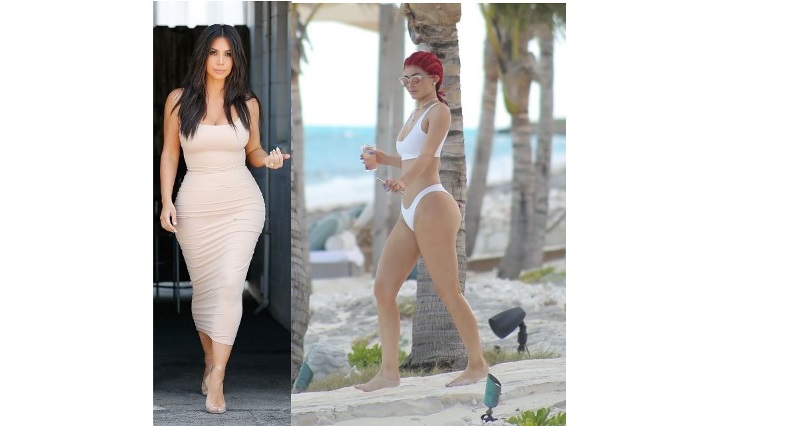 Image source: Pinterest
The Kardashian-Jenner family's rise to fame brought into the spotlight, the elusive spoon-shaped body type. Contrary to popular opinion, Kim Kardashian does not actually have an hourglass figure! Both Kim Kardashian and her half-sister Kylie Jenner are known for their exceptionally large booties and tiny waists! Although, it isn't the best idea to consider their bodies as "body goals" because they have had their bodies surgically improved and often rely on unhealthy dietary and lifestyle choices to maintain their figure. However, if you do inherently have a large booty that you could balance stuff on, then four for you Glenn Coco, you go Glenn Coco! For this body type, bodycon dresses are the best! Seriously! Why NOT show off your goals-worthy curves? Ditch the short skirts for super chic knee-length and calf-length fitted skirts and wear form-fitted skinny jeans in all their body-hugging glory!
3. The Pear-shaped Body
The pear-shaped body is in fact, one of the most common body shapes among women. If the upper half of your body is smaller than the lower half and the widest part of your body is your hips, then there is a HIGH chance you have a pear-shaped body. Basically, if you usually have to buy tops in a much smaller size than your bottoms, then you've got a pear-shaped body!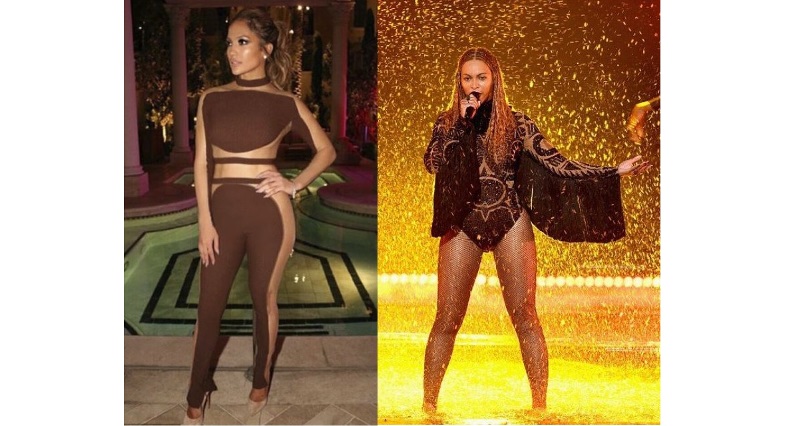 Image source: Pinterest
If anybody's ever made fun of you for having a large behind, ask them to eat their heart out because GUESS WHO ELSE HAS A BIG BOOTY? That's right! The sexiest women on the planet, that's who! Both JLo and Beyoncé have pear-shaped bodies, where their hips are wider than their shoulders. If you have a pear-shaped body, then crop tops are your bae. Most of the weight gain happens at the hips, so your tummy and your waist are actually pretty fly! So wear them high-waist jeans and the super cute crop tops to flaunt your assets! As for dresses, A-line and pencil-skirt dresses will look the best on you. An empire waist a-line dress will make you look bustier (yay!) and flaunt the badass back-curve you've got going on. A pencil skirt will accentuate that booty and make you look like a total bombshell!
---
Suggested read: 20 gorgeous yet modest wedding dresses for a Church wedding
---
4. The Apple-shaped Body
The apple-shaped body is the opposite of a pear-shaped body. If you have broad shoulders and a tapered bottom, then chances are, you have an apple-shaped body. Essentially, your shoulders have to be the broadest part of your body, while your waist is relatively smaller, and your legs are pretty slim. If you have an apple-shaped body, then most of the weight gain tends to happen at the tummy, instead of the hips (like for a pear-shaped body).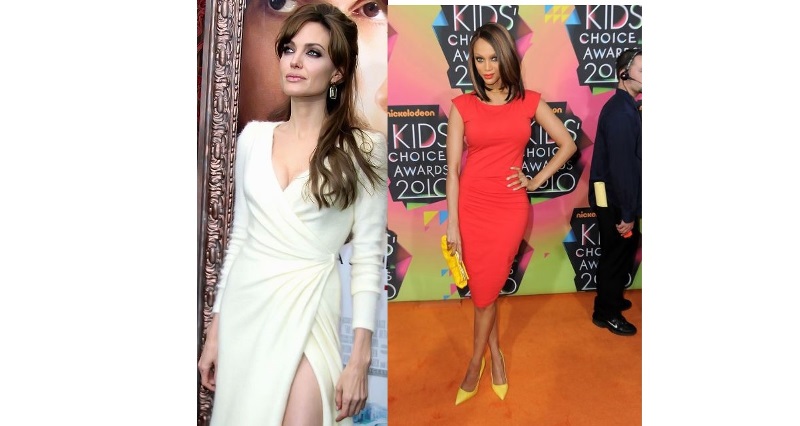 Image source: Pinterest
Yep, the most beautiful person in the whole fudging universe has an apple-shaped body. So does one of the most successful supermodels ever! Angelina Jolie and Tyra Banks are beautiful, talented, and forces to be reckoned with, AND their shoulders are wider than their hips. You think they care if their booty ain't all that big? Nope. They are flaunting what they've got and they are SLAYING OUR LIVES. So, if you've got an apple-shaped body, then you too have the potential to SLAAYYY! Since you've got BAMF slender legs, show them off in short dresses and skirts. Flaunt your ample bosom in deep-cut necklines. If you want a more balanced look, flared trousers with fitted tops will make your hips look fuller and in proportion to your wide shoulders.
5. The Athletic Body
This body shape is not so much inherent as it is acquired. Even so, there are many individuals who tend to be more muscular than others, even if they don't train as hard as others (ugh, you lucky unicorns!). If you're among the lucky few, who are muscular or tend to attain toned muscles easily, then you probably have an athletic body. The main characteristics of an athletic body type are broad, muscular shoulders, a toned tummy, proportionate hips (as wide as the shoulders), and a lack of a very definitive curve at the waist.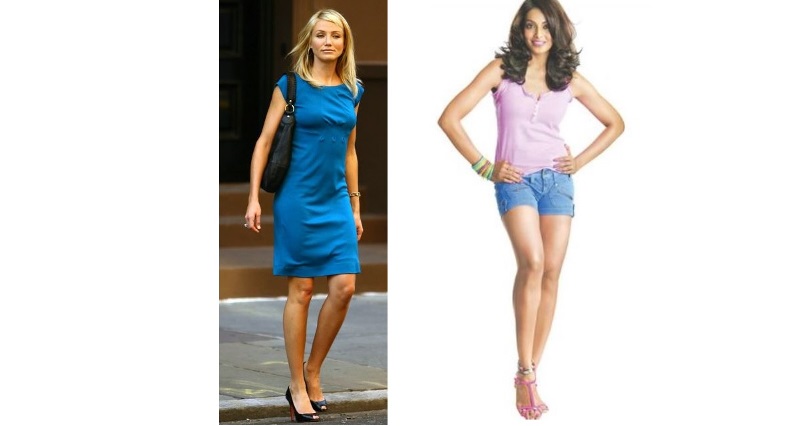 Image source: Pinterest
No, having an athletic body does not make you a masculine girl/woman that "men won't be attracted to". It makes you beautiful, incredibly sexy, and super-extra-ninja-level-badass. Just look at these two bombshells who are rocking a muscular physique! Cameron Diaz, and Indian actress, Bipasha Basu, are known for their unbelievably fit bodies and their undeniable sex appeal. So if you have a body type that matches theirs, go ahead and dress it down to show the world your gorgeous physique! Wear lots of sleeveless clothing, and form-fitted trousers to truly showcase your muscles. Alternatively, go for super feminine silhouettes like long a-line dresses or flowy dresses to soften your structure if you don't want to look overly muscular.
6. The Skinny Body
Once again, this body type is not really a shape per se. If you have a thin body and you just don't gain weight no matter how much you eat or work out, then you have a skinny body type. Please note that we do not endorse any form of eating disorders or any unhealthy ideal body type. This point is simply for those of you who simply have a major metabolism rate and are inherently skinny.
Image source: Pinterest
We've all heard the phrase "men love curves, bones are for dogs". Well, not only does your beauty not depend on men's opinions, you can never be compared to MEAT. So if anybody ever has the audacity to voice that sort of a vile opinion, you go ahead and punch them in the neck with your gorgeous, slender arm and then proceed to kick them where it hurts, with your badass, lean leg! We can assure you, that neither supermodel, Kate Moss (left) nor fashion mogul and former Spice Girl, Victoria Beckham (right), is "bones". So take advantage of your sample size figure and wear all the edgy high-fashion stuff you can get your hands on! Go for dangerously deep necklines and super low cut backs ('cause you can go braless, you lucky leprechaun!). Alternatively, go with an edgy chic vibe and layer up (especially since it's almost winter!).
---
Suggested read: 20 bold red wedding dresses that warrior goddess in you will LOVE
---
7. The Inverted Triangle
This body shape is a lot like the apple-type shape, but the difference between the shoulders and the hips is a bit more drastic in this case. If you have broad shoulders and then your body tapers downwards, ending at significantly narrower hips, then you probably have an inverted-triangle-shaped body.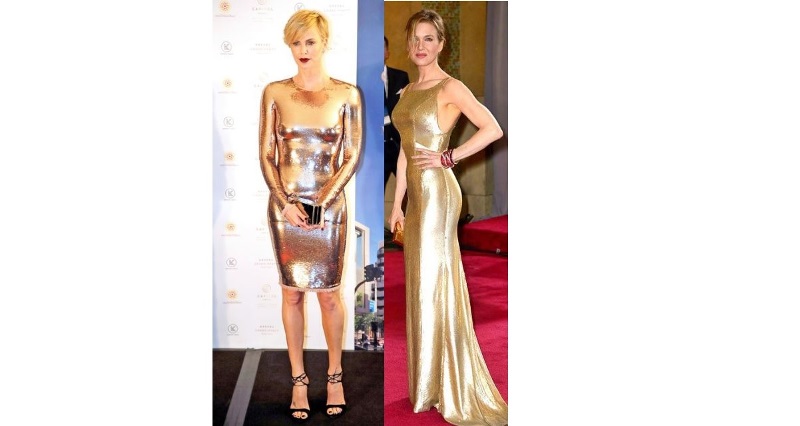 Image source: Pinterest
As you can see, narrow hips did not keep these breathtakingly beautiful women from looking… well… breathtakingly beautiful. Take your cue from glam goddess Charlize Theron (left) and go short and flaunt your lean legs. Alternatively, follow the lead of Bridgette Jones aka Renee Zellweger (right) and go for a long, flowy dress that hugs your body, thus accentuating your curves and making your hips look wider.
8. The Lean Column
This body shape is also called the "supermodel body type" since most supermodels tend to have long slim torsos, small to average sized breasts, and shapely but small hips. If your shoulders are as wide as your hips, your waist isn't very small (so no definitive curve), and you have long legs and a long torso, then you probably have a lean-column-shaped body.
Image source: Pinterest
Real life besties, supermodel Karlie Kloss (left) and world famous pop star Taylor Swift (right), both have lean columned body types. If you have a body similar to theirs, you may have been teased as being too "boyish" or not pretty and feminine enough. Not only are those the silliest insults ever (we don't care much for gender binary and stereotyping k thnx), they are also pretty baseless because you really can't get much hotter than a Victoria's Secret model, amirite? So turn a deaf ear to them haters, and instead, flaunt your long, fabulous torso in lots of crop tops and midriff-baring cutouts! Wear pretty, flared, vintage skirts, or super chic boyfriend jeans, that will make you look like an NYFW-ready fashionista!
9. The Rectangle-shaped Body
The rectangle-shaped body type is a lot like the lean column type, only a bit broader. If you have broad shoulders that are as wide as your hips, but your torso isn't all that long, then you probably have a rectangle-shaped body. A rectangle-shaped body tends to have little to no curve at the waist and weight gain tends to happen all over, thus making this body type possibly the most proportionate female body type there is!
Image source: Pinterest
Ever feel bad about your body because it doesn't have a "proper curve"? Well, turns out, these two QUEENS also have a rectangle-shaped body, NBD. And you really can't do better than a QUEEN can you? Anne Hathaway aka Mia Thermopolis aka Queen of Genovia (left) is on the more slender end of the rectangle body shape spectrum, while Queen Latifah (right), an actual African queen, is on the plus-sized end of said spectrum. If your body shape is similar to theirs, then dresses and outfits that draw in at the waist are your best friends. A belt at the waist or a crop-top-skirt set (like Anne Hathaway's outfit) that connects at the waist will draw in your waist, making it look tinier, thus giving the illusion of a fuller and curvier figure. High-waist trousers and skirts shall be your bae as they'll hug your hips, making them look bigger and rounder!
10. The Oval-shaped Body
This body shape is probably the least liked among women, because the main "problem area" is the tummy. An oval shaped-body is characterized by narrow shoulders and hips, with a relatively wide waist. So it is pretty easy to get a bit of a tummy, unless you live on a super strict diet and work out like a lunatic every day.
Image source: Pinterest
Well, tummy fat or no tummy fat, this body shape, like all other body shapes, is absolutely perfect. Look at Lady Gaga (left) flaunting her figure in the gorgeous black number! On the other hand, Jennifer Garner (right) looks classy as heck in that gorgeous floor-length dress! However, if you are a bit more conscious about your waist, then opt for flowy clothes that don't draw too much attention to your midriff. Empire-waist dresses will make your breasts look full while camouflaging your tummy and accentuating your hips. As for pants, opt for shaping jeans that will lift your butt and draw in your waist, thus giving the illusion of a curvy body.
---
Suggested read: 20 stunning non-traditional wedding dresses for the quirky bride
---
That's our list of the most common female body shapes out there. You might have noticed that the celebrities we've spoken about can be classified into one or more body shapes. That's because your body cannot be defined by one generic term. It is unique and beautiful and cannot be fit into a conventional idea of what an average female body looks like. So don't let charts and lists like this have too much of a say in your life, because you are a complex and exquisite creature and cannot be described by a couple of paragraphs by a person who's never met you.
This list is simply a guideline that will help you feel better about yourself because all these beautiful people have something in common with you, and to help you dress yourself in a way that flaunts your assets! So love yourselves 'cause you are perfect the way you are!
Summary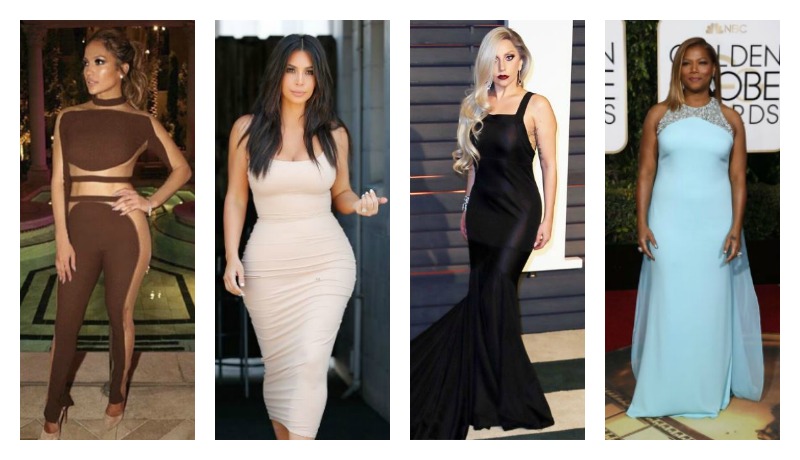 Article Name
The Absolute Guide On The Different Female Body Shapes
Author
Description
All you've ever wanted to know about the different female body shapes there are and their identifying traits!