People have been obsessing about the LBD and the LWD for a really long time now. In fact, they have been going slightly overboard with their obsession. Here are 12 LRD-s and if you didn't quite catch it little red dress-es (duh) which are bound to make you reconsider your obsession with the twin kin.
1. The SEXY red dress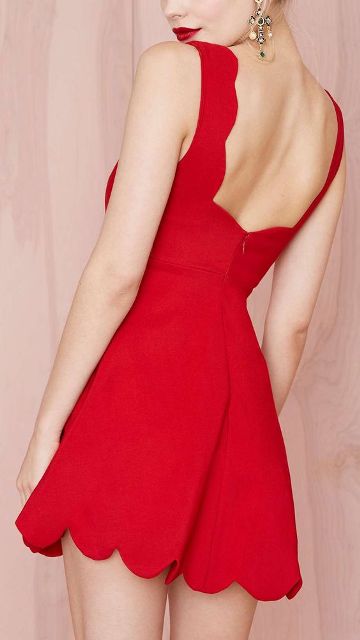 Image source: Pinterest
The most beautiful thing about this dress is the spirit which it embodies. With a bold lip, a pair of high heels and minimal accessories, you can be as fun as this dress is and literally paint the town red.
---
Suggested read: 11 stylish white dresses perfect for happy times
---
2. Ralph Lauren's semiformals

Image source: Pinterest
When it comes to names like Ralph Lauren, you know that the simplest looking dresses are going to feel and look fabulous, such as this semi formal modest number, which can be spiced up with smoky makeup and red pumps, or kept simple with pulled back hair and black stilettos.
3. Red lace skater dress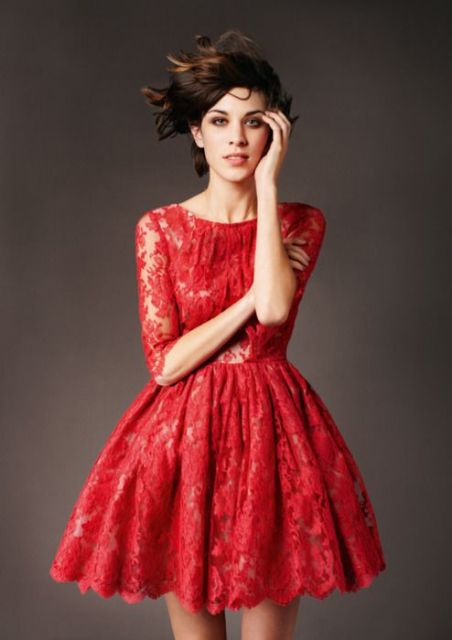 Image source: Pinterest
There is nothing that you could possibly hate about skater dresses, nor about lace, which means that this dress is absolute perfection, whether you are going out for a fancy party, a Saturday night out with your girls, or for anything else.
4. Cape style body con dress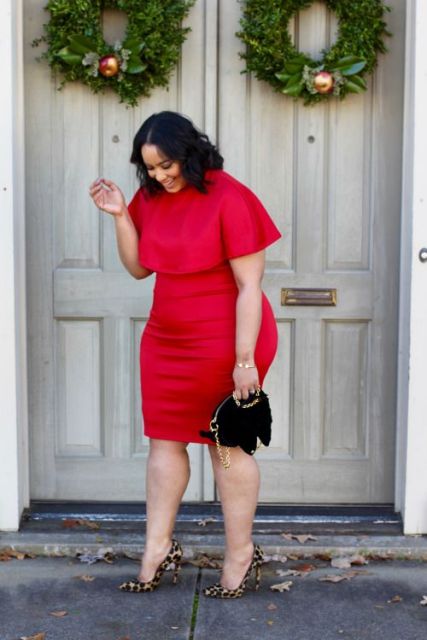 Image source: Pinterest
Dresses like these are perfect for plus sized stunners, who need not be exempt from the glory of little red dresses. The cape style top perfectly offsets the sleek body, which hugs the right curves at the right places. A killer pair of heels, some loose tresses and romantic makeup, and you are bound to become the talk of the town.
5. Short sequined red dress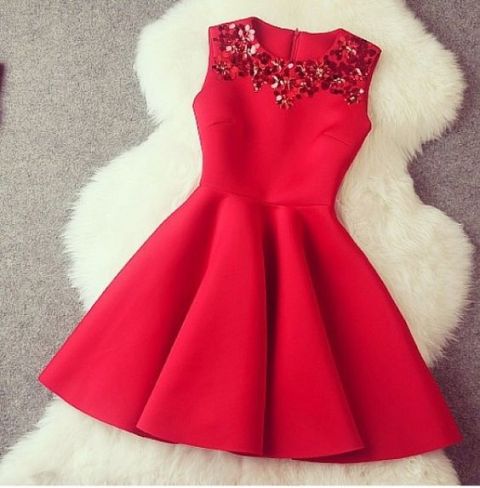 Image source: Pinterest
The dress might look unassuming at first, but the careful pleats and sequins add a minimalistic magic to it, which can be highlighted with black or white platform heels, and hairstyles which include your hair being either completely let down, or a semi tied up hairdo.
6. Strapless cute red dress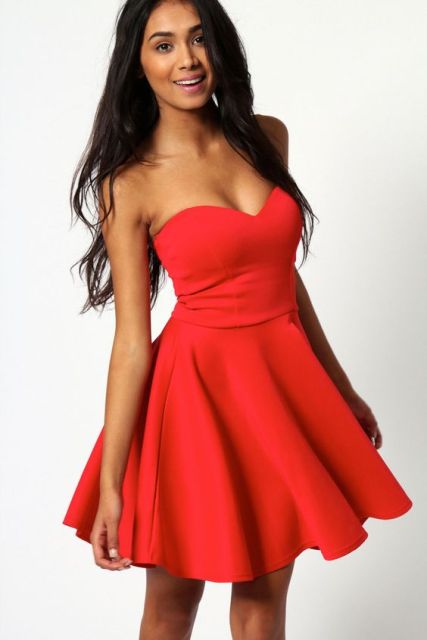 Image source: Pinterest
You might be wary of wearing all red if your skin tone is darker, but when you choose the right shade of red (bordering either on vermillion or deep red), like this adorable strapless number, you are bound to shine brighter than anyone in the room.
7. Red de-structured shift dress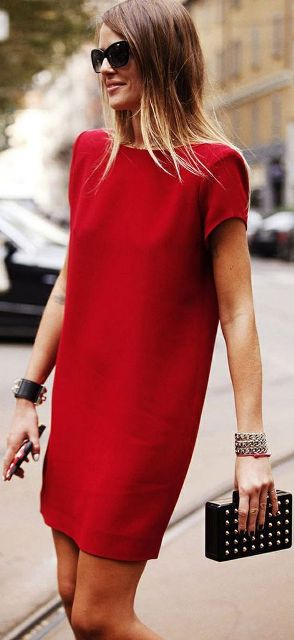 Image source: Pinterest
There is something so absolutely alluring about a shift dress, which allows you sharp lines without making you feel like your dress is clinging to your body. When it comes in red, all you need to highlight it is a pair of black heels, neutral makeup and a great pair of shades.
8. Simple red cutout dress

Image source: Pinterest
When it comes to little dresses, simple is often the way to go. The straight lines, the half sleeves and the pockets add romance and elegance to the dress while the daring plunge at the neckline adds all the excitement that the dress needs. With an outfit like this, you are equipped for a great night out.
9. Classic red corset dress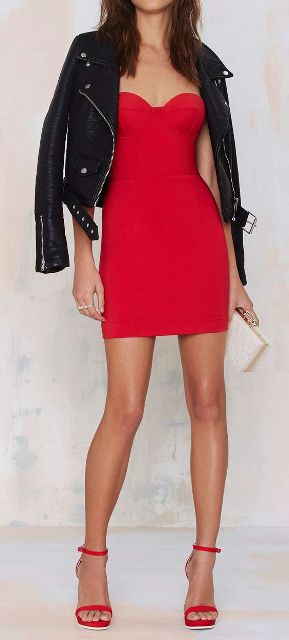 Image source: Pinterest
---
Suggested read: 10 easy steps to get that natural no-natural look
---
A little red dress which has all the right lines in the right places, looks like a classic red number with corset elements to literally uphold the dress- making it a great choice for outdoor activities. Accessorize with messy hairdos, sharp makeup and a fabulous leather jacket.
10. Groovy one-shoulder number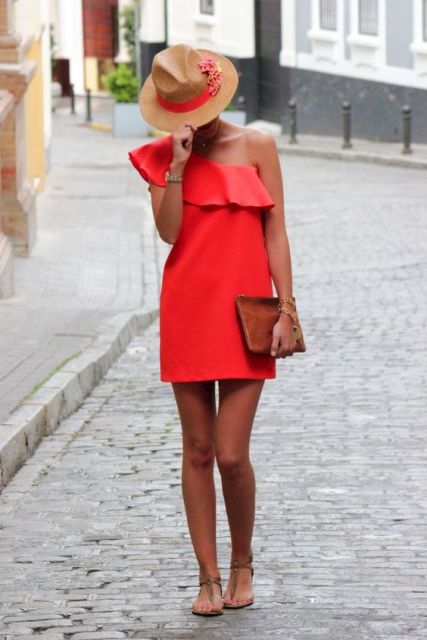 Image source: Pinterest
If you are worried about your LRD not being funky or fun enough, check out this red stunner, which has a frilled lapel running on one shoulder, leaving the other one bare, and the rest of the dress lets this little detail do the talking. You can accessorize with black, gold or beige colors, and dramatic makeup along with a half hair updo for the complete look.
11. Very little dress for the sexy dresser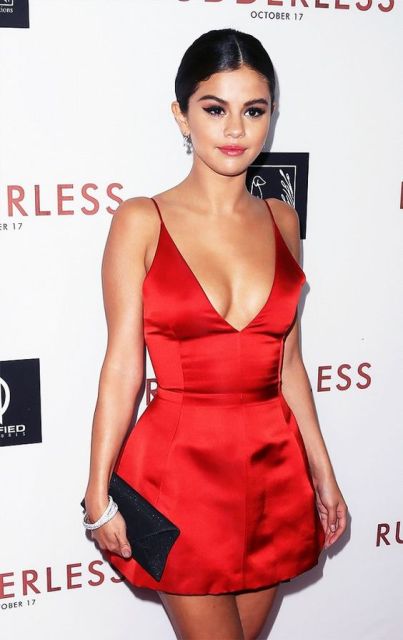 Image source: Pinterest
Not all your dresses have to be cute and modest and adorable. Selena Gomez gives you a lesson or two about how to make your LRD look sexy as hell, with those barely there spaghetti straps, plunging neckline and flared hem. Classy hair and makeup and a good pair of shoes are all you need to feel like the Muse for Chris de Burgh's song.
---
Suggested read: 15 gorgeous RED party dresses for every kind of party
---
12. Incredibly fun peplum style dress

Image source: Pinterest
This peplum style top gives way to a tight body-con skirt, all in red, which makes it the embodiment of the perfect party girl outfit. In order to accessorize it, you can use a simple clutch, a loosely set hairstyle and a pair of red lace heels or even red pumps. So simple. So good.
After checking out LRD styles of every possible kind, to fit every possible body shape and skin tone, I don't think you will be reaching out for your LBD anytime soon.
Summary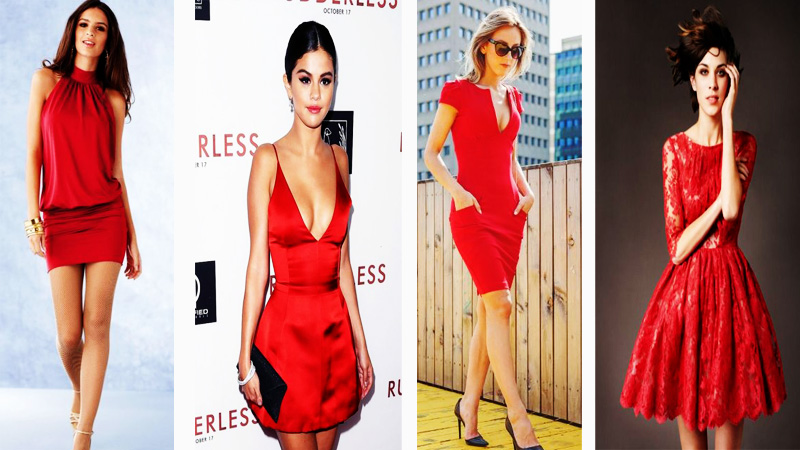 Article Name
Move Over LBD, The Little Red Dress Is The IT Thing This Season
Author
Description
It's THE time for LRD aka the little red dress. Don't worry LBD, you'll always be our favorite!